20 octobre 2016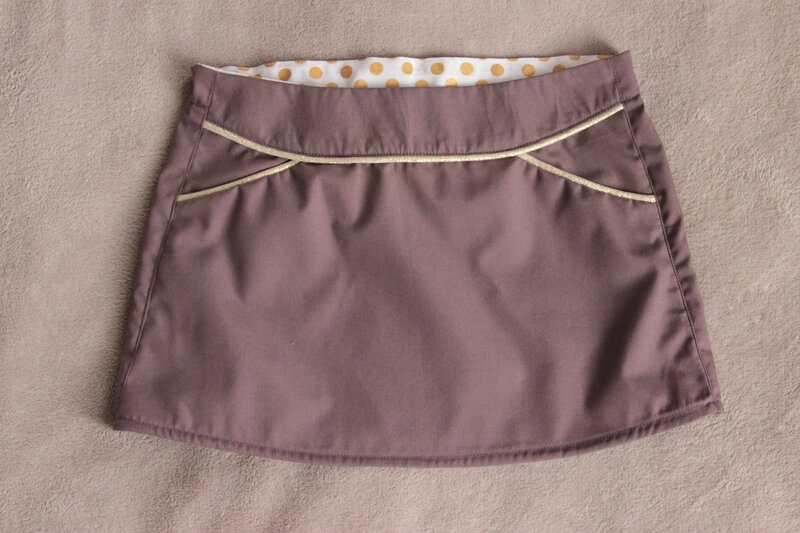 J'ai comme d'habitude trois trains de retard. Toute blogueuse couture qui se respecte connait la Mini Perle d'Ivanne S., en a cousu mille versions, et l'adore. Et j'avoue qu'au risque de faire le mouton, je suis (enfin) moi aussi tombée sous le charme ! J'avais craqué sur les versions d'Anne-Charlotte et du Papillon, et comme je cherchais un patron de jupe pour fille pour le troisième anniversaire de ma filleule, le choix a été simple. Un patron rapide, super bien expliqué, avec des tas de versions différentes à composer, bien fini, et pas trop cher (€8,90 le PDF), c'est une valeur sûre garantie. Ivanne propose en plus un tuto sur son site pour doubler la jupe, et une grille qui permet de n'imprimer que les pages qui correspondent à la taille et à la version que vous souhaitez coudre ! Pour la phobique du gâchis que je suis, c'est vraiment la cerise sur le gâteau.
[For English read the text in italics]
I am always a bit late jumping on the bandwagon. This gorgeous Mini Perle skirt pattern has been around for ages, and I had been eyeing up Anne-Charlotte and Le Papillon's versions for a while. So when I came to choose a model to sew a skirt for my goddaughter's third birthday, I didn't have to search for too long. This PDF pattern (unfortunately only available in French) is easy and quick to sew, very clear, with lots of different options to choose from to create your own version, well finished, and really affordable. There is also an online tutorial to line the skirt, and indications to allow you to only print the pages you need for the specific size and options you want! Basically, it is practically perfect.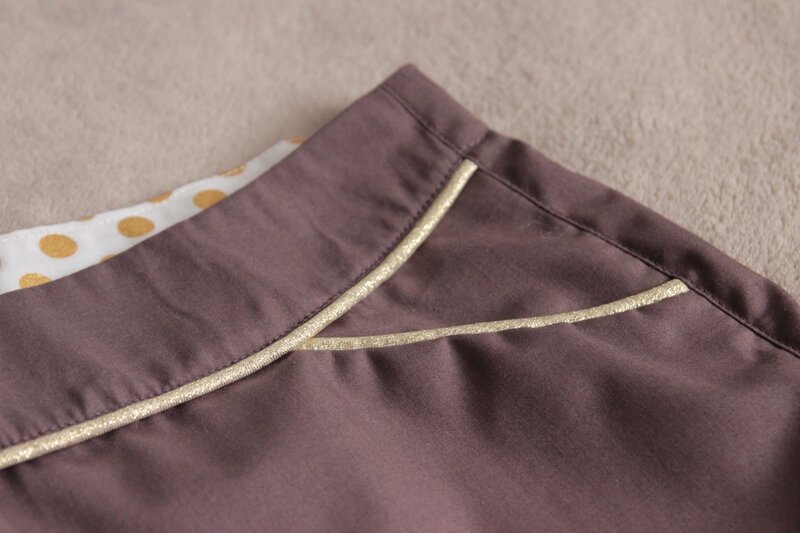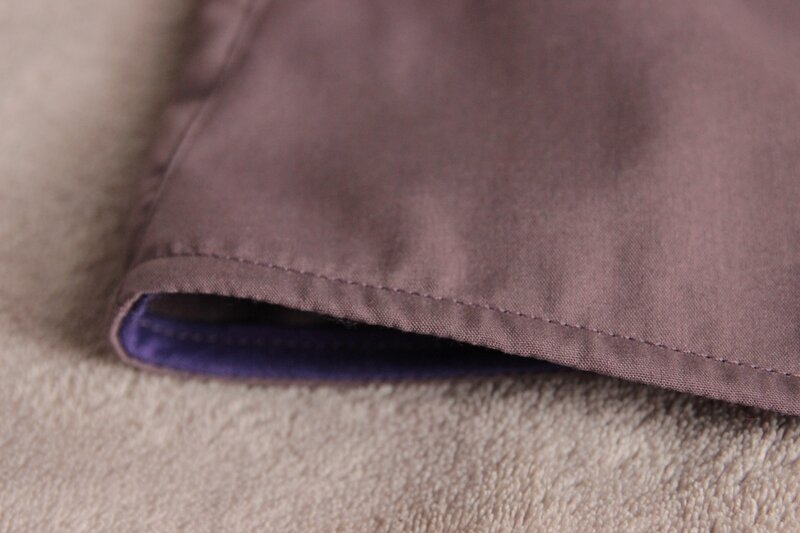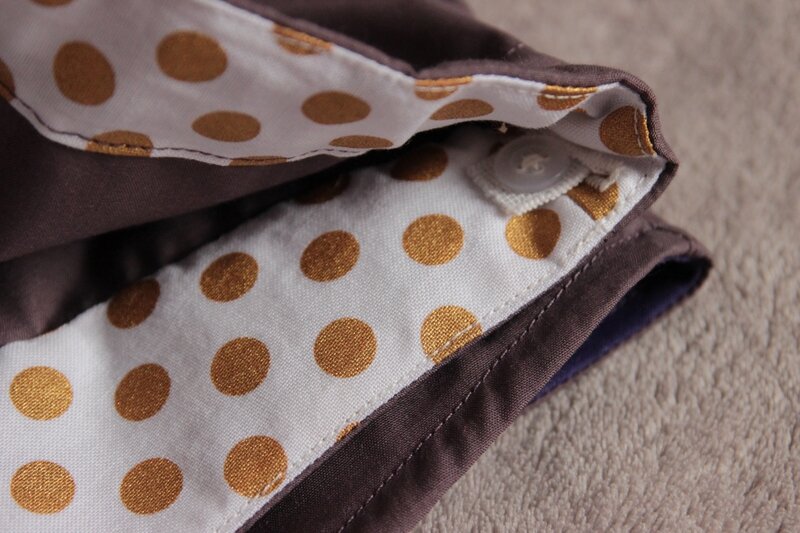 La Mini Perle est une jupe courte un peu évasée, à taille élastiquée et réglable grâce à l'elastique à boutonnières. J'ai choisi la version de base, avec options poches, passepoil, et finitions au biais. Le tissu utilisé est une popeline de coton Agnes B. acheté chez Etoffe des Héros, d'une couleur lilas irisée parfaite pour petite fille coquette. Il est un peu léger, donc ça donne plutôt une jupe d'été. Le tissu à pois est une chute, et se marie bien avec le passepoil doré, et le petit coupon-cadeau reçu dans mon colis Bö Graphik, dans lequel j'ai tout juste réussi à caser la doublure des poches ! J'ai cousu un 4 ans pour une petite fille de 3 ans et la maman me dit que c'est nickel niveau taille.
The Mini Perle is a slightly A-line short skirt pattern, with adjustable elasticated waist (thanks to some button-hole elastic). I chose the basic version, with pocket, piping and bias finish options. The fabric is a lightweight cotton poplin from Etoffe des Heros, and its shimmery lilac colour is perfect for my girly goddaughter. The polka-dot fabric is a scrap, but goes well with the gold piping, and I just managed to fit the pocket lining pieces into a small swatch sent with my order from Bö Graphik. I went for a 4-year-old size for my 3 year-old goddaughter, and the fit, I am told, is good.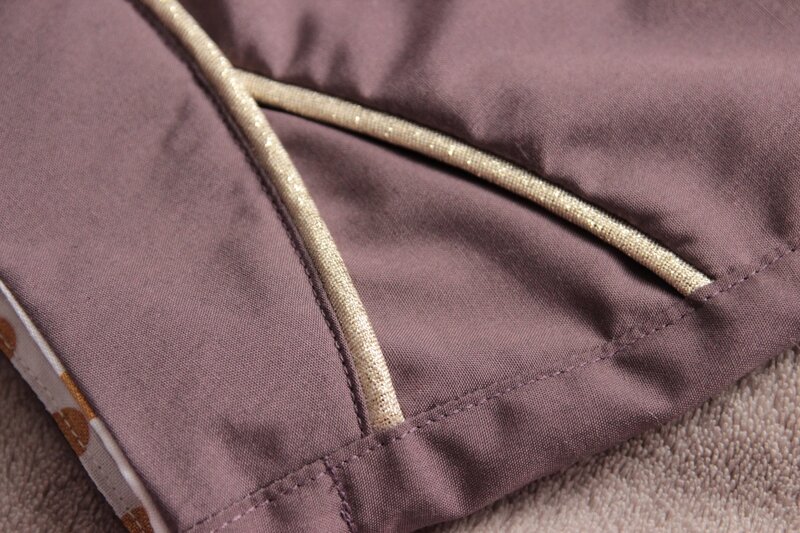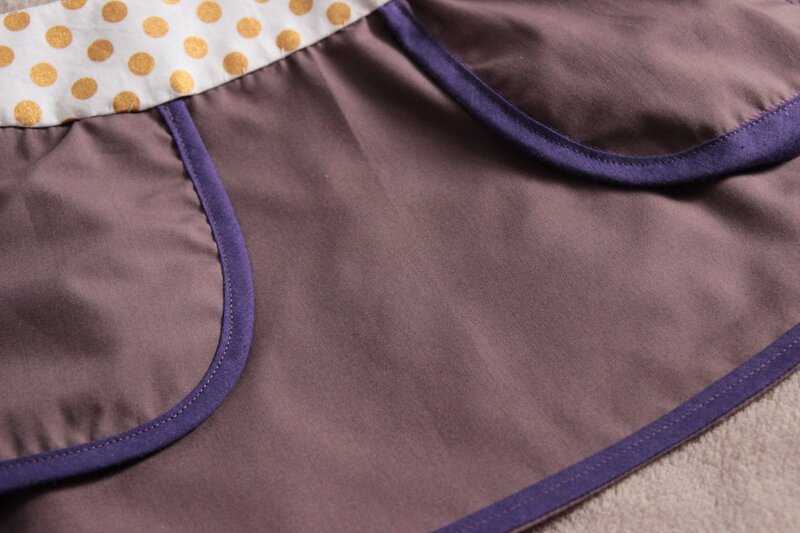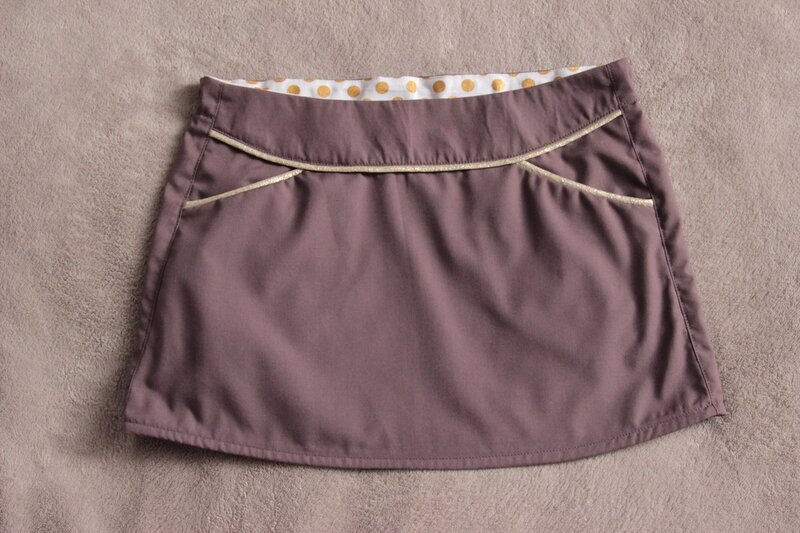 J'ai adoré coudre cette jupe : les instructions sont limpides et très pédagogiques, et les jolies finitions sont un régal. Je suis devenue accro instantanée à cette jupette, donc quand j'ai appris que le patron 1001 Perles pour femme était sorti, il a illico atterri dans la pile des projets d'automne. "Selfish sewing" à suivre bientôt !
I loved sewing this skirt: the explanations are so easy to follow and helpful, and the lovely finishing touches are a joy to sew. Having been instantly addicted to this pattern, when I heard that the adult version "1001 Perles" had been released, it went straight to the top of my "to sew" list. Selfish sewing coming soon!
***
01 septembre 2016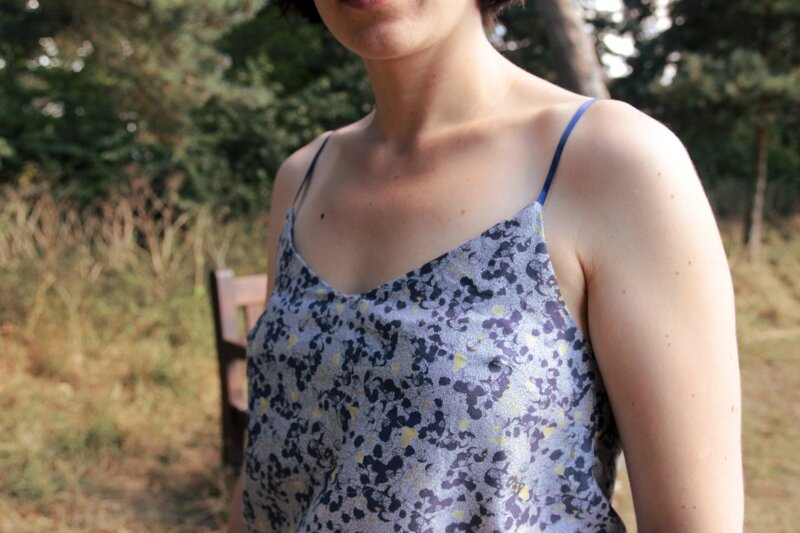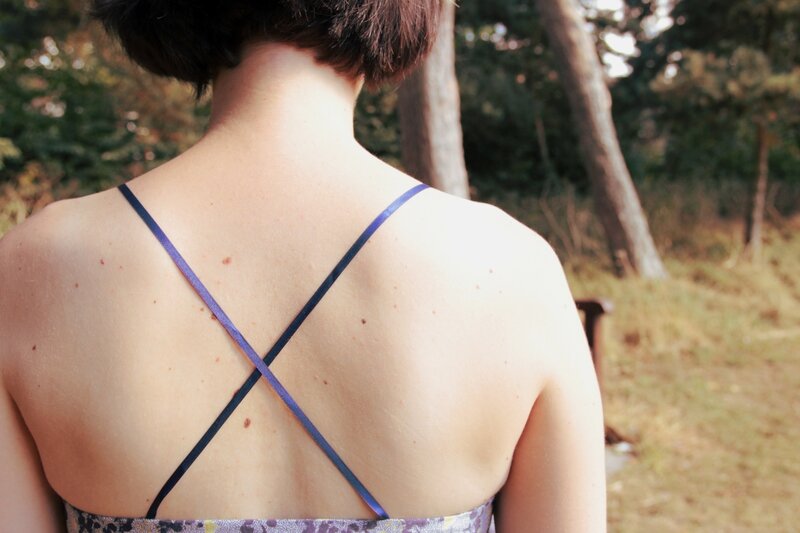 Encore un modèle La Maison Victor, vite vite avant la fin de l'été ! Le top Leila est un haut léger avec des bretelles croisées dans le dos, parfait pour les grandes chaleurs... on ne peut pas dire que l'été anglais m'ait donné beaucoup d'occasions de le porter, mais ce sera un vêtement parfait pour d'éventuelles vacances au soleil...
Another La Maison Victor pattern, before summer is definitely over (or did it ever start?). The Leila top is a light camisole with criss cross straps, ideal for very hot days. Well, let's say it would be at the top of my list of clothes to pack for a beach holiday... may be not so well suited to British weather!
C'est une couture plutôt simple, que j'ai un peu modifiée. Le top est sensé être entièrement doublé, mais je voulais quelque chose de très léger, j'ai donc remplacé la doublure par une parementure (économisant pas mal de tissu au passage). J'ai découpé un 36, qui m'allait bien au niveau de la poitrine, mais ça coinçait aux hanches (la faute au chocolat je pense...). Le bas était au départ plus long et cousu tout droit, mais j'ai raccourci le dos et le devant, en laissant délibérément le dos plus long. J'ai aussi ouvert les coutures de côté et arrondi les coins pour faire une forme un peu "liquette", plus indulgente au niveau de la culotte de cheval ! Les bretelles sont coupées dans du ruban fin. Le patron est issu du numéro de Mai/Juin 2015 de La Maison Victor.
It is quite a simple sew, which I modified a little bit. The top was originally meant to be fully lined, but I went for facings instead to keep it very light (and save on fabric). I cut a size 36, which fit fine at the bust, but was rather tight at the hips... damn that extra piece of chocolate! The bottom was intially supposed to be longer and sewn straight down the sides, but I shortened it, leaving the back longer than the front. I also opened up the side seams a little, and rounded the corners, for a hip-friendly shape. The straps are made of narrow ribbon, and the pattern is from the May/June 2015 issue of La Maison Victor.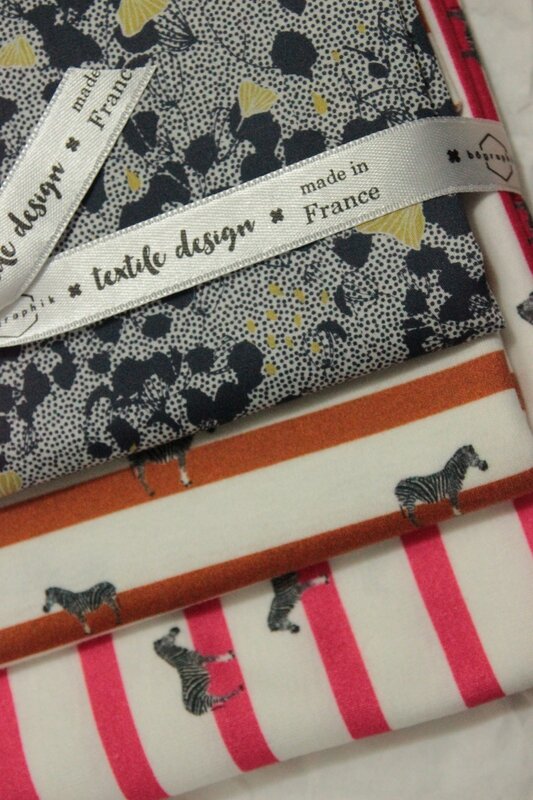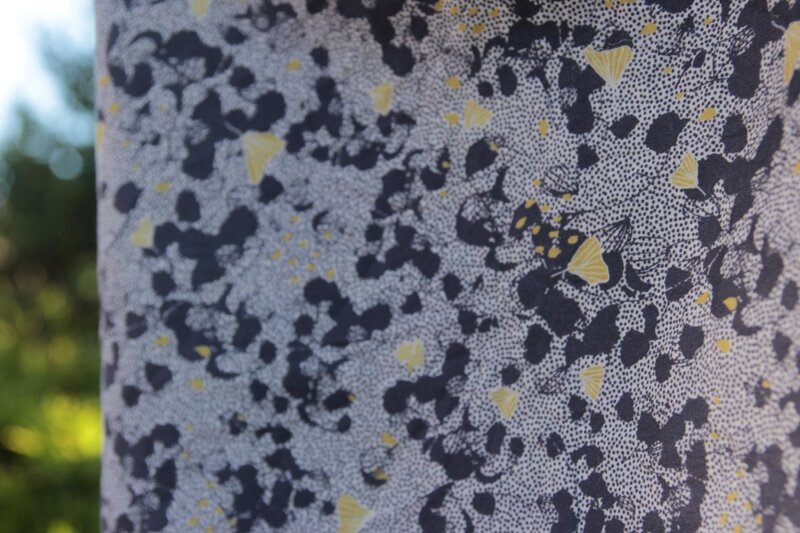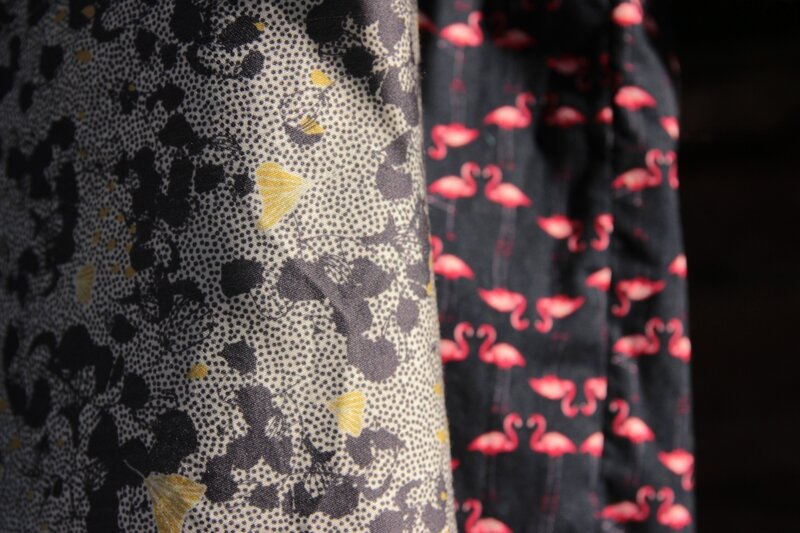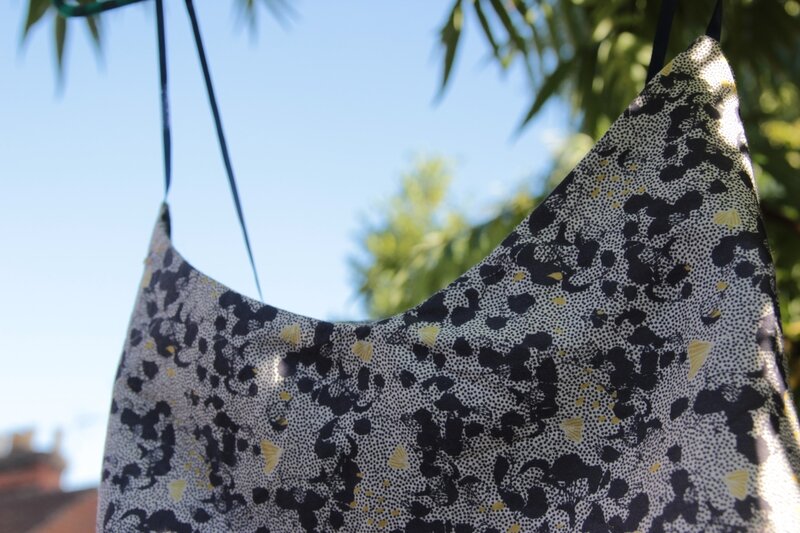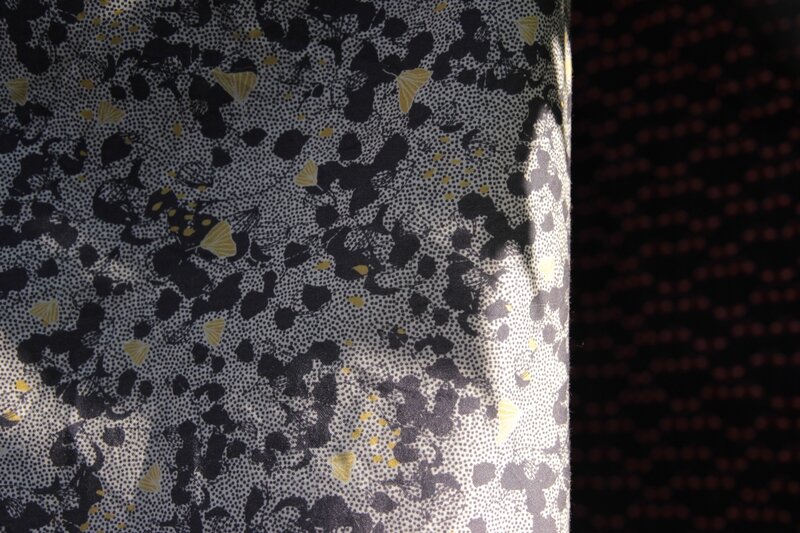 Mais la révélation ici, c'est ce satin de coton certifié Oeko-Tex de chez Bö Graphik, une très jolie petite maison française qui produit des tissus éco-responsables, fabriqués en France, de qualité, et aux imprimés originaux et délicats. Ce coupon, acheté en solde pour un prix tout-à-fait raisonnable, satisfait ma passion pour les motifs et couleurs, tout en restant "sobre et de bon goût" (comme dirait ma petite maman ;). l'étoffe est super légère, avec un tissage très fin, et un bel aspect satiné... j'ai du retenir mon souffle pour couper dedans, et c'est un vrai bonheur à porter, si léger que je me suis surprise plusieurs fois à penser que j'étais sortie en soutien-gorge !
But the big revelation here is this amazing Oeko-Tex certified cotton sateen from Bö Graphik, a delightful French design house which produces eco-responsible, quality, made in France textiles featuring delicate and interesting prints. This fabric, which I bought in the sale for a very reasonable price, indulges my love of prints, whilst remaining understated and elegant. It is super lightweight, very tightly woven, and beautifully silky. I had to hold my breath while I was cutting it! It is a delight to wear, and so light I had to remind myself that I was NOT walking around in my bra.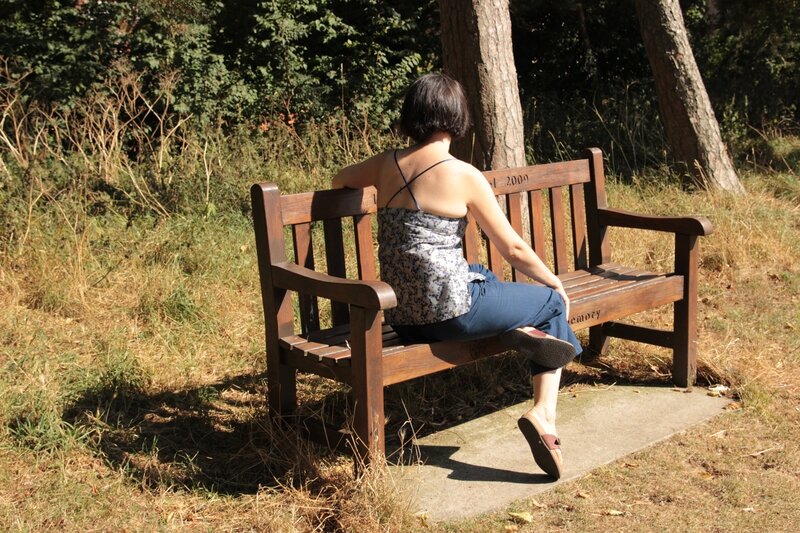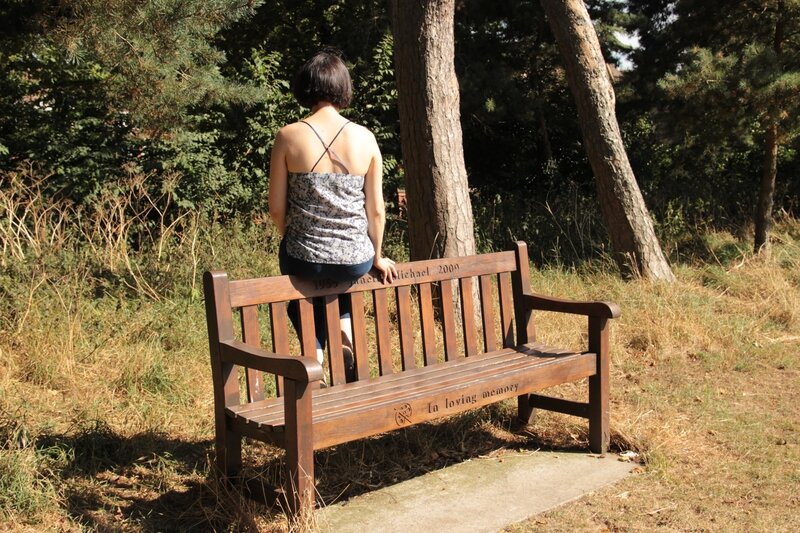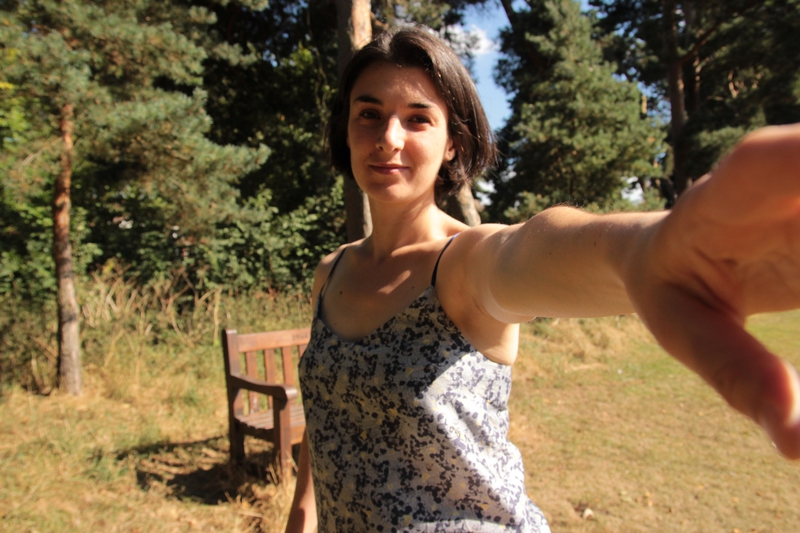 N'ayant pas trouvé de photographe libre le seul jour d'été de l'année, j'ai dû me résoudre à emmener mon appareil et trépied au parc, et à braver les regards intrigués. Je me suis sentie plutôt bête, mais les selfies ne suffisaient pas pour montrer ce top à sa juste valeur. Alors tant pis pour la gêne, j'en ai profité pour prendre quelques photos du parc en ce jour de grand soleil pour vous mettre dans l'ambiance, et vous aider à vous remettre de cette avalanche d'autoportraits !
Having failed to find a photographer available on the only day of summer we had this year, I had to take my camera and tripod to the park and brave the puzzled glances from passers-by. I felt rather silly, but I don't think garden selfies were enough to do this top justice. So anyway, nevermind the awkwardness, I took the opportunity to take a few pictures of Christchurch park on this gloriously sunny day, for your enjoyment and to help you recover from this overload of pictures of yours truly.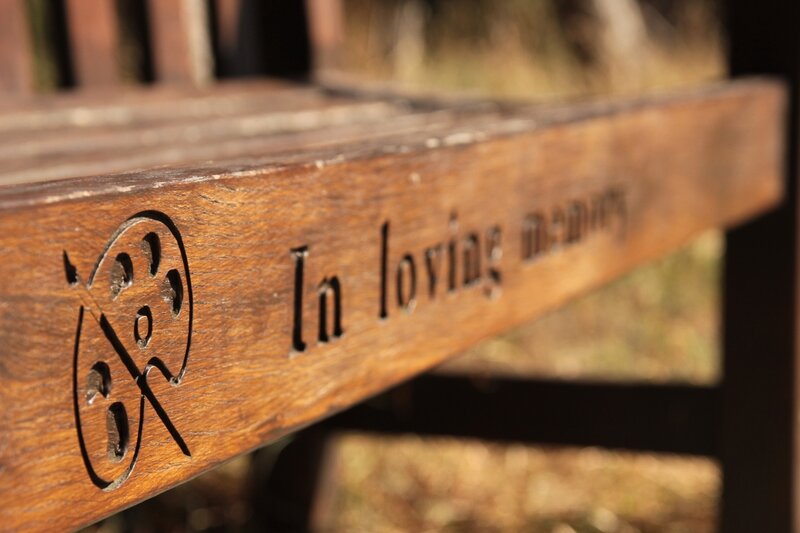 ***
24 août 2016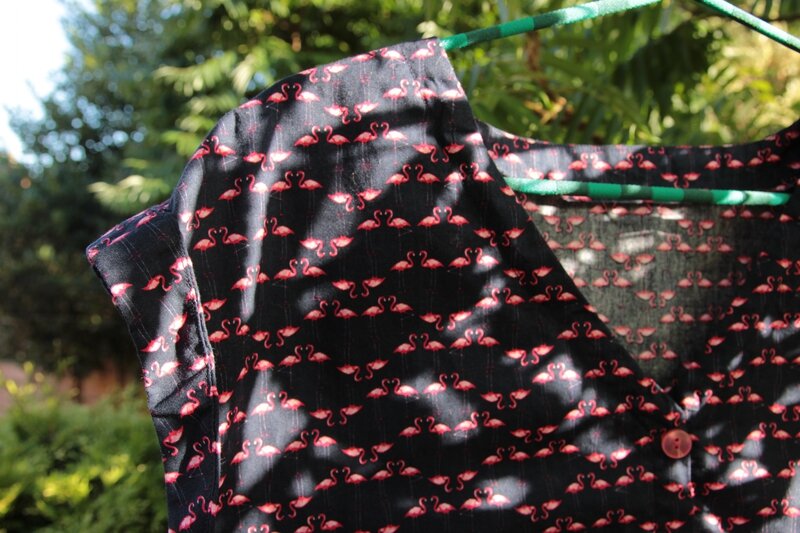 2 mois que je n'ai pas publié sur le blog, la vie est bien remplie mais plus heureuse par-ici, la météo ne m'a pas donné beaucoup d'occasions de prendre des photos, et le mini monkey a la jambe dans le plâtre ! Alors voici une petite couture récente qui a tout de suite trouvé sa place dans mon quotidien, je la porte tout le temps et elle me donne le sourire... surtout quand mon mini monkey me réclame un "fl(am)ingo t-shirt" pour lui.
It's been two months since I last published anything here, and life has been busy, happier, the weather horrendous (giving me very few opportunities to take pictures of recent makes), and the mini monkey now has a leg in plaster... So here is a recent sewing endeavour which seems to fit pretty well into everyday life. I wear it all the time, and it makes me happy, never more than when my mini monkey asks for a "flingo" t-shirt of his own!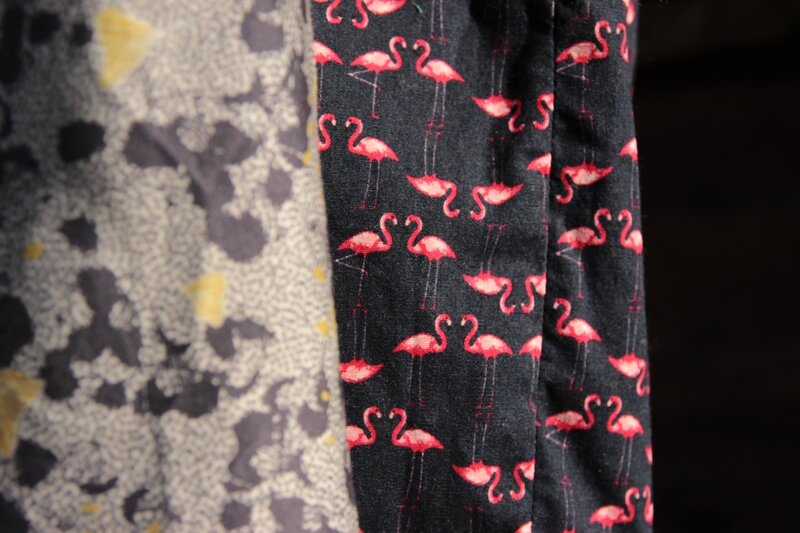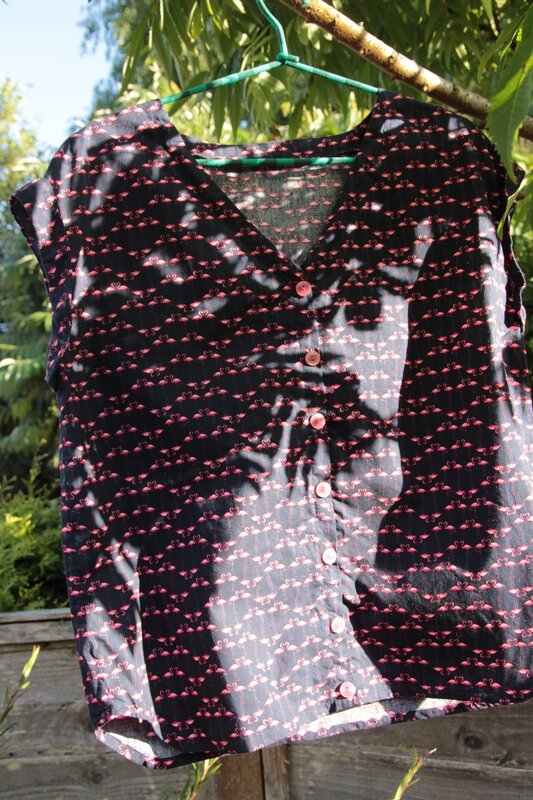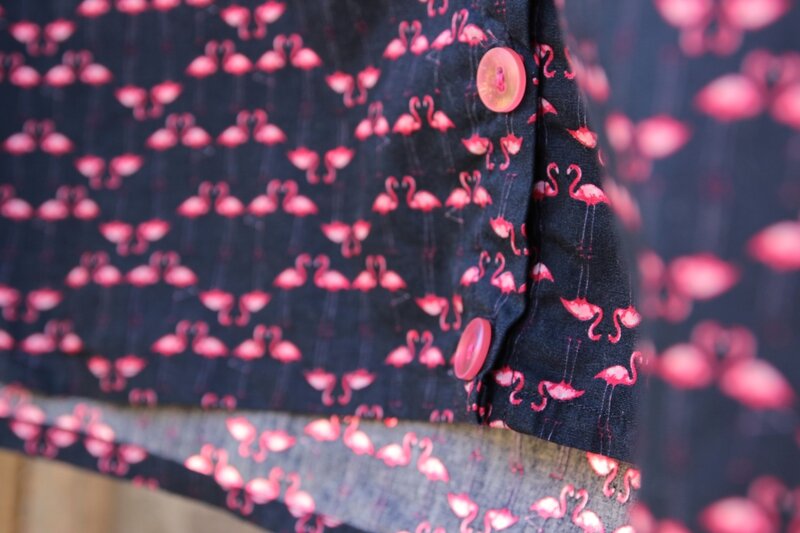 J'ai découvert La Maison Victor il y a quelques mois par l'intermédiaire d'un de mes blogs préférés, Félicie à Paris. Depuis, j'essaye de me procurer chaque numéro, et pour l'instant je n'ai pas été déçue. Les modèles sont simples mais originaux, bien expliqués, il y a des idées pour adultes et enfants, et pour tout niveau de couture. J'ai déjà une longue liste de projets LMV en attente, mais cette petite blouse Donna du numéro de mai/juin 2016 m'a tout de suite tapé dans l'oeil, et répondait à un réel besoin pour un haut confortable et facile à porter en été. J'avais déjà le tissu flamants roses, acheté à la mignonne mercerie Crafty Baba récemment ouverte à Ipswich. C'est un coton un peu épais, et je crois que pour la prochaine version je prendrai quelque chose de plus fin et fluide parce que ce tissu est un chouilla raide.
I discovered La Maison Victor a few months ago via Félicie à Paris, one of my favourite French sewing blogs. Since I have been trying to acquire every issue, and I can be found sneaking around many newsagents' craft racks every time I go over to France. The magazine is only available in Dutch, German and French at present, but the models are really well illustrated and it is probably possible to sew them even without the written instructions. The Donna blouse from this issue seemed to fit a gap in my wardrobe for something light, comfortable and easy to wear, and I already had the flamingo fabric, which I bought from the delightful Crafty Baba fabric shop in Ipswich. It is a craft-weight cotton, which is a tad on the stiff side, so I think I would use something a little lighter and more flowy for the next version.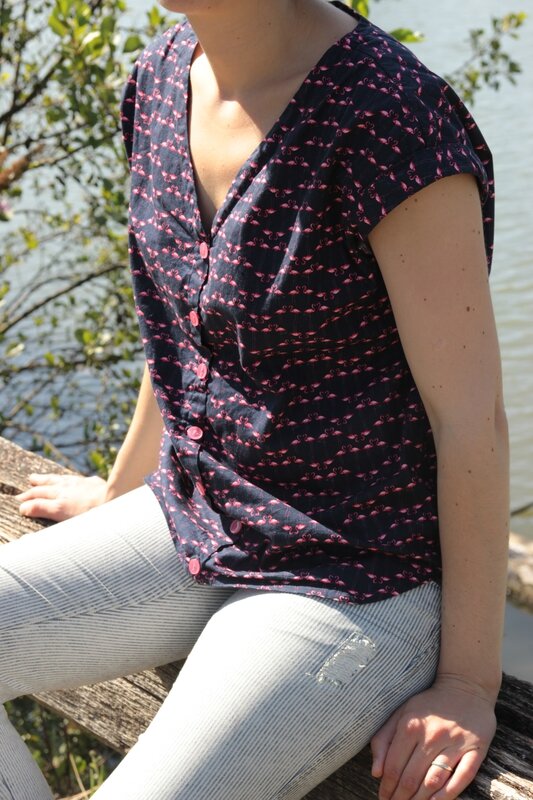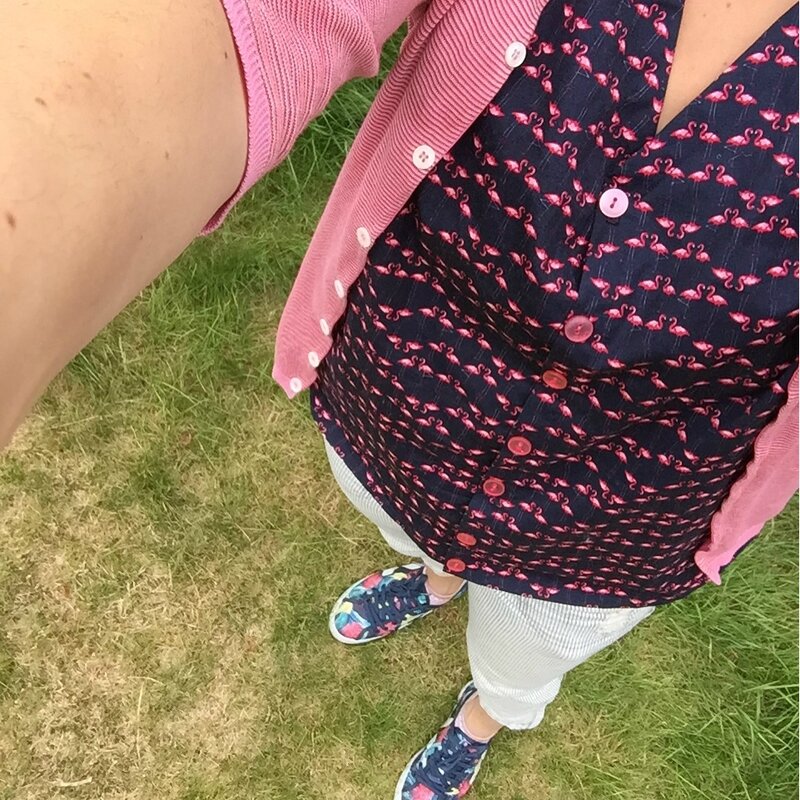 En général j'évite les boutonnières, que je rate systématiquement, et j'opte pour la solution de facilité : les pressions KAM. Pour Donna je pense que les boutons étaient indispensables, j'en avais qui étaient juste de la bonne couleur, alors j'ai pris mon courage à deux mains, et avec un peu de patience, et en changeant la cannette avant qu'elle ne se dévide complétement au milieu d'une boutonnière, ça passe tout seul. J'ai cousu un 38, mais je pense qu'un 36 serait mieux ajusté. Sinon c'est vraiment mon vêtement préféré du moment, et aussi celui de mon mini monkey !
I usually avoid sewing buttonholes, which I systematically mess up, preferring easy-to-fit plastic snaps. For Donna I thought only buttons would do, so I kept calm and gave it a go, and with a little bit of patience (and changing the bobbin thread before the end so it wouldn't run out mid-buttonhole) it went fine. I chose a size 38 based on my measurements, but I think a 36 would be a better fit. Anyway, it has quickly become one of my (and my mini monkey's) favourite tops!
***
24 juin 2016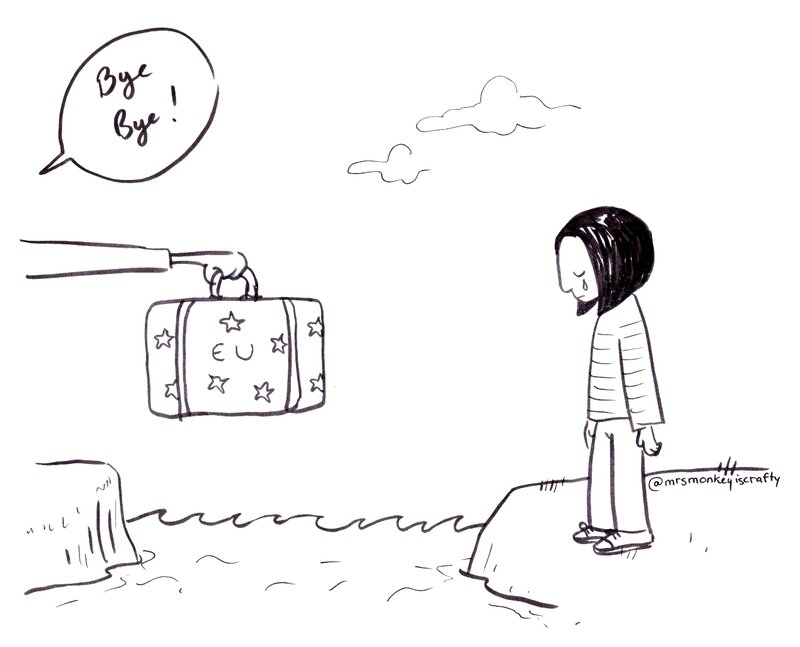 Ca fait 11 ans que j'habite en Angleterre, j'y ai fait des amis, vu naitre mon fils, pris de l'âge et de l'experience. Ce matin mon mari m'a demandé : "tu as entendu le résultat ?" "Non" "52% pour la sortie de l'union européenne". Depuis j'ai un peu la nausée, et je me demande ce que je fais dans ce pays que j'aime mais qui ne veut pas de moi...
I have been living in the UK for 11 years. I have friends here, my son was born here, it saw me get older and maybe a little bit wiser too. This morning as I woke up my husband asked: "Did you hear about the result?" "No" "52% for OUT". Since then I have been feeling slightly sick, and wondering what I am doing in this country which I love, but has clearly decided it didn't want me.
***
22 juin 2016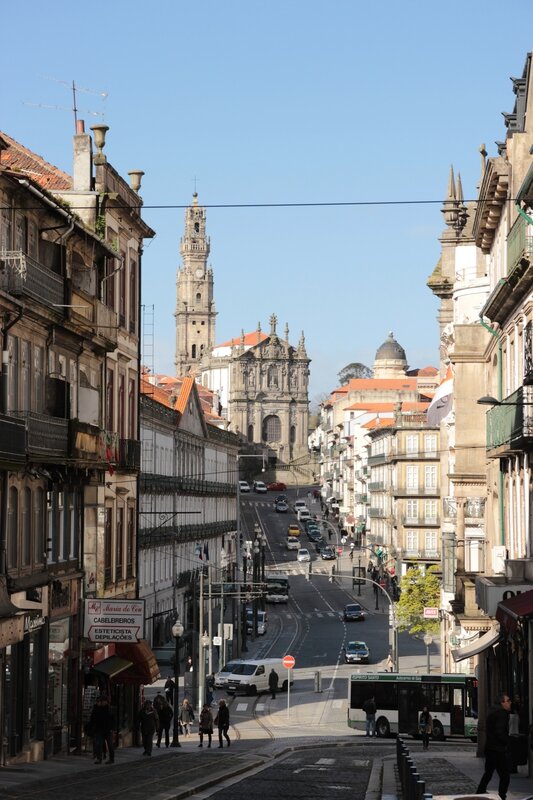 Vous l'avez peut-être remarqué, la rubrique des petits bonheurs du mois a disparu depuis quelque temps... j'ai manqué de temps et d'inspiration, et au final ça en était devenu une obligation supplementaire, ce qui n'était pas le but de l'exercice ! Elle refera sans doute une apparition occasionelle en fonction de mon humeur, mais en attendant je préfère vous présenter un article "photo" de temps à autre quand j'aurai des images à vous montrer. C'est donc avec un peu de retard que je vous présente quelques clichés de notre séjour à Porto en mars dernier.
You may have noticed it already, but the monthly happy posts have disappeared in recent times. I have lacked time and inspiration, and it became more of a chore than anything, which definitely wasn't the idea!! It may come back every now and then depending on my mood, but in the meantime I would prefer to post pictures based on sepcial moments or trips that make for good photo opportunities. So here is the first in this series, a belated overview of our trip to Portugal in March.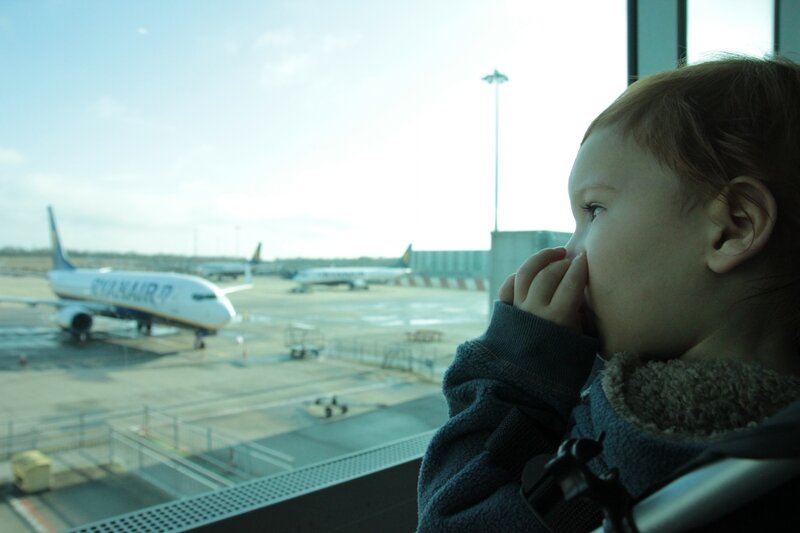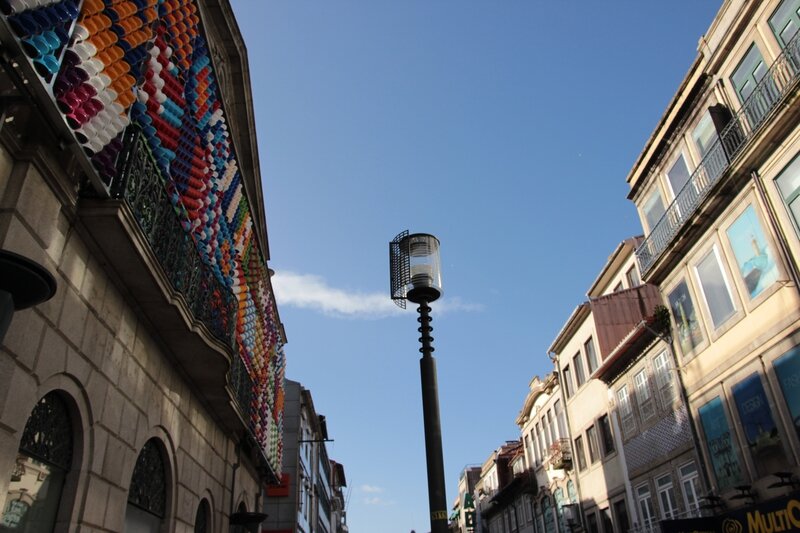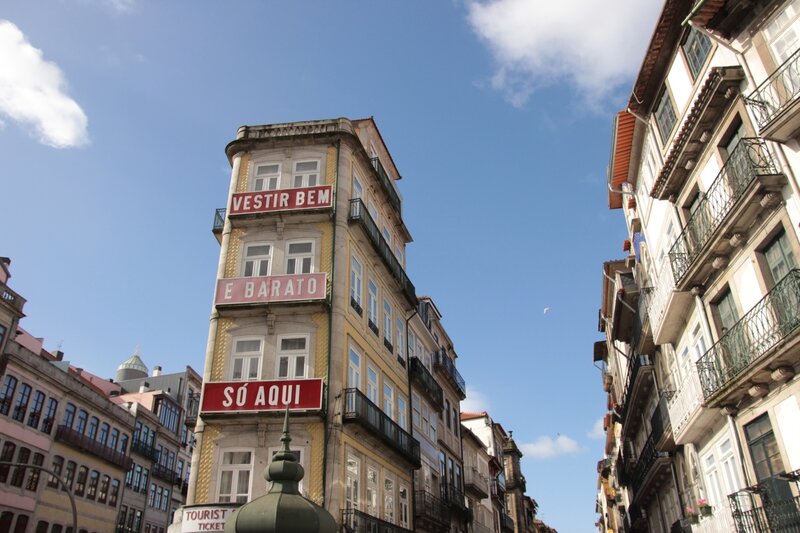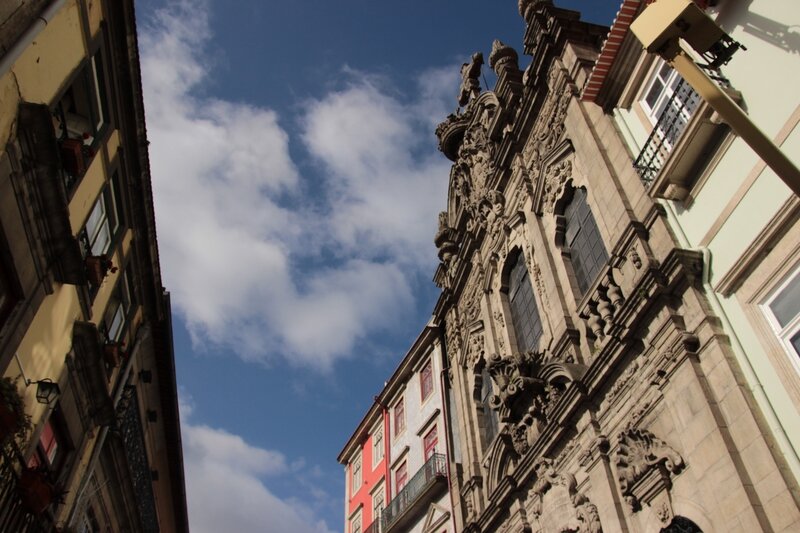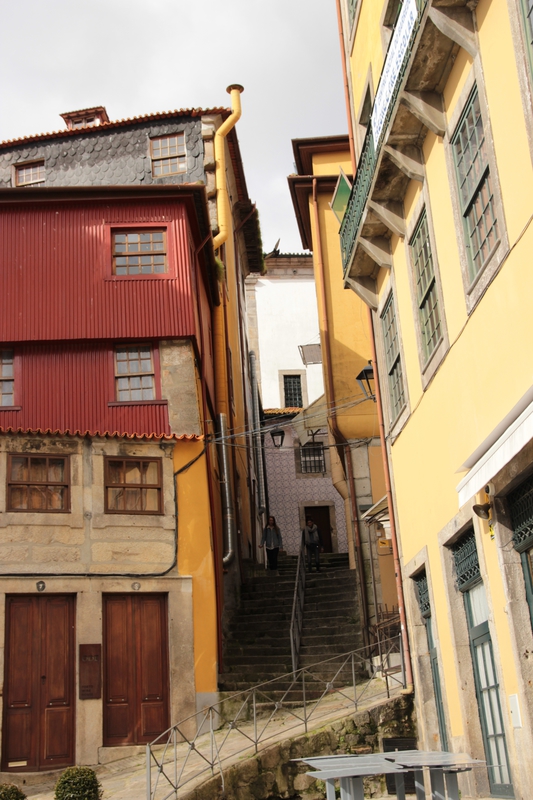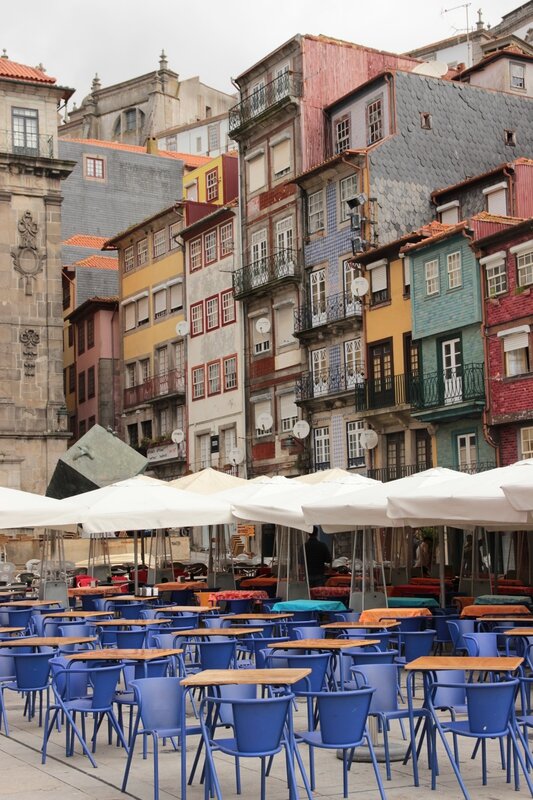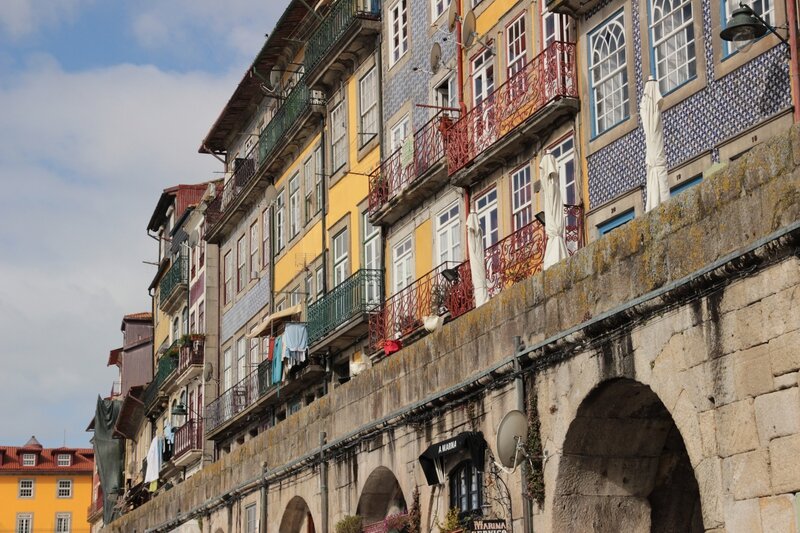 Même si ce séjour en lui-même ne fut pas des meilleurs (il semblerait que deux parents au bord de la crise de nerfs partageant une mini chambre en plein centre ville avec un enfant de deux ans hyperactif ne soit pas vraiment une situation propice à la paix des ménages...), Porto est une ville que nous affectionnons toujours particulièrement. Les couleurs, la douceur de vivre, les petits restos typiques et pas chers, et le porto ! C'est vraiment un endroit très photogénique, et que j'adore capturer en images. Alors voilà, rien que pour vos yeux, quelques petits extraits de notre passage dans cette jolie ville.
Even if this stay wasn't the most enjoyable (something to do with two parents on the edge of a nervous breakdown sharing a tiny room in the middle of the city centre with a hyperactive toddler...), Porto is a beautiful city and we always love visiting. The colours, the sweetness in the air, the cheap and cheerful tiny restaurants, and port wine... it is a really photogenic place, and I love taking pictures of it. So here it is, for your eyes only, a few images of our week in this pretty city.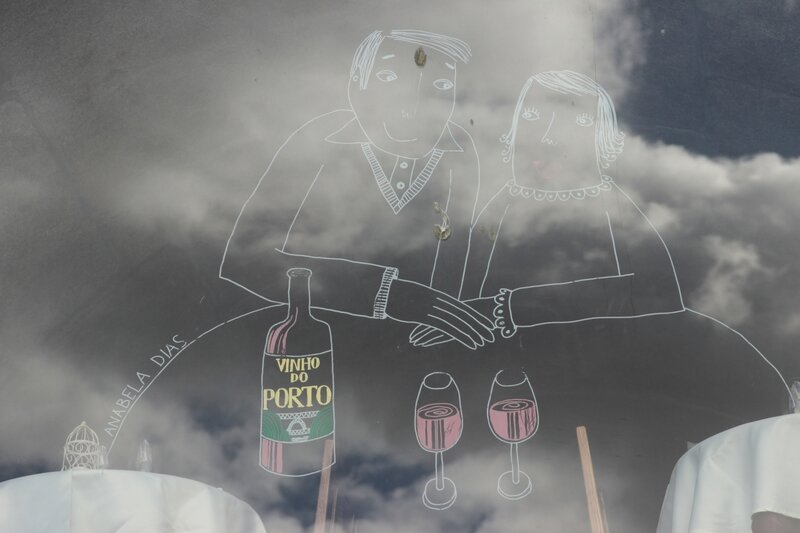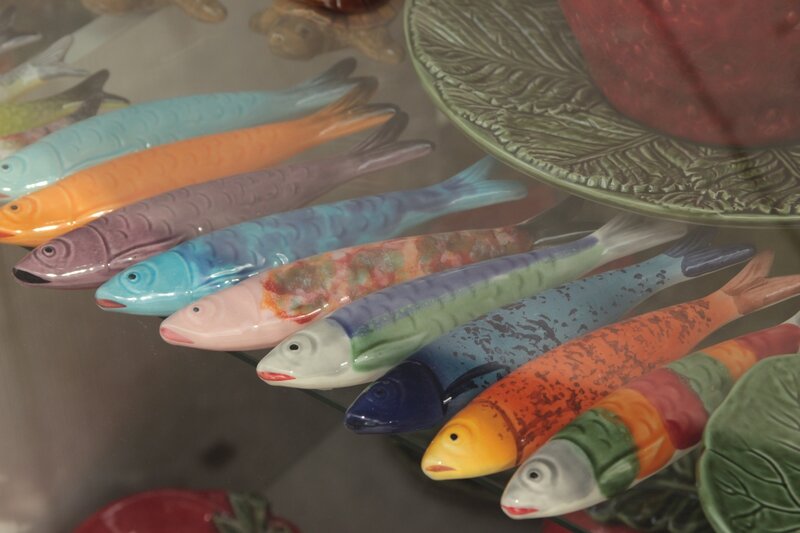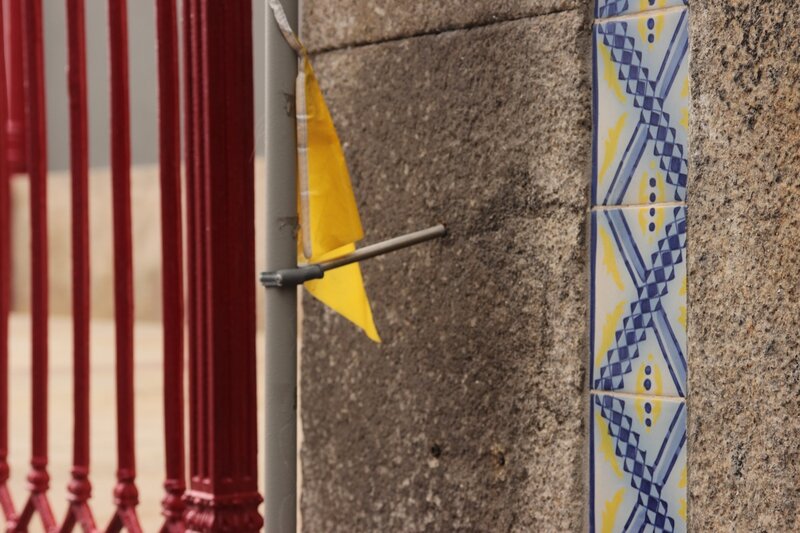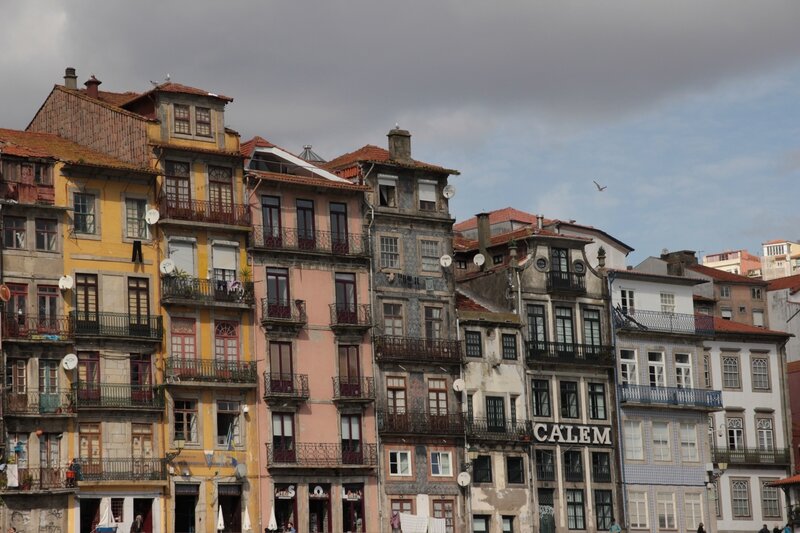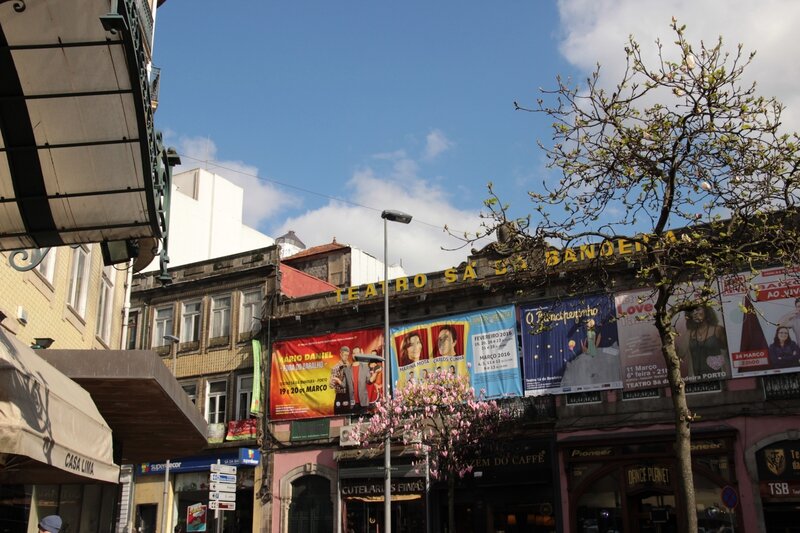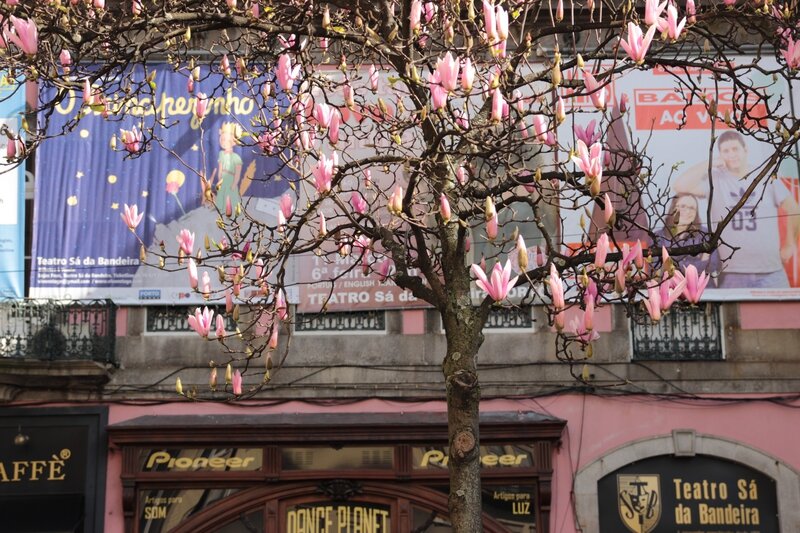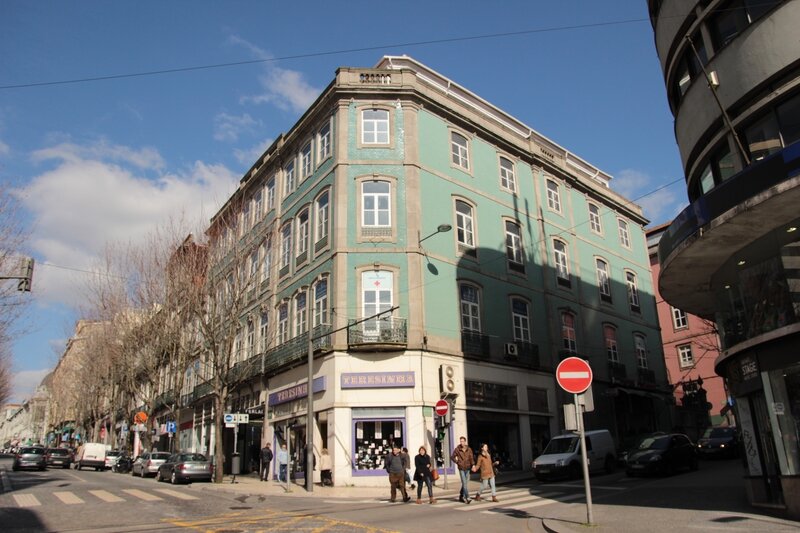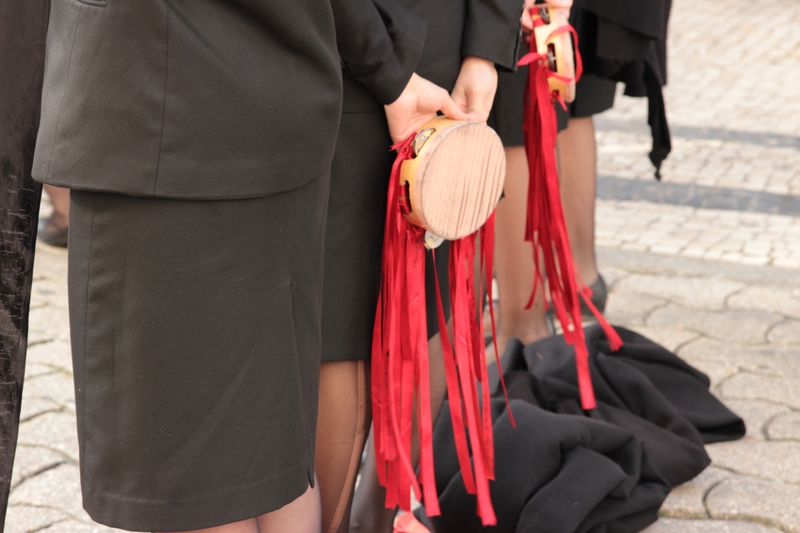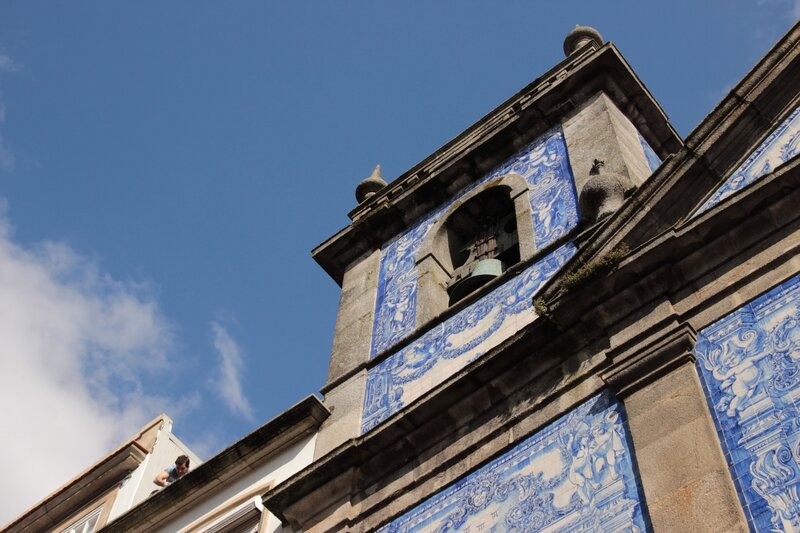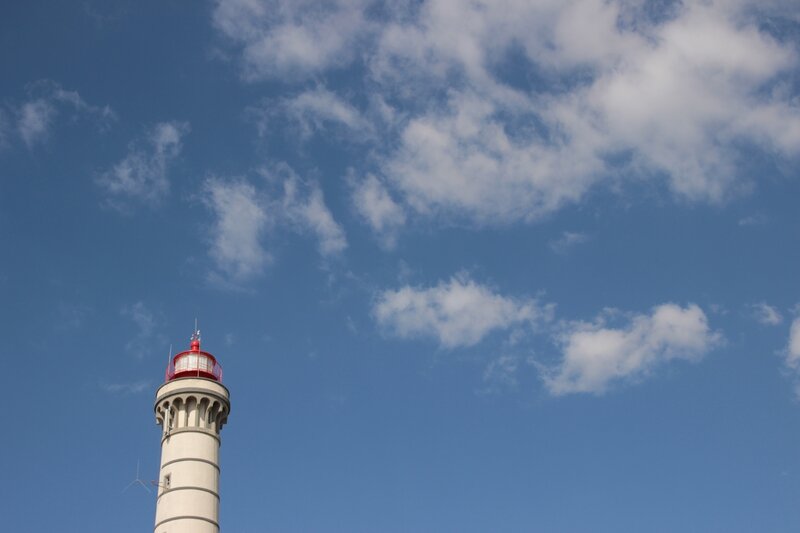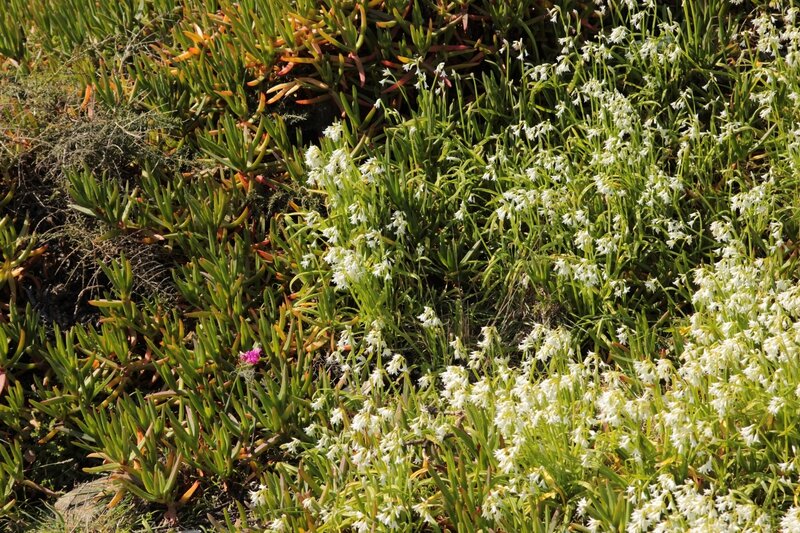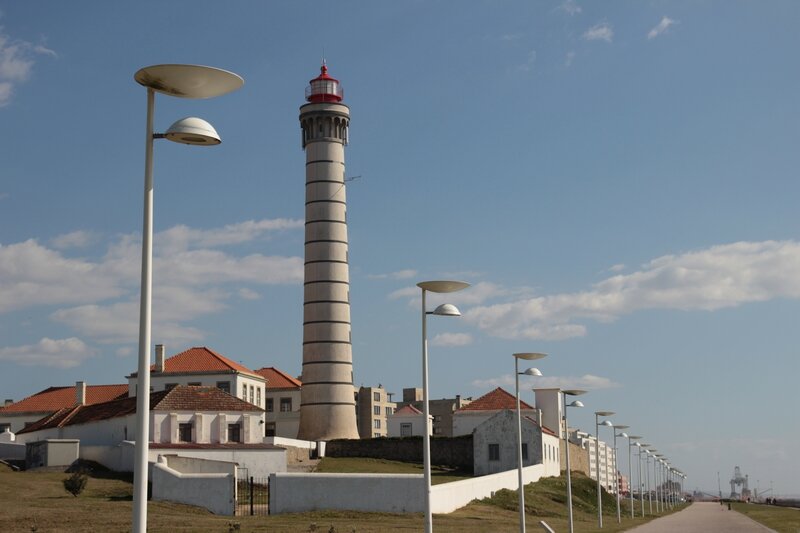 J'espère que ce petit voyage vous aura plu ! A bientôt !
I hope you enjoyed this little holiday in pictures. See you soon!
***
19 juin 2016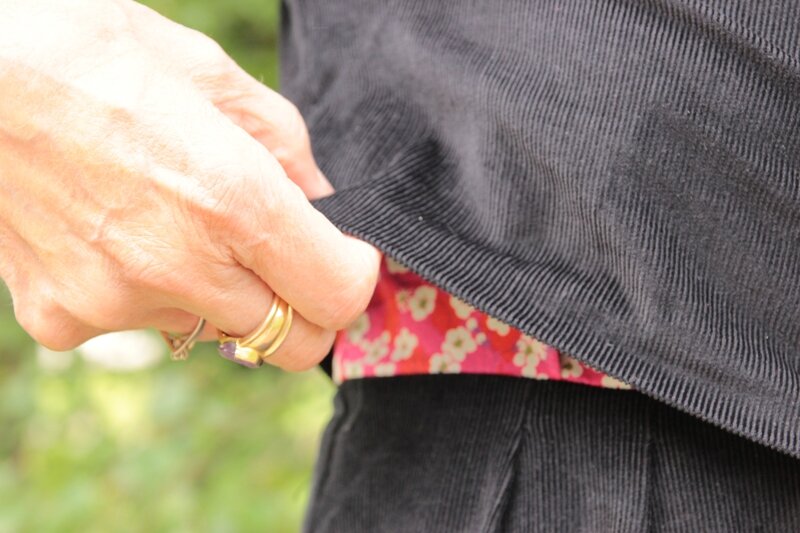 ... mais heureusement, ma grand-mère l'est ! Et oui, c'est l'histoire de la fille qui ne savait pas résister à l'appel du patron gratuit / concours de couture, et qui finissait par se coudre une robe qui ne lui allait PAS DU TOUT... Et ma grand-mère dans tout ça? Un peu de patience, vous allez bientôt avoir le fin mot de l'histoire.
... but luckily, my grandma is! Yes, this is the story of the girl who just couldn't resist a good free pattern / sewing competition, and ended up sewing a dress which didn't suit her. At all. So where does my grandma come into this? Be patient, all will be revealed!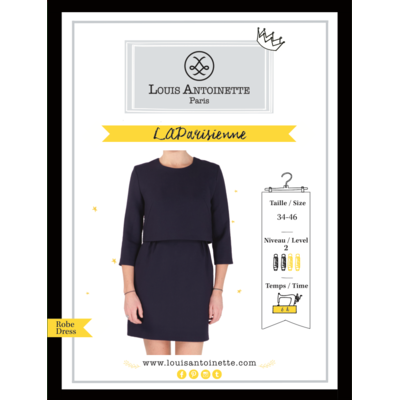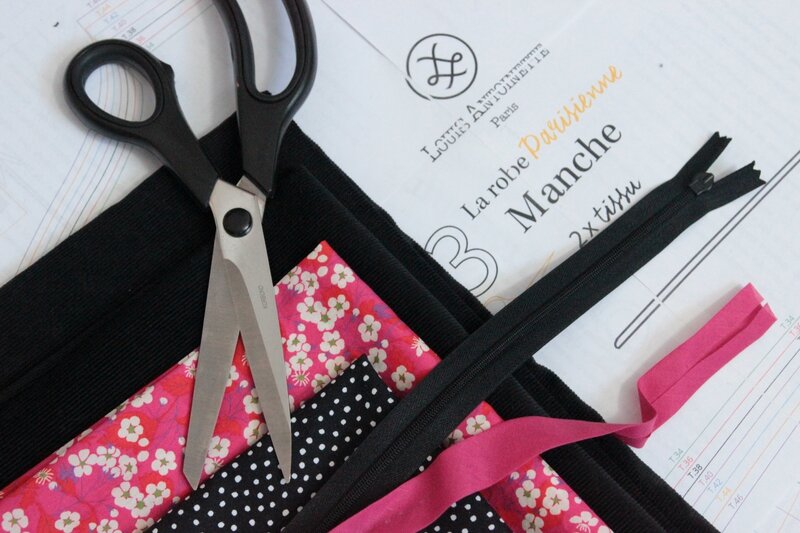 Il y a de ça un certain temps (c'était en février je crois), la maison Louis Antoinette Paris avait lancé un concours intitulé Hack la mode, pour lequel elle mettait à disposition en téléchargement gratuit son nouveau patron de robe La Parisienne. Aux couturières de réaliser leur version, plus ou moins modifiées, de ce patron, et de poster leur réalisation pour gagner des lots plus alléchants les uns que les autres. Malgré le style de la robe qualifié par les créateurs du patron de "preppy" et "Kate Middleton" (ok, pas vraiment moi, je me classerais plutôt dans la case maman baba cool!), l'appel du challenge était trop fort. Surtout que j'avais dans mon stock les fournitures idéales qui n'attendaient que leur heure, et un patron de robe un peu classe, pour passer à la casserole.
A little while ago (I think it was february), the French pattern design team Louis Antoinette Paris launched a competition, giving free access to the PDF version of their latest pattern, the Parisienne dress, and encouraging sewers to hack it into something new and exciting. Despite the style of this dress being qualified by the designers as "preppy" and "Kate Middleton" (not really my cup of tea, as I would probably see myself more as a hippy / busy mum) I just could not resist the call of the challenge, especially as I had just the right combination of materials in my stash, awaiting the perfect little slightly elegant dress pattern.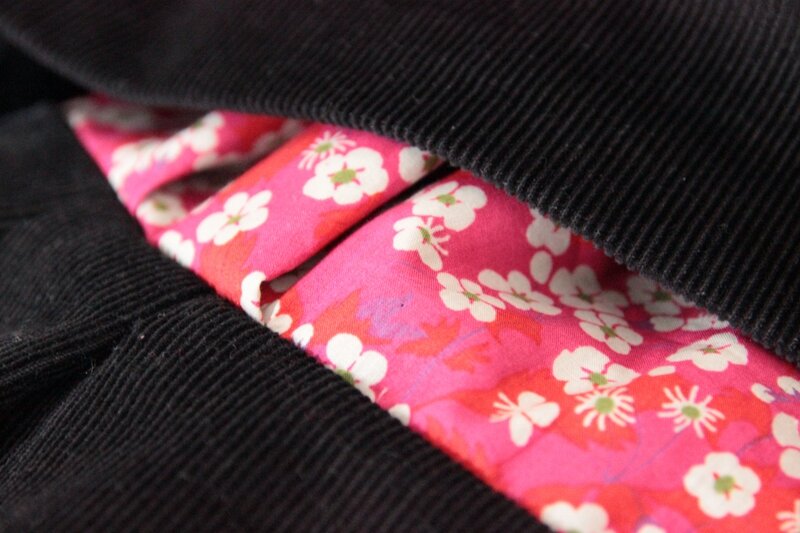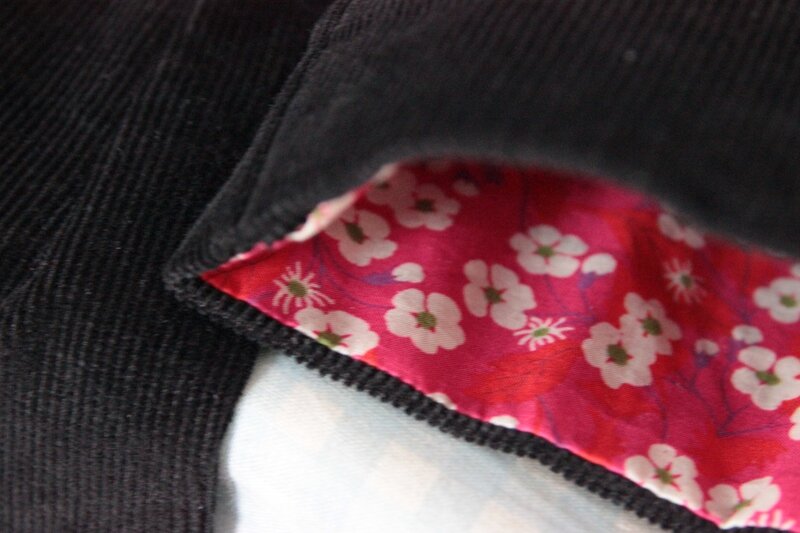 J'y ai passé des heures... des jours, des nuits... J'ai redessiné le patron pour le faire rentrer dans mon tissu, l'ai adapté à mes mensurations, ajouté des ourlets doublés, du passepoil, posé 3 fois la fermeture invisible, fait des finitions à la main... (j'ai même pris des photos pour un tuto des modifications !) et je l'ai finie juste à temps, le dernier jour du concours. Et là je l'ai essayée. Mince. J'en ai presque eu la nausée d'avoir passé autant de temps, d'efforts, d'acharnement (sans compter mon coupon de Liberty Mitsy que je gardais pour une grande occasion) pour au final avoir un vêtement que je ne porterais de toute évidence jamais. La jupe remontait, à tirait et gondolait de partout, bref, une horreur, sans que je sache vraiment pourquoi. J'en ai fini par me dire que tout simplement ce patron n'était pas adapté à ma mophologie (ou plutôt, ma morphologie n'était pas adaptée à ce patron !), mais j'ai eu bien du mal à surmonter mon amertume. Je n'ai même pas participé au concours ! Mais, bien décidée à ne pas laisser les fruits de ce dur labeur moisir au fond de mon armoire, je me suis rendue à une réunion de famille avec ladite Parisienne, et l'ai proposée aux filles de l'assistance. Et je suis tout à fait ravie de vous annoncer qu'elle va comme un gant à ma chère petite mamie Pom, 75 ans mais une silhouette de jeune fille, la preuve, elle porte la Parisienne mieux que sa petite fille !!
I spend hours on it... days, nights... I redrew the pattern pieces to fit my fabric, and my mesurements. I added lined cuffs and hems, piping, redid the invisible zip 3 times, and finished the whole thing by hand. I even took pictures for a step-by-step of the pattern hack! I finished it just in time, on the last day of the competition. And then I tried it on. I felt sick. I couldn't believe I had spent so much time and effort on a garment that I clearly would never wear. It was riding up at the waist, puckering, twisting, it looked a mess, and I couldn't really tell why, appart from the fact that this particular pattern obviously didn't suit my body shape (or maybe my body shape didn't suit it?). It took me a while to get over the disappointment. I didn't even enter the competition in the end. But I couldn't just leave this dress on which I had worked so hard just gather dust at the back of my wardrobe, so I took it with me on a family week end, and offered it to any taker. Turns out that my grandma, at age 75, wears it a lot better than I do!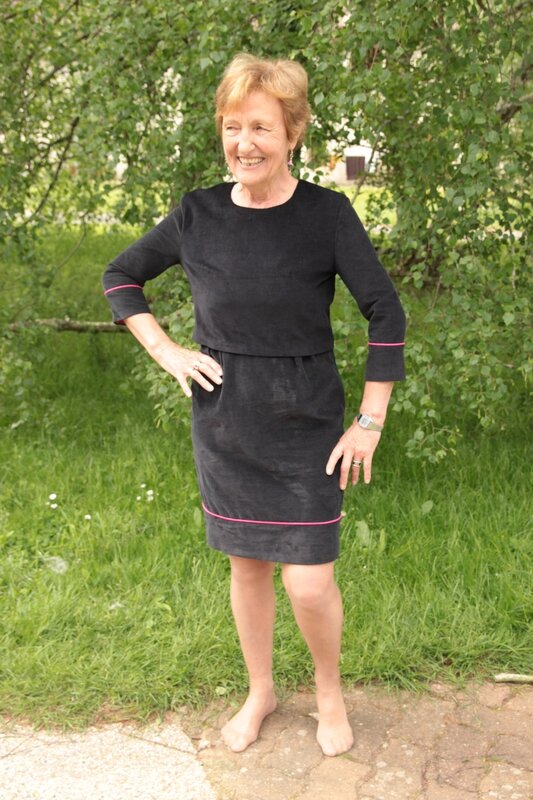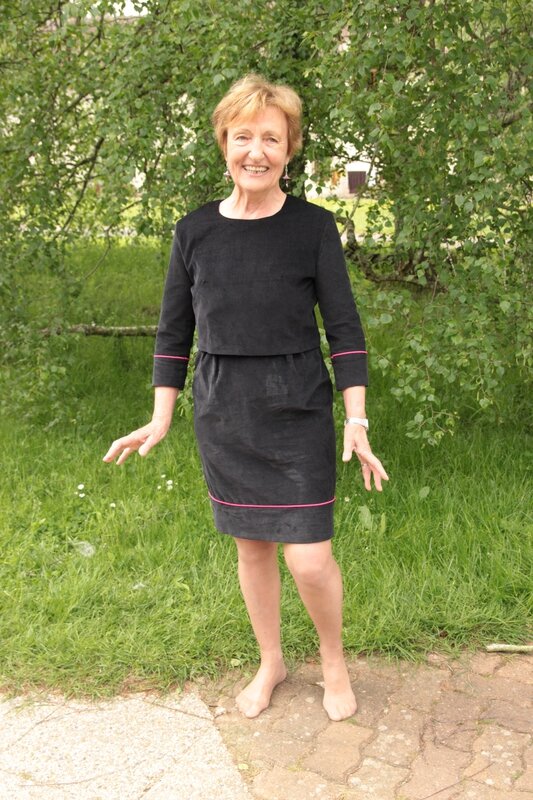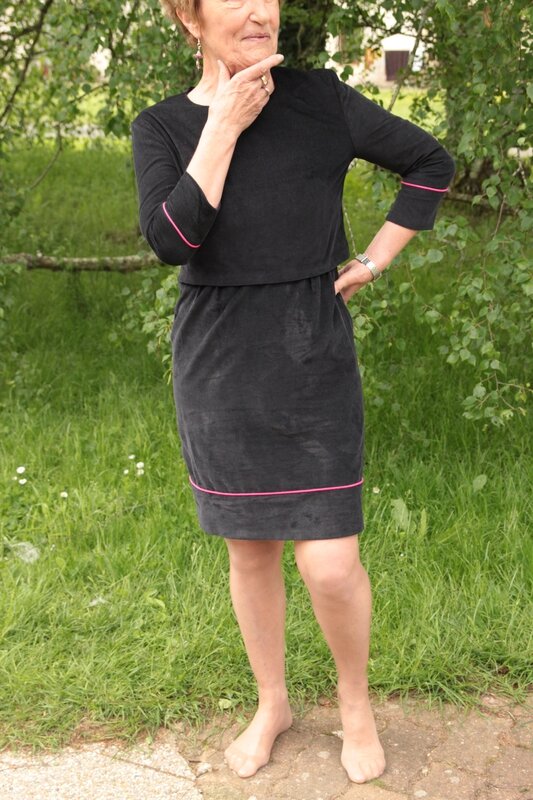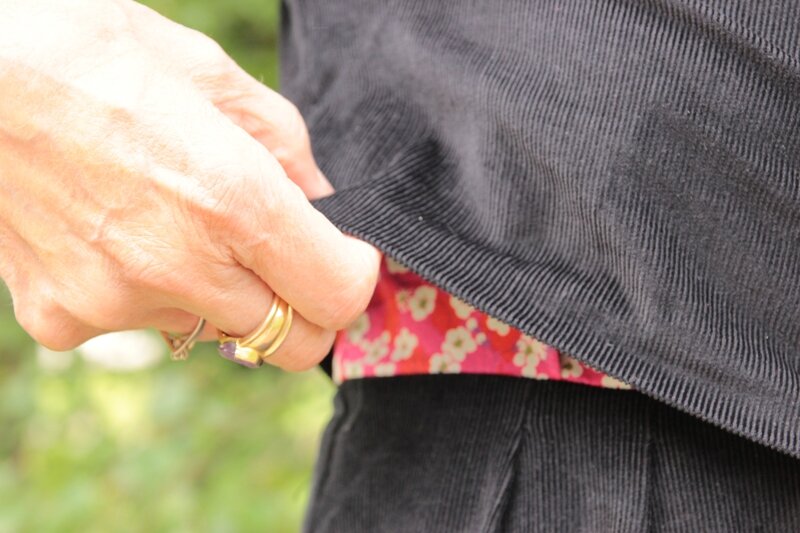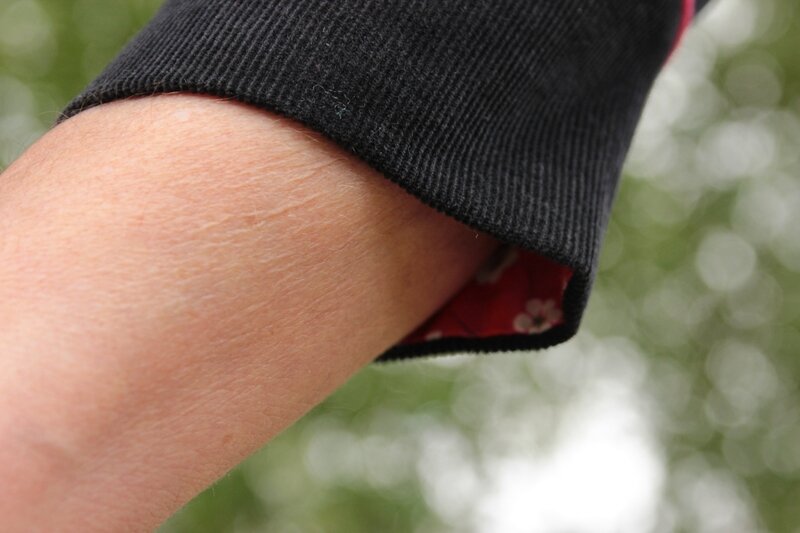 Alors, elle a pas la classe ma grand-mère ? En plus c'est demain son anniversaire alors j'en profite pour lui faire un gros bisou ! See you soon mes monkeys, ce blog a été un peu en friche ces derniers temps mais je compte bien lui faire reprendre du service. Merci pour votre patience !
So what do you reckon, doesn't she look good? And it is her birthday in a couple of days' time so big hugs to her. I have to apologise, this blog has been rather neglected of late, but I do intend to be back, so thank you for your patience! A bientôt!
***
10 mai 2016
Après cette semaine de challenges pour une mode plus éthique, on revient à nos moutons... des moutons merinos bio, en l'occurrence ! Quand j'ai vu cette merveille d'imprimé chez Kitschy Coo, j'ai tout de suite eu une vision de mon mini monkey en sweat "supercat". Le prix (€27 du mètre, ce qui est largement au-dessus de mon budget tissu habituel) m'a fait hésiter au moins 3 minutes, puis j'ai craqué. Et je n'ai pas regretté ce moment d'égarement, cette maille est extra douce, légère mais chaude, passe en machine sans problème, et le mini monkey (et moi) sommes fans de ces chats masqués sur fond turquoise.
After this last week of ethical fashion challenges, let's get back to more wooly considerations. Organic merino wool considerations, in fact. When I spotted this fantastic print in the great Kitschy Coo shop, I knew I had to get it for a jumper for the mini monkey. I hesitated for all of 30 seconds as it was a bit pricey (£21 a metre, which is more than I usually spend on fabric), and then gave in. And I have to confess that I have no regrets, as it is so beautifully soft, light, warm, and funky!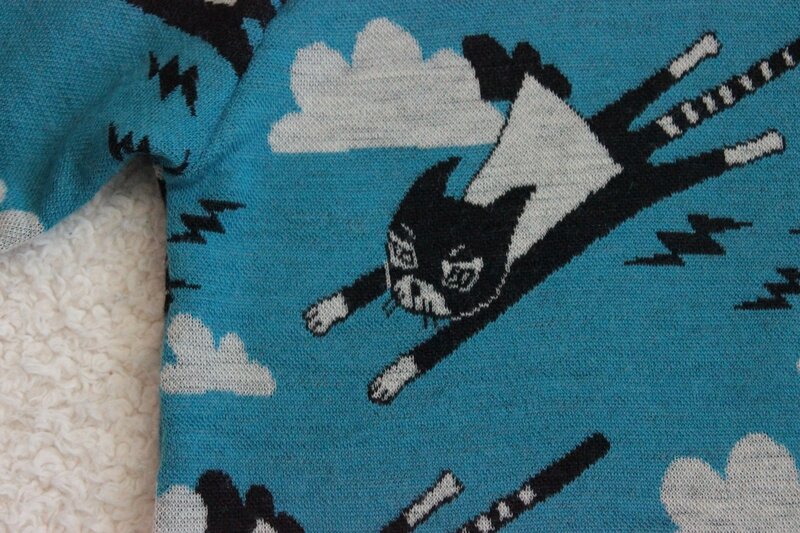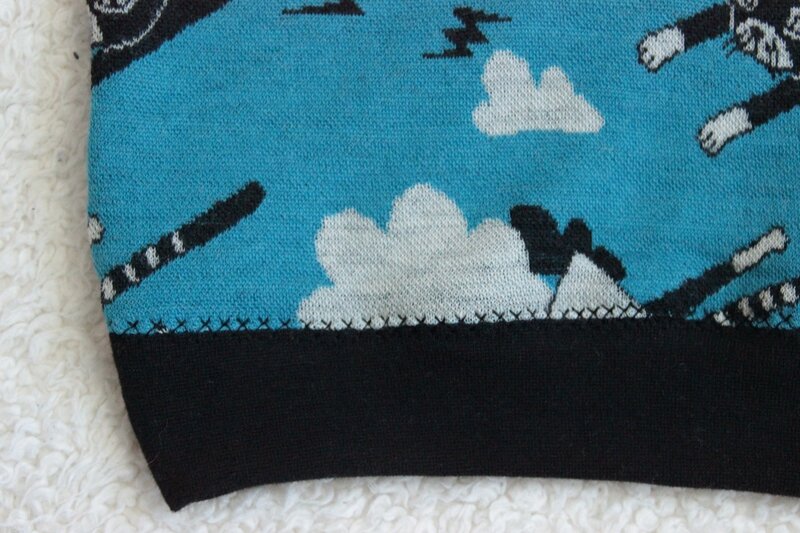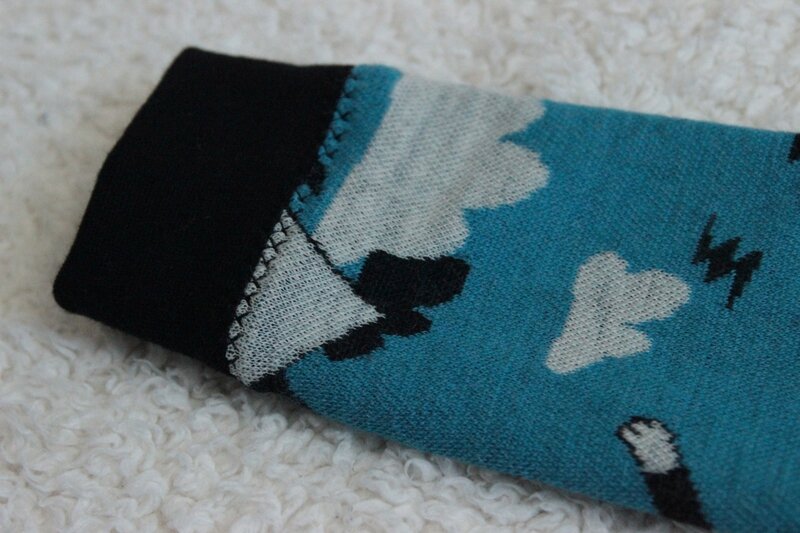 Le patron est le même que celui du sweat "monstres en slip", mais sans la capuche. J'ai tout cousu au petit point zigzag, mais j'ai dû surfiler les marges qui s'effilochaient pas mal. Les finitions sont en bord-côtes noir, avec un point fantaisie de ma machine.
The pattern is the same as the one I used for the "monsters in underpants" jumper, minus the hood. It was entirely assembled using a tiny zigzag stitch, but I had to finish all the raw edges as they were fraying rather a lot. The hem, neckline and sleeves are finished with black ribbing and a decorative stitch.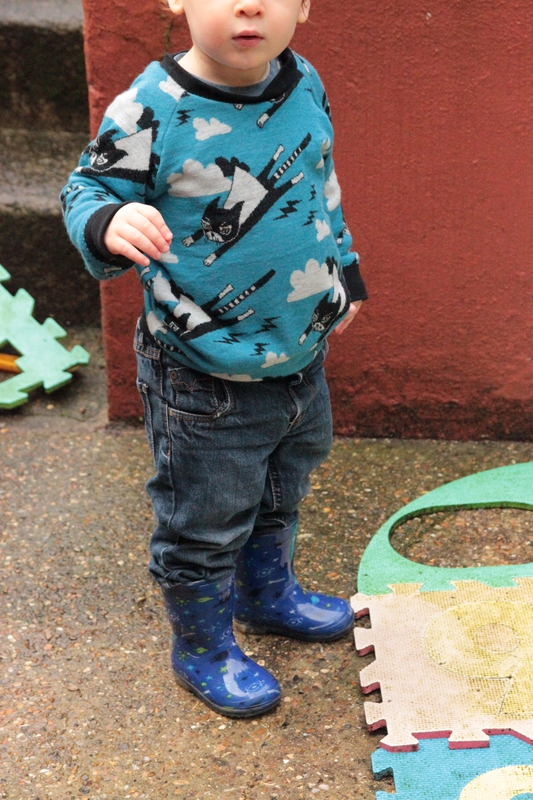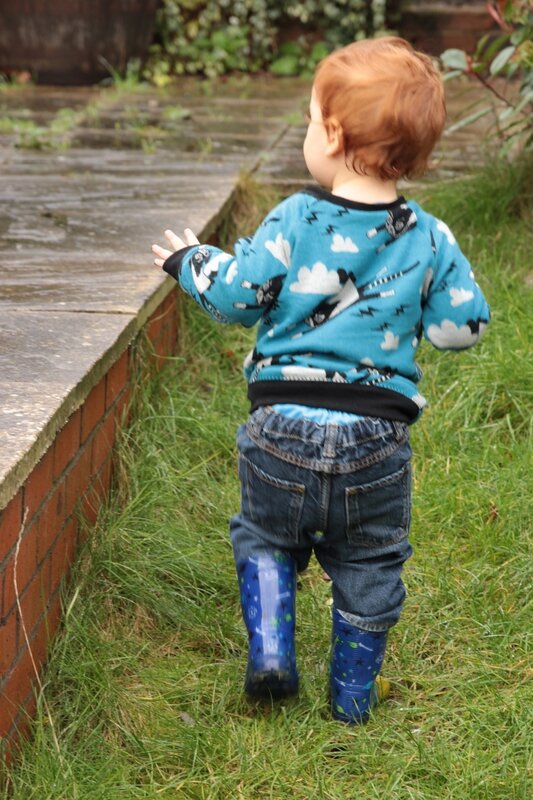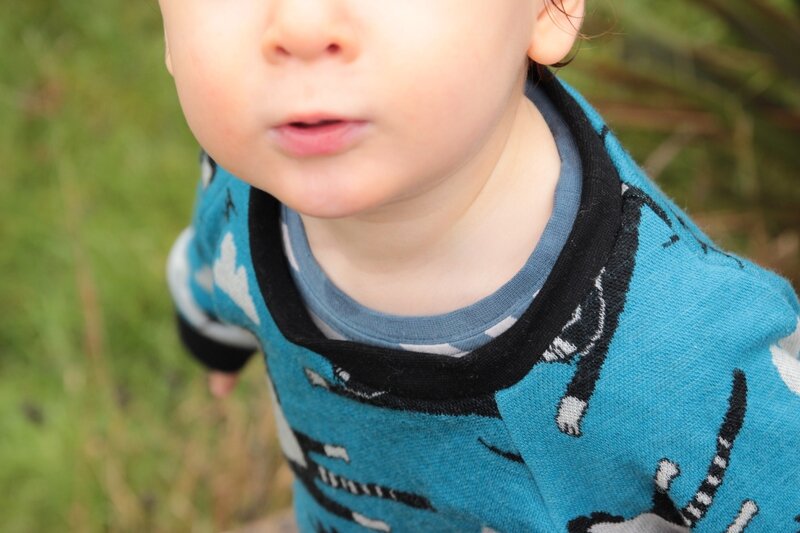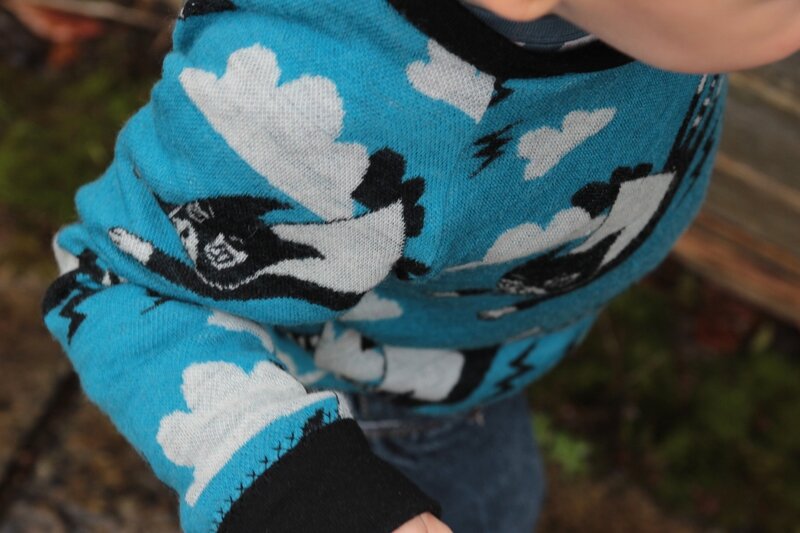 Et voilà ! Il a tout de suite été adopté pour aller sauter dans les flaques. J'en suis vraiment contente, et l'imprimé suscite souvent des commentaires, mais mon seul regret est que le tissu soit assez fragile et que les mailles se tirent facilement. Pas idéal pour un petit gars de 2 ans hyperactif qui adore grimper partout et se rouler dans l'herbe... Mais bon, le pull survit pour l'instant, et j'espère qu'il le portera jusqu'à l'année prochaine.
And there it is! The mini monkey immediately adopted it and went off to jump in some puddles. I am really happy with it, appart from the fact that the knit is quite fragile and the stitches do get pulled easily. Not great for a garment intended for a hyperactive 2 year old who loves nothing more than climbing on everything and rolling around outside... Anyway, the jumper still survives, and I am hoping he will wear it into next year.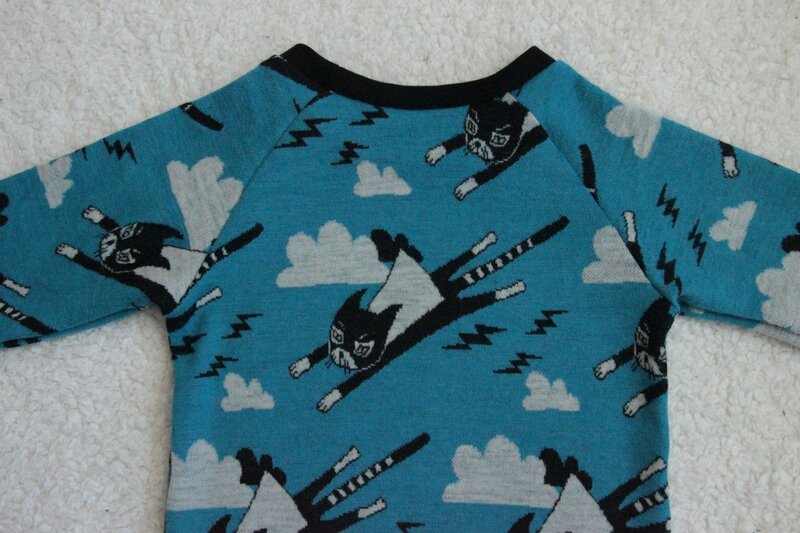 Patron: Ottobre 1/2015, modèle numéro 9 * Tissu: 50 cm de maille merinos bio "Superhero cats" Stromming Design, achetée chez Kitschy Coo. Bord-côtes noir de chez Ilona Store. Fil à coudre coton bio fabriqué en UE acheté chez Offset Warehouse.
Vous connaissez mon amour des imprimés un peu barjots, mais finalement, grâce à nos jolis moutons bio et à nos chats masqués, on continue la couture responsable et la fashion revolution ;) !
Pattern: Ottobre 1/2015, style number 9 * Fabric: 1/2 metre of "superhero cats" organic merino knit from Stromming Design, bought at Kitschy Coo's. Black ribbing from Ilona Store. Organic cotton made in EU thread from Offset Warehouse.
You know how partial I am to a funky print... but in the end, the fashion revolution carries on with more ethical sewing, thanks to these lovely organic merino sheep and crazy superhero cats :) !
***
24 avril 2016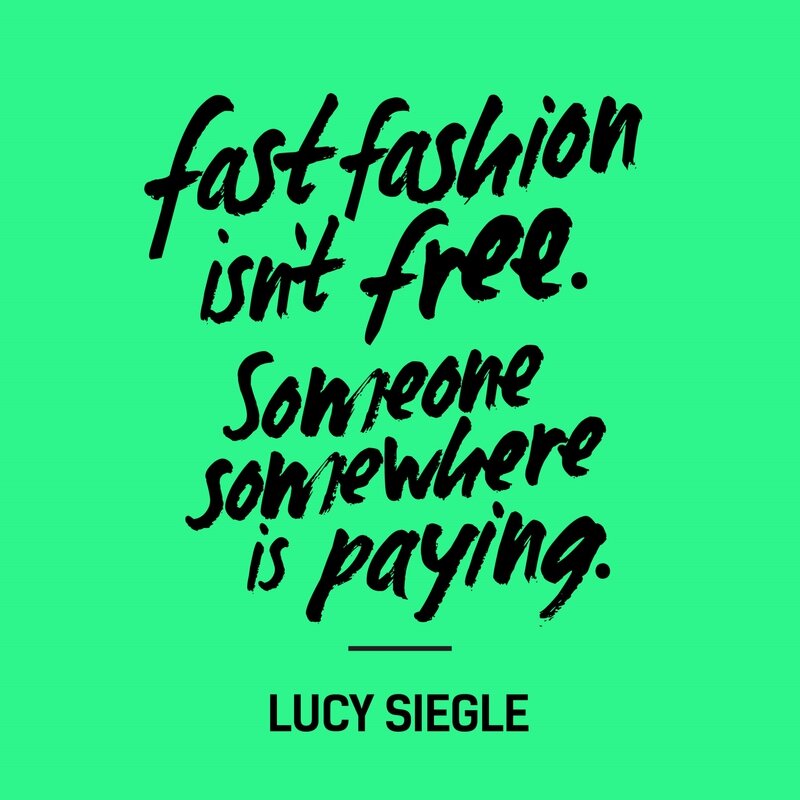 "Le 24 Avril 2013 à Dhaka au Bangladesh, le nom du Rana Plaza est devenu tristement célèbre dans le monde entier. L'effondrement des ateliers de confection textile a causé la mort de 1 133 personnes et plus de 2 500 ont été blessées.
Agissons tous ensemble pour que l'industrie de la mode s'engage et prenne la parole pour la FASHION REVOLUTION
Chaque année, à la date anniversaire de cette tragédie, le FASHION REVOLUTION DAY est célébré dans plus de 70 pays. A l'initiative de la créatrice de mode engagée Carry Somers, le collectif FASHION REVOLUTION incite chacun à consommer la mode autrement, à s'interroger sur ceux qui la fabriquent et à réfléchir aux atteintes portées à l'homme et à l'environnement tout au long de ce processus complexe, impliquant de nombreuses opérations de par le monde."
"On 24 April 2013, 1,134 people were killed and over 2,500 were injured when the Rana Plaza complex collapsed in Dhaka, Bangladesh. We believe that's too many people to lose on one day.
That's when Fashion Revolution was born.
We believe that fashion can be made in a safe,
clean and beautiful way. Where creativity, quality,
environment and people are valued equally.
On 18-24 April, Fashion Revolution Week will bring people from all over the world together to use the power of fashion to change the story for the people who make the world's clothes and accessories"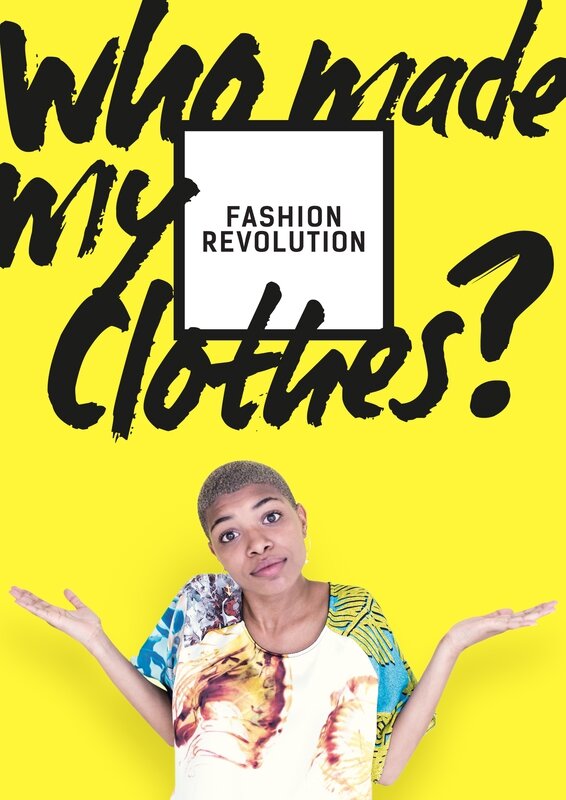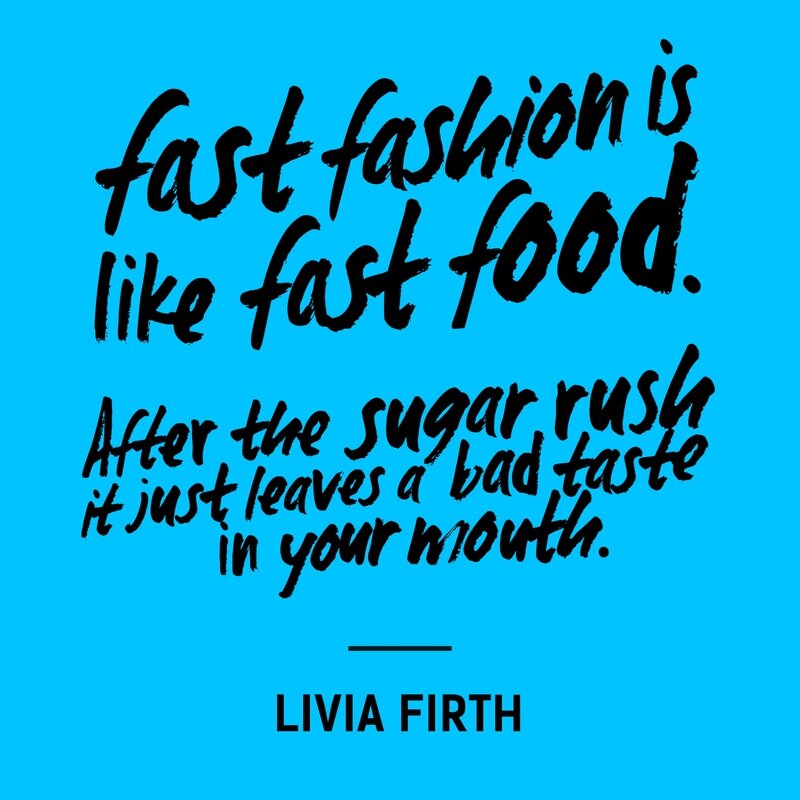 En ce jour de Fashion Revolution, on demande aux marques "Qui a fabriqué mes vêtements". Oui Mr Camaieu, Mme Etam, Mr GAP et Melle Monoprix, nous voulons savoir qui a fait pousser le coton, qui l'a recolté, filé, teint, tissé, découpé, cousu, emballé, transporté, et dans quelles conditions.
Je suis tombée par hasard sur cet article en anglais qui propose un classement des marques de prêt-à-porter en fonction de leur coefficient éthique, et aucune n'atteint la moyenne (H&M est en tête avec 9/20), ce qui est plutôt effrayant... Pour ma part j'achète très rarement des vêtements, et j'ai plutôt tendance à trouver mon bonheur d'occasion au magasin de charité. De temps en temps je me fait plaisir chez People Tree pendant les soldes, une marque anglaise fondée par Safia Minney qui est très engagée pour la transparence et le commerce équitable dans le domaine de la mode. Un classement des marques éthiques est proposé ici, et People Tree arrive en tête avec 16,5/20, avec une grande traçabilité, des textiles écologiques et des programmes sociaux pour ses travailleurs.
Pour autant ma garde robe n'est pas irreprochable... J'ai recemment fait un gros tri, j'ai donc surtout des pièces d'occasion, faites maison ou très très vieilles. Mais il me reste quelques pièces achetées en France quand j'étais étudiante (donc sur un très petit budget) notamment chez Camaieu. Je trouve que leurs basiques taillent bien, mais dans quelle condition a été fabriquée ma petite robe noire à 15 euros ou mon t-shirt blanc à 5 euros... Dommage qu'il n'y ait pas plus de magasin d'occasion type Emmaus en France, ici en Angleterre il y en a à tous les coins de rue. Et pour les chaussures et les sous-vêtements, qu'on ne trouve pas facilement d'occasion (et puis je ne sais pas ce que vous en pensez, mais je ne suis pas trop branchée sous-vêtements d'occasion...), je ne connais pas vraiment d'adresse équitable et abordable. Si vous avez des suggestions je suis preneuse !
On this Fashion Revolution Day, we ask brands "Who made my clothes?". Yes, Mr GAP, Mr Primark, Mr M&S, Miss Next and Mrs Levis, who grew the cotton, who harvested it, who threaded it, who dyed it, weaved it, cut it, sewed it, wrapped it, shipped it, and in which conditions.
I stumbled across this article which presents a scoreboard of high street fashion retailers according to their ethical credentials, and none of them even reach 50% (H&M comes first with a score of 9/20), which is rather worrying... I very rarely buy clothes, and if I do it is usually from the charity shop. Every now and then I treat myself to something from People Tree, in the sale. This UK brand, created by Safia Minney who is a commited supporter of fairtrade fashion, is the highest scorer with 16.5/20 in a scoreboard of ethical fashion retailers on ethicalconsumer.org . People Tree is strongly commited to workers' welfare and social support, ecology, and transparency. And their clothes are amazingly good quality, and rather cute!
Still, my wardrobe is not beyond reproach. I did a major sort out recently, so that I am left with mainly second hand, home sewn or very old garments. But I still own a few pieces bought in the sale on the French high street when I was a student, and had a very limited budget. But if you buy a dress for £10, how can anyone have been paid a fair price for making it!? I really regret the lack of charity shops in France, when there are so many here in the UK where you can buy good quality second hand stuff for cheap. I still don't know where to find ethically produced (and affordable) shoes and underwear though, so if you have a tip, I would love to hear!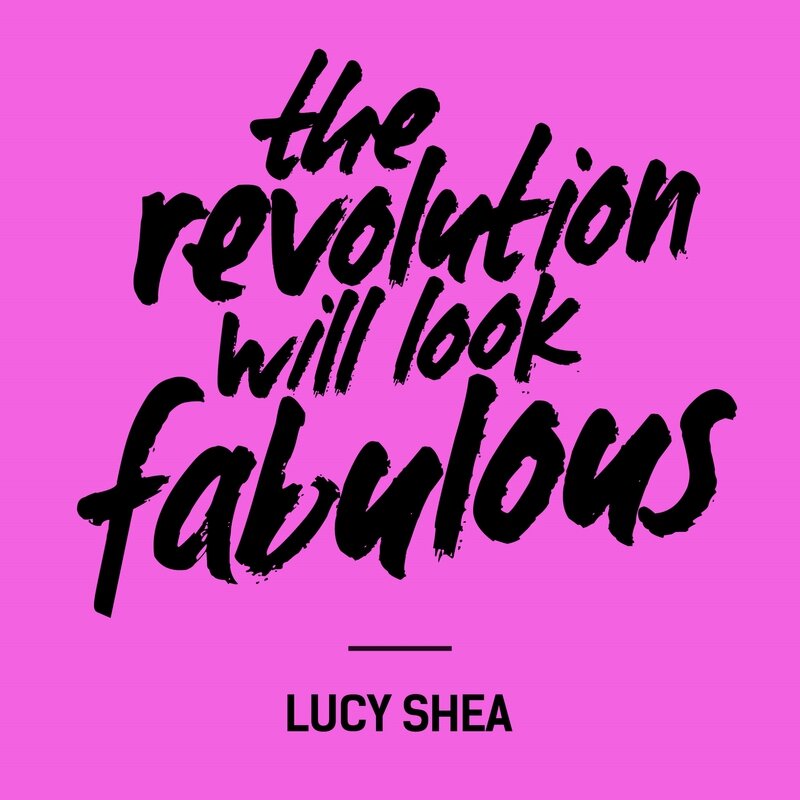 Une des solutions semble donc être de faire ses vêtements soi-même, encore faut-il que les matières choisies soient respectueuses des hommes et de l'environnement (quelques liens vers mes forunisseurs responsables préférés dans ce post). Il y a justement une campagne de financement participatif sur KissKissBankBank pour soutenir Amandine Cha-Dessolier des Trouvailles d'Amandines et la filière de tissus GOTS Made in France. Si vous souhaitez la soutenir, c'est par-ici (vous avez jusqu'au 10 mai)! En tout cas cette semaine de challenges a été une vraie révélation, et une super motivation. Sur Instagram on s'est échangé conseils, astuces, commentaires, idées, inspiration, et compliments ! On sent un vrai engouement, et une belle communauté qui se développe autour du fait main et de la mode durable. J'ai bien l'impression que le fond de l'air est révolutionnaire, et que si on s'y met tous, la mode éthique, c'est pour bientôt !
One of the solutions would therefore be to make our own clothes, but the fabrics themselves would need to be ethically sourced. The range of eco-responsible and fairtrade fabric and haberdashery is growing, but still limited (a few links to my favourite ethical fabric retailers in this post). If you fancy playing an active part in promoting ethical and local fabric production, Amandine from Les Trouvailles d'Amandine is running a crowdfunding campaign on KissKissBankBank to support her range of ecological fabrics Made in France. If you would like to support her, it is over here, and you have until the 10th of May. I have to say this week of challenges has been a real inspiration and a good boost! On Instagram we have been exchanging tips, ideas, comments, inspiration, and praise. Is it just me or is there a smell of revolution in the air? I'm pretty sure that if we all start making changes at our level, ethical fashion will soon be a reality.
Merci / Thank you Sonia, Les trouvailles d'Amandine, Fil Etik, Deer and Doe & La Modette !
***
23 avril 2016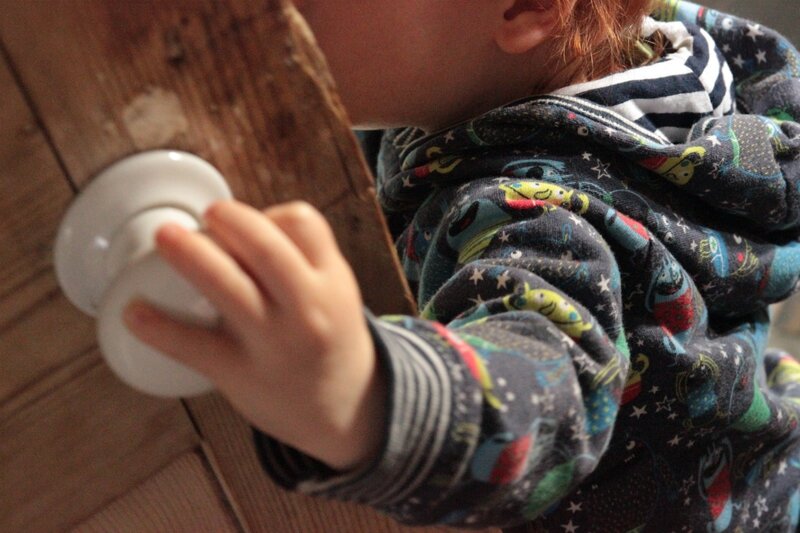 Aujourd'hui, on se pose la question de la provenance des tissus avec lesquels on coud, parce que c'est bien beau de s'assurer que nos vêtements ne soient pas assemblés au détriment des conditions de vie des couturiers, mais si la matière première et son traitements le sont ce n'est pas mieux. Comme beaucoup je rêve d'un monde où tout ce que l'on consomme (aliments, vêtements, biens en touts genre) seraient produit en vertu du commerce équitable et du respect de l'environnement, mais c'est (très) loin d'être le cas. C'est bien la raison d'être de cette Fashion Revolution Week, et heureusement, il existe de plus en plus de fournisseurs soucieux de créer une filière transparente, propre et éthique.
Today, we ask ourselves where the fabric we are sewing came from. Of course it is great to know that our clothes were made by us rather than at the expense of someone else's welfare, but it wopuld be nice to be assured that the material didn't have a negative impact on people's wellbeing and the environment. Like many, I dream of a world wher everything we buy would be fairly traded and ecologically produced, but this is still an utopia. This is the very fact which inspired this Fashio Revolution Week, and luckily, there are now more and more ethically minded producers and retailers who battle for a fairer and more transparent textile industry.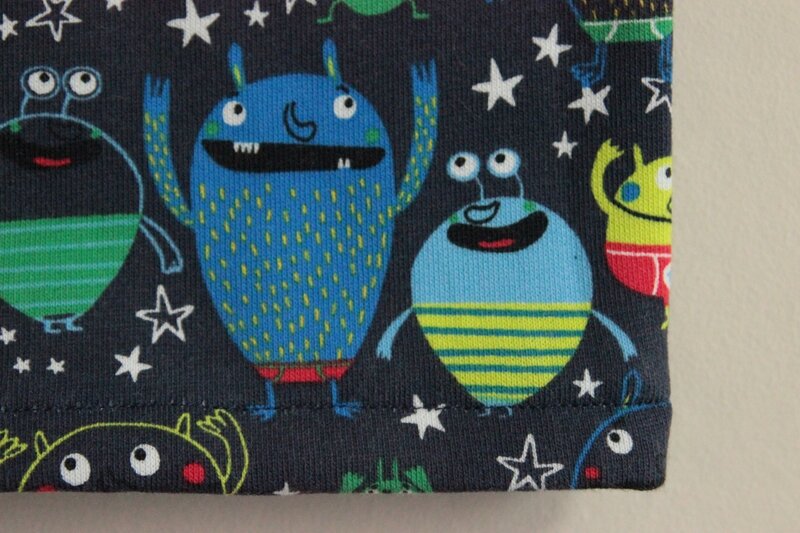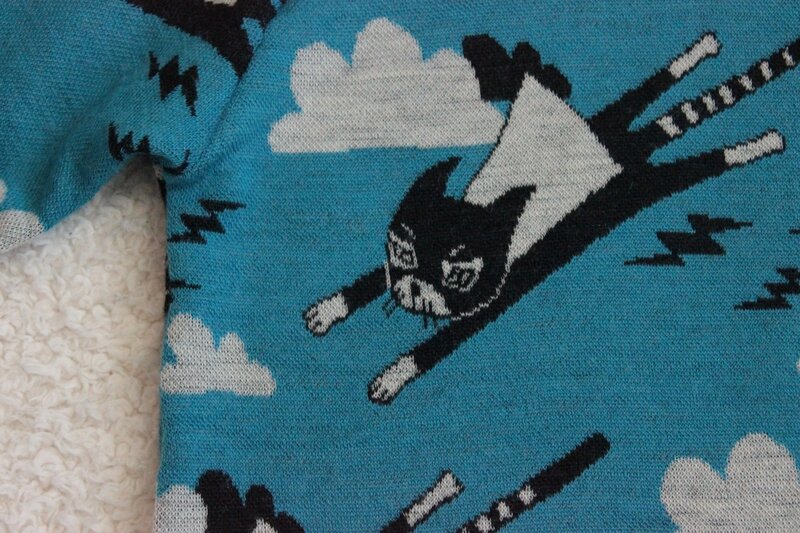 Mon premier choix est toujours de recycler un tissu qui a déjà eu une vie, et je prends un grand plaisir à découper des vêtements pour le mini monkey dans des t-shirts d'occasion. J'ai malheureusement un grand stock de tissus achetés au fil des années pour leur prix et leur originalité plus que sur leur traçabilité. J'ai maintenant arrêté d'acheter, et je vais tenter d'utiliser, donner ou rendre utile ce stock, parce que ça n'aiderait personne de le jeter à la poubelle... Depuis quelque temps j'essaye d'acheter en petites quantités, pour un projet précis, et choisis des tissus et fournisseurs responsables. La filière se développe, et on y trouve des tas de magnifiques motifs et de sublimes textures. Voici une petite liste de mes adresses préférées pour shopping mercerie responsable !
My first choice is always to re-use fabric which has already lived, and I really enjoy cutting the mini monkey's clothes out of second-hand garments. Unfortunately I have hoarded a rather large stash of not-so-resposible-but-really-cheap-and-pretty fabric over the years, and I intend to use it, donate it, or make it useful in some way, because chucking it wouldn't help anyone. For a little while I have been buying in very small quantities, with a precise project in mind, and trying to source the most ethical and ecological materials. The market of responsible textile is growing as awareness increases, and you can now find amazing patterns and textures. Here is a list of a few of my favourite ethical haberdashery addresses.
Tissu recyclé, sauvé, bio, equitable, et du fil à coudre bio fabriqué en europe de top qualité
Recycled, reclaimed, organic, fairtrade fabric, and great organic made in EU thread
Magnifiques motifs originaux et pleins de poésie, tissus bio made in France
Amazingly beautiful and delicate prints on dreamy organic made in France fabric
Bonne sélection de jersey imprimés scandinaves bio
Good selection of organic scandi knits
Bonne gamme de tissus écologiques (bio, recyclés, fibres responsables)
Good range of eco-friendly fabrics (organic, recycled, responsible fibres)
Le thème du jour ici, les termes du concours ici. A demain pour la dernière !
Theme of the day over here, challenge details here. See you tomorrow for the last instalment!
***
22 avril 2016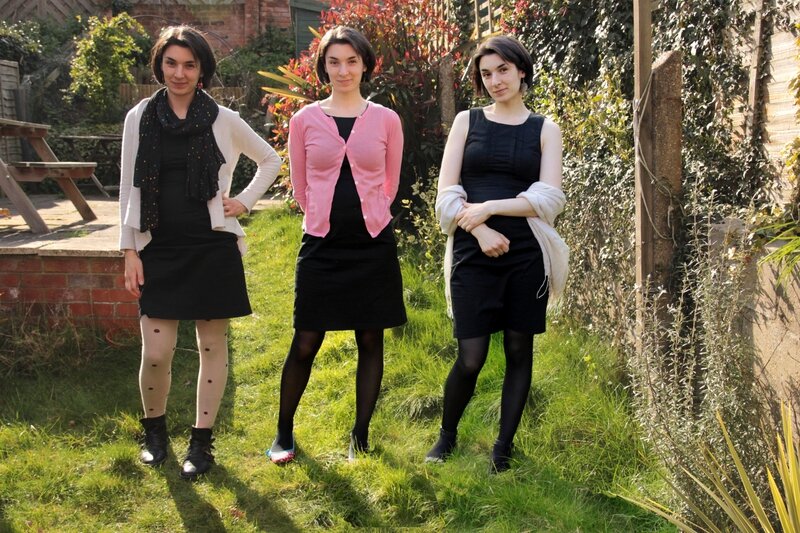 Bon d'accord ça m'arragerait bien parfois de pouvoir me dédoubler (me détripler ?), comme ça je pourrai envoyer un exemplaire chercher le fiston la garderie pendant que les deux autres resteraient à la maison. Pour aujourd'hui je me contenterai d'un petit montage photo sur le thème de la petite robe noire, qui m'a permis de bien m'amuser avec mon pied d'appareil photo et un logiciel de retouche d'image. L'idée est d'accessoiriser une pièce basique pour différentes occasion, ce qui prouve bien qu'on n'a pas besoin d'une armoire plein à craquer pour trouver de quoi s'habiller en toute circonstance !
OK, I would love to be able to duplicate myself, it would be most convenient to send one of me to fetch the mini monkey from nursery while the other two stayed at home sewing or had a nap! Unfortunately I haven't mastered the techinque yet, so for now I had to resort to make believe, with the assistance of my camera, a tripod, and an image manipulation software. The idea was to show a simple garment (ie the little black dress) styled differently to suit various occasions, proving that you don't need hundreds of clothes to find something to wear for everyday, for work, or for a night out.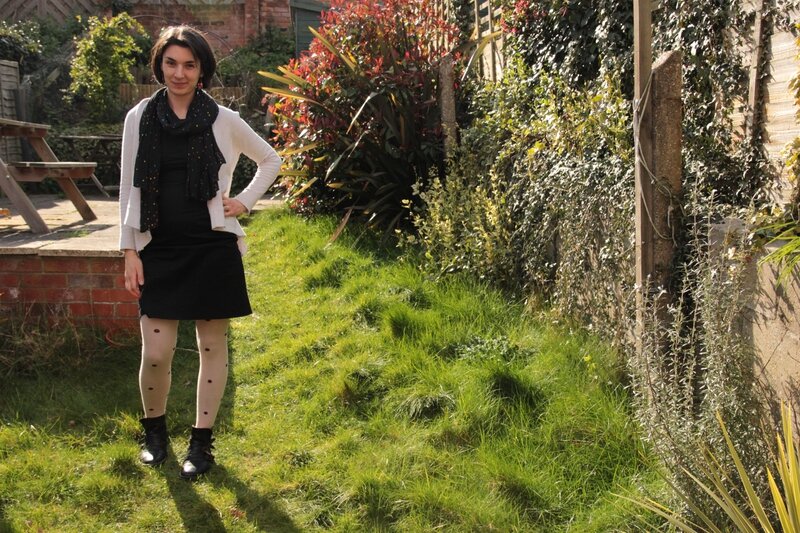 Version "tous les jours", une association que je porte beaucoup : gilet, écharpe, collants et boucles d'oreilles fantaisie, bottines
The "everyday" version, which the one I go for most often: cardigan, scarf, novelty tights, bright earrings, boots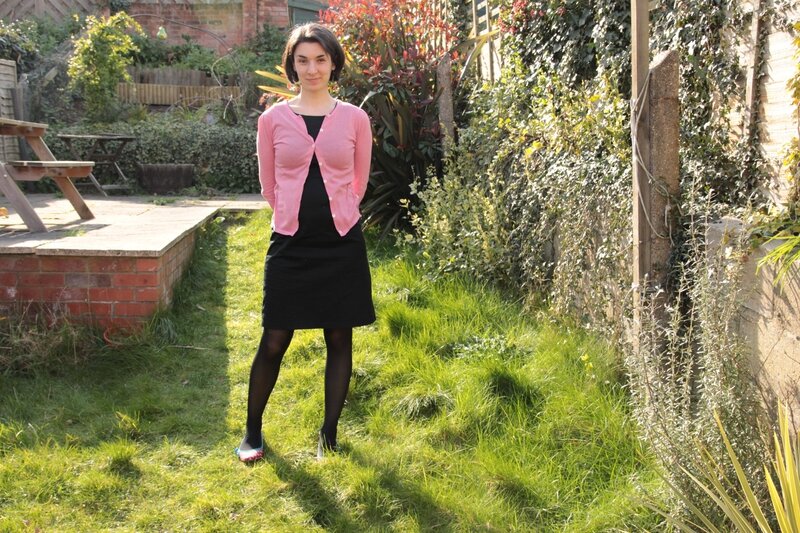 Version "boulot" (si je travaillais dans un bureau, ce qui n'est pas le cas, c'est donc plutôt un look "entretien d'embauche") : gilet plus ajusté, collants fins, boucles d'oreilles discrètes, ballerines
The "work" version (that is, if I owrked in an office, which I don't, so this is more of a "job interview" look): fitted cardigan, sheer tights, ballet pumps, discreet earrings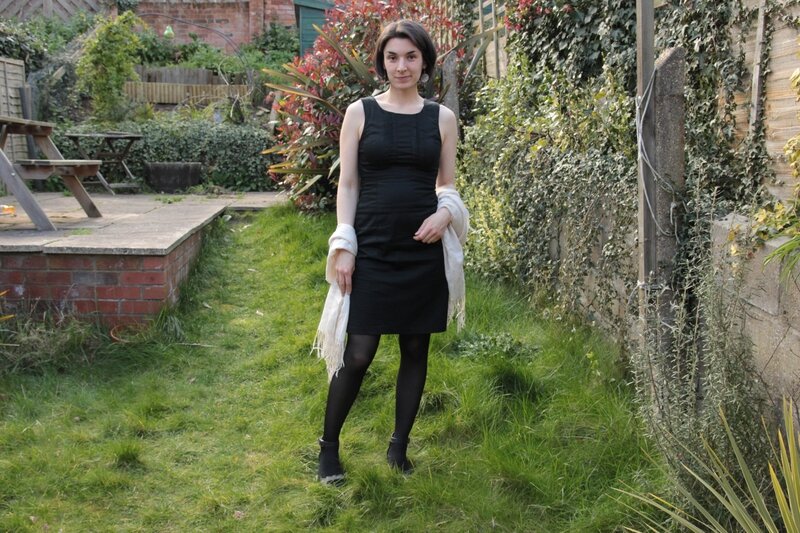 Version "soir" (pour laquelle le soleil avait disparu) : bras nus, boucles d'oreilles ethniques, petit talon, châle
Pour toutes les participations du jour c'est par-ici, pour les modalités du concours c'est par-là. A demain !
The "evening" version (for which the sun refused to re-appear): bare arms, ethnic earrings, heels and a shawl
To see all of today's entries this way, for the challenge's T&Cs this way. See you tomorrow!
***