07 avril 2017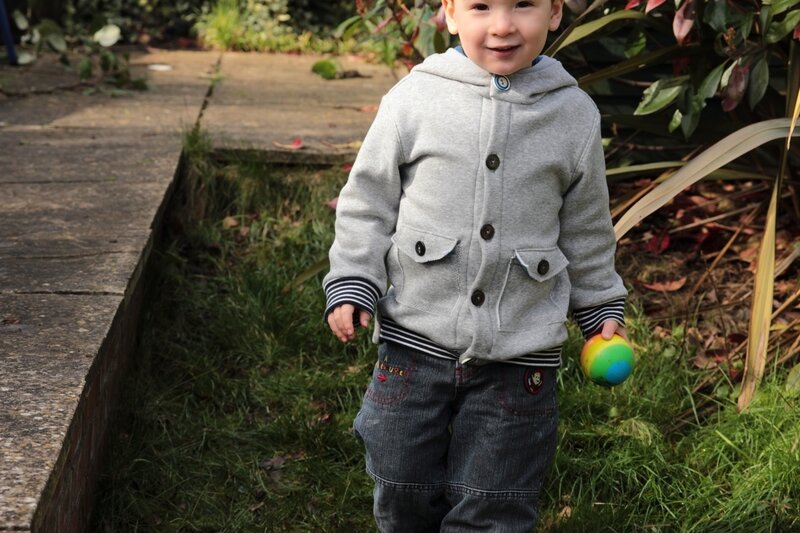 Ca faisait un bon moment que je n'avais pas cousu pour mon mini monkey. Il faut dire qu'entre les vêtements légués par les générations précédentes et l'abondance de petits habits d'occasion en très bon état (et à prix défiant toute concurrence) trouvés au magasin de charité, il n'en a pas eu tellement besoin. Mais c'est qu'il grandit ce petit, et ses sweats "made by maman" (ici et ici) ont été portés de manière intensive mais commencent à être étriqués. Je me suis donc une fois de plus tournée vers Ottobre et ai selectionné le modèle 21 "lightning" du catalogue enfant 4/2016.
[for English read the text in italics]
I hadn't sewn anything for the mini monkey for a while. He has been given loads of hand-me-downs, and you can find so much cheap and great quality kid's clothing in charity shop that he hasn't needed much else. But he is getting bigger, and his couple of mama-made jumpers (here and there) are getting a bit tight. So once again I browsed through my collection of Ottobre magazines and stopped at number 21 in the 4/2016 edition.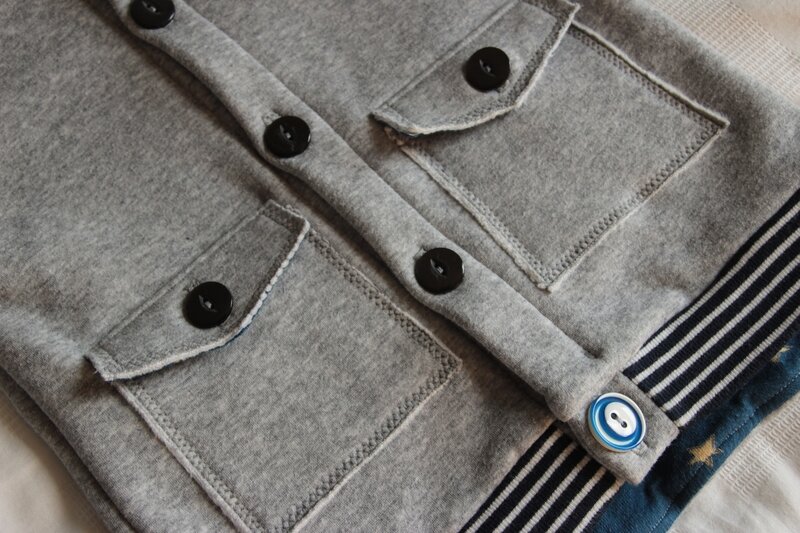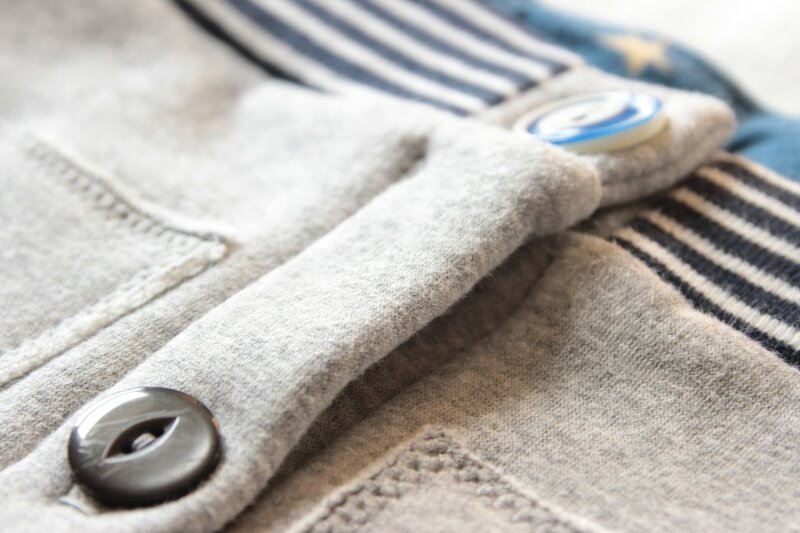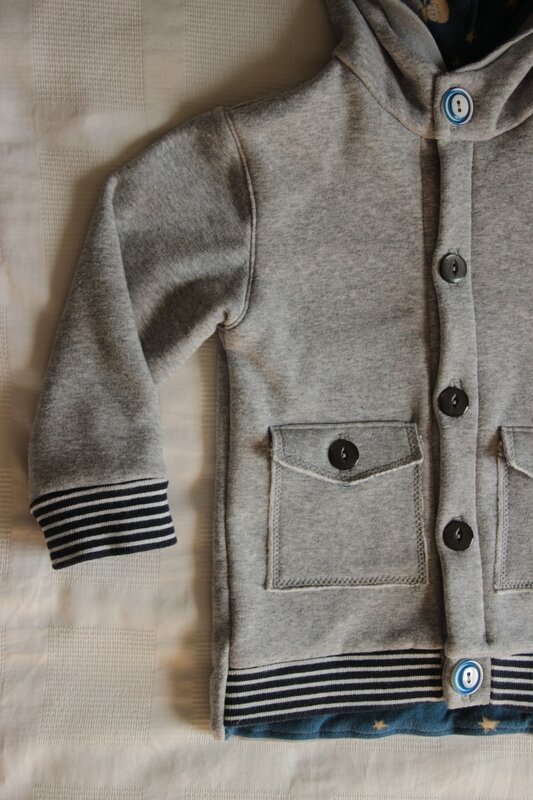 C'est un sweat plutôt large qui fait presque manteau, et ses petits détails (les poches boutonnées et l'ourlet doublé plus long à l'arrière) m'ont bien plu. J'ai hésité à appliquer un motif au dos, mais finalement j'ai bien dû accepter le fait que "less is more" (devise que j'ai tendance à oublier), et que le modèle comporte assez de petites caractéristiques sympa pour être original. Comme d'habitude les instructions sont plutôt nébuleuses, surtout qu'il y a beaucoup de pièces de patron aux noms similaires. Si vous vous lancez je vous conseille de bien les repérer au préalable et de suivre les indications étape par étape (ce que bien sûr je n'ai pas fait, pour le plus grand bonheur de mon découd-vite). Le tissu principal est un sweat gris chiné épais et très doux de chez The Village Haberdashery (j'avais gagné un bon d'achat lors du #sewphotohop l'année dernière, et je suis depuis devenue une cliente fidèle car c'est une bonne adresse, avec beaucoup de tissus bio et de qualité). La doublure "petit prince" est en fait un vieux pyjama que je n'avais jamais réussi à jeter, et il a enfin repris du service ! C'est anecdotique mais un peu de recyclage ça fait toujours plaisir ;) Les boutons "tourbillon" viennent d'une petite mercerie magique de Montréal (quelques images ici) où j'avais dépensé une fortune, et je suis bien contente qu'ils aient trouvé leur place sur ce gilet.
It is a loose fitting jacket which fits almost like a coat, with cute details (I liked the buttoned pockets and the longer back hem showing off the lining). I almost added an appliqué to the back, but in the end I managed to convince myself that less is more (a motto that I don't tend to live by) and that the existing details were enough to make it interesting. As usual, Ottobre's instructions are clear as mud, especially as this pattern has many pieces and that most have similar names. So if you do fancy trying it, make sure you know which is which and take it slowly... or you'll have to do what I did and undo the hood about 5 times... Anyway, the main fabric here is a lovely snuggly fleece-backed sweatshirt knit from The Village Haberdashery. I ordered from them as I had won a voucher as part of last year's #sewphotohop, but have been back since because it is a lovely online shop with many organic and quality fabrics. The "Little Prince" lining is cut out of an old pair of pyjamas that I could never throw away... so I am really glad that my hoarding tendancy has actually been useful for once. The white and blue buttons are also a bit special as I bought them in an amazing vintage haberdashery in Montreal (seen here).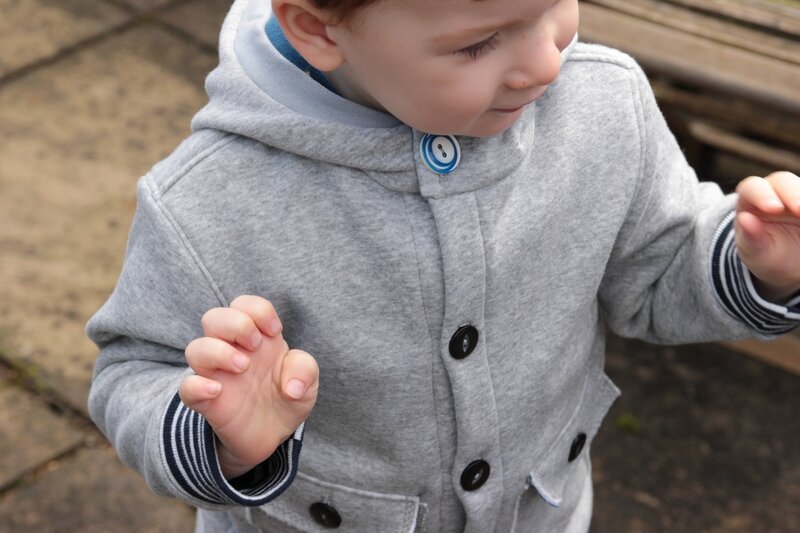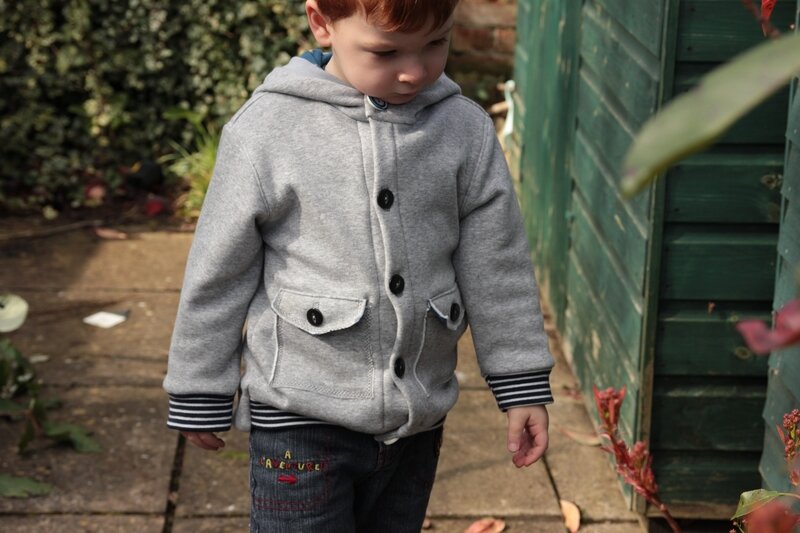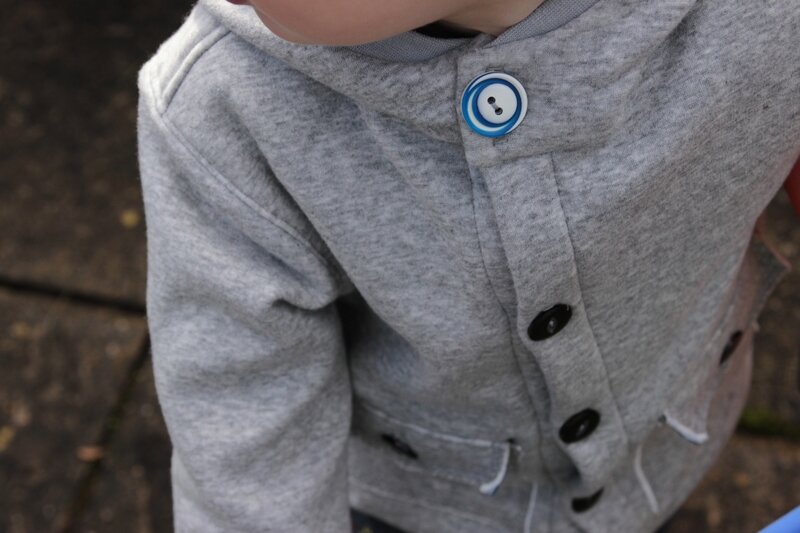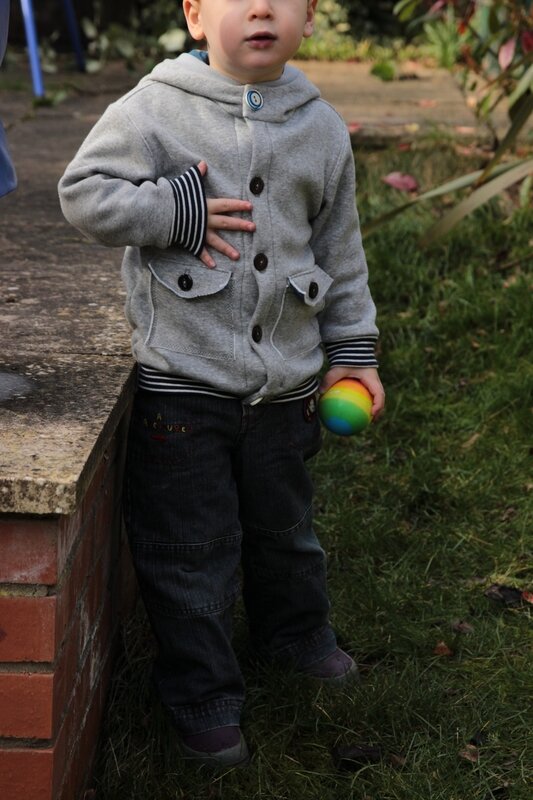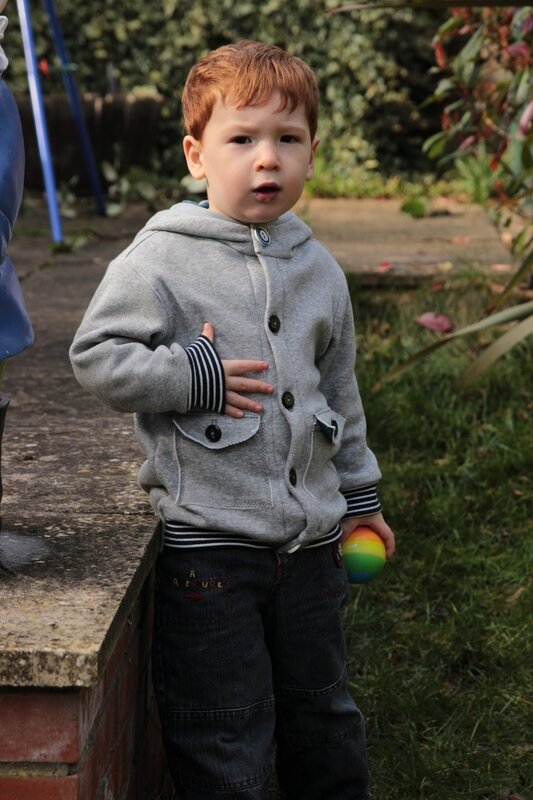 "No, mama! Don't take my picture!"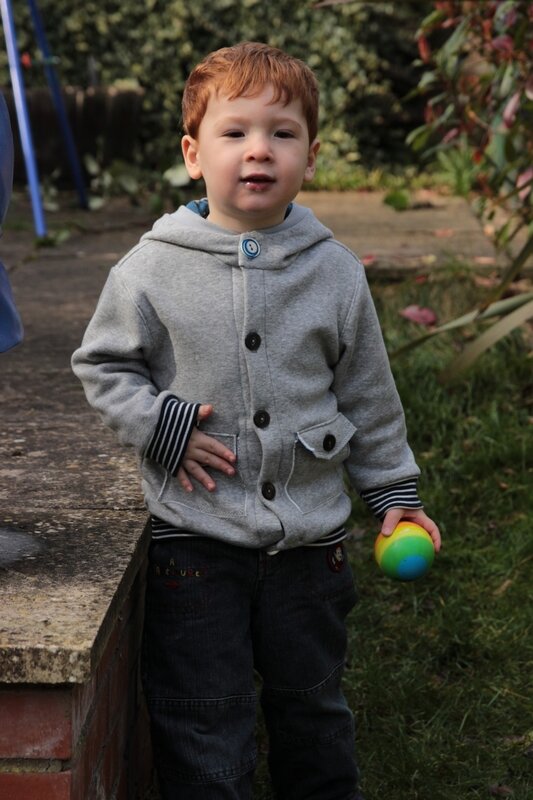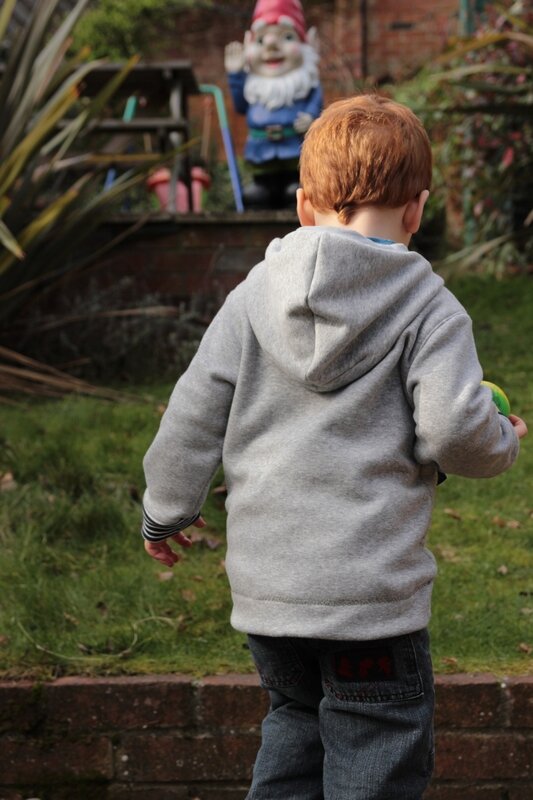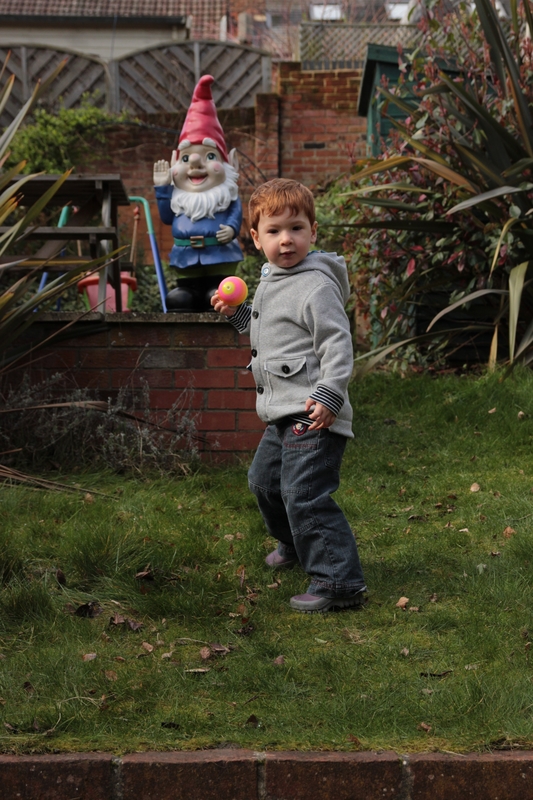 Donc voici notre mini monkey de presque 3 ans en pleine action, ces jours-ci il sait ce qu'il veut (et ce qu'il ne veut pas !) mais accepte encore de porter les vêtements cousus par maman, alors j'en profite :)
PS Merci d'adresser les réclamations à propos du nain de jardin géant à Mr Monkey...
PPS A Nathalie ma lectrice fidèle : j'ai pensé à toi et fait la traduction tout de suite ;)
So here is our nearly-three-year-old mini monkey... he certainly knows his mind, but still wears mama-made without argueing too much, so I am making the most of it!
PS Please address any complaints about the presence of the giant garden gnome to the attention of Mr Monkey...
***
01 avril 2017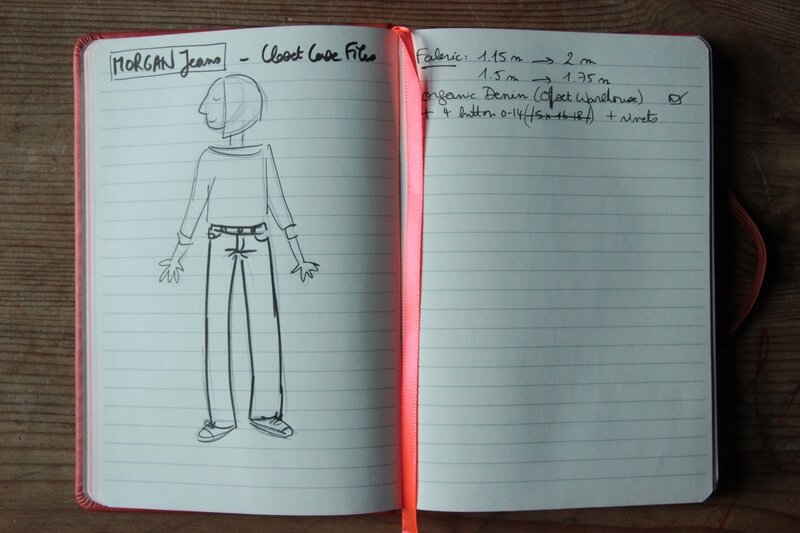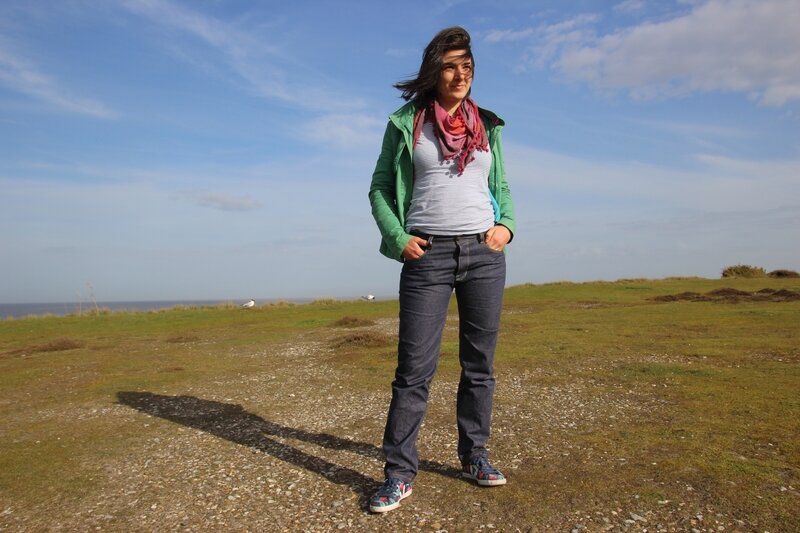 Bon, ceux qui me suivent sur Instagram n'en peuvent déjà plus tellement je les ai bombardés de photos aux commentaires surexcités : j'ai cousu un jean !!!!!! Et ma foi, ça a un peu changé ma vie. Hormis le fait que je marche dans la rue en me répétant en boucle "c'est moi qui l'ai fait !" avec un sourire niais sur la figure, que les gens me remarquent (non parce que j'ai un super jean mais plutôt à cause du sourire mentionné plus haut), et que quand je fais pipi je peux admirer la magnifique doublure multicolore des poches - avantages non des moindres - , en plus de tout ça, je me sens maintenant invincible de la couture. Je me dis que si je peux coudre, ajuster, surpiquer et riveter, et transformer un coupon de tissu en un vrai pantalon que je puisse porter sans honte, je dois pouvoir coudre n'importe quoi ( avec patience, attention et un bon découd-vite, bien sûr ).
[for English read the text in italics]
OK, if you follow my Instagram feed you are already sick of the sight of these, but I am just over the moon about the fact that I made a pair of jeans! I have to say, it has been a little bit life-changing. Appart from the fact that I now walk around with an inane grin on my face whilst repeating internally "I made these! I made these!", that I get second glances (not because I am wearing an amazing pair of jeans, more because they are wondering why I am walking around with the above-mentioned idiotic smile stuck on my face), and that I can admire the delightful bright lining of the pockets whilst I am on the loo ; appart from all these genuine benefits, I also now feel like a sewing superhero. The realisation that I can actually assemble, fit, topstitch and rivet to make a real pair of wearable trousers out of a piece of fabric, makes me believe that I should be able to sew pretty much anything (with a bit of patience, attention, perserverance and a sharp seam-ripper).
Before / After :)
La vérité, c'est que j'y ai passé BEAUCOUP de temps. Qu'il y a eu beaucoup de coutures défaites et refaites. Que la première fois que je l'ai essayé (voir ci-dessous) j'ai eu un peu la nausée à voir l'effet accordéon magistral au niveau des cuisses. Que j'ai cassé plusieurs aiguilles, presque cassé un pied de MAC, et me suis bien gratté la tête sur certaines épaisseurs qui ne plaisaient pas du tout à ma machine. Mais c'est justement ce qui rend la victoire encore plus savoureuse, non ? Et je dois aussi avouer que je n'aurais certainement pas persévéré sans le superbe cours en ligne d'Heather Lou sur la couture jeans.
The truth is, I spent A LOT of time on these. There were many stitches undone and redone. The first time I tried them on (see below left) I nearly cried when I saw the amount of wrinkles on my crotch and thighs. I broke a few needles, nearly broke my presser foot (it came appart but luckily agreed to be re-assembled), and pulled my hair out over a few thick seams which my machine didn't much appreciate. But isn't this what makes victory even more enjoyable? And I also have to admit that I probably wouldn't have pushed on without Heather Lou's excellent online jeans workshop guiding me and answering a lot of the questions I had about the process.
A gauche : 1er ajustement ; A droite : 2ème ajustement
On the left: 1st fit; On the right: 2nd fit
La patron utilisé est le Morgan Jeans de Closet Case Patterns, un jean au fit "boyfriend", un peu moins connu que le célébrissime slim Ginger de la même marque. Heather Lou est la créatrice de Closet Case patterns (anciennement Closet Case Files), et oeuvre pour offrir des patrons au look professionel, accessibles aux couturiers amateurs, et adaptables à toutes les morphologies. Le cours en ligne sur la couture jean est basé sur le Ginger, mais peut facilement s'adapter à d'autres patrons (il fonctionne très bien pour le Morgan). C'était la première fois que j'essayais un cours en ligne, et ma foi c'est une expérience que je n'hésiterai pas à renouveler : pas-à-pas en vidéo, techniques expliqueées en détail, astuces, conseils et encouragements, et même une pointe de philosophie... "let go of perfectionnism!" ( très utile ). Il ne reste plus qu'à suivre le cours étape par étape, à y aller doucement et à ne pas hésiter à faire et à refaire. Ca découpe le processus en petits morceaux tout à fait digestes.
The pattern used is the Morgan Jeans by Closet Case Patterns (formerly Closet Case Files). It is a boyfriend fit relaxed pair of jeans, designed for denim with little or no stretch, and isn't quite as well known as Closet Case Patterns' famous skinny Ginger jeans. Heather Lou is CCP's founder and designs professional looking garments for the home sewer, and all types of body shapes and sizes. The online jeans workshop is based on the Ginger pattern but would help with any jeans pattern as it goes over all of the techniques used specifically in jean making, and has videos for both zipped and button fly-front. It was my first experience with an online workshop, an one that I won't think twice about renewing: step-by-step instructions, video tutorials, detailed technical advice, tips, advice and encouragements, and even a sideline of philosiphical thinking ("remember to let go of perfectionnism"... definitely hepful!). So all you have to do is follow the course step by step, take it slowly, and not have any qualms about undoing and redoing. This way the whole process is broken down into easy bite-size chunks, and before you know it you are well on your way to having yourself a pair of homemade jeans.
3eme ajustement - Ajustement(s) patron
3rd fit - pattern alteration(s)
Comme vous pouvez le voir, le patron est vraiment très généreux au niveau des cuisses... je suis loin d'avoir la cuisse fine mais j'avais une bonne poignée d'excédent de tissu au niveau de l'entrejambe ! Il y a pas mal de conseils d'ajustement dans le cours en ligne et même inclus dans le patron ( il y a aussi un e-book jeans très complet disponible sur le site de CCP ), mais au final j'ai comparé avec un jean qui m'allait bien et ajusté la longueur au niveau du montant, puis j'ai creusé le haut de la jambe et rattrapé la ligne du patron au genou. J'ai aussi raccourci de 3 cm au niveau de l'ourlet ( je mesure 1m64 ). Ca donne un pantalon confortable, plutôt loose au niveau de l'entrejambe, et tout-à-fait dans le style "boyfriend". J'ai coupé une taille 12 en fonction de mes mesures, alors que je suis plutôt un 10 d'habitude, et je pense que je pourrais prendre la taille en dessous la prochaine fois. Closet Case Patterns offre un PDF de 30 designs pour poche arrière ( envoyé gratuitements pour tout abonnement à la newsletter ) mais finalement je n'ai pas resisté à l'envie de dessiner mon propre motif. Et petite précision mais non des moindres, toutes ces infos sont disponibles en anglais uniquement...
So, as you can see, the pattern is extremely generous in the thigh area. My thighs aren't particularly thin but I initially had a handful of excess fabric at the top of each leg! There is a lot of fitting advice in the online workshop, as well as included in the pattern instructions themselves (and CCP also have a very good jeans e-book with pictures of all the main fitting issues available here), but in the end I just measured the crotch from a pair of RTW jeans that fit well, and adjusted the pattern accordingly (which meant shortening the back crotch by a whole inch). I also scooped the top of the thigh in and met the pattern line at the knee. Last adjustment was shortening the legs by 1.5''. In the end I got a comfortable pair of jeans, a little loose around the waist and crotch, and very much as you would expect a "boyfriend" to fit. I cut a size 12 based on my measurements, although I am usually more of a 10 on the high street, and I think I could go one size down next time. Closet Case Patterns sends out a free PDF of 30+ back pocket designs when you sucribe to their newsletter, but I just couldn't resist the urge to use my own design!
Le jean utilisé est une merveille de denim bio épais de chez Offset Warehouse. Je craignais un peu la réaction de ma MAC ( une machine milieu de gamme assez délicate ) sur toutes ces épaisseurs de jean, mais au final j'ai eu peu de problèmes. Le cours en ligne recommande d'aplatir les endroits particulièrement épais au marteau, et ça marche assez bien. J'ai surtout eu des soucis avec les passants de ceinture, que j'ai du coudre point par point, en tournant la manivelle de ma machine à la main, et en ajustant la position de l'aiguille de quelques fractions de millimètres à chaque descente pour trouver un endroit où elle pouvait percer. Pour le reste des surpiqures je n'ai pas eu de problème majeur, juste quelques points sautés ici et là.
The fabric used is a beautiful heavyweight organic denim from Offset Warehouse. I was a bit worried about how my machine would handle the thick layers (I use a middle of the range second hand Singer) but I didn't actually have that many issues. The online course advises to flatten the more bulky seams with a hammer, which does work well, but I still did struggle when stitching the belt loops on. For these I had to sew stitch by stitch, turning my machine's wheel by hand, and adjusting the needle position to find the weaker spots to pierce through. Otherwise the topstitching went relatively well on the whole, with only a few missed stitches here and there.
Et voilà le résultat ! J'adore mon nouveau jean :) Son prédécesseur avait été acheté d'occasion il y a plus de 10 ans et porté sans relâche, mais l'année dernière il a fini par rendre l'âme... J'espère bien que celui-ci égalera sa longévité ! En tout cas j'y ai peut-être passé tout mon temps libre ce mois-ci ( Mr Monkey m'a répété inlassablement que je ferais mieux d'arrêter de perdre mon temps et d'aller m'acheter un jean...), mais pour une vingtaine d'euros de tissu j'ai un jean bio, sur mesure, et unique. Et je me sens pousser des ailes ! Le nouveau challenge maintenant c'est d'appliquer les règles d'entretien du denim brut, et de le laisser vieillir en douceur en évitant de le laver pendant... 6 mois ! Ca va pas être facile avec le mini monkey et ses mains pleines de doigts... ;)
And here it is! I love my new pair of jeans. The previous pair were bought second hand over 10 years ago and worn pretty intensively, but they ended up splitting last year... I hope this pair lasts just as long! So I may have spent all my spare time on these this months (to the ultimate bemusement of Mr Monkey... I don't know how many times he told me to stop wasting my time and go and just buy a pair of jeans!), but for about £18's worth of fabric I got myself a unique, organic, custom made pair of jeans. And I now feel invicible! The next challenge is to apply the raw denim care rules and allow it to age naturally by not laundering it for... up to 6 months! Won't be easy with my mini monkey and his sticky fingers... ;)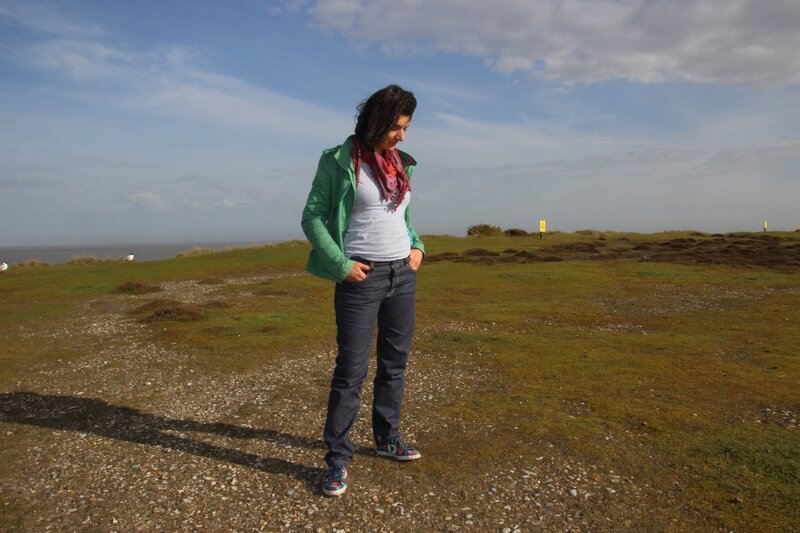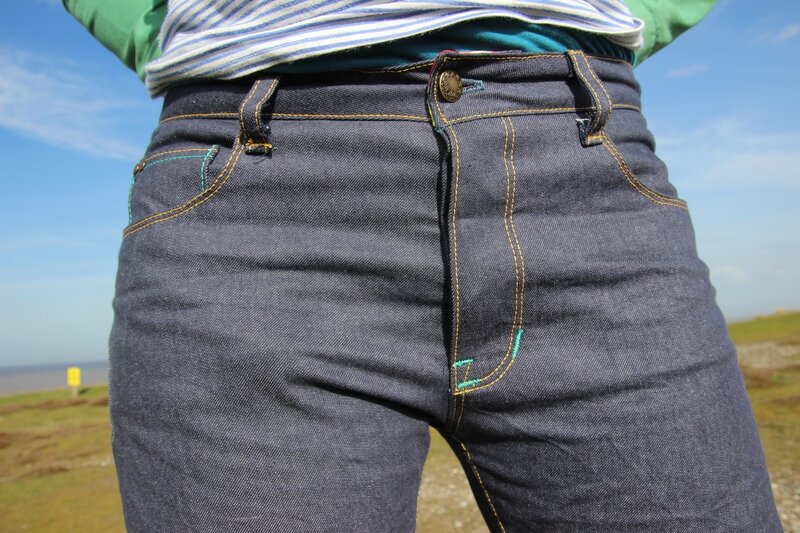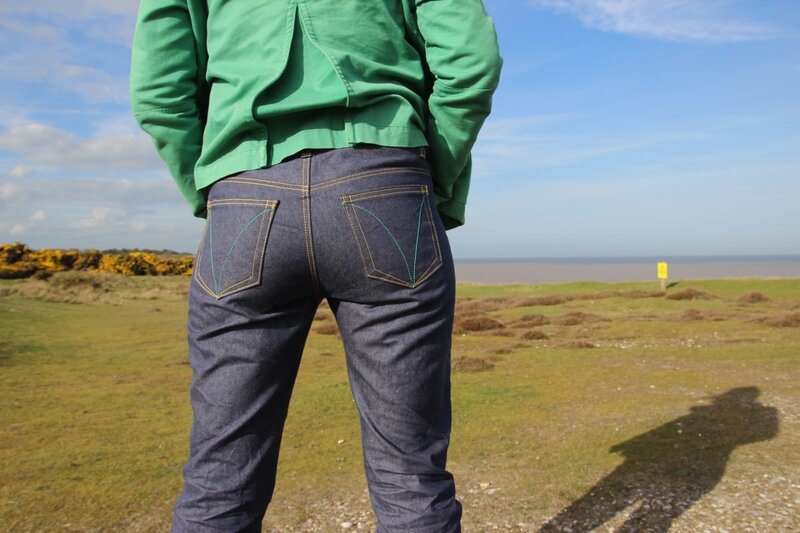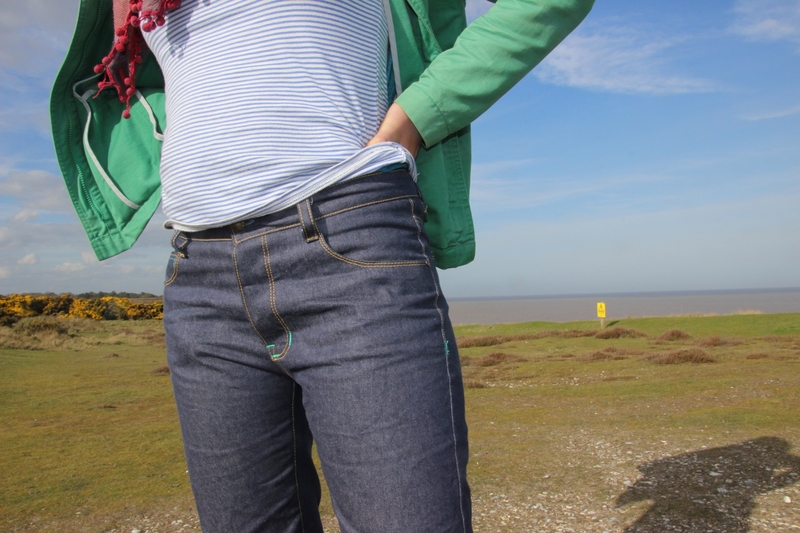 Je vous laisse avec ces quelques photos avec embruns en prime... A la prochaine :)
So I leave you with these few breezy snaps, see you next time!
***
19 mars 2017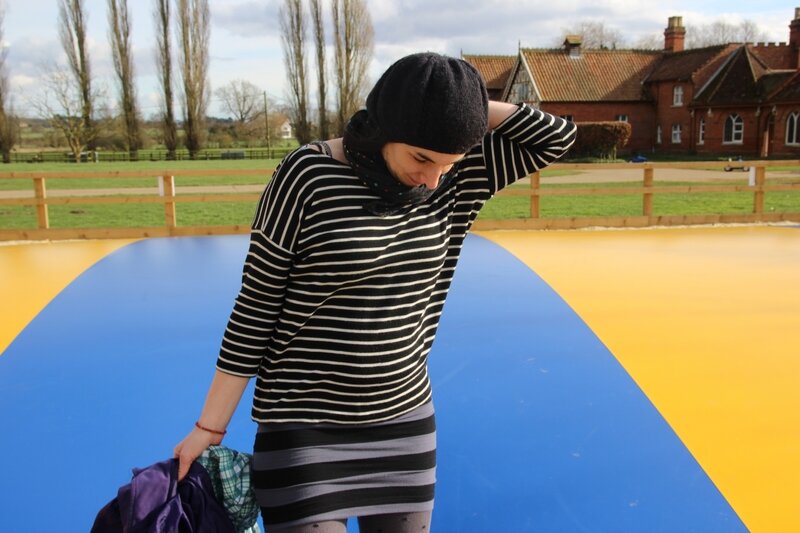 Petit interlude rayé pour vous présenter la deuxième version du Mandy Boat Tee de Tessuti (patron toujours gratuit et disponible en anglais ici). Je l'ai cousu juste après le premier, mais dans un tissu totalement différent, ce merveilleux jersey de merinos bio trouvé chez Kitschy Coo. Le problème est que cette maille étant BEAUCOUP plus extensible que la première, même en rabotant encore en largeur et en longueur (j'ai joué à Tetris pour la découpe parce que je voulais tirer deux hauts de mon coupon de 1,5 x 1,5 m) le vêtement n'avait aucune forme. J'étais assez dépitée, et surtout j'ai mis un peu de temps à m'apercevoir que tout simplement, il était trop grand. Après quelques semaines de tourment (j'exagère à peine) j'ai eu le flash et j'ai repris 1,5 cm sous les manches et sur les côtés. Et je suis enfin l'heureuse propriétaire d'un pull léger, doux et chaud qui est parfait sur une petite jupe ou un pantalon un peu ajusté :)
[For English read the text in italics]
Small stripy intermission to introduce this second edition of Tessuti's Mandy Boat Tee (free pattern, still available here). I sewed it straight after the first one, but in a totally different fabric, a beautiful organic merino knit bought from the lovely Kitschy Coo shop. The problem being that this fabric was MUCH MORE STRETCHY than the one I used for the first version, and even though I cut smaller pattern pieces (I was trying desperately to fit 2 tops in my 1.5 x 1.5 m piece of luxurious knit) it just looked massive and shapeless. I was pretty gutted, and after weeks of sulking (this is barely an exaggeration!) I finally had a eureka moment, realised it was simply too wide, shaved off 1/2'' under the arms and on the sides, and eventually got a top which was wearable. And worn it has been, many times, given that it is lightweight, soft, warm and cosy :)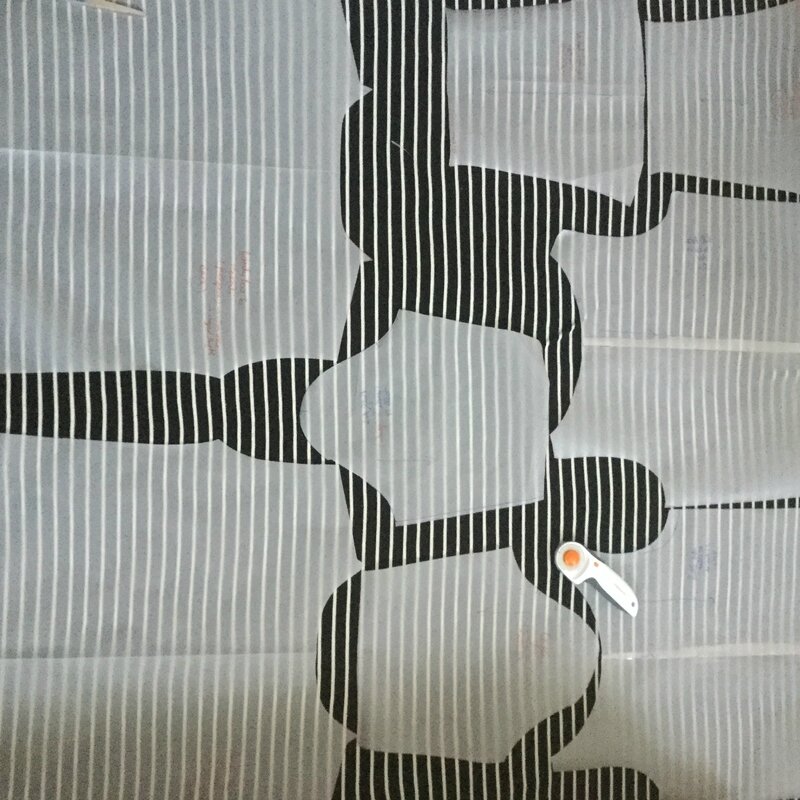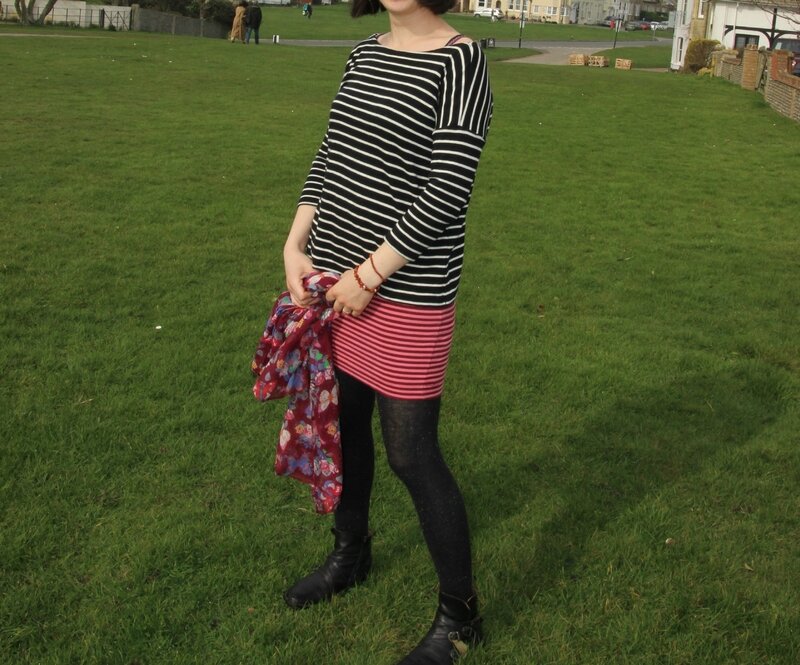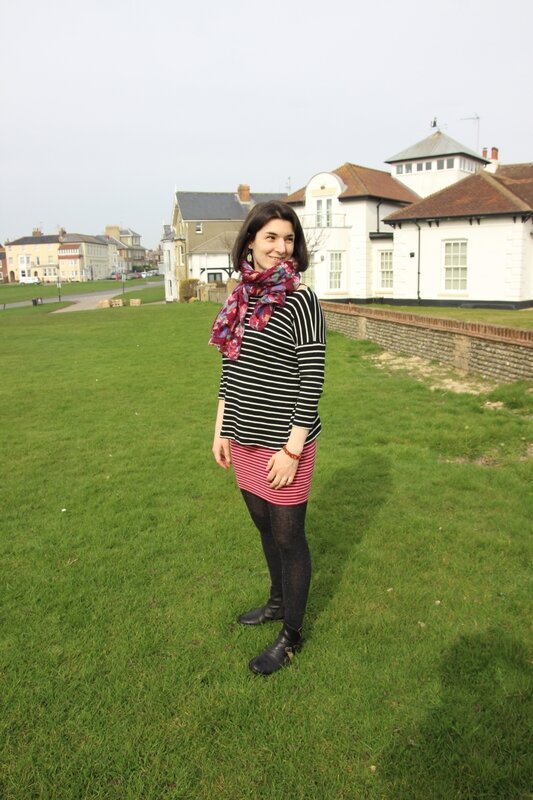 Avec mars est aussi arrivé un petit air de printemps, d'où ces quelques photos non frigorifiées en extérieur! La maille de ce petit pull est vraiment un bonheur à porter, et il m'en reste assez pour un deuxième pull Aster. Mais ce mois-ci, je m'attaque à ma première paire de jeans, donc Aster attendra... See you soon !
So now March is here and it seems to have brought on a little Spring feeling, so here are a few non-frozen-to-the-bone pics taken outdoors (yay!). This merino knit really is a delight to wear, and I have already cut out the pieces to make a second Aster jumper with the rest of the fabric. But at the moment I am working hard on my first ever pair of handmade jeans (!), so it may have to wait!
***
[For English read the text in italics]
28 février 2017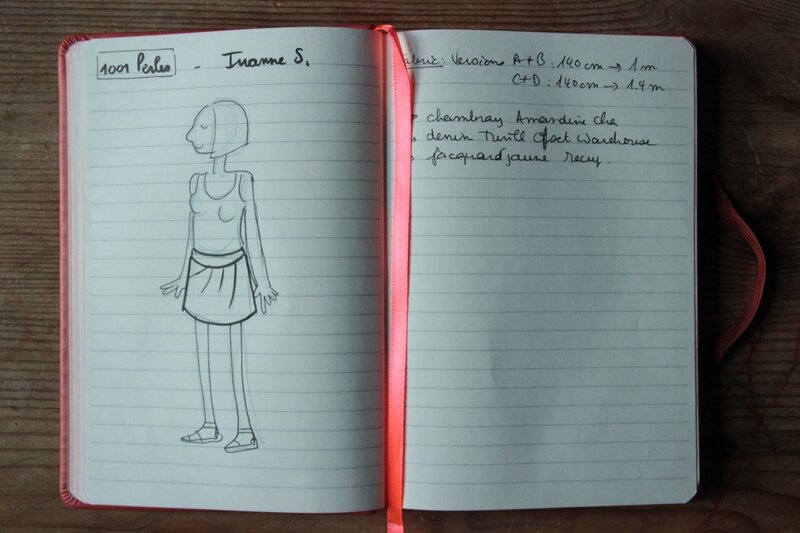 Dans ma quête de la petite jupe parfaite (originale, seyante, élégante tout en restant pratique et confortable, etc... ) j'avais de grandes attentes de la jupe 1001 Perles d'Ivanne S. Ayant testé et approuvé la version enfant, je savais qu'Ivanne me tiendrait par la main tout le long de ce projet, avec bienveillance, des instructions précises et des options de finitions quasi infinies. J'ai jeté mon dévolu sur la version C avec poche, pour son jeu de plis "solaires" asymétriques. Et je comptais sur la taille elastiquée au dos pour le côté confort et ajustement facile.
[For English read the text in italics]
In my quest for the perfect skirt pattern (quirky, elegant, comfortable and practical, with a great fit, etc...) I had great expectations of the 1001 Perles from Ivanne S. My experience with the children's pattern had been really positive, and I knew for a fact that this pattern (available only in French) would be easy to follow, interesting to sew, and offer countless options for details and finishes. I opted for view C, with its "solar" pleats which I found pretty and unusual. And with an elasticated waistband it was bound to be easy to wear and comfortable.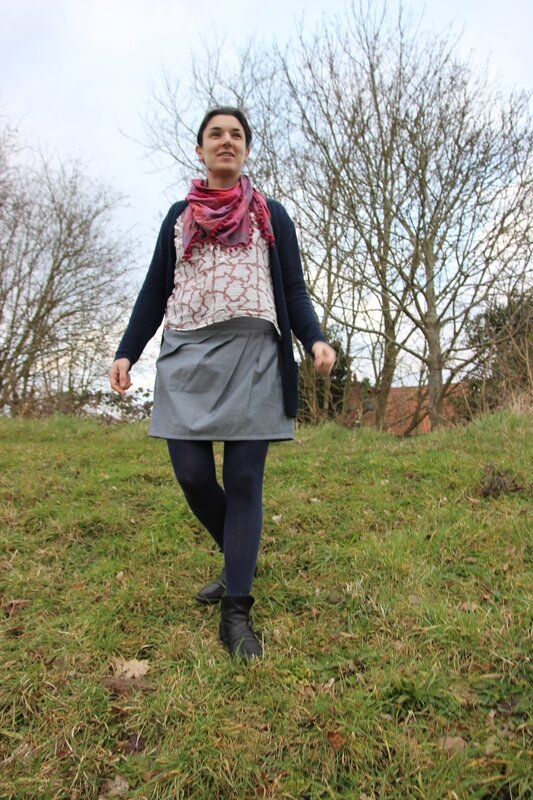 Dans ma quête du tissu parfait pour la petite jupe parfaite (beau tombé, facile d'entretien, tenant bien le pli, et produit de manière responsable), je suis tombée sur ce chambray Tencel qualifié de "révolutionnaire" chez The Sweet Mercerie. Procédé peu gourmand en eau et en produits chimiques, Oeko-tex 100, fabriqué en Espagne. Qui dit mieux ? Il est vendu en noir mais j'ai préféré utiliser l'envers pour sa couleur grise légèrement irisée.
In my quest for the perfect fabric for the perfect skirt pattern (good drape, easy care, pressing well, and produced responsibly), I came across this "revolutionary" Tencel chambray at The Sweet Mercerie: minimal use of water and chemicals in the manufacturing process, Oeko-Tex 100, produced in Spain, not bad! It is sold as black but I chose to use the reverse side for its pretty grey colour with a slight sheen.
Le problème, c'est que la patron idéal et le tissu parfait ne sont pas forcément faits l'un pour l'autre... J'ai coupé une taille 39 pour la jupe en fonction de mes mesures (il y a des instructions TRES détaillées pour déterminer sa taille... presque un peu TROP détaillées ! Au final je ne savais plus trop où me situer avec le nombre mesures à prendre en compte) et je pense que c'est un peu trop large, surtout au niveau du fessier. Pour la prochaine version je réduirais de 2-3 bons cm la largeur du dos pour atténuer l'effet gros c** ;) Les plis solaires sont très jolis, mais comme vous le voyez sur les photos, ils ont tendance à s'ouvrir ce qui donne une forme un peu "boule" à la jupe, que je ne recherchais pas forcément. Le tissu a une belle fluidité et pas mal de tenue, mais il se froisse énormément, et réagit assez mal au lavage : il est devenu duveteux, comme s'il pluchait, c'est assez étrange. Heureusement c'est moins visible sur la face grise que sur la face noire.
Depuis ces photos, j'ai repris tous les plis pour les stabiliser et les "fermer" par des coutures sur l'envers. Ca évite qu'ils ne s'ouvrent de manière intempestive et ça donne une forme plus trapèze et moins boule à la jupe. Par contre pour l'antidote anti-effet grosses fesses on attendra la prochaine version... Dès qu'il y a le moindre de rayon soleil je vous fais des photos, promis ! Enfin ce mois-ci on n'en a pas vu beaucoup. A bientôt, Mars :)
Unfortunately, the perfect pattern and the perfect fabric aren't necessarily a match made in heaven... I cut a size 39 according to my measurements and it feels a little wide, especially at the back. I would definitely shave about an inch in width off the back panel if I sewed this pattern again, to avoid the gigantic a**** effect! The solar pleats are a nice feature, but as you can see on the pictures they have a tendancy to come open, giving the skirt a slight tulip shape which wasn't called for. The fabric has a nice drape and holds well, but it creases really quickly, and doesn't like being washed very much: after being laundered it developped a kind of plushy layer, as if someone had left a tissue in the machine. Luckily, it isn't as noticeable on the grey side.
Since those photos were taken I have gone over the pleats with a line of understitching to close them in place.It does avoid them opening up all the time, and the skirt has a more A-line shape to it. Unfortunately the antidote to the big bum effect will have to wait for now, until I sew a new one. I'll post a few pics of the sewn-down pleats whenever we get a ray of sunshine... not been many lately, but hopefully March and the arrival of spring will turn the trend :)
***
19 février 2017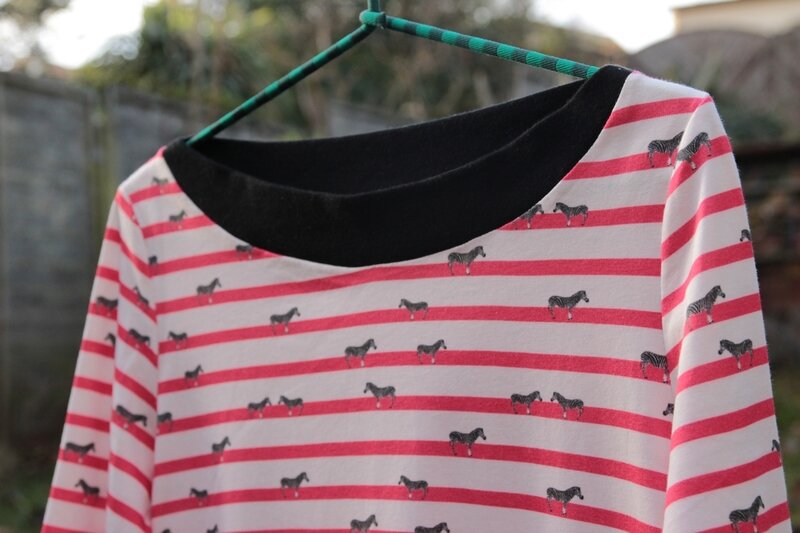 Vous l'aurez peut-être déjà remarqué, je suis fan de rayures. Alors quand je suis tombée sur cet imprimé marinière à zèbres chez Bo Graphik (une très jolie marque dont je vous parlais déjà ici, qui malheureusement a depuis fermé boutique) ça n'a pas fait un pli. J'en ai acheté deux coupons : celui-ci de 75 cm coloris groseille, et un autre plus petit, coloris moutarde, que je réserve pour le mini monkey, quoique je soit bien tentée de me le réapproprier ! C'est un superbe interlock doux et moelleux certifié Oeko-Tex made in France, il a vraiment tout pour plaire.
[For English read the text in italics]
You may have noticed my love of stripes if you follow this page, so it won't come as a surprise that I fell head over heels for this breton-stripe zebra print when I came across it! It is a scrumptiously soft and bouncy cotton interlock knit, Oeko-Tex certified and made in France. I really could not go wrong there. I snapped up 75 cm of this colourway, and 50 cm of the same print in mustard for the little lad (although I am very tempted to claim it as mine...) in the sale at Bo Graphik, a beautiful textile design company which unfortunately has since closed.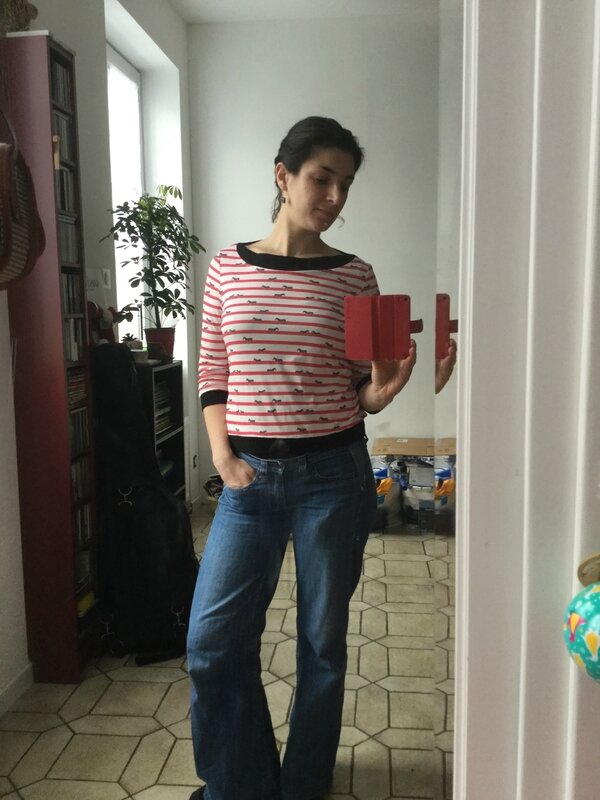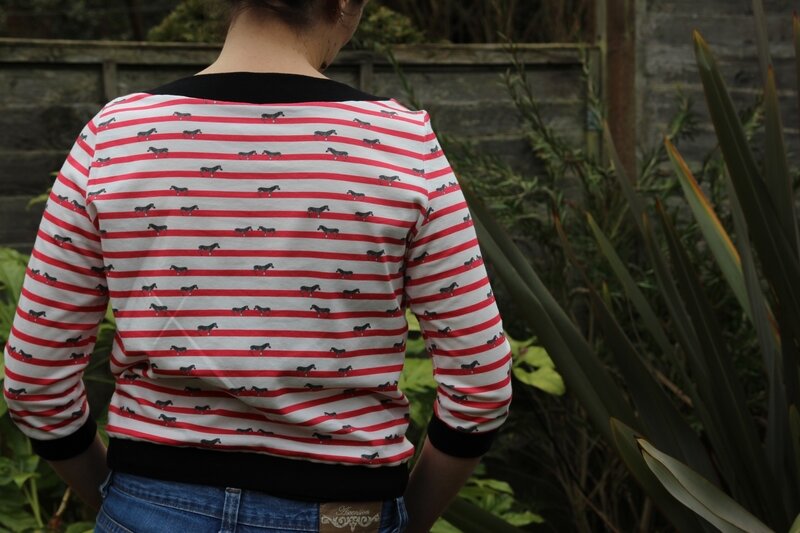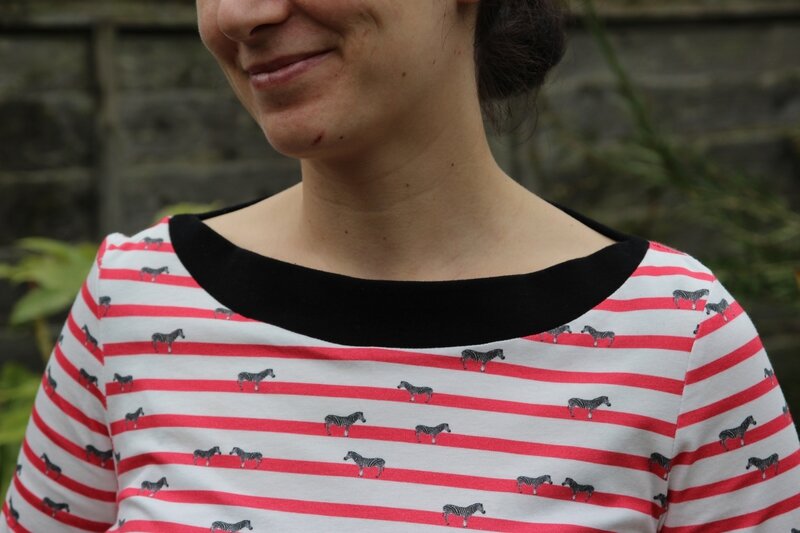 Le patron est Aster de La Maison Victor, mon nouveau magazine de couture préféré (issu du numéro de Mai/Juin 2016). Je l'achète à chaque passage en France et je ne suis jamais déçue : il y a toujours un bon mix de patrons couture pour petits et grands, tous sexes confondus, et même des modèles tricots et des idées pour détourner des vêtements existants ou des patrons du commerce. Ce petit pull court m'a attirée avec sa forme ajustée mais pas trop, et son encolure bateau originale en bord-côtes. La challenge a été de le faire rentrer dans mes 75 x 110 cm de précieux interlock, mais en coupant un 38 sans marges de couture ça passait tout juste ! Avec en plus la satisfaction d'une couture presque zero déchet :)
The pattern is the Aster jumper from La Maison Victor, a great Belgian sewing magazine which unfortunately isn't published in English (if you read German, French or Dutch you can find the 05-06/2016 issue here). This cropped sweater appealed to me with its relaxed fit and interesting ribbed boatneck. It turned into a bit of a zero-waste challenge as I only had 75 x 110 cm of fabric, but cutting the size 38 without seam allowance just about worked out, and the fit on me seems good.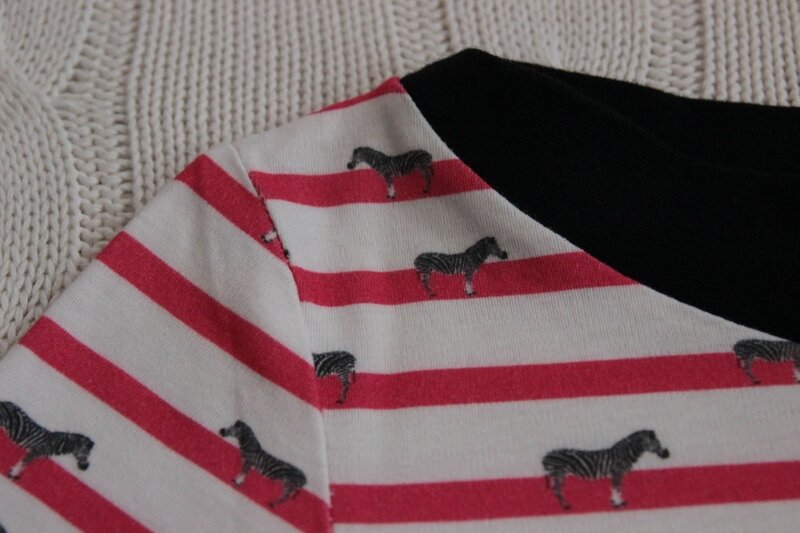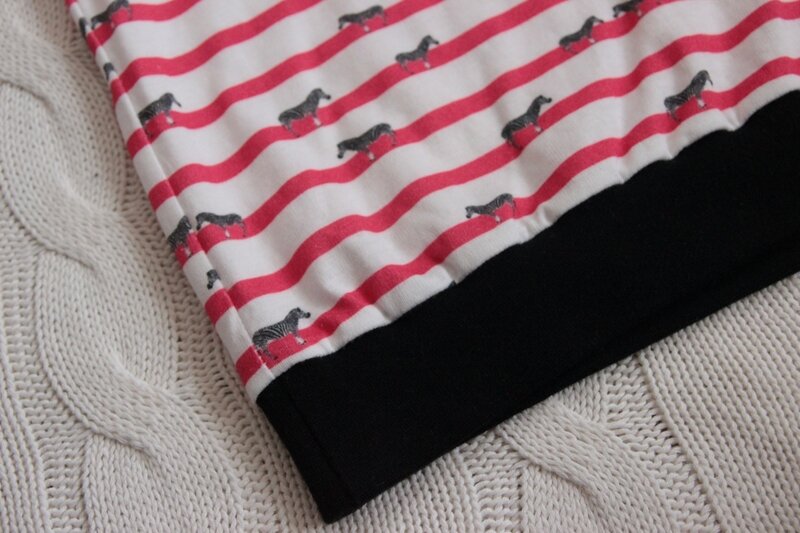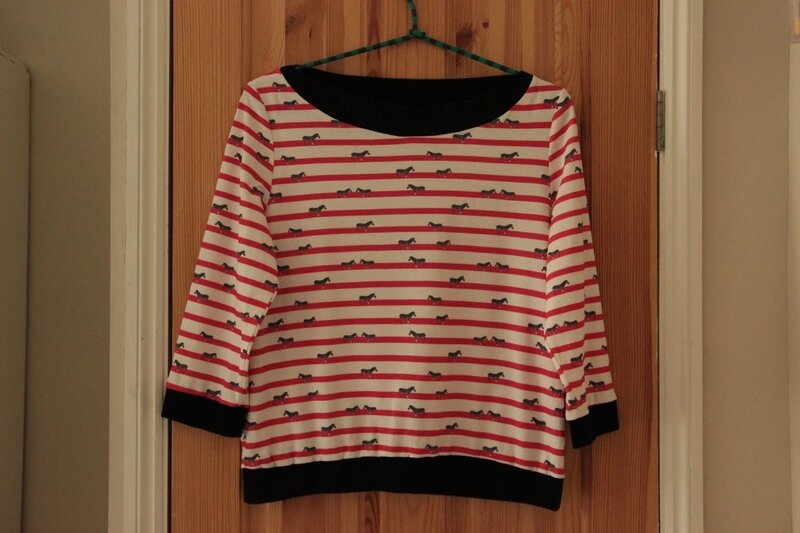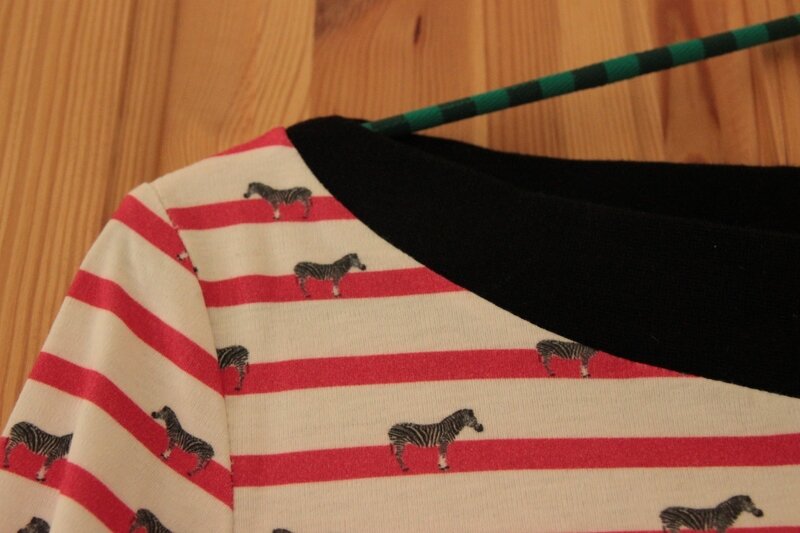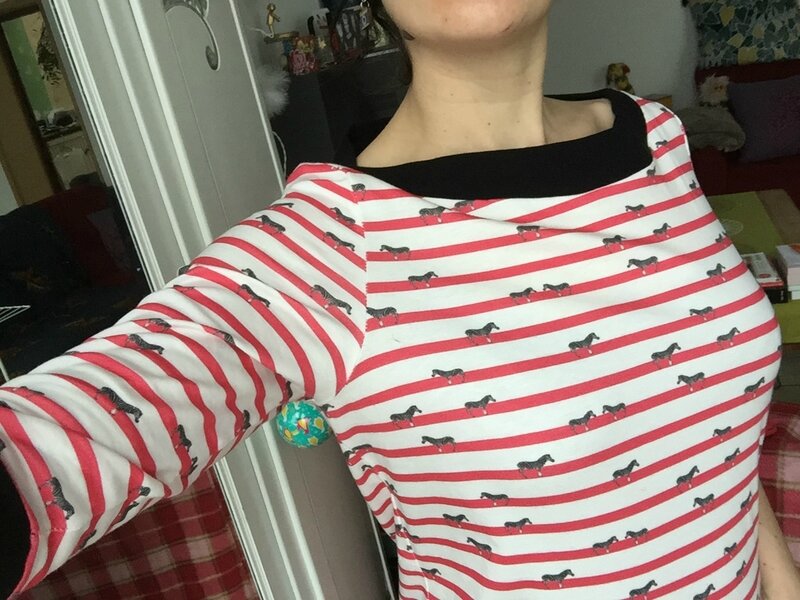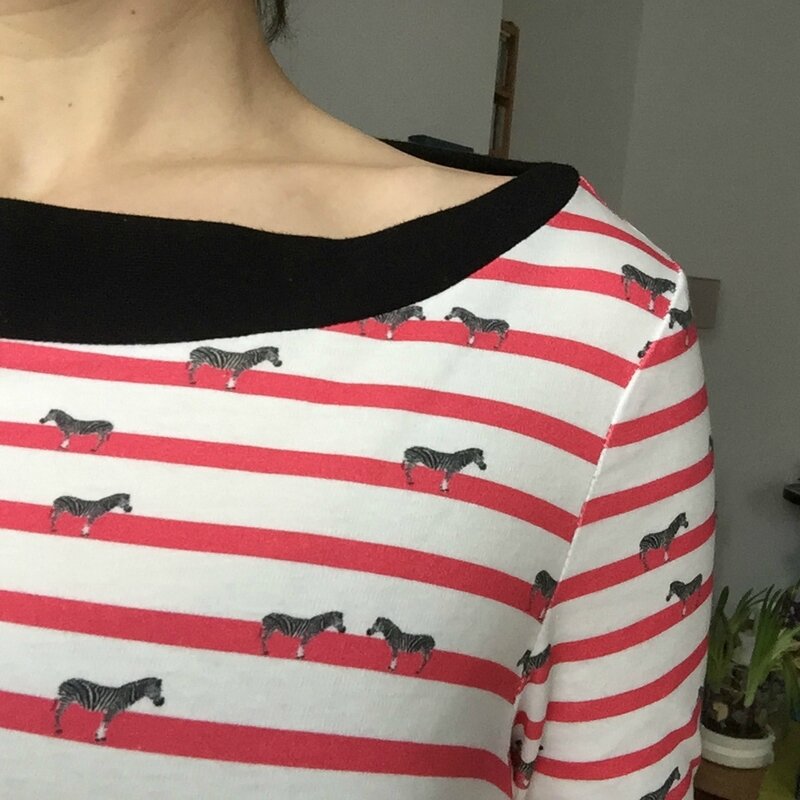 Voilà donc un bon basique de demi-saison que je me vois porter beaucoup. Je suis tout de même bien triste de ne plus pouvoir commander d'imprimés aussi originaux qu'exquis chez Bö Graphik... la créatrice continue de travailler, elle poste sur Instagram sous le pseudo de Maringotte et je suis sûre qu'elle ré-apparaitra un jour ou l'autre avec de beaux projets, mais ça illustre bien la difficulté de faire marcher un commerce équitable et de qualité, même avec de superbes produits... (elle en parle un peu sur son blog ici). A nous de soutenir ces petites marques qui travaillent dur pour nous permettre de coudre original et responsable ! Je pense notamment à La Modette, une autre créatrice indépendante qui a une boutique sur Etsy - j'ai passé une commande récemment et la qualité est super. Aperçu à suivre, et n'hésitez-pas à partager vos bonnes adresses, ici ou sur Instagram :) A la prochaine!
PS : un grand merci à ma Marie pour les photos, les encouragements, et la superbe armoire antique avec miroir ! ♥
So here we have a nice little stripy top for autumn or spring, and I know I will wear it a lot. However, I am still disappointed about the end of Bö Graphik, which just goes to show that even when you produce beautiful, quality textiles the market is rough for the ethically-minded entrepreneur. The textile designer behind the brand is still active on Instagram and on her blog (in French), but now is the time to support small ethical businesses and shop independant! I recently bought some gorgeous fabric from La Modette on Etsy and was very impressed, and I would love to hear about your favourite independant shops, here or on Instagram. See you soon :)
***
31 janvier 2017
In extremis, voici le premier épisode de l'épopée #jecoudsmagraderobecapsule2017 ! Le Mandy Boat Tee (t-shirt encolure bateau) de chez Tessuti, dans la catégorie haut en jersey. Un patron PDF gratuit disponible ici, en taille unique. J'avoue que ça m'a un peu surprise, mais le patron est prévu pour tissus extensibles, et n'est ajusté qu'au niveau des manches : le corps est très, très large, pour un tomber fluide. J'en envisageais une version dans un très beau jersey de mérinos bio, mais j'ai préféré tester d'abord avec un tissu un tout petit moins precieux. Voici donc le Mandy Boat Tee en jersey Made in France à rayures irrégulières de chez Aniline :) un très chouette tissu au demeurant, pas très extensible mais au motif original.
[For English read the text in italics]
So here is the first episode in the 2017 capsule wardrobe saga! The Mandy Boat Tee is a free PDF pattern intended for knits, on a one-size-fits-all basis. I was a little surprised by this detail, but given that the pattern is only fitted at the sleeves, intended for stretchy knits and offering easy adjustments for length (and taking in the width is also easy to do) it actually makes sense. The body is very, very wide, for a flowy effect. This version is in a (not very stretchy) jersey from Aniline, who produce a good selection of fabrics manufactured in France.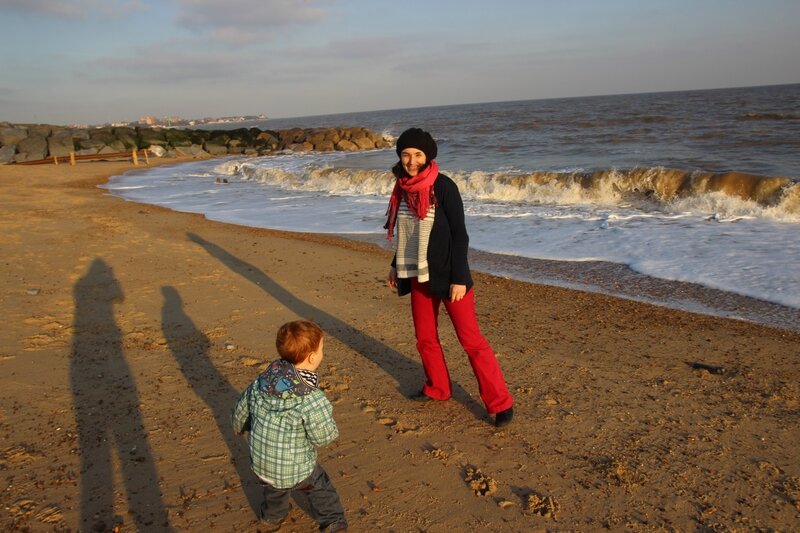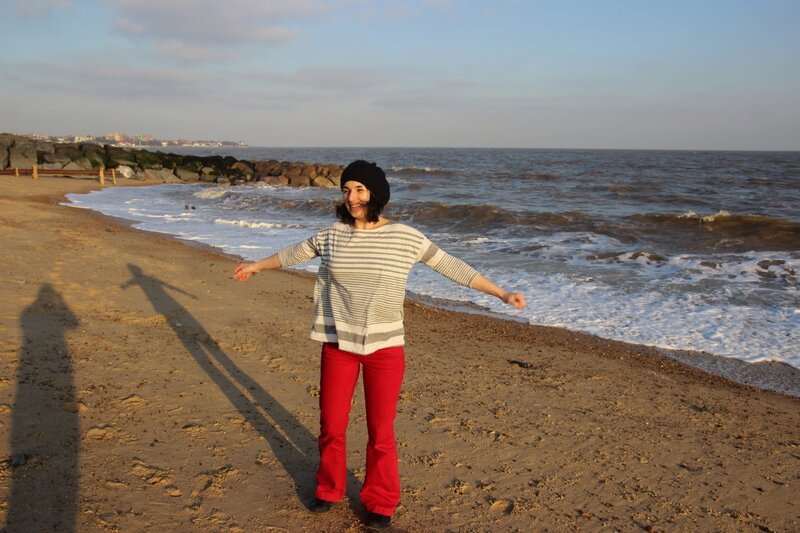 Le patron est bien expliqué (en anglais avec pas-à-pas photo) et finalement le côté taille unique n'est pas gênant puisqu'il est facile de réduire en largeur et en longueur. J'ai enlevé 3 cm de chaque côté du corps et ça me semble loose juste comme il faut :) Le patron est prévu pour surjeteuse mais j'ai tout cousu à la MAC sans problème, en point zig zag et à l'aiguille double.
The pattern is very well explained with the usual Tessuti step-by-step photos. I took 3 cm off around the body and it seems just right for a loose fit on my size 10. The pattern calls for an overlocker, but I sewed it using my regular machine with zigag stitch for seams and twin needle for hems.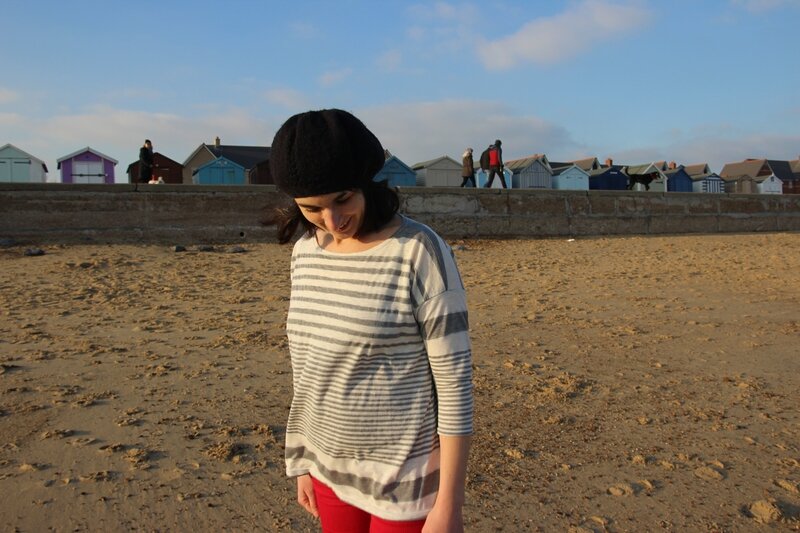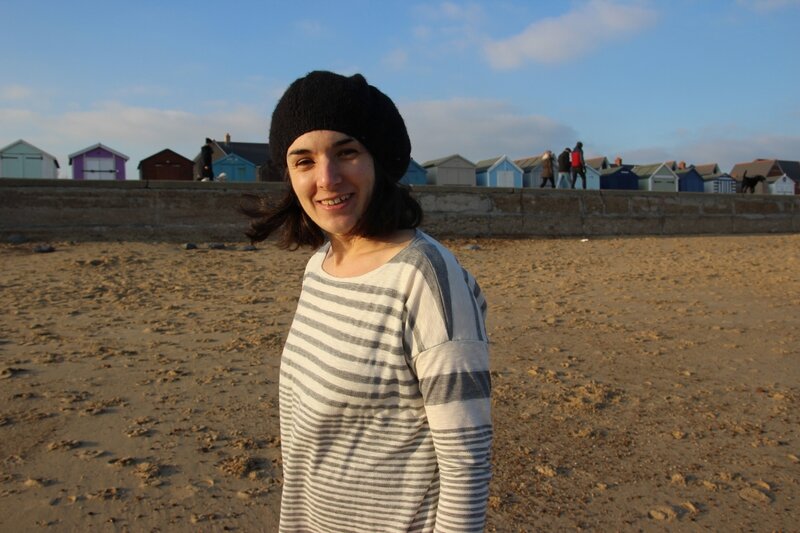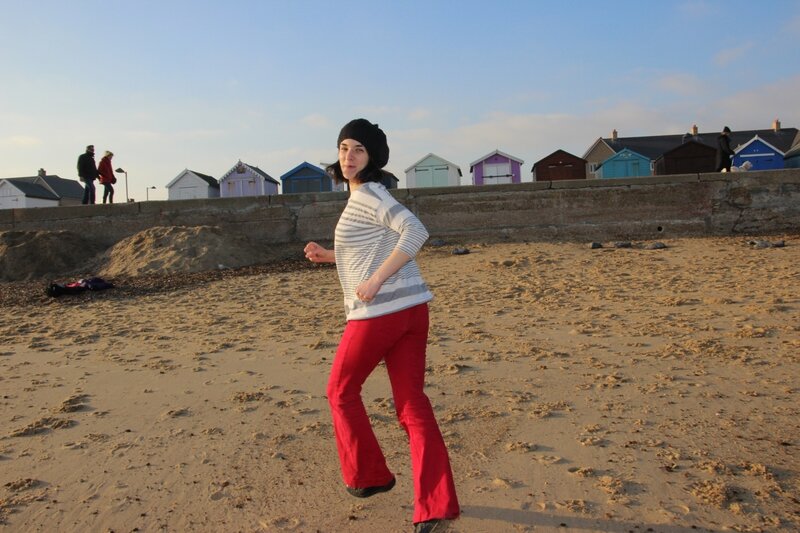 Mr Monkey s'est prêté au jeu des photos, et finalement je trouve qu'il a fait du bon boulot (en tout cas je me suis sentie moins seule qu'avec mon pied d'appareil photo). Le mini monkey a participé aussi, mais on a fait court parce qu'il ne faisait pas bien chaud (la mer du Nord en hiver ça a du charme, mais c'est pas la méditerrannée). La deuxième version en mérinos est cousue, mais avec une maille beaucoup plus extensible et qui se détend beaucoup le t-shirt est trop large. Je fais quelques modifs et je vous montre ça bientôt !
Mr Monkey actually agreed to take some pictures, but it was absolutely freezing so we kept it short. The mini monkey also joined in, and I quite like these photos, definitely was more fun than taking my tripod out on my own! The second version of this pattern, in a very stretchy merino knit, is already sewn up, but the fabric behaved very differently and it needs taking in. I will show you as soon as it is wearable. See you soon!
***
22 janvier 2017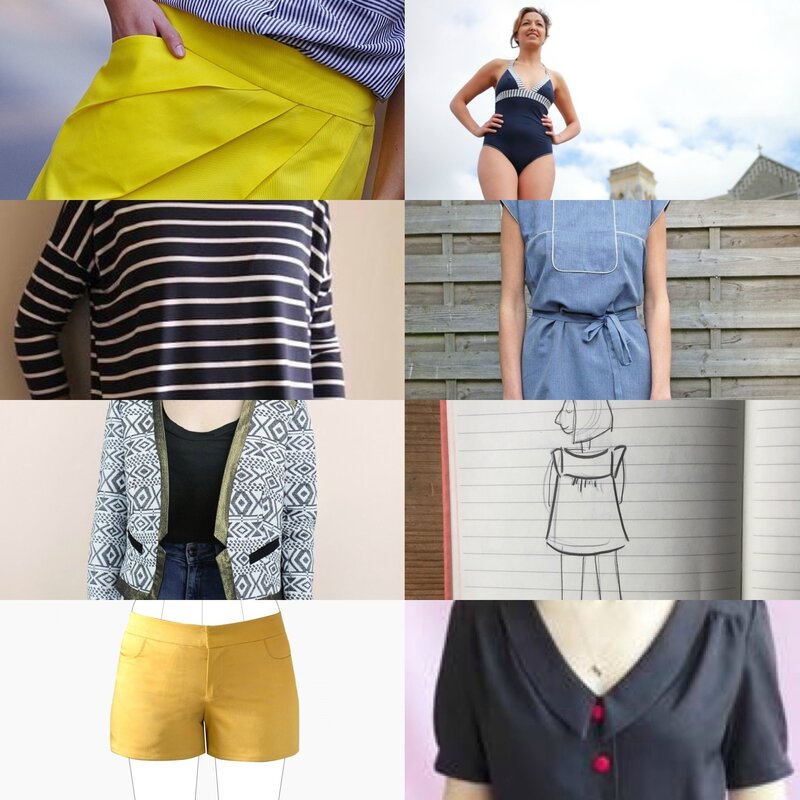 L'année dernière, il y avait eu le "make nine", vous vous en souvenez peut-être, une sélection de 9 modèles que l'on se proposait de coudre sur l'année. Bilan 2016: sur les 9 projets j'en ai cousu 4, dont 2 qui ne sont pas portables (pour cause de mauvais choix de patron, de tissu, et mauvais fit). Donc lorsque Clo Piano a lancé son projet de garde-robe capsule sur Instagram, j'ai sauté sur l'occasion de me faire un vrai planning couture, avec des pièces cohérentes et qui correspondent à mon style. En plus, ça me permet d'optimiser mon stock de patrons et de tissu (j'ai essayé de prioriser les patrons que je possède déjà et qui se marieraient bien avec des tissus du stock), d'étrenner mon nouveau carnet de couture, et de me fixer des dates-butoirs pour chaque projet, sans lesquelles je passe mon temps à procrastiner. Le challenge est expliqué en détail sur le blog de Clo, mais le principe de base est de se coudre un vêtement différent par mois pour avoir en décembre une garde-robe faite main qui comprenne tous les essentiels dont on puisse avoir besoin. Voici donc ma sélection, et l'ordre dans lequel je compte coudre. Tout est sujet à changement, mais voici le premier jet !
[For English read the text in italics]
You may remember last year's "Make Nine", a selection of 9 projects to sew up during the course of the year. If I look back at my 2016 Make Nine, I sewed 4 out of the 9 patterns selected, and two of those ended up being unwearable (wrong pattern, wrong fabric, bad fit, etc...). So when Clo launched her challenge to sew a capsule wardrobe in 2017, it felt like the perfect opportunity to get a proper sewing schedule going, with coherent pieces complementing each other and sympathetic to my fashion aspirations (which I tend to too easily forget when the attractive words "free pattern" enter my field of vision... yes, I am a cheapskate). Also, it should be a good way of making use of the stash of both patterns and fabrics, and I did try and select projects that I could sew without having to purchase anything additional. With the assistance of my brand new sewing journal and of fixed sew-by dates I should be able to avoid procarstination and get this done: sewing 12 garments in 12 months and end up with a wearable and well rounded capsule wardrobe. Here is my selection of patterns and the order in which I intend to tackle it (subject to change, but here is the first draft). Here is the dedicated hashtag on Instagram if you fancy following the challenge.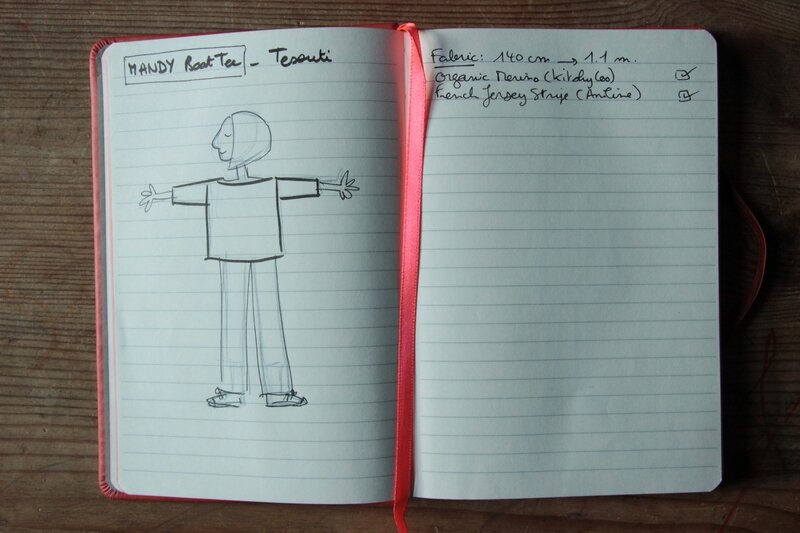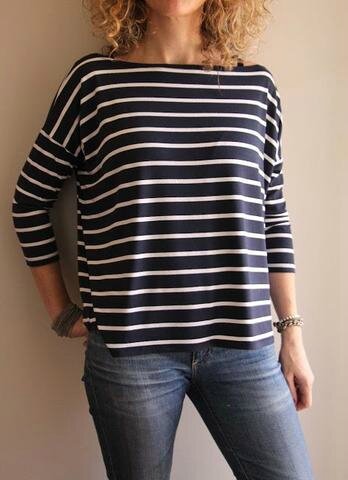 Janvier : catégorie haut jersey, le Mandy Boat Tee de Sew Tessuti
Un patron gratuit, une forme basique qui me plaît beaucoup, sera facile et rapide à coudre, et devrait être très confortable et facile à porter. J'en ai déjà cousu une version test en jersey que vous verrez très bientôt, mais la version finale en maille mérinos fait des siennes : elle est cousue mais devra être réajustée avant que je puisse vous la présenter ici. En tout cas le patron est validé, et j'en imagine toute une série en rayures de tailles et de couleurs différentes !
January: knit top category, the Mandy Boat Tee by Sew Tessuti
A free PDF pattern, a loose fitted and relaxed basic, simple and quick to sew, which should be comfy and easy to wear. I have already sewn up one test version in a stripe jersey which I will show you very soon, but my second version in a merino knit is not behaving; it will have to undergo major surgery before I can show it to you! Anyway the pattern is a winner, and I can see many of these being sewn up in the future.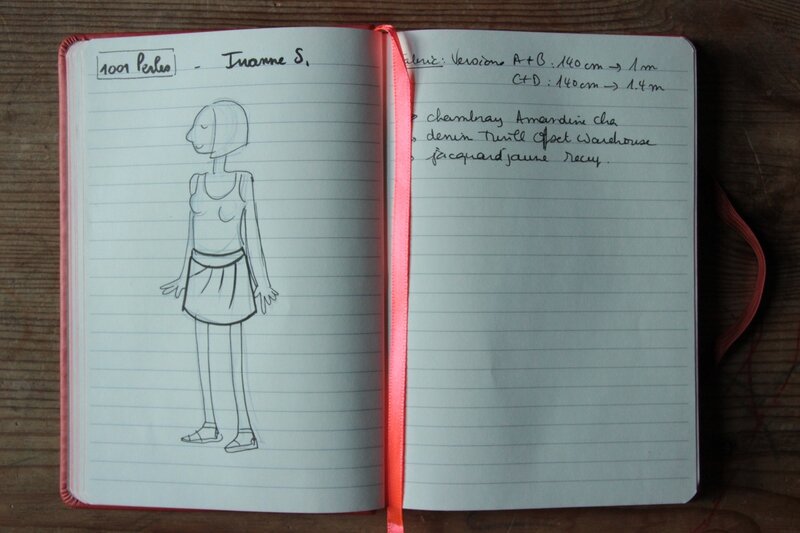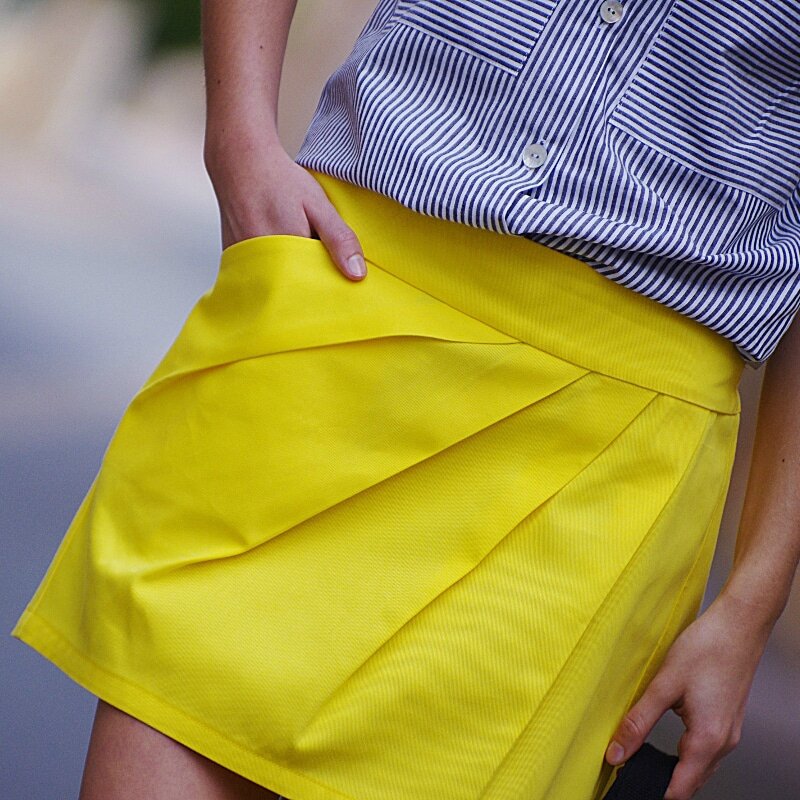 Février : catégorie jupe, la 1001 Perles d'Ivanne S.
J'avais complètement accroché avec la Mini Perle (présentée ici) d'Ivanne Soufflet, un patron très professionnel, simple mais bien fini, très versatile et offrant une quantité impressionnante de versions différentes. Voici donc la version adulte que j'ai hâte d'essayer ! C'est une jupe courte, avec dos elastiqué, qui devrait donc être pratique et confortable (vous l'avez compris, ce sont mes maîtres-mots en matière de vêtements). Pour ce qui est du tissu, j'ai un très beau chambray gris foncé à petits pois de chez Amandine Cha / les Trouvailles d'Amandine que je réserve pour cette occasion...
February: skirt category, the 1001 Perles from Ivanne S.
I had loved sewing up the Mini Perle by Ivanne S., a very professional pattern, superbly clear, very versatile, with an imporessive choice of versions and finishes. So I can't wait to try out the adult version (available in French only). It is a short skirt with elasticated back, which should therefore be practical and confortable (clearly what I look for in home-sewn garments). I intend to sew it up in a lovely eco fabric from Amandine Cha, a dark grey pin dot chambray.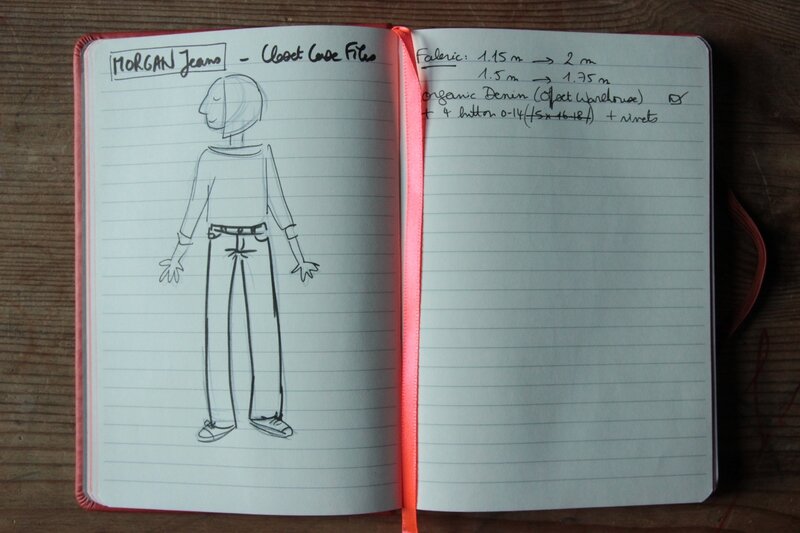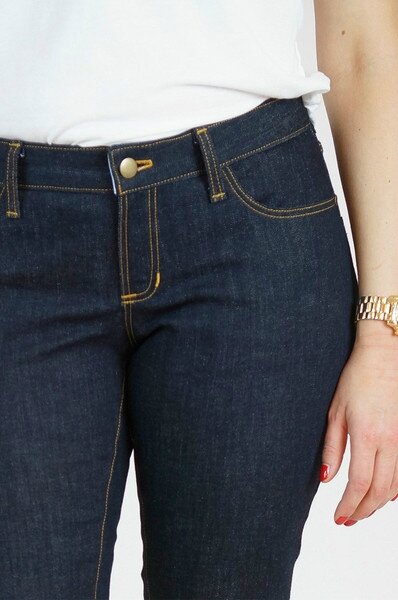 Mars : catégorie pantalon, le Morgan Jeans de Closet Case Patterns
Celui-là, il était déjà sur ma liste de Make Nine de l'année dernière... Mais cette année le patron est imprimé, j'ai lu le e-book Jeans proposé par la marque, j'ai acheté un beau denim bio chez Offset Warehouse et je songe à m'inscrire à l'atelier en ligne Jeans de Closet Case Patterns. It WILL happen !
March: trousers category, the Morgan Jeans by Closet Case Patterns
This one already featured on last year's Make Nine. This year the PDF is printed out and taped up, I read the jeans-making e-book from CCP and I have bought a great heavyweight organic denim from Offset Warehouse. This year is the year.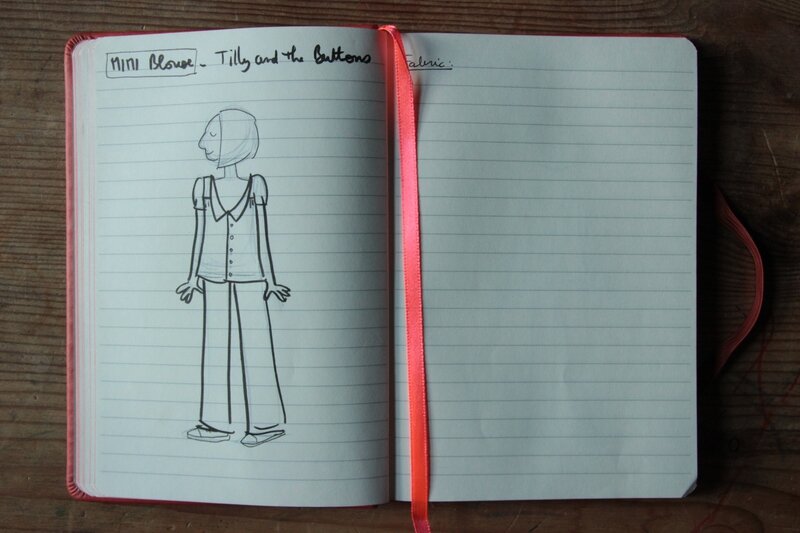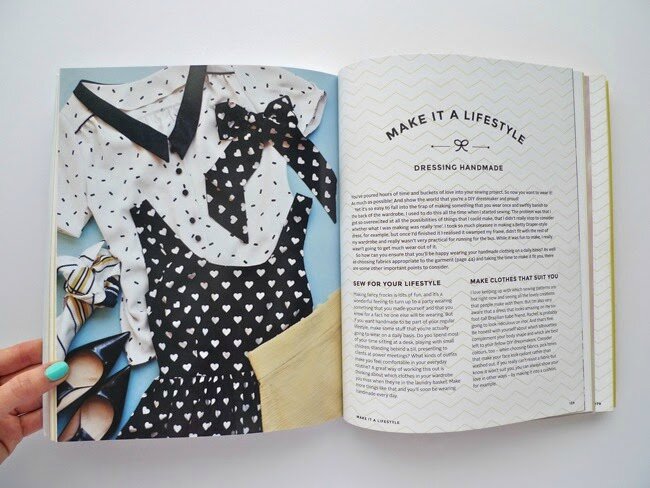 Avril : catégorie chemise, la Mimi Blouse de Tilly and the Buttons (dans le livre Love at First Stitch)
J'ai tout de suite flashé sur ce patron dans le livre Love at First Stitch, mais je n'avais pas trouvé le tissu idéal. Cette année j'ai fait l'acquisition d'un superbe coupon de batiste bleue à motif antilope (!) chez La Modette et je crois bien que ces deux-là sont faits pour s'entendre...
April: shirt category, the Mimi blouse by Tilly and the Buttons (from the book Love at first stitch)
I have had my eye on this pattern ever since I browsed through the book when it came out a couple of years ago, but I still hadn't found the perfect fabric for it. But I am now the proud owner of a gorgeous yard of bright blue batiste from La Modette which I got in the sale, and I do believe they will just be perfect for each other.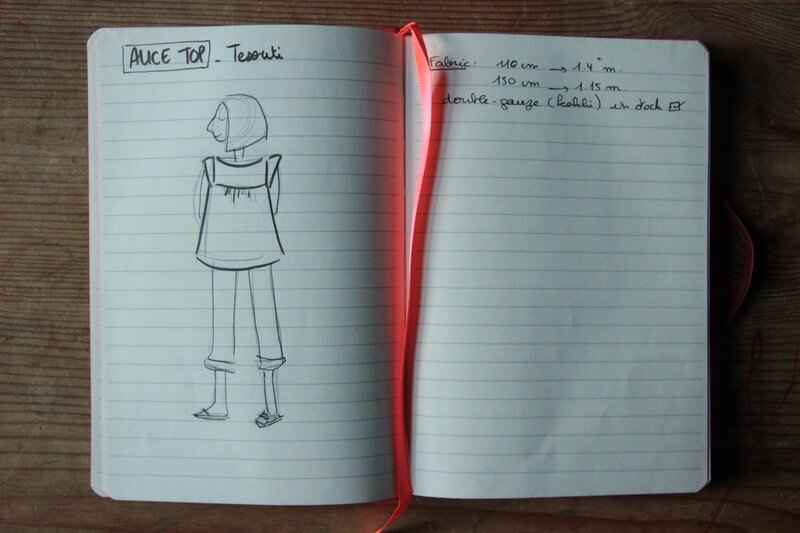 Mai : catégorie haut chaine et trame, le top Alice de chez Sew Tessuti
Encore un projet du Make Nine de 2016, et pour celui-là je n'ai vraiment aucune excuse, j'avais déjà le tissu ! Cette fois j'ai téléchargé le patron, et j'espère bien que cette fois il se materialisera puisqu'il est planifié. Encore un haut confortable et facile à porter.
May: woven top category, the Alice top by Sew Tessuti
Another Make Nine fail, and I really didn't have any excuse as I already had the fabric! Anyway, I now also have the pattern, and I really hope it comes to life. Another relaxed and comfy top.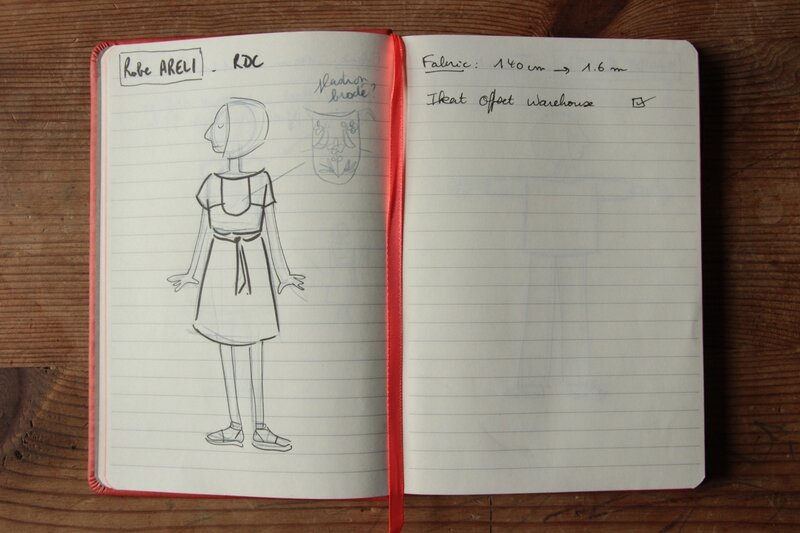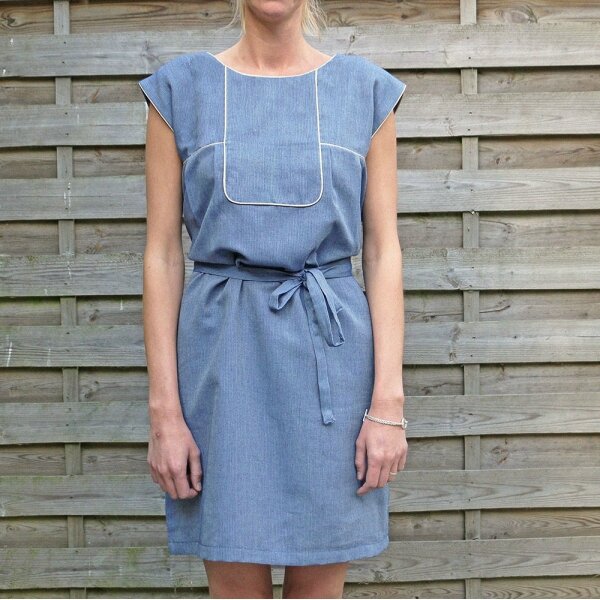 Juin : catégorie robe, la robe Areli de République du Chiffon
Une robe décontractée qui m'attire par son côté versatile (ceinturée ou non, plastron brodé ou non) et son potentiel "ethnique". J'adore les tissus un peu exotiques, et j'ai commandé 2 mètres d'un ikat tissé main sur Offset Warehouse (si ça vous intéresse, il est encore disponible !) en pensant à ce patron. J'espère me mettre à la broderie d'ici-là pour ajouter un motif au plastron.
June: dress category, the Areli dress by Republique du Chiffon (pattern available in English)
I really like this French independent pattern design company, and the pattern appealed to me with its ethnic style, and potential for customisation (with or without belt, embroidered front panel or not...). I have a fondness for exotic textiles and I ordered 2 m of beautiful hand woven Ikat from Offset Warehouse to sew this dress in (available here). I hope to learn embroidery before June so I can add a touch of colour to that front panel!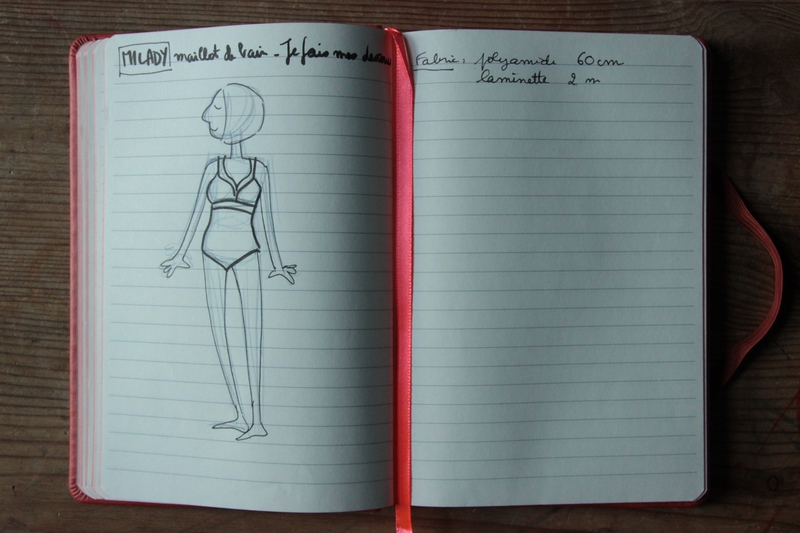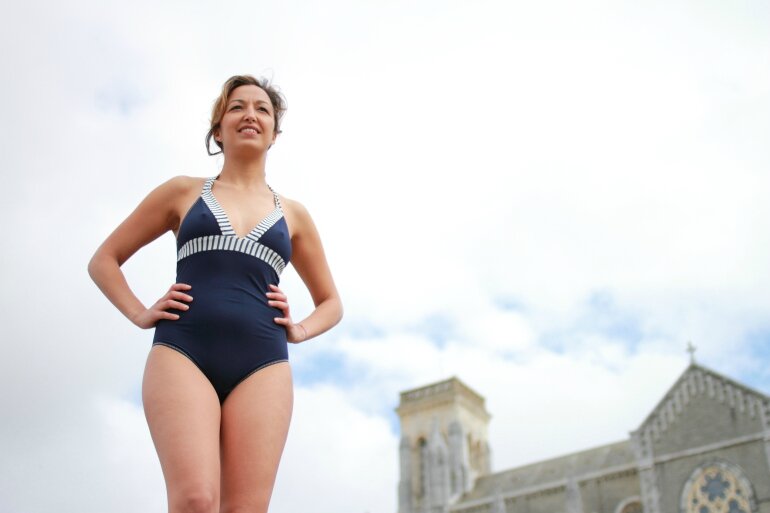 Juillet : catégorie maillot de bain, le maillot Milady de Je fais mes dessous
Ce maillot figurait dans le magazine Passion Couture Créative auquel m'avait abonnée ma tante, et je me suis toujours dit que si je devais me coudre un maillot ce serait celui-là. Il a l'air assez simple pour un premier essai maillot, mais original et joli malgré tout. J'ai le (beaucoup plus compliqué) maillot Sophie de Closet Case Patterns en attente si je me sens capable de poursuivre dans la couture maillot... ce sera peut-être pour 2018 !
July: swimwear category, the Milady swimsuit from Je fais mes Dessous
This swimming costume featured in a magazine that I used to suscribe to, and I always thought it looked like a simple yet stylish piece to try my hand at swimwear with. If this works out, I might try my hand at the much more evoled Sophie Swimsuit from Closet Case Patterns next year!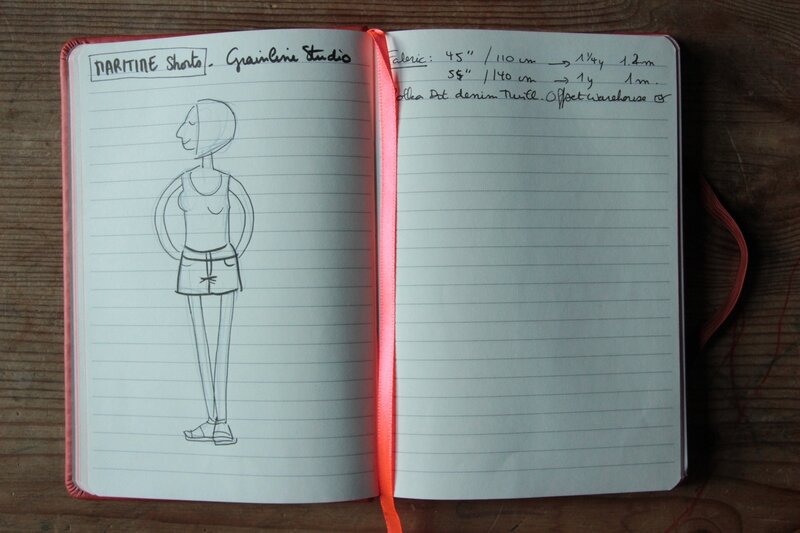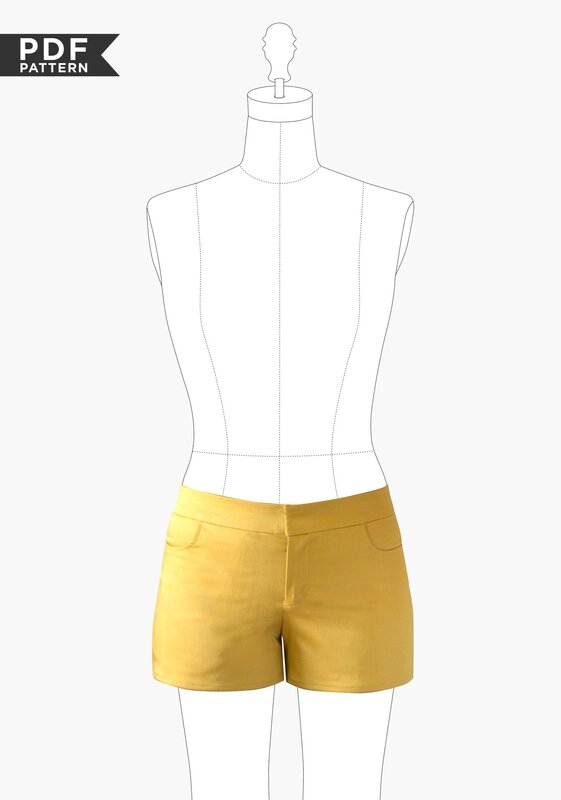 Août : catégorie short, le Maritime de Grainline Studio
Celui-là il sera utile, je possède en tout et pour tout un short (et il est trop grand pour moi) donc il est grand temps d'en ajouter un à ma garde-robe. J'aime bien cette forme simple et féminine (mon mari a un truc avec les shorts qu'il trouve toujours trop "hommasse" à son goût, donc on verra ce qu'il pense de celui-là). Pour ce qui est du tissu, ce sera sûrement un chute du jean de mars, de la jupe de février ou de la robe de juin !
August: shorts category, the Maritime shorts by Grainline studio
Given that I only own one pair of shorts and that they are too big for me, this should certainly be a usefull addition to my wardrobe. My husband always complains about "manly" shorts, so I hope these ones get his seal of approval...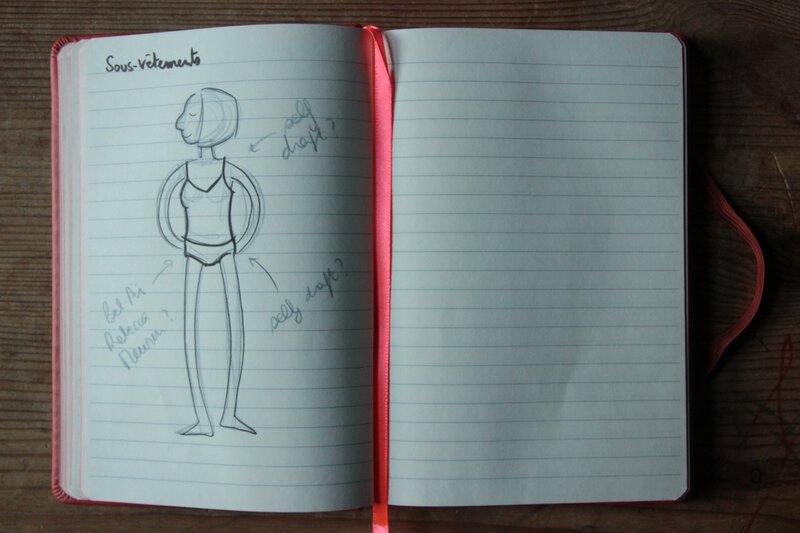 Septembre : catégorie vêtement de nuit sous-vêtements, l'ensemble Picpus et Bel Air de Rebecca Meurin / Atelier sur le fil
J'avoue, j'ai esquivé discrètement la catégorie imposée pyjama parce que j'en ai trop, tous mes vieux t-shirts et leggings finissent en pyjama, et je vais déjà essayer d'être classe le jour, pour la nuit on verra plus tard ! Par contre ça fait un bon moment que j'ai envie de coudre mes dessous, et je crois avoir trouvé là un patron simple pour me lancer. J'avais tenté le patron improvisé coupé dans un ancien t-shirt pour la semaine de la fashion revolution en 2016, mais ce n'était pas entièrement concluant. Avoir un ensemble soutif-culotte assorti en 2017, ce serait chouette :) Là-encore ce sera un bon projet mange-chutes.
September: nightwear underwear category, the Picpus bra and Bel air knickers by Atelier sur le fil
Ok I dodged the pyjamas, I just have far too many and really don't need to waste any precious sewing time on those. But having matching underwear might be nice! This combo should be nice and easy to sew for a first attempt at lingerie. A good scrap-busting project.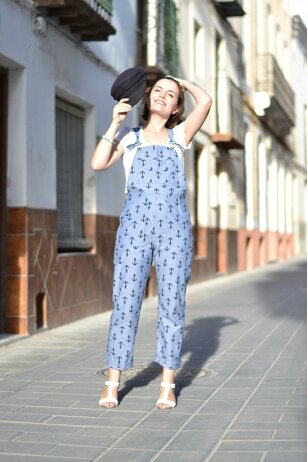 Octobre : catégorie combinaison, la salopette Turia de Pauline Alice
Pour tout vous dire, quand j'ai vu la catégorie combinaison, j'ai eu un peu peur... heureusement, il semble que la salopette rentre dans les critères, et celle de Pauline Alice me fait de l'oeil depuis un moment. Tissu à déterminer, mais je sens déjà un revival de mon adolescence !
October: jumpsuit category, the Turia dungarees by Pauline Alice
No thank you to a jumpsuit, I am definitely not that trendy or willing to spend 1/4 of an hour getting out of my clothes every time I want to go to the loo. thankfully, it seems that dungarees fit the bill, and I already had these on my radar.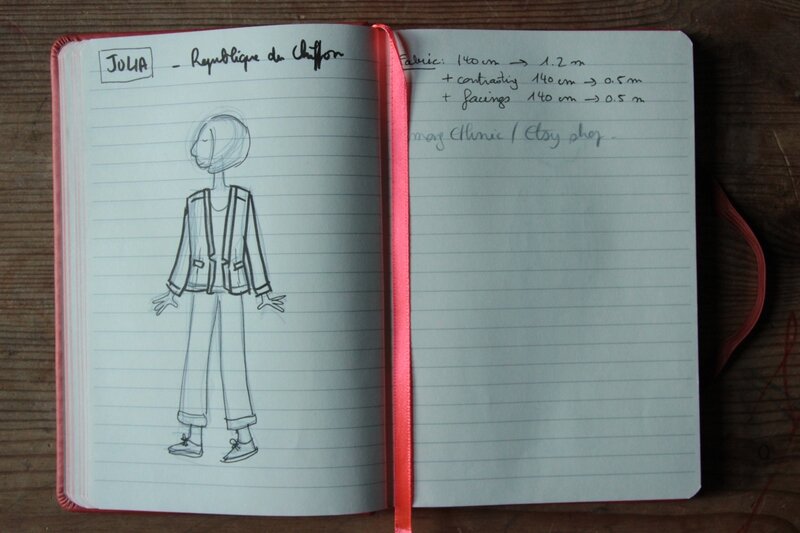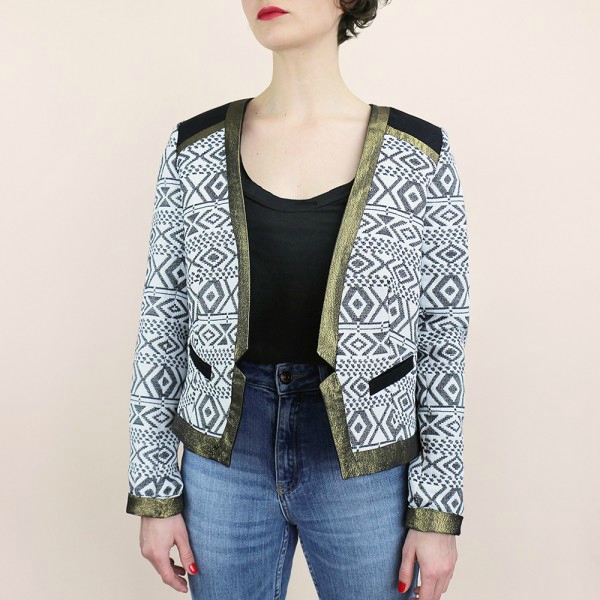 Novembre : catégorie veste, la Julia de République du Chiffon
Encore un patron RDC, je m'étais offert le patron pochette en auto-cadeau d'anniversaire et j'ai hâte d'attaquer ce projet un peu costaud. J'avais repéré un magnifique tissu traditionnel Hmong sur Etsy, mais depuis ma petite maman m'a ramené un sari d'Inde et j'aimerais bien en utiliser une partie pour cette veste.
November: jacket category, the Julia by RDC
A second one from French pattern makers RDC, it is a bit of an ambitious project, but I have a dream of sewing this using some of the beautiful handwoven sari that my mum brought me back from India.
Décembre : catégorie manteau, carte Joker :)
Et oui, le projet de décembre sera... tricoté ! J'ai plus qu'assez de manteau, et ce très gros gilet attend depuis plusieurs années d'être commencé. Et si je m'y mets maintenant j'aurai peut-être terminé en décembre :)
Voilà ! Un beau programme qui, je l'espère, se concrètisera petit à petit. J'ai essayé d'alterner projet complexe et patron plus facile, et j'ai vraiment hâte de voir tout ça prendre forme. A bientôt pour le premier épisode, le t-shirt Mandy en jersey.
December: coat category, joker :)
December's garment will actually be... knitted! I don't need another coat, but this chunky cardigan has been waiting for me for years. I already have the yarn and the pattern, I just need to get going. And if I start now, I may actually have finished it before the end of December!
So there you are, I hope this list gradually comes to life over the next 12 months. See you soon for January's Mandy Tee :)
***
21 janvier 2017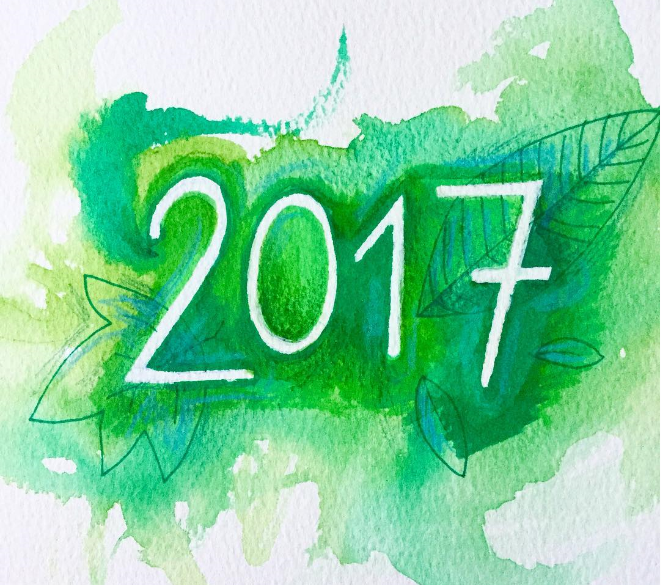 Je sais pas vous, mais moi en ce début d'année j'ai une furieuse envie d'air frais, d'appuyer sur le bouton pause, et d'instiller un peu de paresse dans le train train quotidien. Et en même temps je fourmille de projets, et je m'espère plus organisée, plus efficace, plus productive. J'ai aussi envie d'être plus fidèle à mes valeurs, plus soucieuse des autres, de l'environnement, plus engagée, plus présente pour ma famille et mes amis. Donc si on résume j'aimerais en faire plus en y mettant moins de temps et d'effort, et vivre dans l'insouciance mais avec integrité. OK. Faut pas rêver, je suis loin d'être wonder woman (même en portant une culotte par-dessus mes collants), mais autant viser haut, non ? Alors plutôt que des résolutions auxquelles je ne me tiendrai pas, j'ai décidé d'adopter quelques reflexes simples pour me faciliter la tâche.
[For English read the text in italics]
I don't know about you, but with the start of a new year I feel like fresh air, pressing the pause button, and taking things easy. I've also got loads of projects and ideas and I hope to be more organised, more efficient, more productive. And I would like to live closer to the values that are important to me, be more mindful of others, greener, more committed to the causes I believe in, more available for my family and friends. So to sum up I would have quite liked to wake up as wonder woman on the 1st of january ! Oh well, got to dream big... so just to help my little human self to be a little more organised and a little less stressed this year, I have introduced a few helpful accessories into my daily routine.
Premièrement, j'ai investi dans un carnet de couture ! J'ai longuement bavé sur les versions toutes faites de Colette Patterns (très beau carnet, mais un peu intimidant, trop rigide et sérieux à mon goût) et de Chez Machine x Thérèse Sequin (celui-là était parfait, j'adore les illustrations de la talentueuse Thérèse, mais au moment de commander ils étaient en rupture de stock ! Je croise les doigts pour une ré-édition !), mais finalement j'ai opté pour un carnet tout simple, pas trop grand, et avec plein de pages, que je puisse organiser à ma sauce. Et grâce à une idée géniale de Clo Piano j'ai commencé à réfléchir à une garde-robe capsule à coudre sur l'année, et le carnet à commencé à bien se remplir... enfin ça je vous en parle en détail très bientôt dans un prochain message !
First of all, I treated my self to a sewing log book. I had been drooling over the beautiful notebooks released by Colette and Chez Machine this year, but ended up just using a simple blank one to adapt to my own needs. And I am very grateful to Clo Piano for launching the #jecoudsmagarderobecapsule2017 challenge which has really encouraged me to plan and schedule my sewing for the whole year. I will tell you more very soon, but let's just say I am pretty excited about it!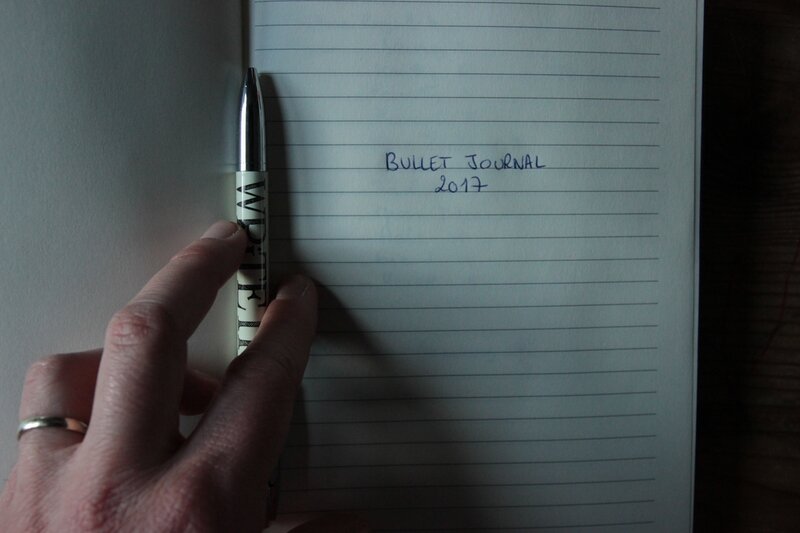 2017 sera clairement l'année du papier (recyclé bien entendu !) puisque mon deuxième outil pour passer une année organisée et sans stress est un autre carnet. J'ai succombé à la folie Bullet Journal, et en tant que bordélique pathologique, je crois sincèrement que ça va m'aider ! Le principe est assez simple, on liste tout ce qui nous passe par la tête en termes d'évènements et de tâches ou d'idées, qu'on organise ensuite en thèmes et qu'on planifie par mois et par jour. Le site est très pédagogique et on peut se lancer en 5 minutes. Ca ne fait que quelques jours que je m'y tiens mais jusqu'ici j'en suis ravie, ça ne me prend que quelques minutes par jour, ça me permet d'être plus réaliste sur ce que je peux accomplir en fonction du temps dont je dispose, et j'ai la nette impression d'oublier moins de chose et de mieux rentabiliser mon temps. Winner !
2017 will clearly rely heavily on notebooks (recycled paper, of course!) because my second main tool for 2017 is the amazing bullet journal. I jumped on the bandwagon, and I'm actually really glad I did: so far it has genuinely helped me to not forget things, get organised, and actually get more done. The bullet journal website is super easy to follow and guides you to set up your own book in a few minutes. It is all about jotting ideas and tasks as they arise, then organising them in topics and scheduling them monthly and daily. It only takes a few minutes a day, and so far it feels really helpful. It's thumbs up from me!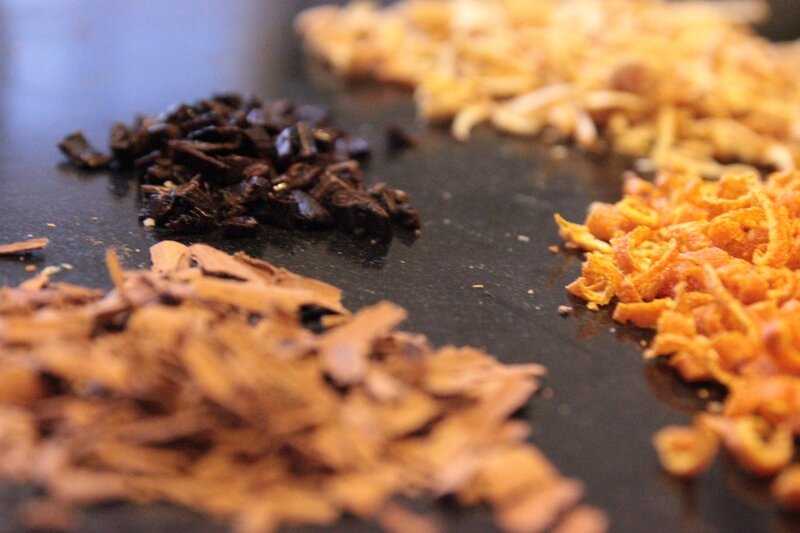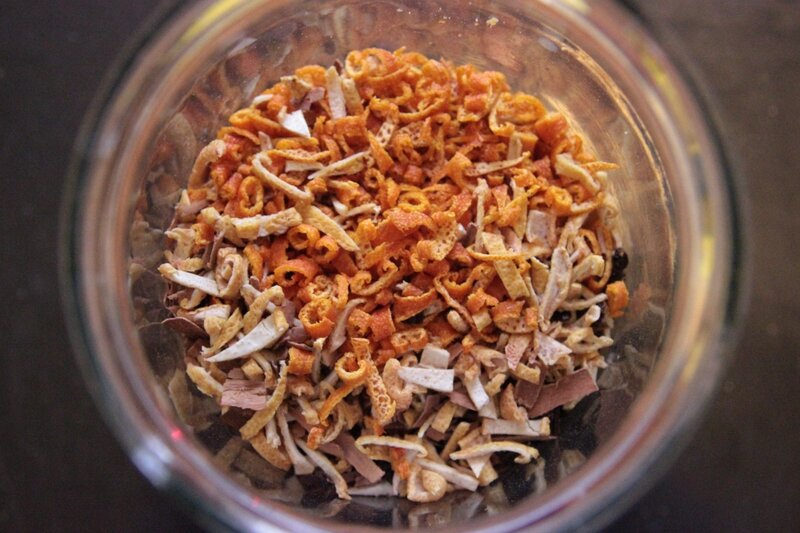 Et puis rien de tel qu'un bon petit thé pour faire une pause et recharger les batteries (et se donner un petit coup de boost à base de théine), alors voici une petite recette facile pour un thé aux parfums d'hiver, bien reconfortant quand il fait froid dehors. J'espérais la publier avant Noël (j'en ai offert à tout le monde - rien de tel qu'une petite attention faite maison :) ) mais je n'ai pas eu le temps, donc disons que je suis en avance pour Noël prochain ! Le point de départ est cette recette trouvée sur Pinterest, et j'ai essayé d'utiliser un maximum d'ingrédients bio et équitables. Ce n'est pas toujours facile à trouver, mais pour les agrumes il vaut quand même mieux utiliser des fruits bio puisqu'on infuse les écorces. Le thé que j'ai utilisé étant assez amer, je ne l'infuse que quelques minutes pour que le goût du thé ne masque pas les autres parfums.
Recette du thé d'hiver
- 100 gr de thé en vrac
- le zeste de 2 oranges, 2 clémentines et 2 citrons
- 1 gousse de vanille
- 1/2 baton de cannelle
Prélever l'écorce des agrumes avec un épluche légume pour qu'elle soit bien fine, et laisser sécher plusieurs jours dans un endroit chaud et bien aéré, jusqu'à ce qu'elle soit dure.
Couper les écorces et la gousse de vanille avec des ciseaux en très petits morceaux, et écraser le baton de cannelle.
Mélanger au thé, et répartir dans des jolis bocaux avant de déguster, ou d'offrir !
And because there's nothing better than a nice cup of tea to have a little break and recharge the batteries (as well as getting a little caffeine boost), here is a recipe for a winter tea which really warms your cockles when the gale is blowing outside. I had wished to publish it before Christmas but ran out of time, so let's say we are early for next Christmas! The original recipe (in French) was found on Pinterest, I tweeked it a bit and tried to use mainly fair trade and organic ingredients, which weren't that easy to find. I would advise you use organic citrus fruit though, as you are brewing the peel, and probably don't fancy a good dose of pesticides in your cuppa. Also, if the tea you use is quite strong, don't brew for too long so that the taste of the tea doesn't cover the other flavours. (And as a French tea drinker I always have mine black, but I don't think milk would taste very nice in this.)
Recipe for winter tea
- 100 gr loose tea
- the peel of 2 oranges, 2 clementines and 2 lemons
- 1 vanilla pod
- 1/2 a cinammon stick
Peel the fruit with a vegetable peeler to get a nice thin peel, with as little pith as possible. Let it dry in a warm and well ventilated area for a few days, until it is quite hard and dry.
Cut up the peel and the vanilla pod in very small pieces with scissors, and crush the cinammon stick.
Mix with the tea and separate into pretty jars. Enjoy, or give to friends and family for a home made treat!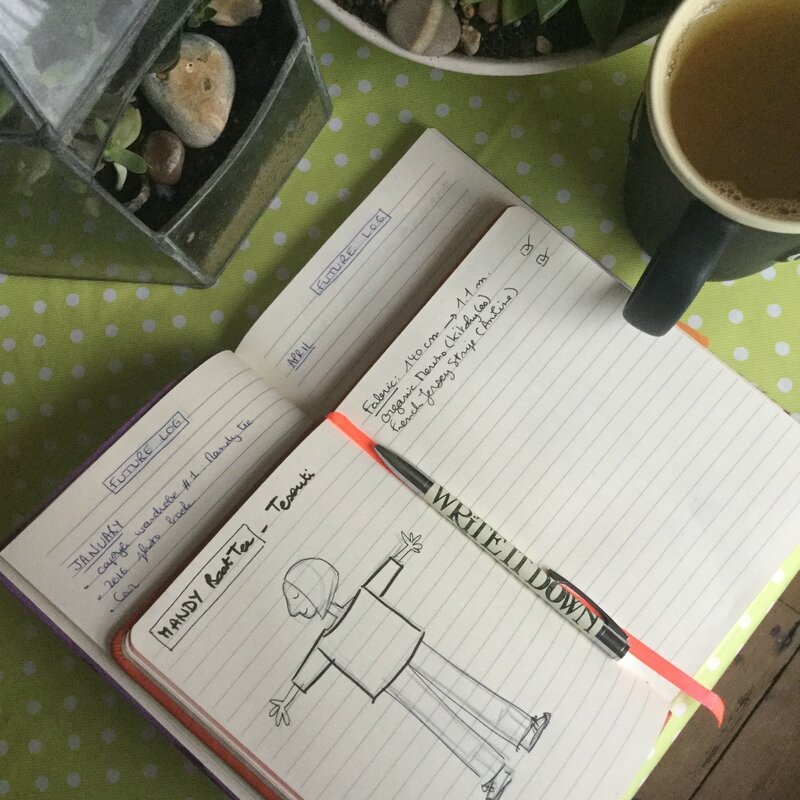 Voilà, de quoi partir du bon pied, et de faire de 2017 une année chouette :) (à condition bien sûr de ne pas regarder les infos... si vous êtes comme moi franchement déprimés par les récents évènements, allez jeter un coup d'oeil à cette video. Ca ne change rien au problème mais c'est bien fait...)
So here you are, 2017 won't make us super human, but at least we will be contemplating our amazing sewing schedule, whilst feeling very organised, and sipping a nice cup of tea. What could go wrong ? (well, just don't switch on the news... or go and watch this instead... )
***
21 décembre 2016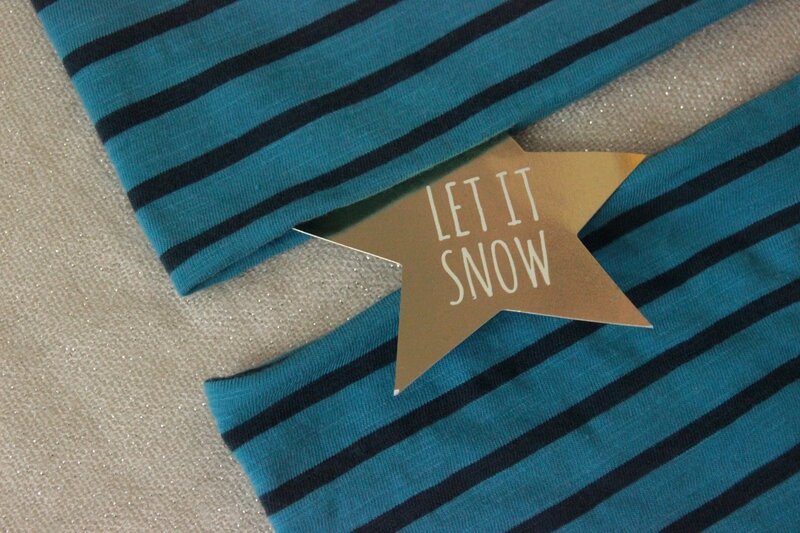 Les bonnets en laine qui sont si jolis mais qui grattent la tête, ça vous dit quelque chose? Le mini monkey, avec sa peau super sensible, ne les supporte pas. Mais mine de rien il fait un peu frais ces jours-ci pour sortir sans couvre-chef. Je vous propose donc de transformer un t-shirt taille adulte en ensemble bonnet et cache-col/snood pour vos minis (ici un t-shirt de Mr Monkey, acheté il y a bien longtemps, porté une fois pour me faire plaisir, puis laissé au fond du tiroir parce qu'il "n'est pas uni"... et oui, les rayures, c'est un peu trop extravagant pour lui!). Les avantages sont multiples: on donne une deuxième vie à un vêtement qui ne servait plus (avantage écolo), ça ne coûte quasiment rien (avantage radin), en une heure c'est bouclé (parfait pour les cadeaux de Noël de dernière minute - avantage débordée) et ça donne un ensemble tout doux en jersey prélavé et pré-porté, idéal pour peaux sensibles et lainophobes (avantage pratique et douillet).
[For English read the text in italics]
We all love a gorgeous hand knitted hat, but boy don't they itch!? The mini monkey has got super sensitive skin, and he can't bear them for more than 30 seconds, which of course causes me to despair as I have countless dreams of lovely knits I could do for him. Anyway. We cracked it! Just worked out that I could turn an old, beautifully soft, pre-loved t-shirt into a comfy hat and snood combo in less than an hour (starring one of Mr Monkey's "not plain enough" rejects... stripes are a step to far for him, I discovered). It is a winner on so many levels: eco-friendly (the old "reduce reuse recycle" motto), purse-friendly (free material, just add thread and a scrap of ribbon), tight schedule-friendly (easily achievable in one hour, perfect last-minute Christmas present), and just generally cosy and lovely and original, if I do say so myself :D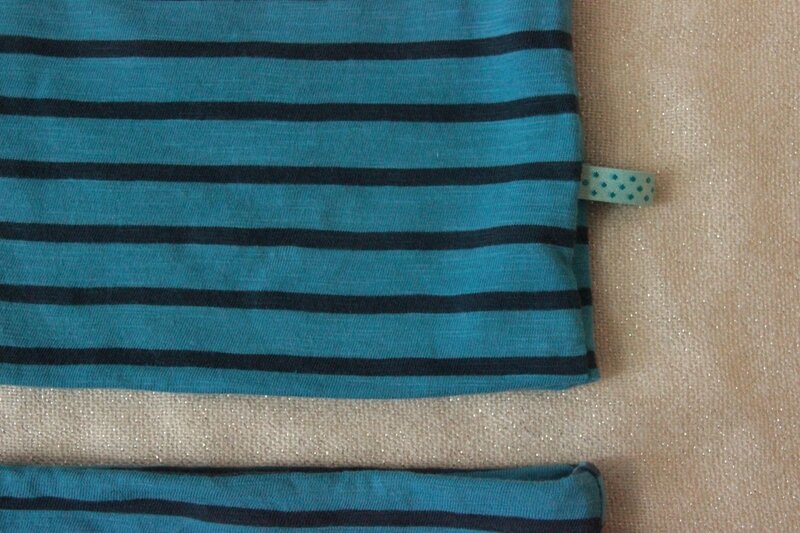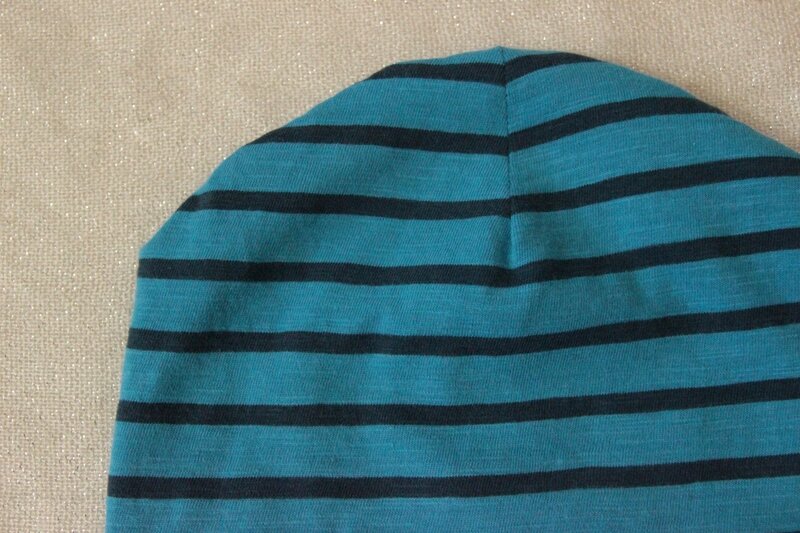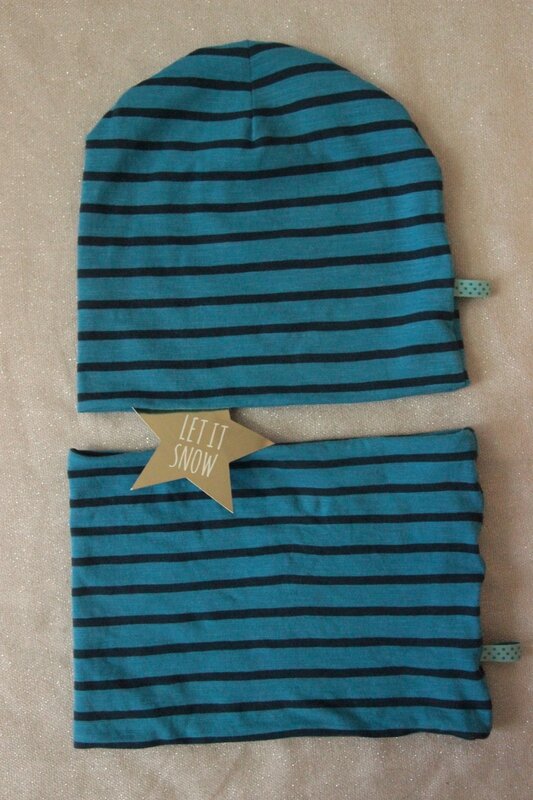 J'ai utilisé un t-shirt taille S pour homme pas trop près du corps, et l'ensemble en taille 2-3 ans (tour de tête 50 cm) rentre tout pile! L'avantage des rayures c'est qu'il n'y a pas besoin de tracer les lignes droites avant de découper, et que les raccords sont faciles... :) Le bonnet est basé sur un patron Ottobre (le numéro 24 du magazine 4/2015) mais je trouvais les explications plus que vaseuses, je propose donc un pas à pas et un schéma pour dessiner un patron aux mesures de votre loupiot(te). Le snood est un bête rectangle plié en 4, le tuto est en bas du message et vous donne juste l'ordre des coutures à respecter pour qu'il soit assemblé dans le bon sens (OK, j'admets, je m'étais plantée avec ma première version!). Là encore, les rayures aident bien à se repérer. Toutes les coutures sont réalisées au petit point zig zag à la machine, mais vous pouvez utiliser une surjeteuse si vous êtes équipé(e)!
The set in size 2-3 year old (50 cm head circumference) fitted perfectly inside a size S not too fitted men's t-shirt. The great thing about stripes is that you don't need to trace all the straight lines out, and it is so easy to line up and fold squarely. The hat is based on an Ottobre pattern (number 24 in the 4/2015 book) but I found the explanations really woolly, so here is a little step by step, and I have added a little sketch to help you draft your own pattern, based on your little one's measurements. The snood is simply a square piece of jersey folded and stitched along the edges, so I just give you the order in which to do it (OK, I got it wrong the first time I tried...). Once again, stripes make it sooOoo much easier. I assembled everything using astretch stitch on my machine, but if you have an overlocker it should work a treat.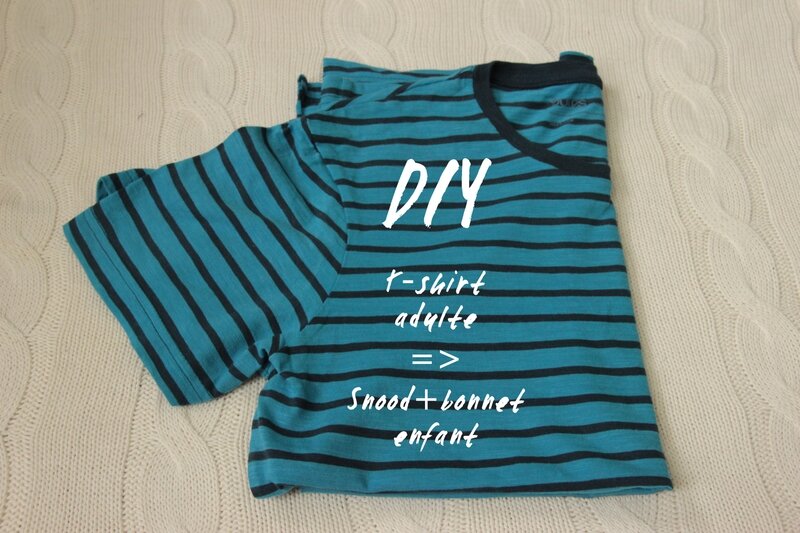 *DIY Bonnet*
Le bonnet est coupé en une seule pièce, qui forme l'avant, l'arrière, l'intérieur et l'exterieur, avec une seule couture au dos. Le t-shirt doit être assez grand pour y placer le patron x 4 comme illustré ci-dessous, avec une petite marge de couture tout autour de l'ensemble (pas de marge entre chaque pièce du patron puisqu'il y a juste une pliure). Donc il doit mesurer environ un tour de tête en largeur et un tour de tête entre l'emmanchure et le haut de l'ourlet. Les mesures pour dessiner le patron sont basées sur le tour de tête, pour tracer les arrondis il vaut mieux utiliser un perroquet. Le bonnet Ottobre d'origine est assez long et "tombant", vous pouvez ajuster la longueur du tiers inférieur du patron pour diminuer cet effet. J'espère que le schéma est assez clair, n'hésitez pas à demander des précisions en commentaire, je ferai de mon mieux pour y répondre !
*Hat DIY*
The hat is cut in one piece which combines inner and outer panels, with just one seam at the back. The t-shirt you are using needs to be big enough to fit the hat template x 4 as shown below, plus a small seam allowance around the outside. So the t-shirt needs to have a width at least equal to your head circumference measurement, and the length between the top of the hem and the underarm cutout should also be at least equal to that head circumference measurement. All the measurements are based on the head size, and I would advise you use a French curve to draw the rounded edges. Also, the original Ottobre pattern makes for quite a slouchy hat, but you can shorten the bottom third of the template to make the hat more fitted. Clear as mud?! Do get in touch if you need any further explanations :D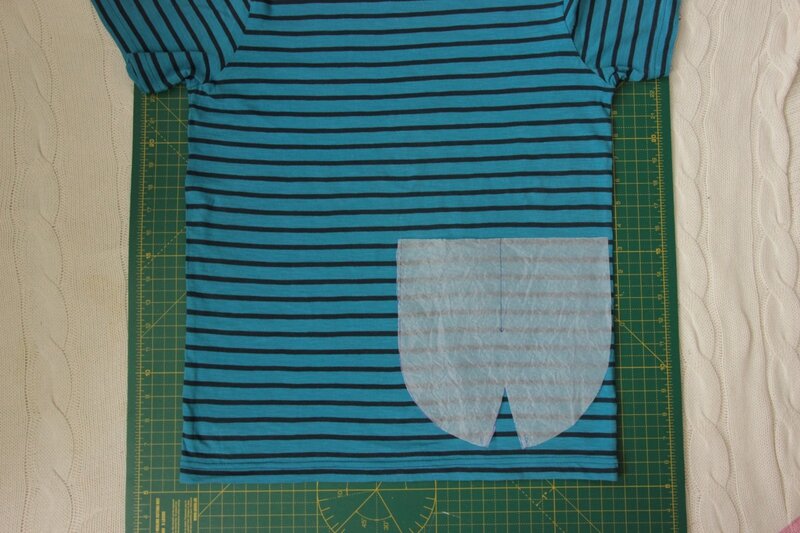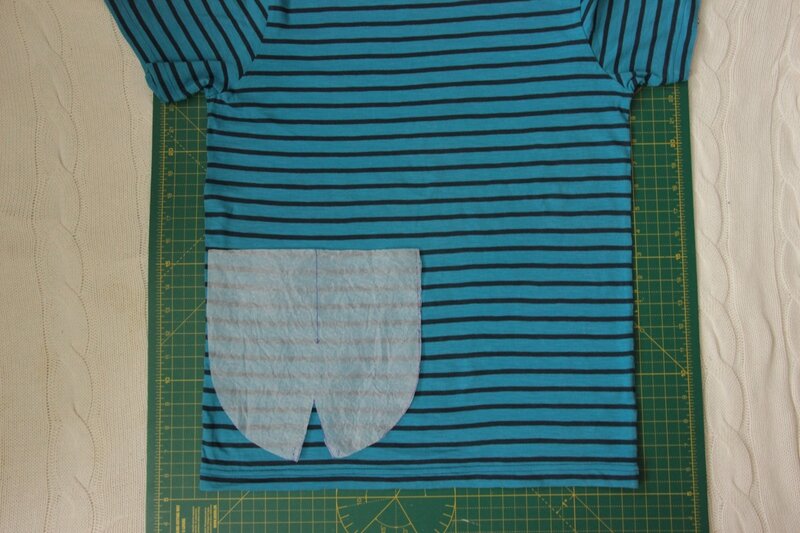 Pour découper la pièce, plier le devant du t-shirt (préalablement décousu) en deux dans le sens de la largeur, puis encore en deux dans le sens de la hauteur. Placer la pièce de patron sur la ligne de pliure à droite et en bas, et découper le reste du pourtour en ajoutant une marge de couture. Déplier.
To cut the piece out, cut the front of the t-shirt (which you will have separated from the back and the sleeves beforehand) in half widthways, then again in half lengthways. Place the hat template against the fold lines at the bottom and to the right as shown, and cut out the rest of the outline, adding your seam allowance. Unfold and lay flat.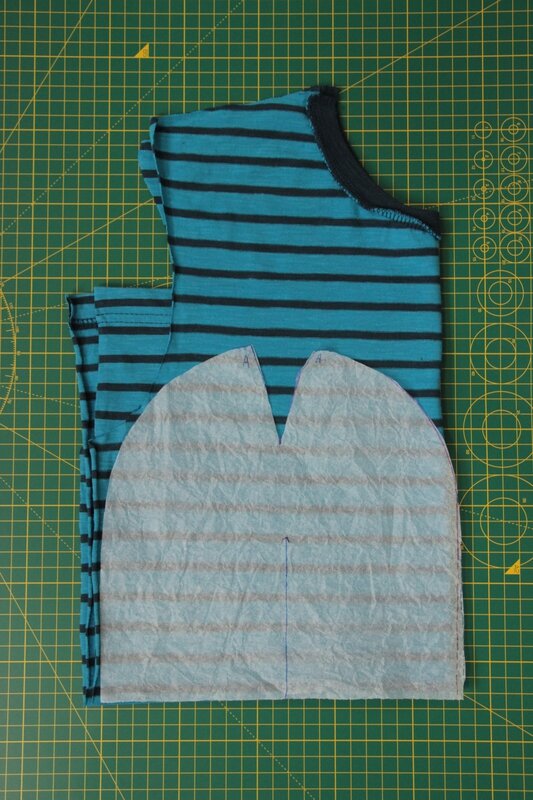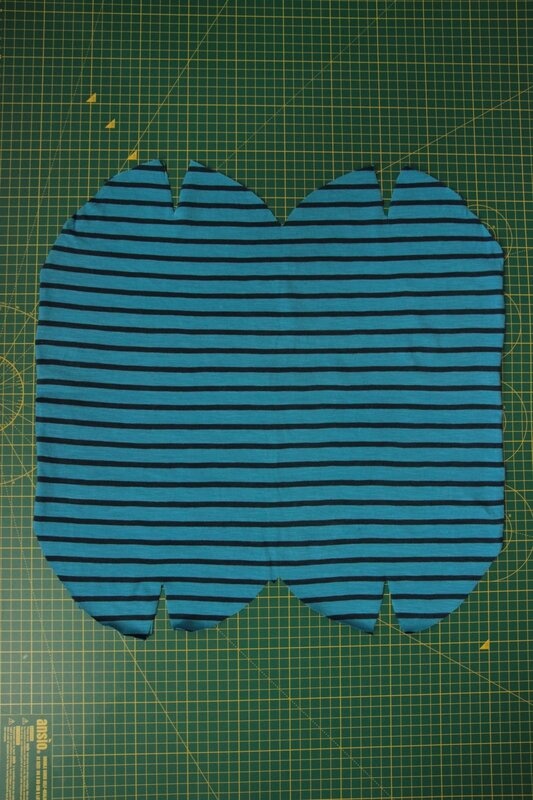 Coudre les 4 pinces des fonds du bonnet, endroit contre endroit. Si vous le souhaitez, ajouter un morceau de ruban plié en deux, cousu sur l'endroit du devant du bonnet, 5 cm au-dessus de la ligne de pliure, et cousu à l'intérieur de la marge de couture, perpendiculairement au bord.
Plier ensuite la pièce en deux, endroit contre endroit, dans le sens de la hauteur, et coudre la partie ouverte du pourtour, en laissant un ouverture de quelques centimètres à 10 cm environ au dessus de la ligne de pliure, du côté opposé au ruban si vous en avez cousu un, c'est à dire dans la partie du bonnet qui formera l'intérieur.
Ramener ensuite les deux parties l'une sur l'autre le long de la ligne de pliure. Le génie du patron Ottobre, c'est de suggérer un petite couture de quelques centimètres à l'intérieur de la marge de couture au niveau de la pince des fonds du bonnet, et juste au-dessus de la ligne de pliure du tour de tête (en rouge sur l'image). Assemblé de cette façon, il ne reste plus qu'à retourner le bonnet par l'ouverture et tout se place impeccablement, comme par magie ! Pour terminer, fermer l'ouverture avec une couture invisible et la placer à l'intérieur du bonnet.
Stitch the 4 darts making up the top of the hat one by one, right sides together. If you wish, you can add a small length of ribbon to the back seam; to do so stitch a folded piece of ribbon to the right side of the outer panel, perpendicular to the edge, a couple of inches above the fold line, and within the seam allowance.
Then fold the piece in half lengthways, right sides together, and stitch around the opening, leaving a small gap for turning out (approximately 4 inches above the fold line, on the side opposite to the one you stitched the ribbon to).
Then bring the darts together by folding along the midline. The genius of the original Ottobre pattern is that it suggests you stitch the seam allowances together with an inch long row just above the darts, and just above the fold line (see red marks on picture below). if you do this, when you turn the hat out everything falls neatly into place as if by magic! All that is left to do is to close the opening with a slip stitch and to place on the inside of the hat.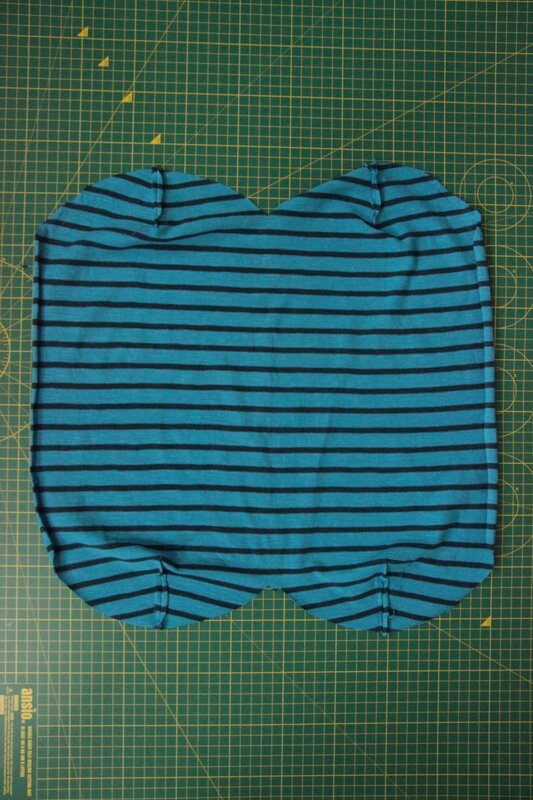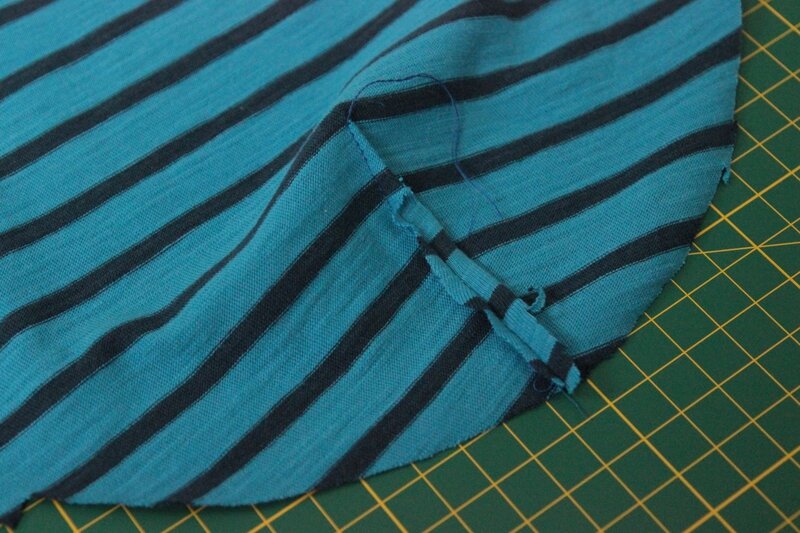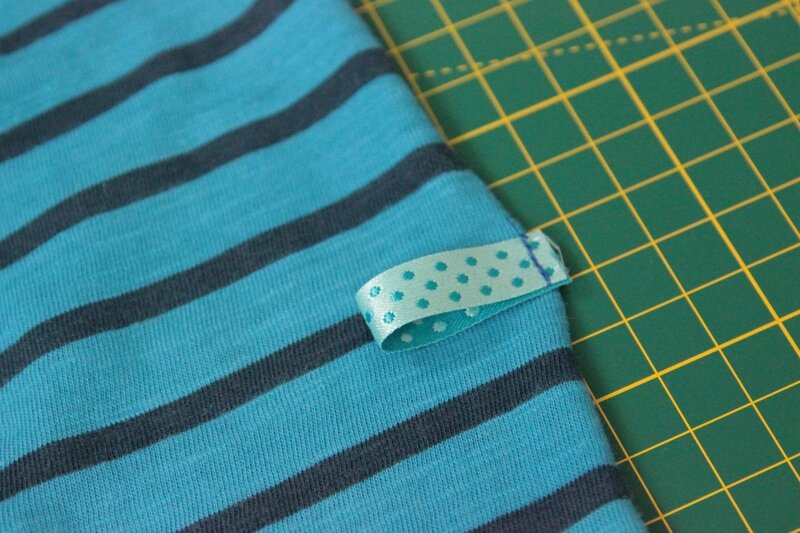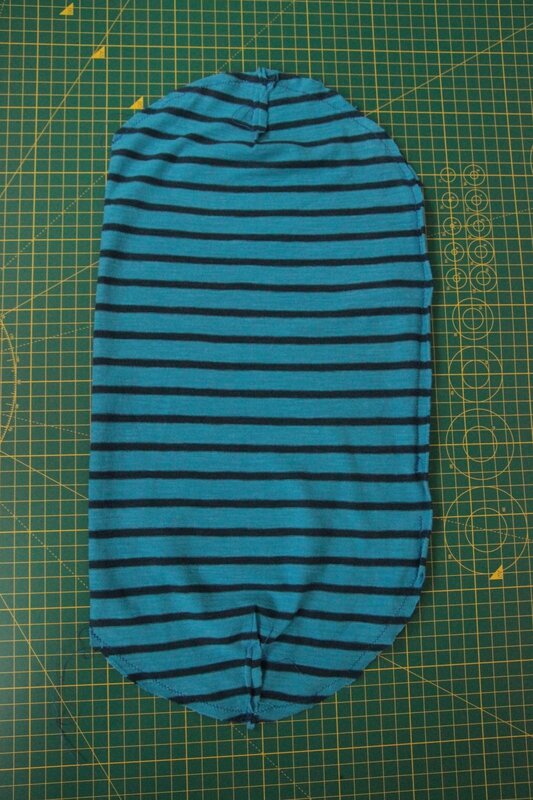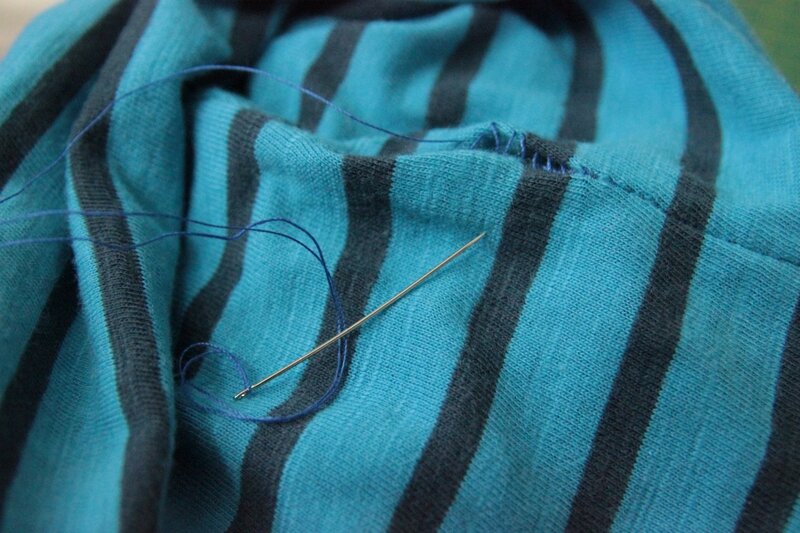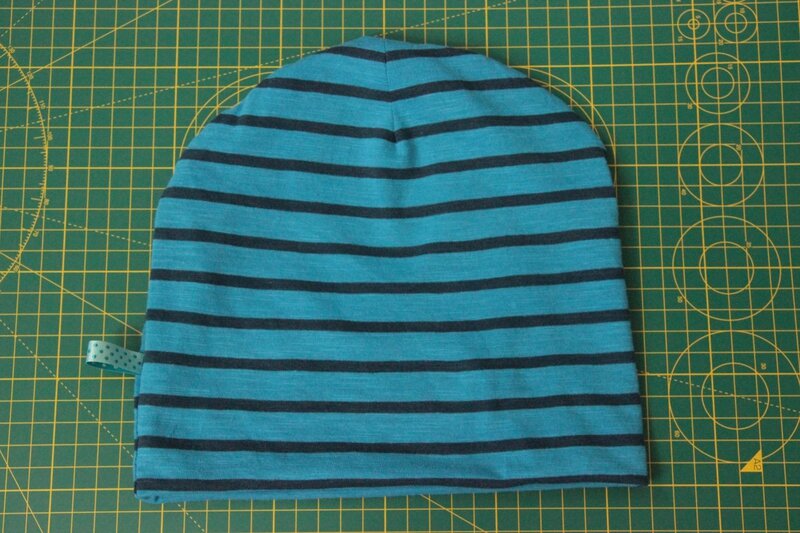 *DIY snood*
Pour le snood c'est encore plus simple, pas besoin de patron, il suffit de découper un carré aux dimensions ci-dessous, en ajoutant des marges de couture tout autour. Pour ma part j'ai simplement découpé un carré dans le dos du t-shirt, sur toute la largeur, en coupant juste au-dessus de l'ourlet du bas, et juste en dessous des emmanchures.
On plie le carré en deux endroit contre endroit dans le sens de la largeur d'abord, et on coud les deux bords longs ensemble.
Si vous souhaitez ajouter un ruban comme sur le bonnet, on coud une petite longueur pliée en deux côté endroit, à 5 cm au dessus de la ligne de couture, en restant à l'intérieur de la marge de couture (attention de ne coudre qu'une épaisseur de tissu).
Pour l'étape suivante il faut plier le rectangle obtenu selon une ligne verticale, en enfilant une extrémité dans l'autre pour se retrouver avec tous les bords à cru du même côté, et l'envers sur l'exterieur, ce qui donne un genre de tube. Là encore, si vous ne comprenez pas ce que je raconte, envoyez-moi un commentaire et j'essayerai de répondre de façon claire !
Il ne reste plus qu'à coudre ensemble les bords ouverts endroit contre endroit, en laissant une ouverture à 5 cm au-dessus de la ligne de pliure, du côté opposé au ruban si ruban il y a. Vous pouvez là-aussi coudre ensemble les marges de couture sur quelques centimètres au niveau de la ligne de pliure avant de retourner. Finir en fermant l'ouverture sur l'endroit par une couture invisible, et la placer à l'intérieur du snood.
*Snood DIY*
The snood is even easier, you don't need a pattern, just cut out a square using the guide below (the sides will be roughly the same measurement as the head circumference you are working with). I just cut along the top of the t-shirt hem, up the sides to the armholes, and then across.
Fold the square in half widthways, right sides together, and stitch the long open sides together. If you want to add a loop to the back seam, stitch a small length of folded ribbon to the right side of the fabric, within the seam allowance, 2 inches away from the stitched seam (be careful to only stitch to one of the layers of fabric!).
For the next stage, you need to fold the rectangle in half along a vertical line, by sliding one half into the other, keeping the right sides on the inside. You end up with a kind of tube, with all raw edges on the same side. Once again, do get in touch if this is unclear... I'll do my best to help!
You then sew along the open seam, right sides together, leaving a small opening for turning out, a coupke of inches away from the stitched seam, on the opposite side to the ribbon if you added one. Fold flat and stitch the seam allowances together above the fold line, then turn out to the right side. Close the opening using a slipstitch, and place it on the inside of the snood.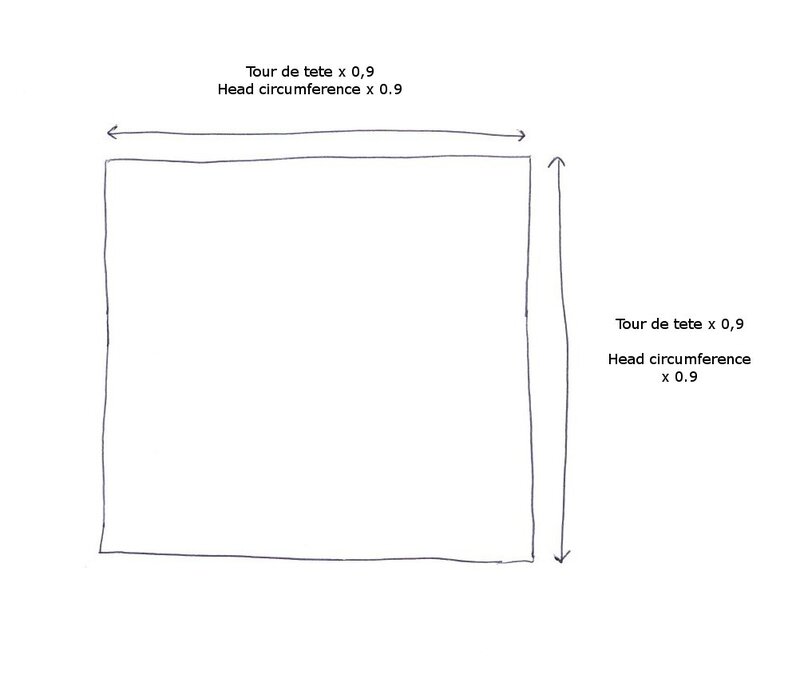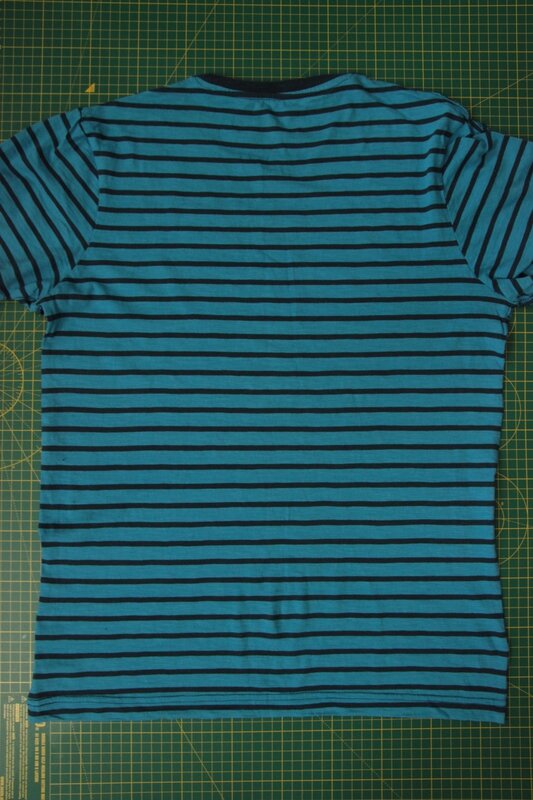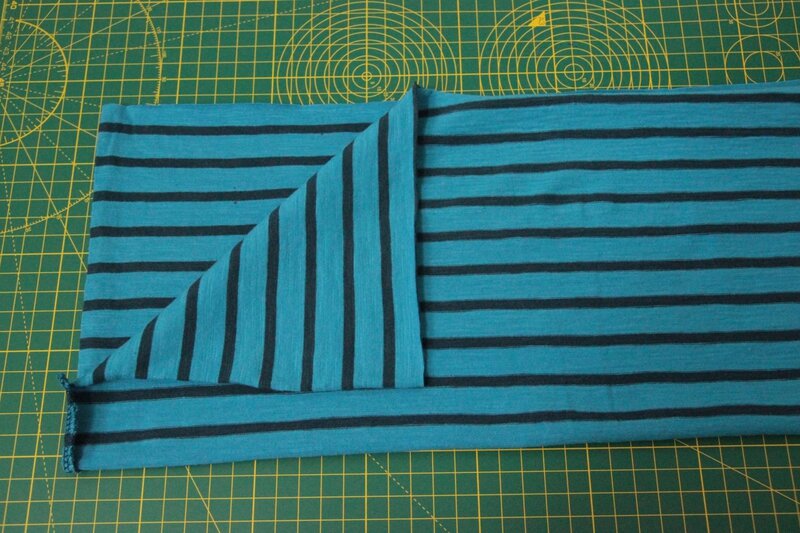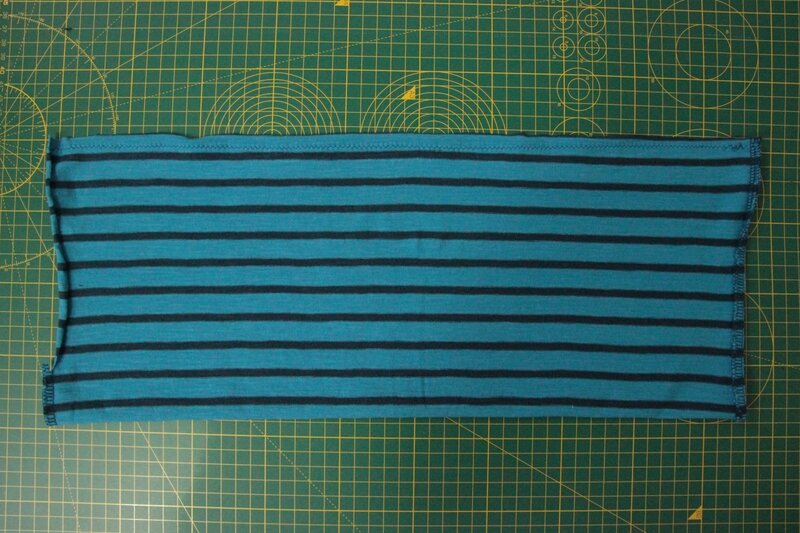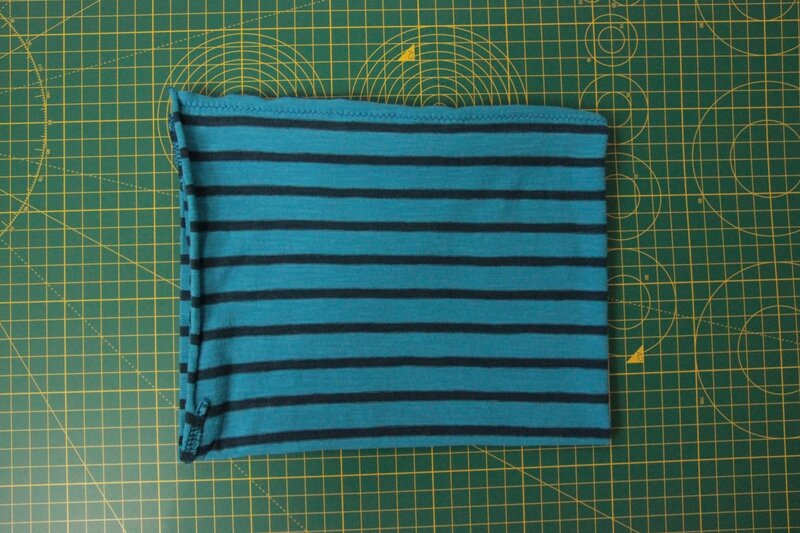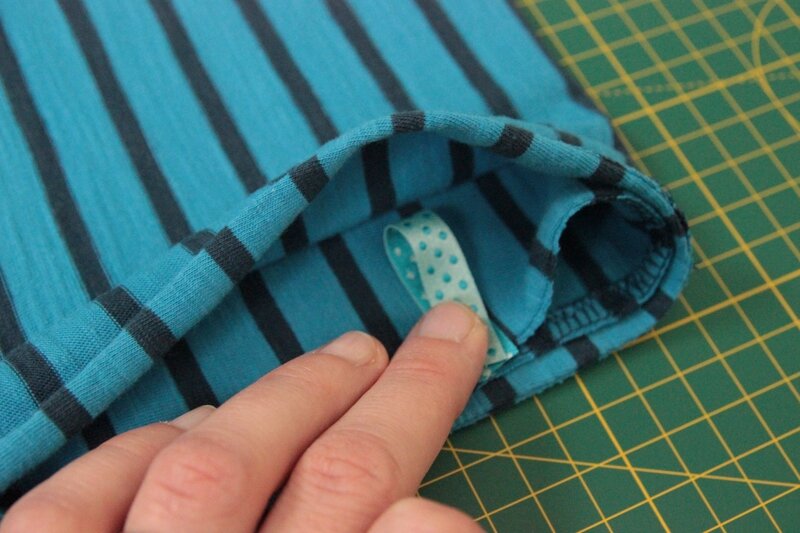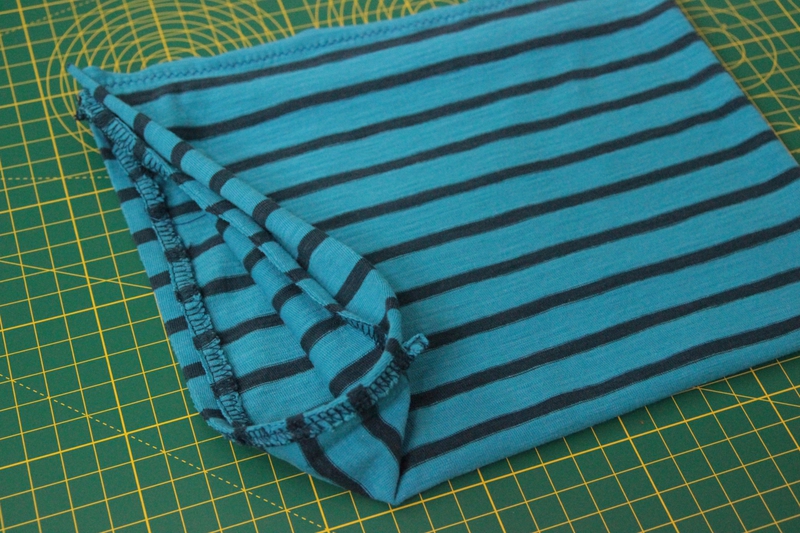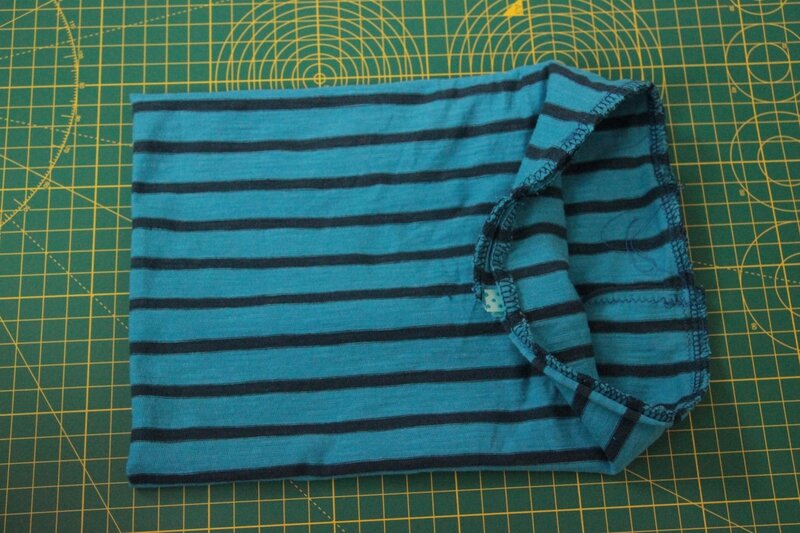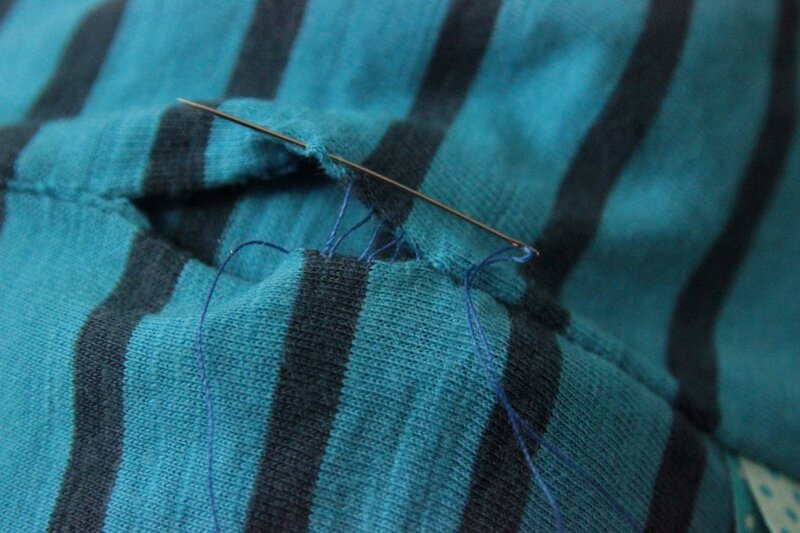 Et voilà ! En moins d'une heure vous devriez avoir transformé un vieux t-shirt en un ensemble douillet et original pour les minis dans vos vies :) Le mini monkey a etrenné le sien la semaine dernière et il n'a (presque) même pas essayé de l'enlever ! La preuve en images ci-dessous.
There you go! In less than an hour you should have transformed an old t-shirt into a cosy set for the little ones in your life. The mini monkey tried his out the other day, and he even left it on! Proof in images below.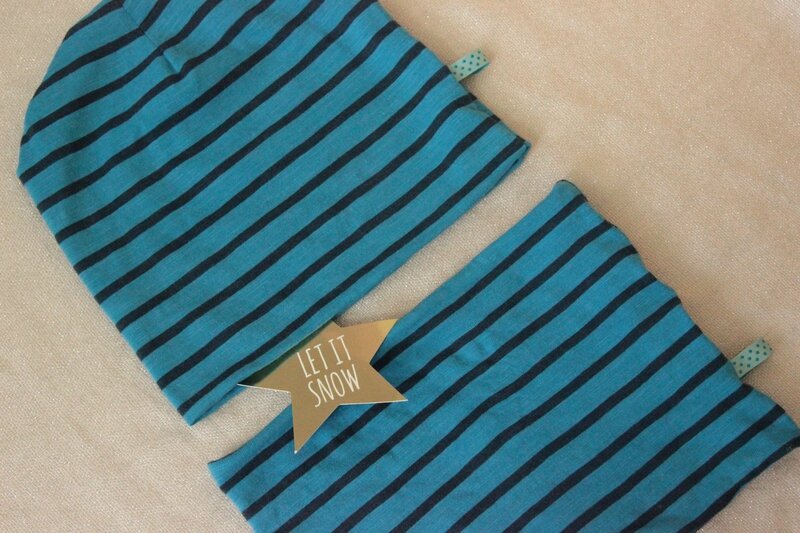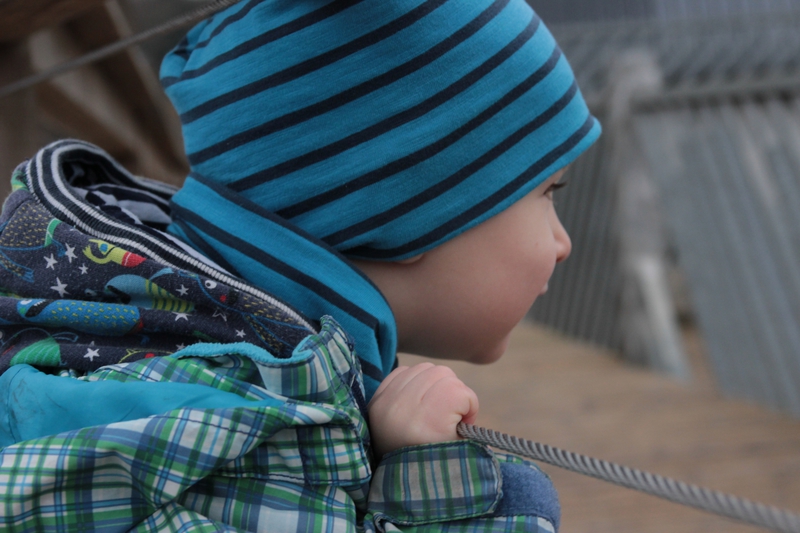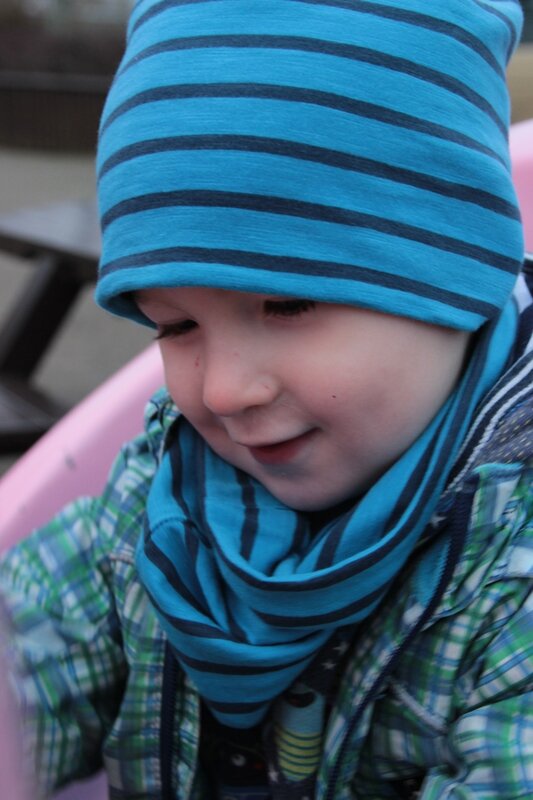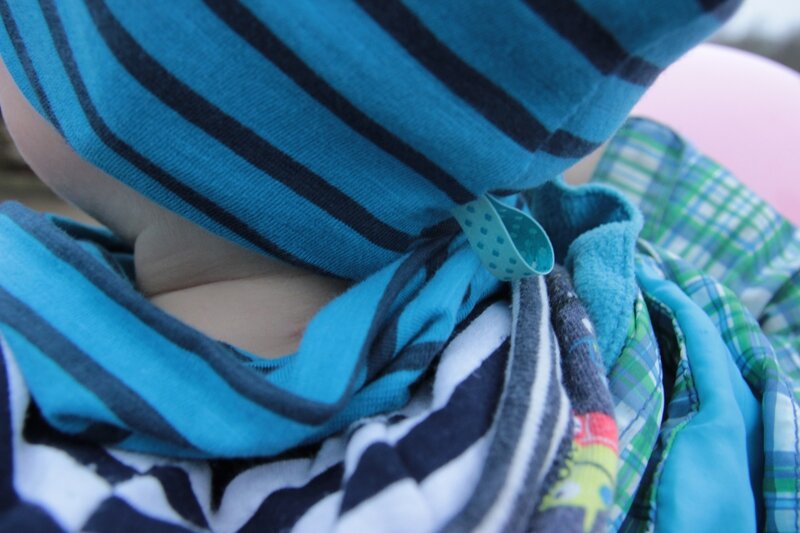 Nous avons un petit voyage prévu en Finlande début janvier, j'ai peur que le jersey ne soit pas assez chaud... vous croyez que Mr Monkey remarquera si une de ses polaires disparait de sa penderie...?!
Bisous mes monkeys, see you soon, avec un DIY pour adultes cette fois :)
We have a little trip to Finland planned for the new year, and I am worried that this cotton jersey version might not be warm enough... do you think that Mr Monkey would notice if one of his fleeces was to disappear...?!
See you soon my monkeys, with a DIY for adults this time :) x
***
07 décembre 2016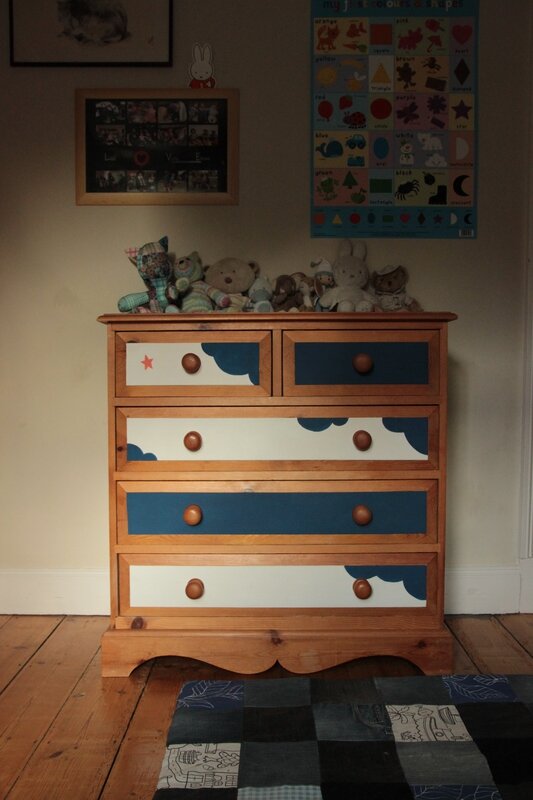 Ce message était sensé être rédigé sur le ton de l'humour. J'étais sensée vous parler de notre mini monkey casse-cou, qui escaladait les étagères de sa chambre comme si c'étaient des échelles, et qu'après une jambe cassée, on avait préféré sécuriser le lieu et minimiser les meubles autorisant les cascades non reglementaires. Tout ceci est bien vrai, mais depuis le 4 novembre dernier, j'ai du mal à en sourire. Ce jour-là, mon beau-frère, uncle Tony, le frère de Mr Monkey, en a eu tellement marre d'essayer de vivre qu'il a préféré sauter sous un train. On ne saura jamais exactement pourquoi, on a des questions plein la tête, et malgré tout la vie continue, et c'est peut-être ça qui est le plus étrange.
[For English read the text in italics]
This post was meant to be humourous. I was meant to tell you how the mini monkey used to climb up his bedroom shelves as though they were a ladder, and that after he broke his leg we felt it might be better to minimise the stun potential of his furniture. The above is all true, but since the 4th of November, it doesn't really manage to make me smile. That day my brother-in-law, uncle Tony, Mr Monkey's brother, gave up on struggling through life, and decided to jump under a train. We will never really know why, our heads are full of questions, but despite everything life still goes on, and that may actually be the most disturbing thing of all.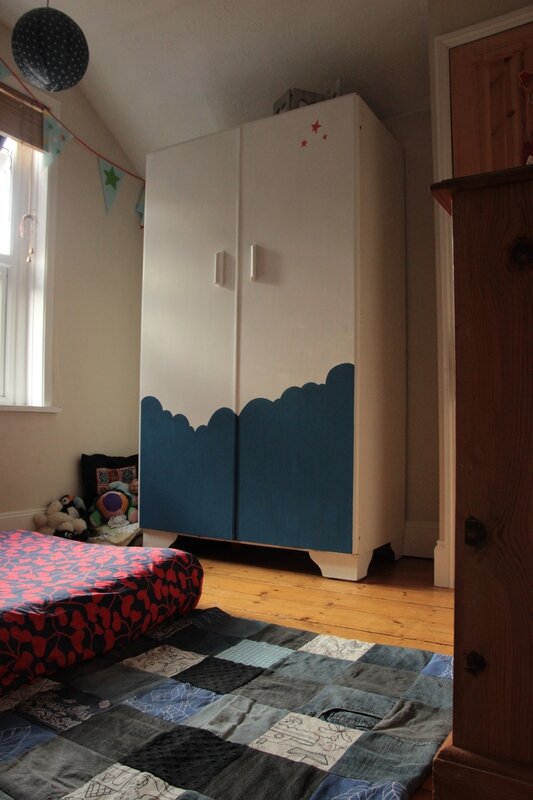 En cherchant les photos pour ce message je suis tombée nez-à-nez avec les dernières prises avec uncle Tony, il y a quelques semaines, il souriait, on pensait qu'il allait un petit peu mieux. J'avais pris ces photos parce qu'on n'en avait pas beaucoup tous ensemble. On a essayé d'expliquer au mini monkey qu'uncle Tony était parti, qu'il ne reviendrait plus, que tout le monde était triste qu'il soit parti mais qu'il avait décidé que ça l'aiderait à se sentir mieux. Du haut de ses deux ans et demi notre fils nous a demandé si uncle Tony était heureux maintenant, et s'il n'aurait pas pu prendre des médicaments pour aller mieux ? Et on a eu du mal à étouffer nos larmes devant tant d'innocence.
As I was looking for pictures to illustrate this post, I came across the last few that we took with uncle Tony. It was a few weeks ago, he was smiling, and we thought things were getting better for him. I had taken these photos because we didn't have many of us all together. We tried to explain to the mini monkey that uncle Tony had gone, that he wasn't coming back, that we were all sad that he had decided to go away, but that he felt that would help him to feel better. With his 2 and a half year-old logic, our son asked us if uncle Tony was happy now, and if he couldn't have taken medication to get better (after all that is what he does when he is feeling poorly). It was hard to hold back the tears, faced with such an innocent take on things.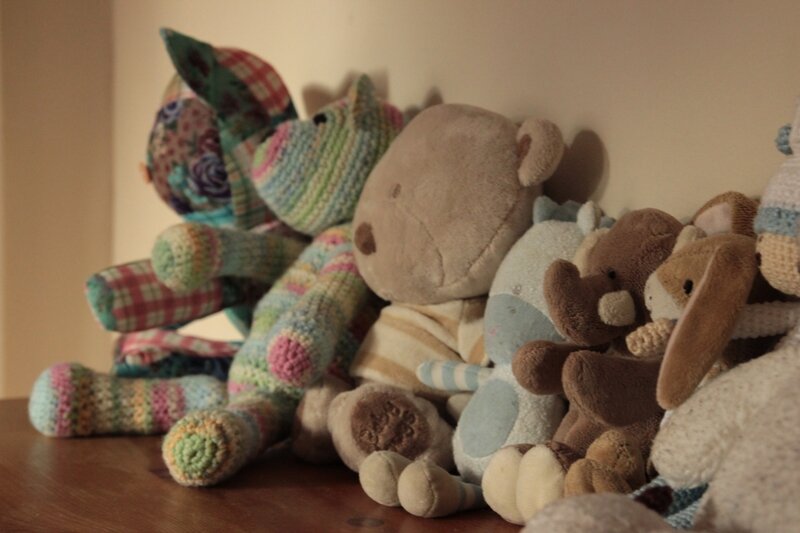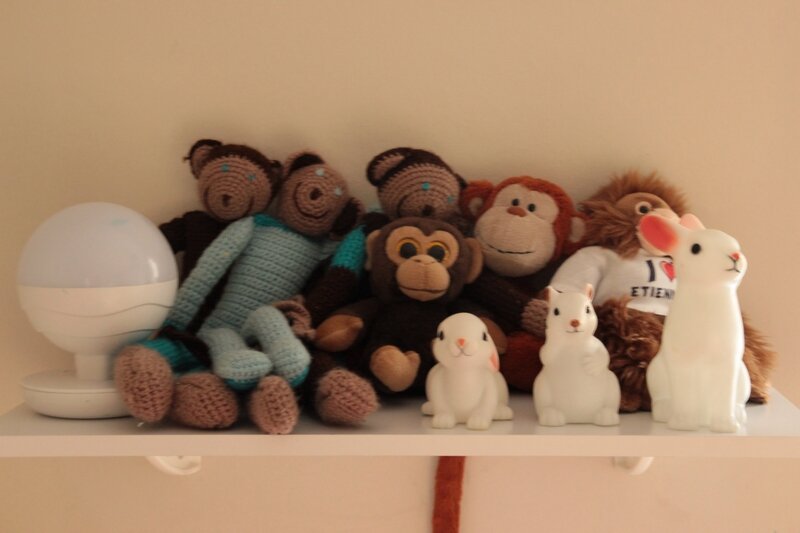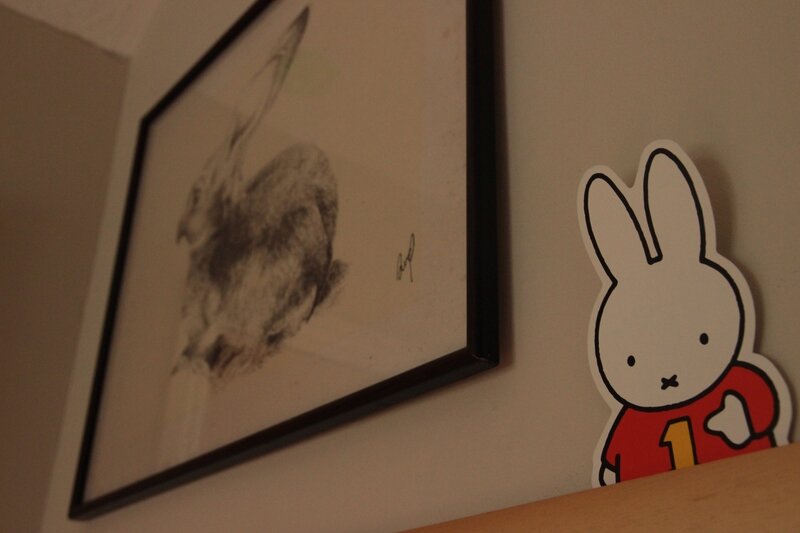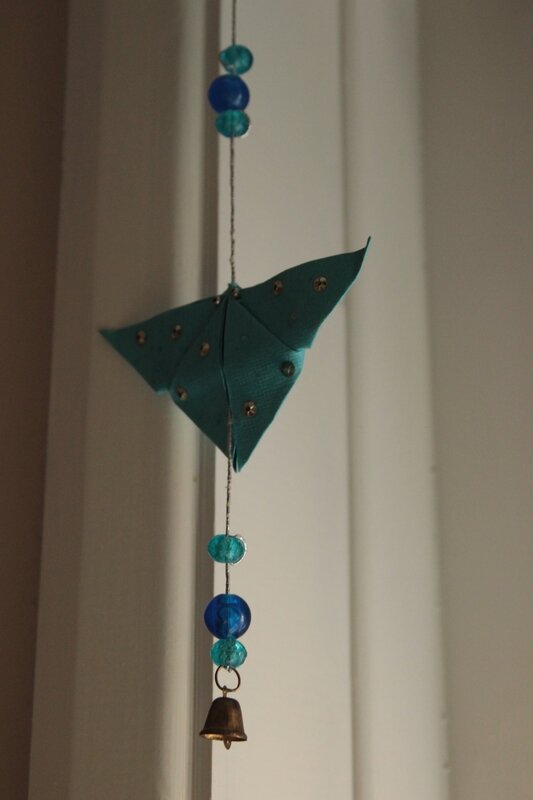 Quand j'ai repeint les meubles de la chambre du mini monkey, je n'avais pas d'idée précise en tête. La commode venait de chez Emmaus et avait servi dans à peu près toutes les pièces de la maison avant d'atterir dans la chambre du loupiot. J'avais trouvé l'armoire par hasard au magasin de charité, et j'étais tombée amoureuse des compartiments et des étiquettes desuettes à l'intérieur, mais elle était énorme, elle sentait le vieux monsieur et elle était peinte en blanc. Les livreurs l'ont laissée dans l'entrée et elle bloquait entièrement le passage. Bien sûr j'étais toute seule à la maison, et je disposais d'environ 2 heures avant d'aller chercher le fiston à la garderie. Je me suis donc bien amusée à la démonter (la moitié des vis étaient rouillées/incrustées/avaient perdu leur pas de vis), à monter les escaliers morceau par morceau, et à la ré-assembler à l'étage. Finalement, après un bon seau d'eau savonneuse, l'armoire était donc 1/au bon endroit 2/en un seul morceau 3/(presque) débarrassée de son odeur musquée. Et je n'avais plus aucune envie de me lancer dans une épopée ponçage-sous-couche-peinture.
When I upcycled the mini monkey's new bedroom furniture, I didn't have a precise plan in mind. The chest of drawers was an old Emmaus find which had lived in most of our rooms, and ended up in the little one's bedroom. The wardrobe is a recent charity shop find: I fell in love instantly with the interior layout, with all its little cubby holes, drawers, doors and charmingly old-fashioned labels. But it was huge, painted white (pretty badly too), and smellt quite strongly of old man. The delivery guys left it in the entrance hall, and it was impossible to circulate around it. Of course I was home alone, and had about 2 hours ahead of me before I had to go and get the wee one from nursery. So I had much fun dismantling it (most of the screws were either rusted, engrained or blunt...), taking it upstairs bit by bit, and putting it back together in the mini monkey's room. Finally, after a good old soapy water scrub, the wardrobe was a/in the right place b/in one piece c/(almost) old-man-fragrance free. And I had lost all desire to embark on a sandpaper-primer-paint adventure.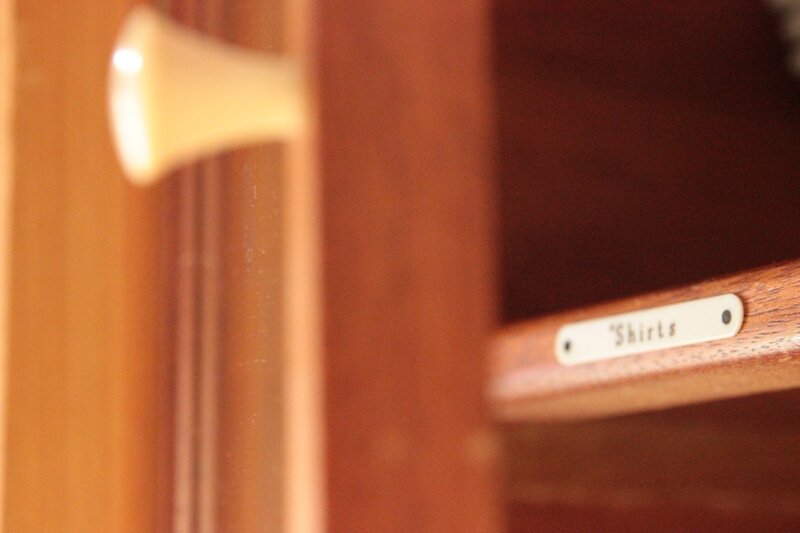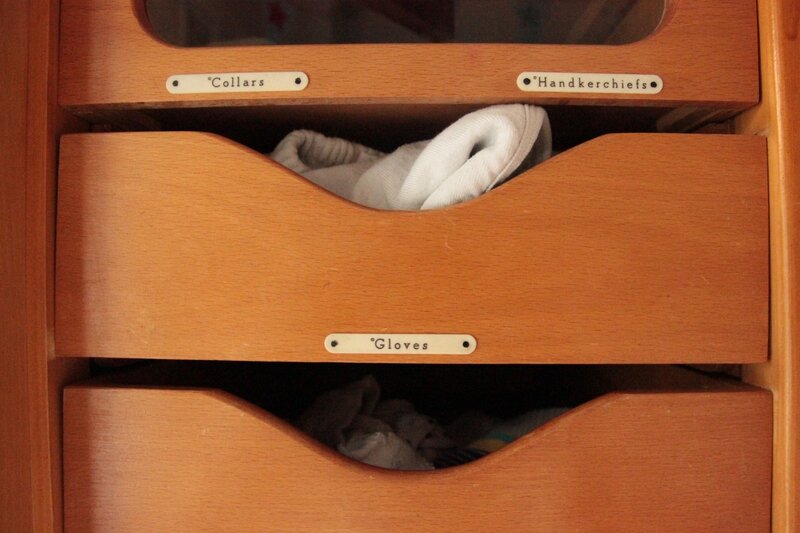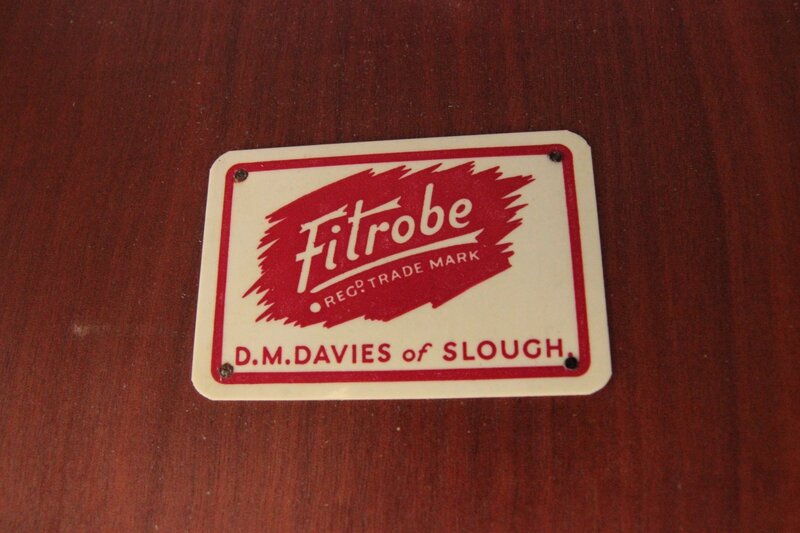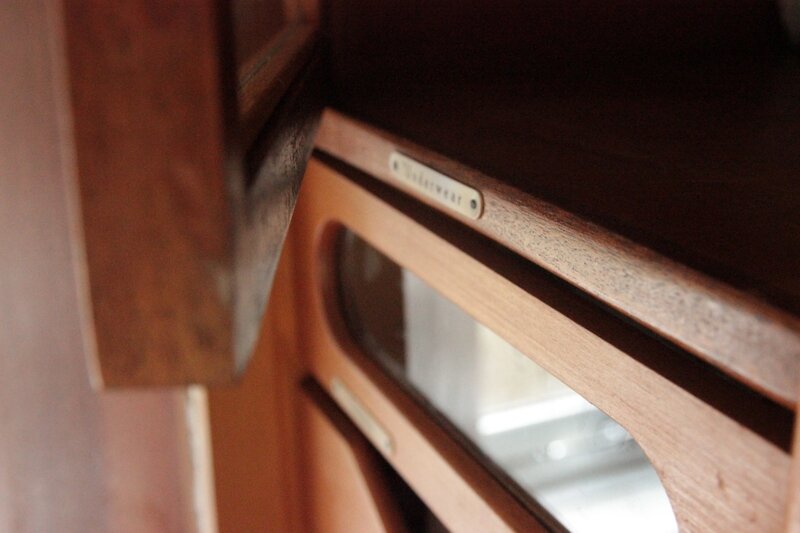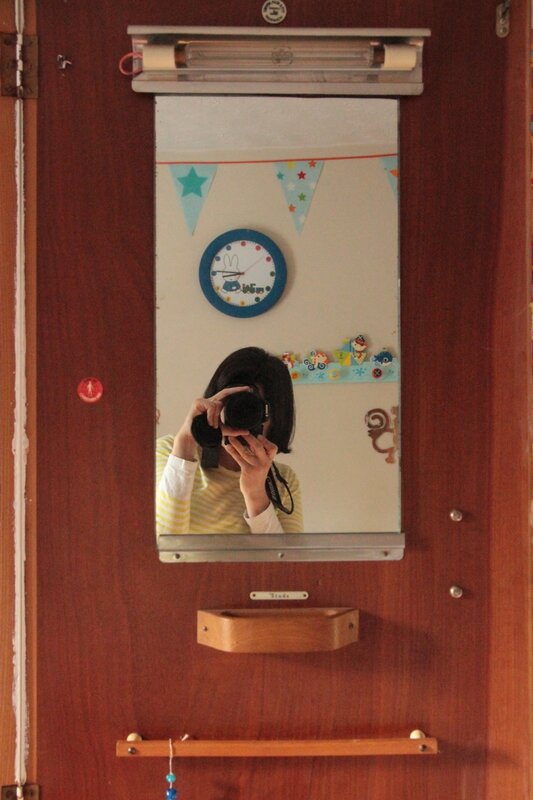 Après avoir commencé à gribouiller des vagues japonisantes directement sur l'armoire avec un pot-testeur de peinture bleue le rendu ne me plaisait pas tellement. J'ai eu envie de quelque chose de plus "clean" et c'est comme ça qu'est apparu le nuage. Pour assortir la commode j'ai juste enlevé les poignées, fait appel à mon ami le scotch de tapissier, et colorié l'insert des tiroirs. Après quelques couches de bleu et de blanc ça me semblait pas mal, mais il manquait un petit quelque chose. Comme vous le voyez dans la photo au-dessus de ce paragraphe la chambre du mini monkey est assez colorée, à base de bleus et d'étoiles multicolores. Les petites étoiles oranges sont donc un ajout de dernière minute mais je trouve qu'elles cassent assez bien le côté trop uniforme des applats de couleur.
After initially free-handing some japanese style waves on it, I was rather underwhelmed by the result. So I opted for cleaner colour block lines, and this is when the cloud appeared. To match the chest of drawers to the wardrobe, I just removed the handles, masked the frames of each drawer with frogtape, and painted the inserts using the same colours as the wardrobe (blue and white paint tester-pots). Once the colour-block clouds were done, it looked OK, but I felt something was missing. So I just added the little orange stars to break up the uniformity of the design, and was quite pleased with the result.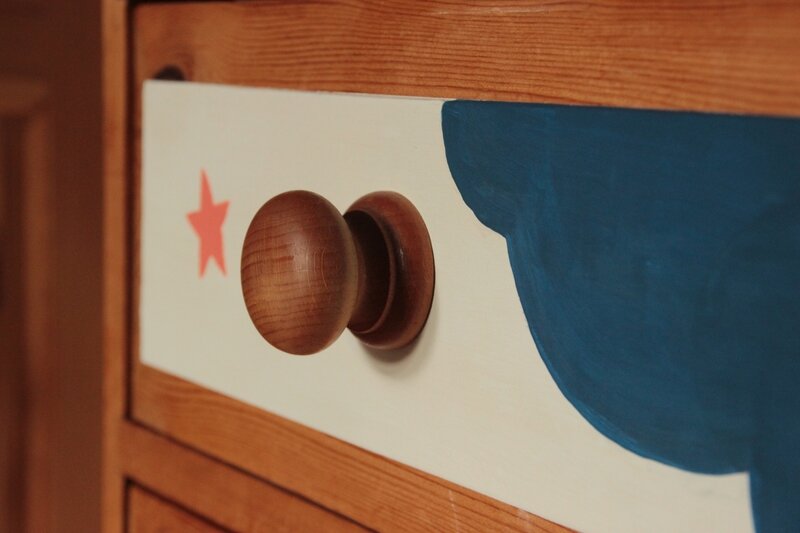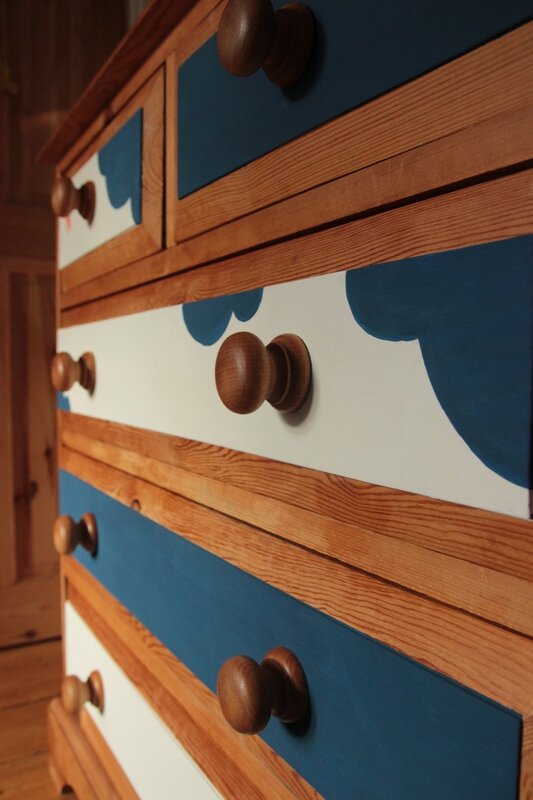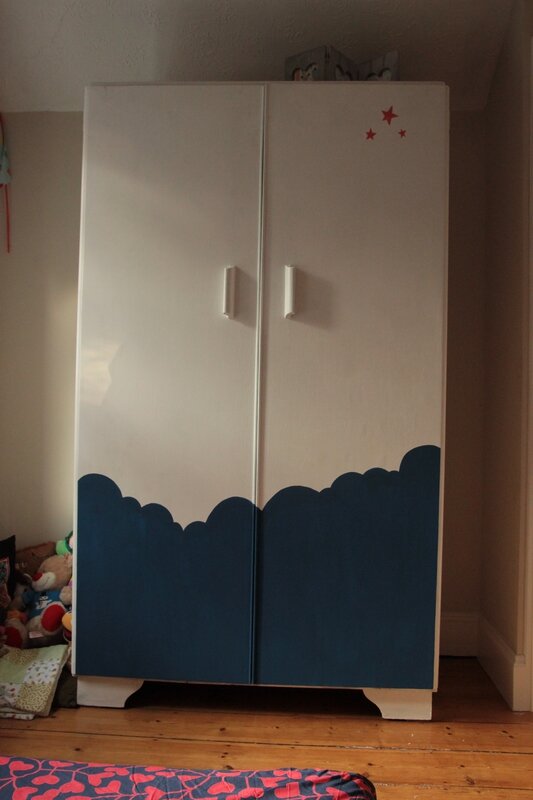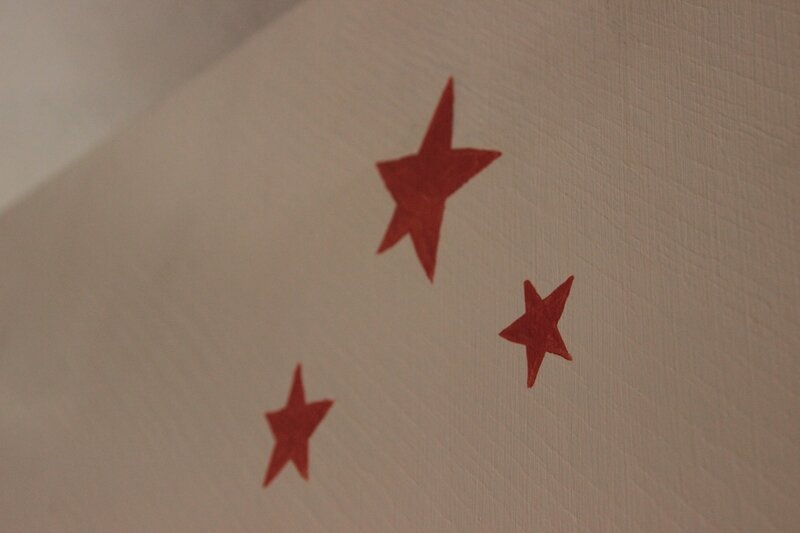 Peu après on a perdu Uncle Tony. Depuis, tous les soirs, notre fiston regarde le ciel et cherche "Uncle Tony star". Alors je me dis que ces étoiles elles ne sont pas arrivées là pour rien, et ça me fait plaisir. Notre mini monkey est aussi convaincu qu'uncle Tony est monté dans le ciel avec un parapluie, comme Mary Poppins, et cette version de la réalité adoucit un peu les choses. Ce soir on est rentrés à la maison après l'enterrement, et uncle Tony star était là, bien brillante au-dessus de nos têtes. Twinkle twinkle, little star ♥
A few days later we lost uncle Tony. Since then every night our little boy looks for "uncle Tony star" in the black sky. So I feel the stars on his bedroom furniture are there for a reason, and I find that comforting. I also love the fact that he keeps telling us that uncle Tony went "up in the sky with an umbrella, like Mary Poppins". Today we said our goodbyes, it was hard, but tonight when we got home uncle Tony star was there, twinkling bright...
***