24 juin 2016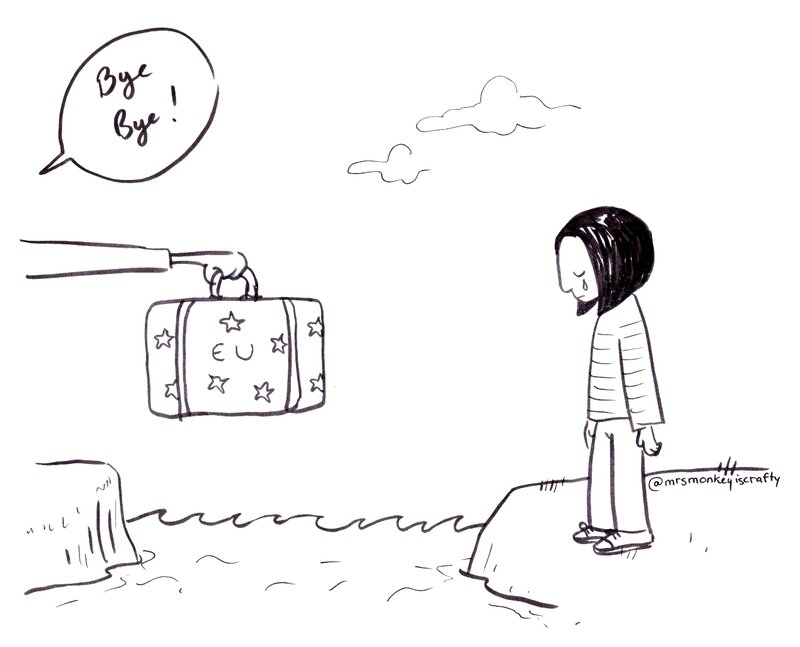 Ca fait 11 ans que j'habite en Angleterre, j'y ai fait des amis, vu naitre mon fils, pris de l'âge et de l'experience. Ce matin mon mari m'a demandé : "tu as entendu le résultat ?" "Non" "52% pour la sortie de l'union européenne". Depuis j'ai un peu la nausée, et je me demande ce que je fais dans ce pays que j'aime mais qui ne veut pas de moi...
I have been living in the UK for 11 years. I have friends here, my son was born here, it saw me get older and maybe a little bit wiser too. This morning as I woke up my husband asked: "Did you hear about the result?" "No" "52% for OUT". Since then I have been feeling slightly sick, and wondering what I am doing in this country which I love, but has clearly decided it didn't want me.
***
22 juin 2016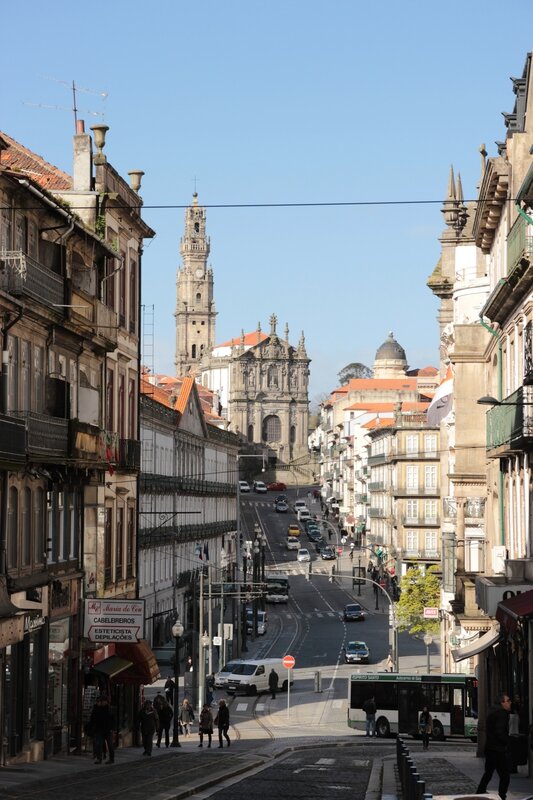 Vous l'avez peut-être remarqué, la rubrique des petits bonheurs du mois a disparu depuis quelque temps... j'ai manqué de temps et d'inspiration, et au final ça en était devenu une obligation supplementaire, ce qui n'était pas le but de l'exercice ! Elle refera sans doute une apparition occasionelle en fonction de mon humeur, mais en attendant je préfère vous présenter un article "photo" de temps à autre quand j'aurai des images à vous montrer. C'est donc avec un peu de retard que je vous présente quelques clichés de notre séjour à Porto en mars dernier.
You may have noticed it already, but the monthly happy posts have disappeared in recent times. I have lacked time and inspiration, and it became more of a chore than anything, which definitely wasn't the idea!! It may come back every now and then depending on my mood, but in the meantime I would prefer to post pictures based on sepcial moments or trips that make for good photo opportunities. So here is the first in this series, a belated overview of our trip to Portugal in March.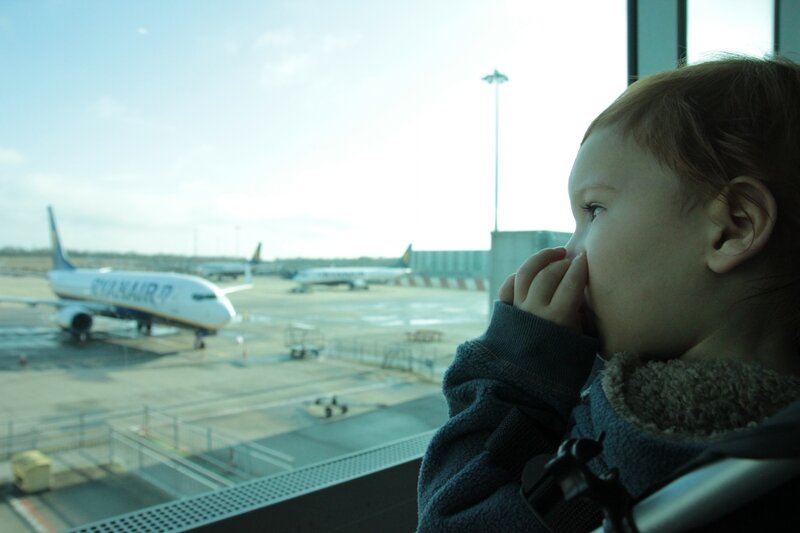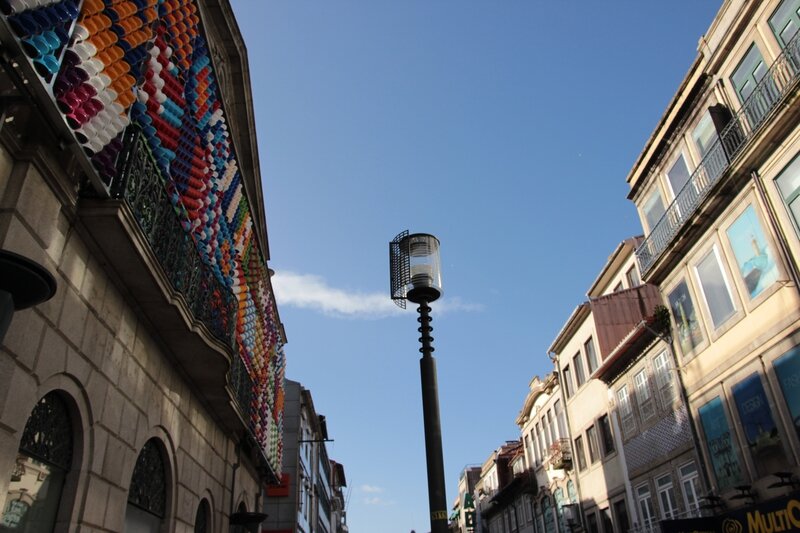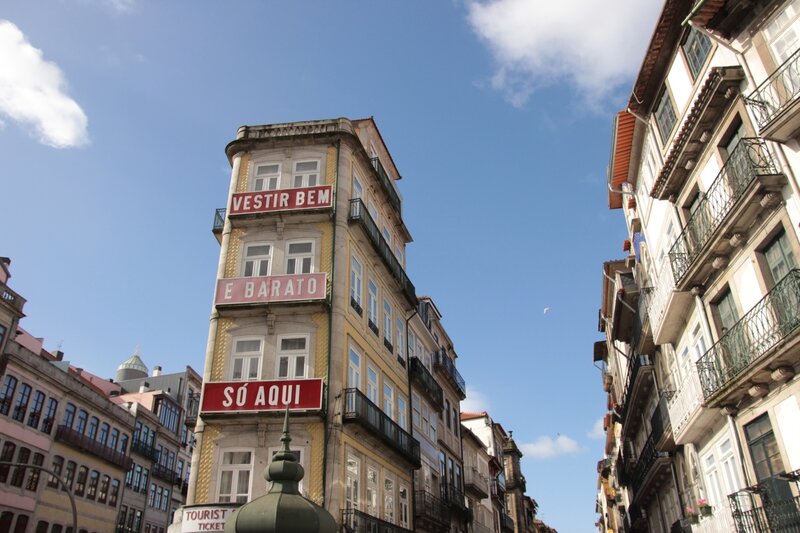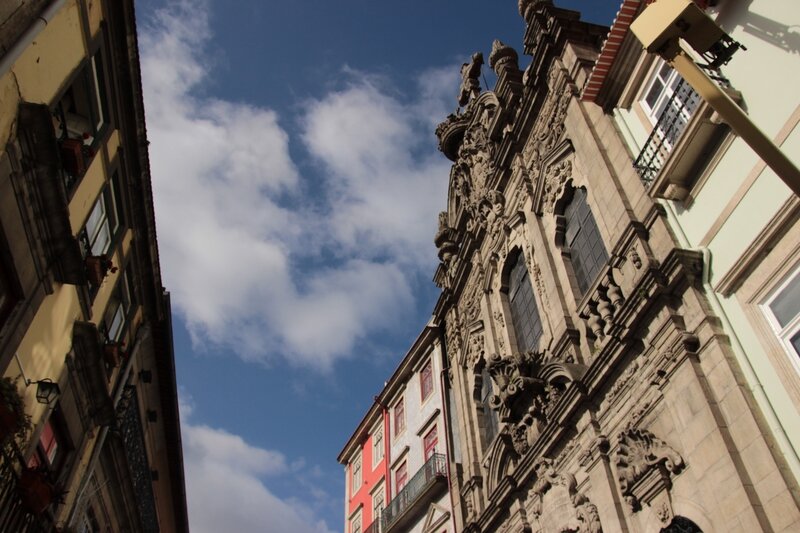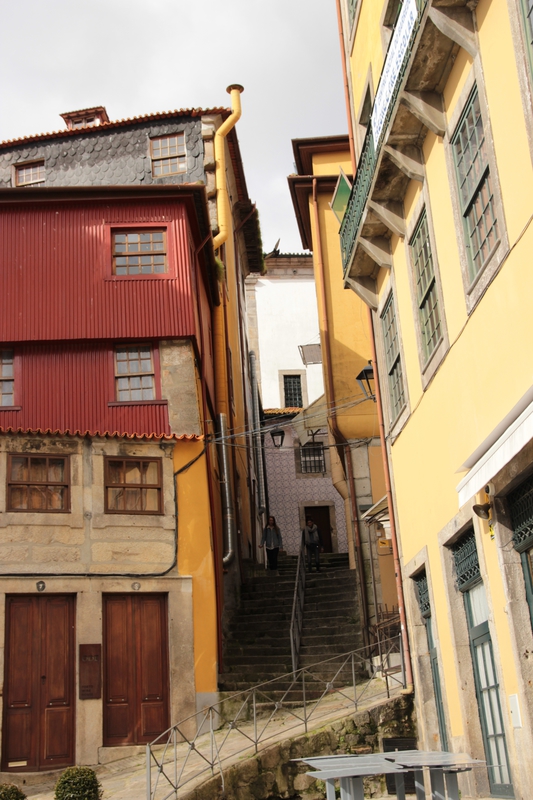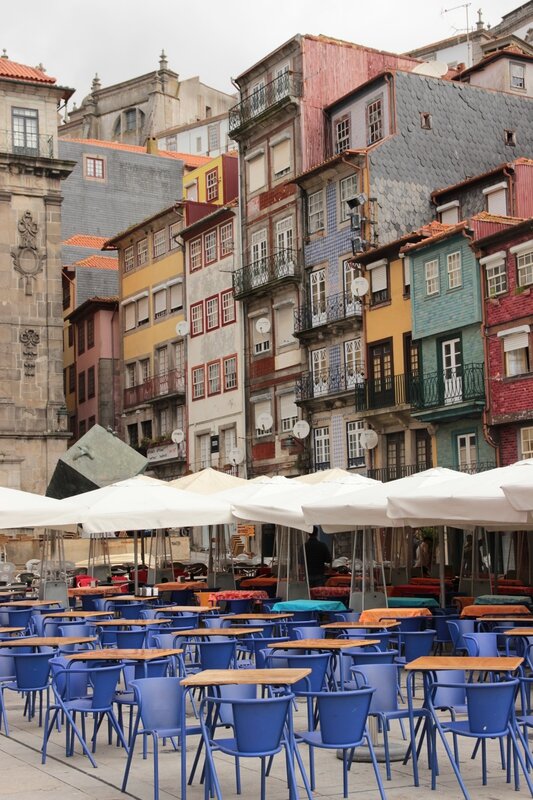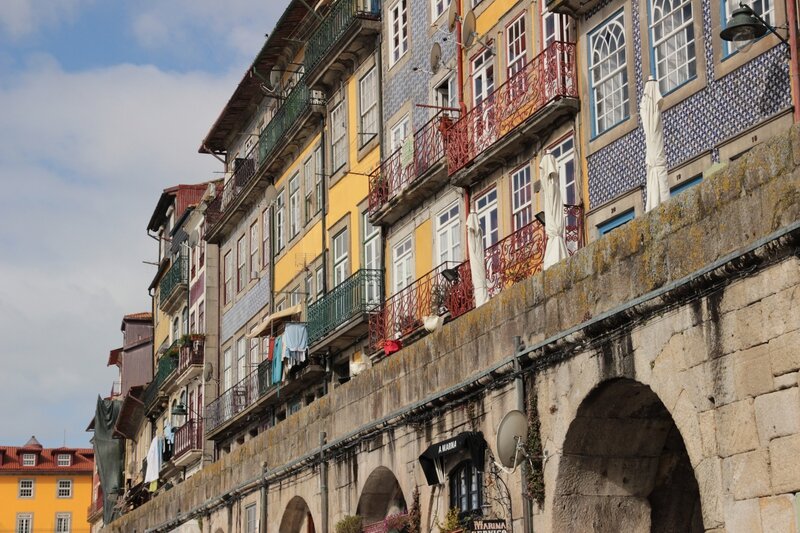 Même si ce séjour en lui-même ne fut pas des meilleurs (il semblerait que deux parents au bord de la crise de nerfs partageant une mini chambre en plein centre ville avec un enfant de deux ans hyperactif ne soit pas vraiment une situation propice à la paix des ménages...), Porto est une ville que nous affectionnons toujours particulièrement. Les couleurs, la douceur de vivre, les petits restos typiques et pas chers, et le porto ! C'est vraiment un endroit très photogénique, et que j'adore capturer en images. Alors voilà, rien que pour vos yeux, quelques petits extraits de notre passage dans cette jolie ville.
Even if this stay wasn't the most enjoyable (something to do with two parents on the edge of a nervous breakdown sharing a tiny room in the middle of the city centre with a hyperactive toddler...), Porto is a beautiful city and we always love visiting. The colours, the sweetness in the air, the cheap and cheerful tiny restaurants, and port wine... it is a really photogenic place, and I love taking pictures of it. So here it is, for your eyes only, a few images of our week in this pretty city.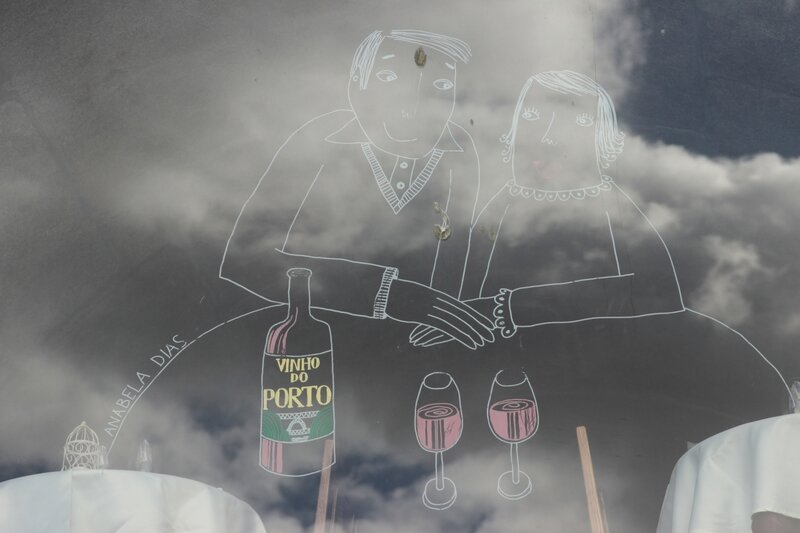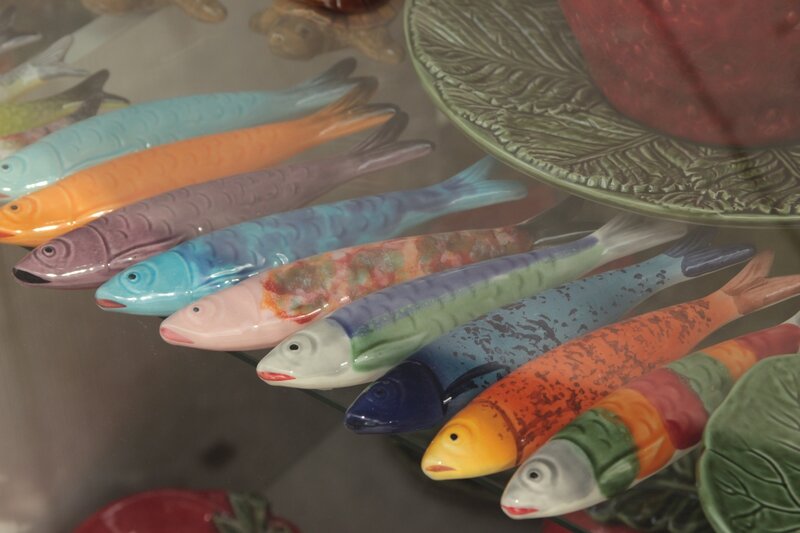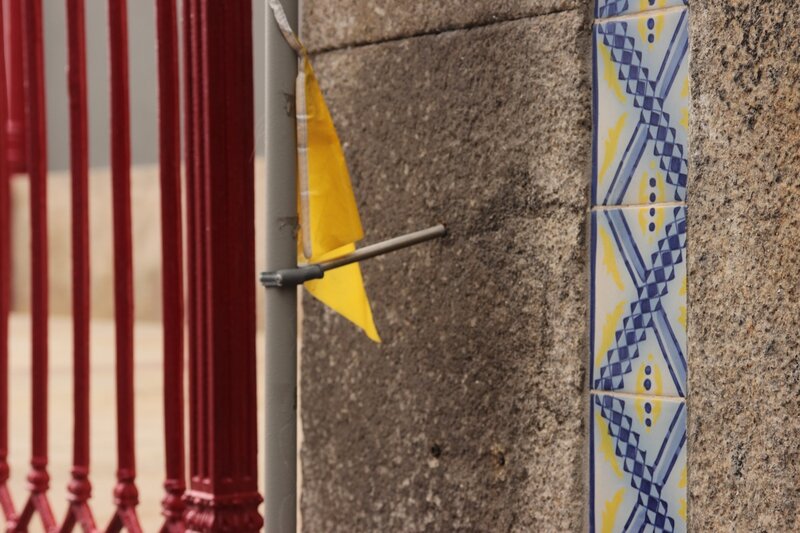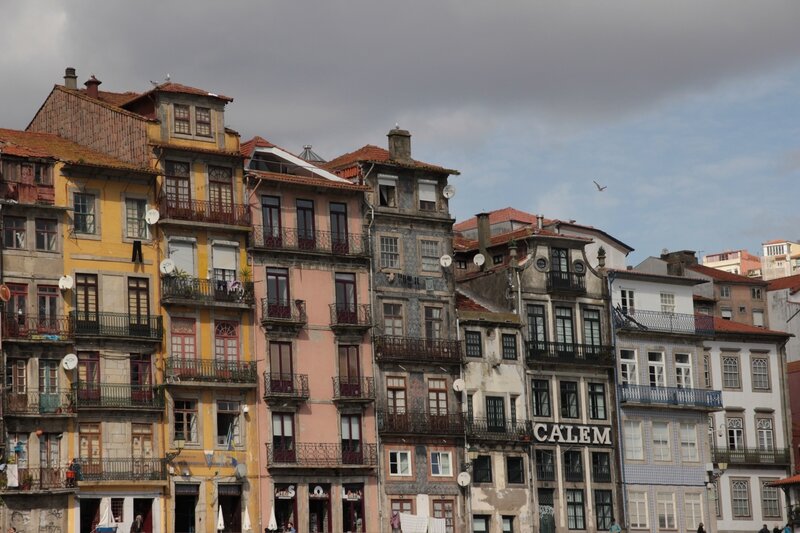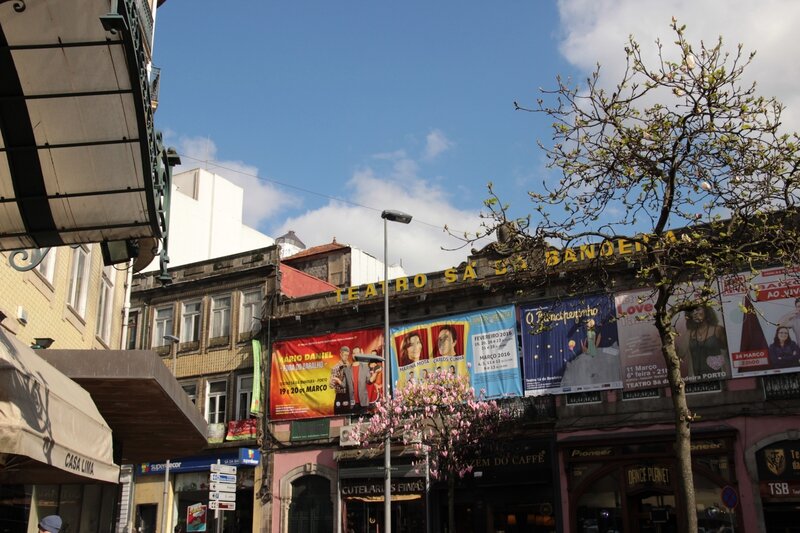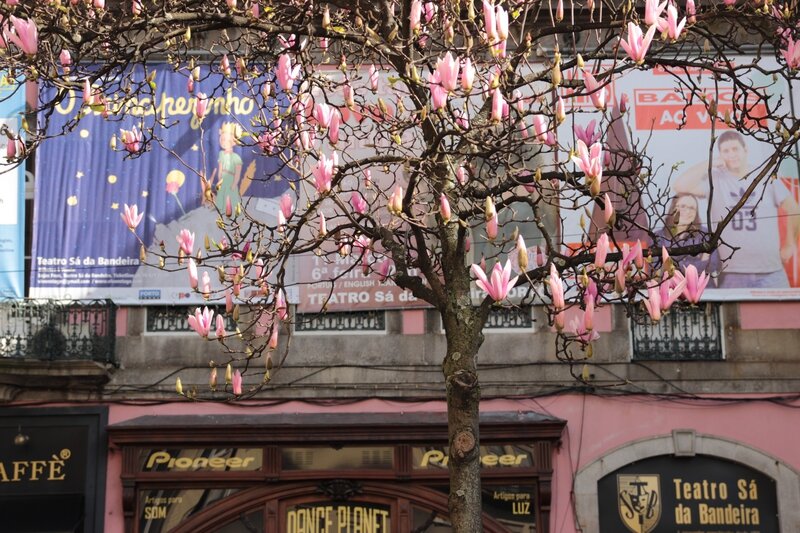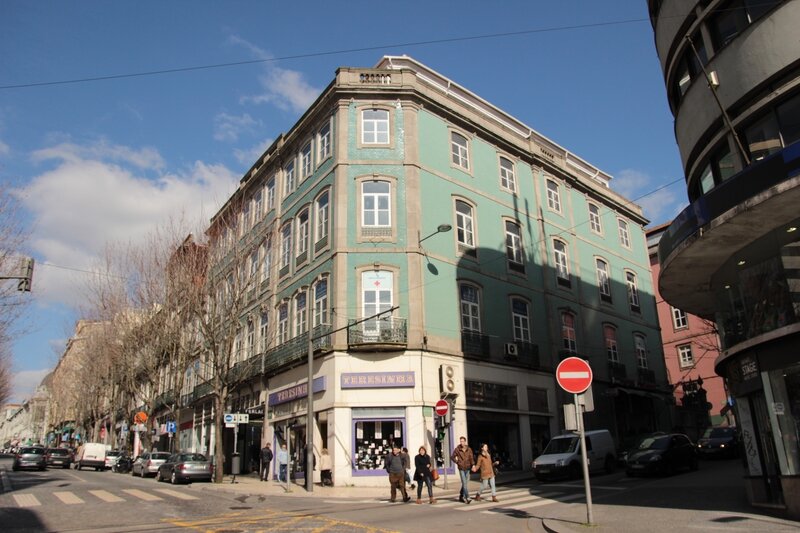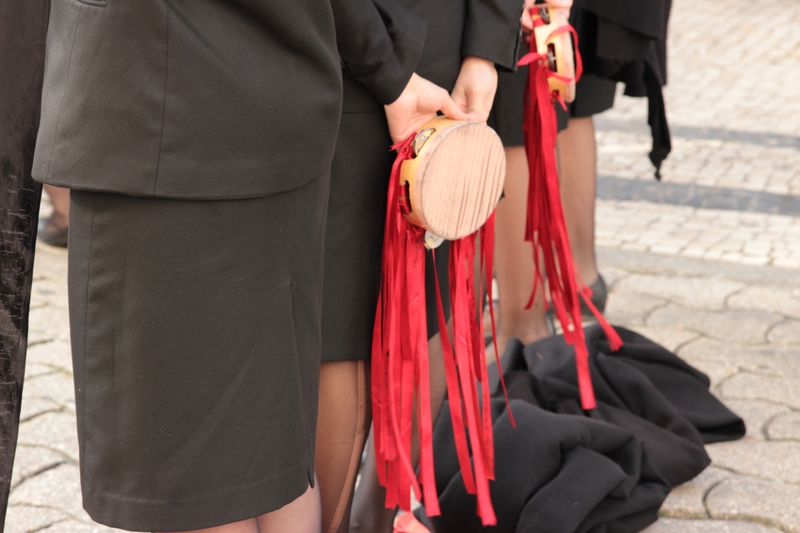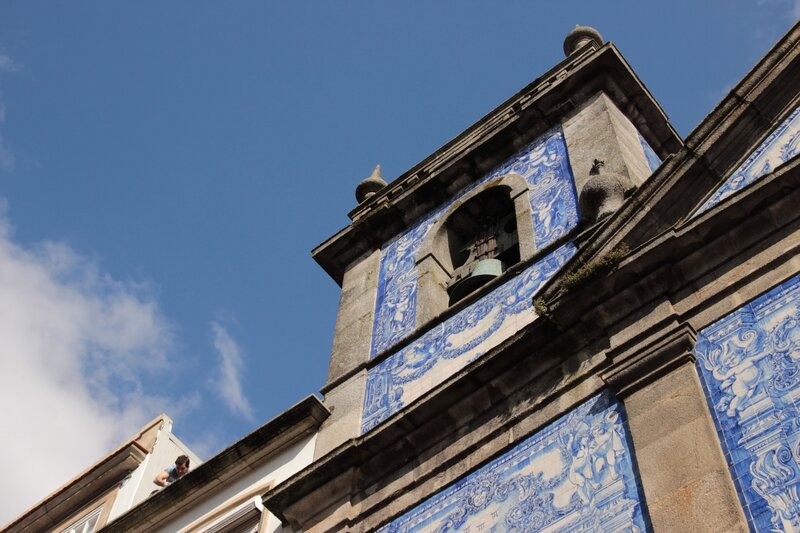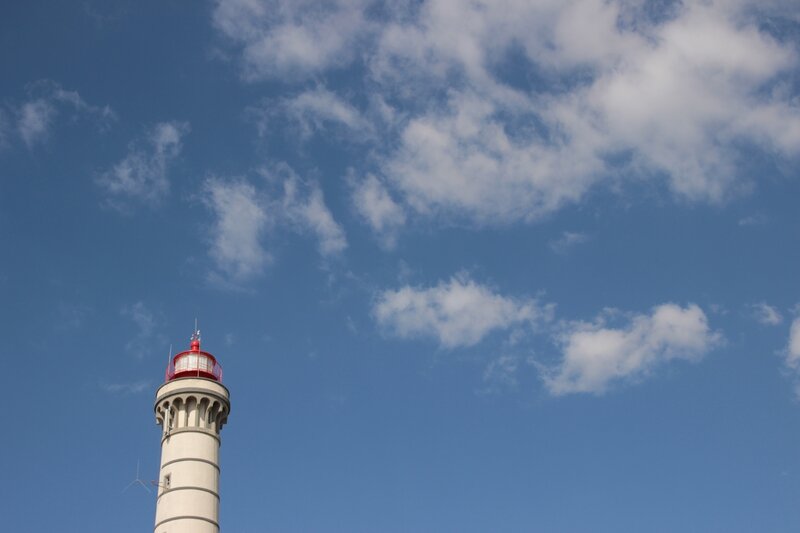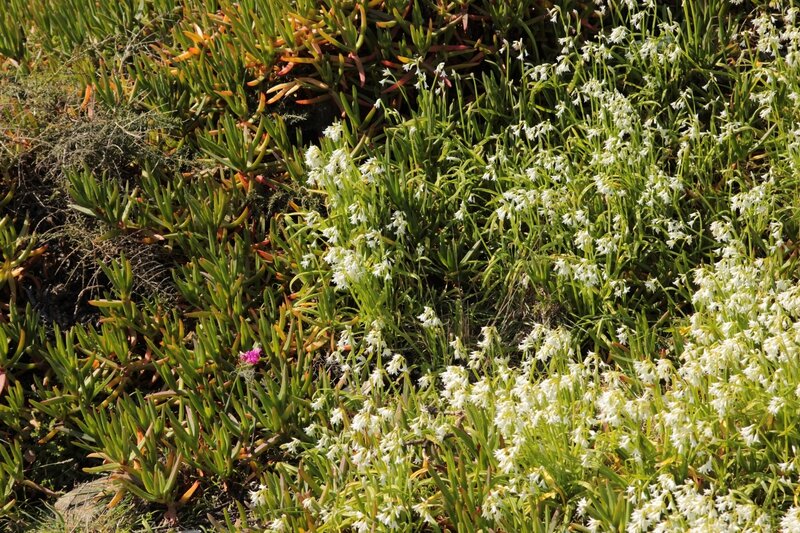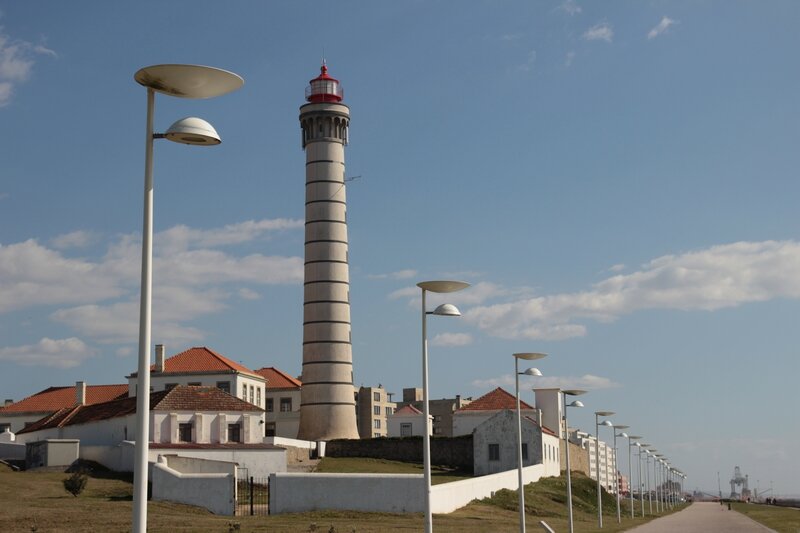 J'espère que ce petit voyage vous aura plu ! A bientôt !
I hope you enjoyed this little holiday in pictures. See you soon!
***
19 juin 2016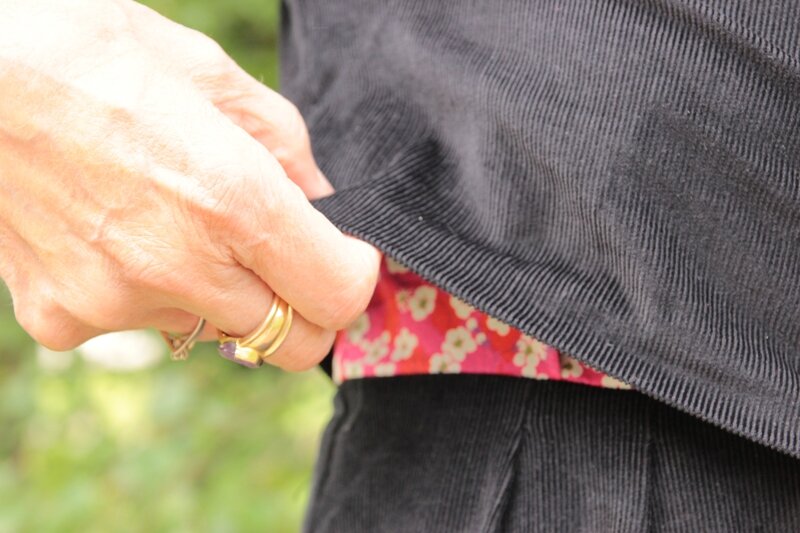 ... mais heureusement, ma grand-mère l'est ! Et oui, c'est l'histoire de la fille qui ne savait pas résister à l'appel du patron gratuit / concours de couture, et qui finissait par se coudre une robe qui ne lui allait PAS DU TOUT... Et ma grand-mère dans tout ça? Un peu de patience, vous allez bientôt avoir le fin mot de l'histoire.
... but luckily, my grandma is! Yes, this is the story of the girl who just couldn't resist a good free pattern / sewing competition, and ended up sewing a dress which didn't suit her. At all. So where does my grandma come into this? Be patient, all will be revealed!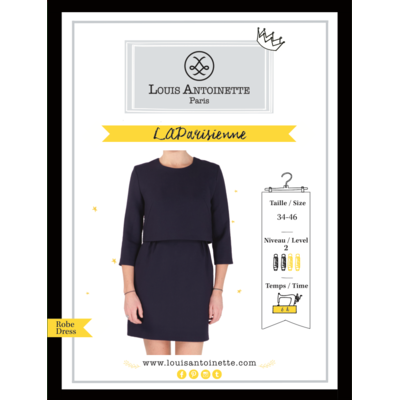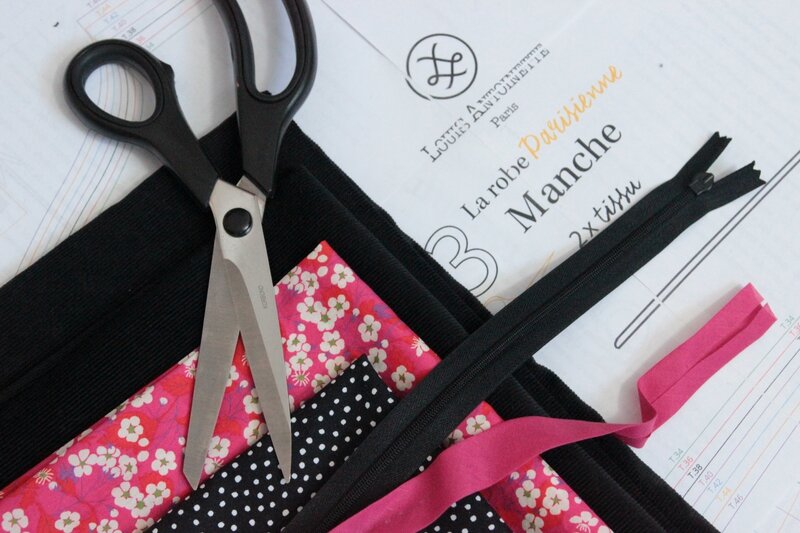 Il y a de ça un certain temps (c'était en février je crois), la maison Louis Antoinette Paris avait lancé un concours intitulé Hack la mode, pour lequel elle mettait à disposition en téléchargement gratuit son nouveau patron de robe La Parisienne. Aux couturières de réaliser leur version, plus ou moins modifiées, de ce patron, et de poster leur réalisation pour gagner des lots plus alléchants les uns que les autres. Malgré le style de la robe qualifié par les créateurs du patron de "preppy" et "Kate Middleton" (ok, pas vraiment moi, je me classerais plutôt dans la case maman baba cool!), l'appel du challenge était trop fort. Surtout que j'avais dans mon stock les fournitures idéales qui n'attendaient que leur heure, et un patron de robe un peu classe, pour passer à la casserole.
A little while ago (I think it was february), the French pattern design team Louis Antoinette Paris launched a competition, giving free access to the PDF version of their latest pattern, the Parisienne dress, and encouraging sewers to hack it into something new and exciting. Despite the style of this dress being qualified by the designers as "preppy" and "Kate Middleton" (not really my cup of tea, as I would probably see myself more as a hippy / busy mum) I just could not resist the call of the challenge, especially as I had just the right combination of materials in my stash, awaiting the perfect little slightly elegant dress pattern.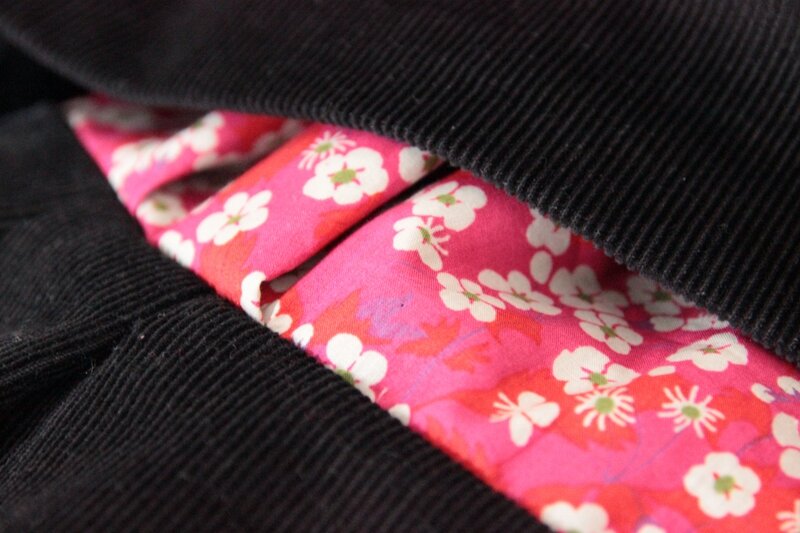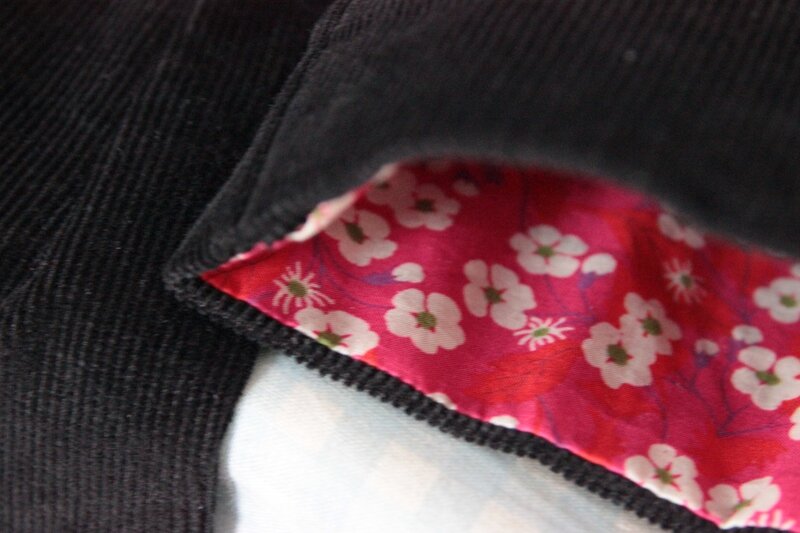 J'y ai passé des heures... des jours, des nuits... J'ai redessiné le patron pour le faire rentrer dans mon tissu, l'ai adapté à mes mensurations, ajouté des ourlets doublés, du passepoil, posé 3 fois la fermeture invisible, fait des finitions à la main... (j'ai même pris des photos pour un tuto des modifications !) et je l'ai finie juste à temps, le dernier jour du concours. Et là je l'ai essayée. Mince. J'en ai presque eu la nausée d'avoir passé autant de temps, d'efforts, d'acharnement (sans compter mon coupon de Liberty Mitsy que je gardais pour une grande occasion) pour au final avoir un vêtement que je ne porterais de toute évidence jamais. La jupe remontait, à tirait et gondolait de partout, bref, une horreur, sans que je sache vraiment pourquoi. J'en ai fini par me dire que tout simplement ce patron n'était pas adapté à ma mophologie (ou plutôt, ma morphologie n'était pas adaptée à ce patron !), mais j'ai eu bien du mal à surmonter mon amertume. Je n'ai même pas participé au concours ! Mais, bien décidée à ne pas laisser les fruits de ce dur labeur moisir au fond de mon armoire, je me suis rendue à une réunion de famille avec ladite Parisienne, et l'ai proposée aux filles de l'assistance. Et je suis tout à fait ravie de vous annoncer qu'elle va comme un gant à ma chère petite mamie Pom, 75 ans mais une silhouette de jeune fille, la preuve, elle porte la Parisienne mieux que sa petite fille !!
I spend hours on it... days, nights... I redrew the pattern pieces to fit my fabric, and my mesurements. I added lined cuffs and hems, piping, redid the invisible zip 3 times, and finished the whole thing by hand. I even took pictures for a step-by-step of the pattern hack! I finished it just in time, on the last day of the competition. And then I tried it on. I felt sick. I couldn't believe I had spent so much time and effort on a garment that I clearly would never wear. It was riding up at the waist, puckering, twisting, it looked a mess, and I couldn't really tell why, appart from the fact that this particular pattern obviously didn't suit my body shape (or maybe my body shape didn't suit it?). It took me a while to get over the disappointment. I didn't even enter the competition in the end. But I couldn't just leave this dress on which I had worked so hard just gather dust at the back of my wardrobe, so I took it with me on a family week end, and offered it to any taker. Turns out that my grandma, at age 75, wears it a lot better than I do!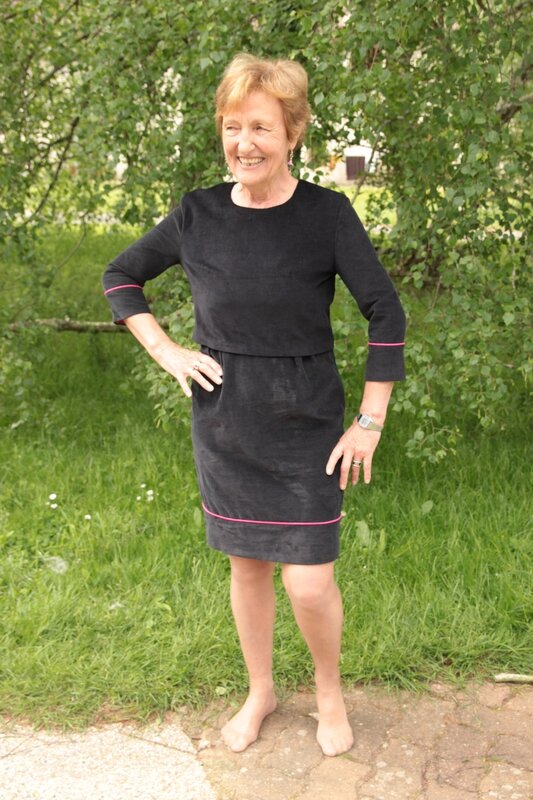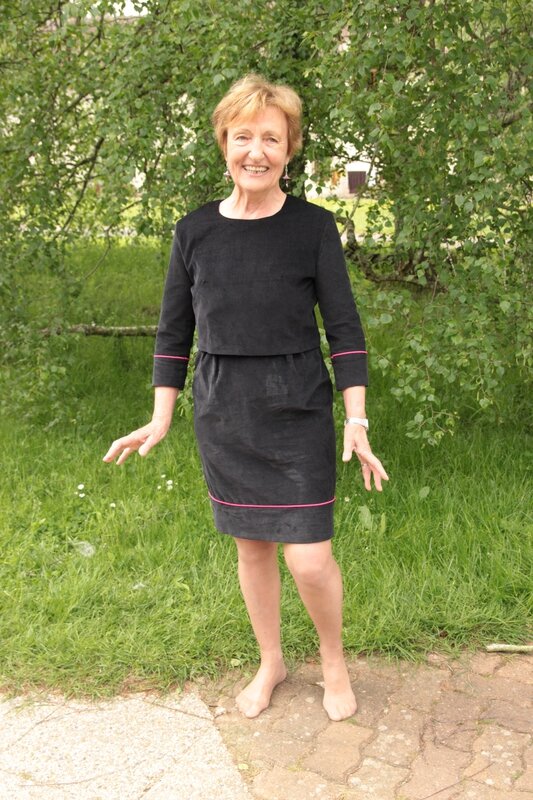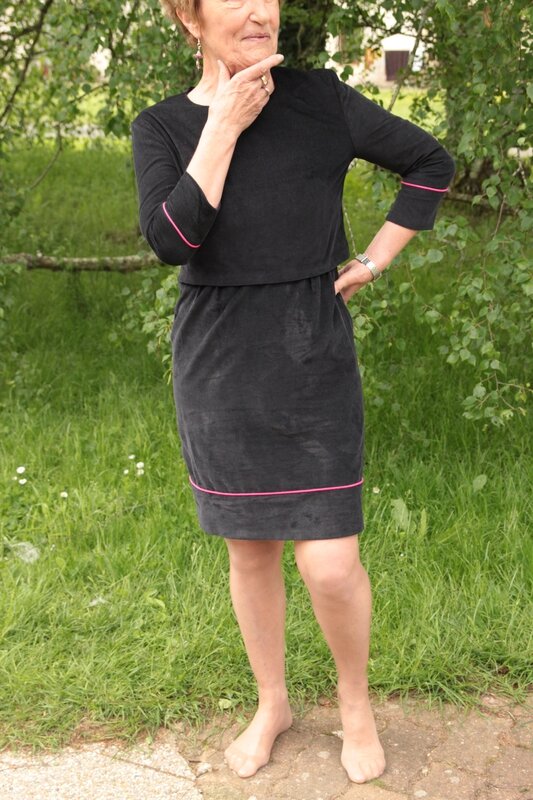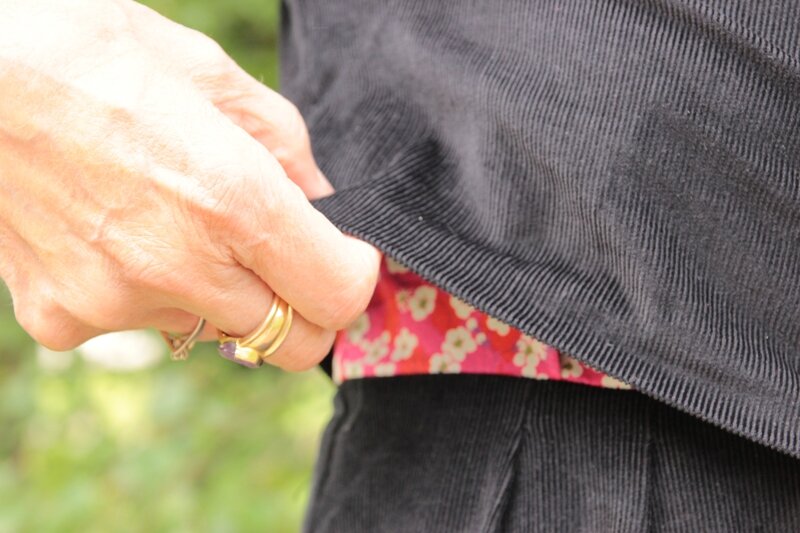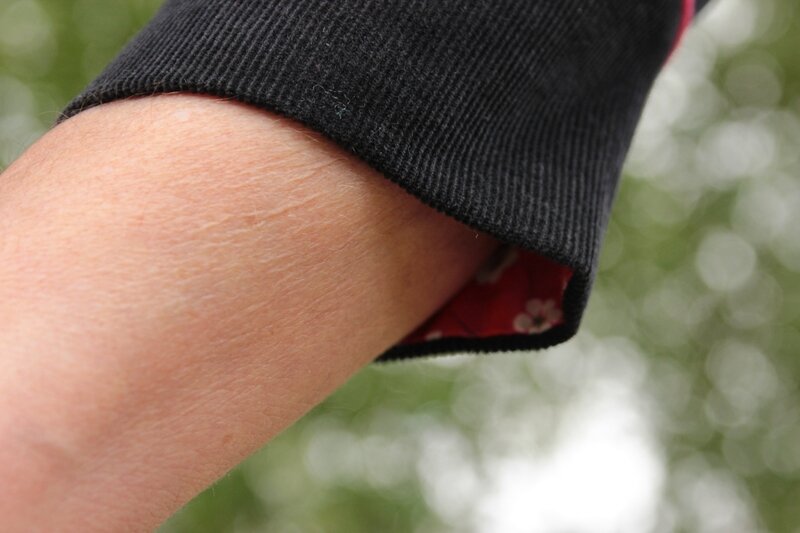 Alors, elle a pas la classe ma grand-mère ? En plus c'est demain son anniversaire alors j'en profite pour lui faire un gros bisou ! See you soon mes monkeys, ce blog a été un peu en friche ces derniers temps mais je compte bien lui faire reprendre du service. Merci pour votre patience !
So what do you reckon, doesn't she look good? And it is her birthday in a couple of days' time so big hugs to her. I have to apologise, this blog has been rather neglected of late, but I do intend to be back, so thank you for your patience! A bientôt!
***
10 mai 2016
Après cette semaine de challenges pour une mode plus éthique, on revient à nos moutons... des moutons merinos bio, en l'occurrence ! Quand j'ai vu cette merveille d'imprimé chez Kitschy Coo, j'ai tout de suite eu une vision de mon mini monkey en sweat "supercat". Le prix (€27 du mètre, ce qui est largement au-dessus de mon budget tissu habituel) m'a fait hésiter au moins 3 minutes, puis j'ai craqué. Et je n'ai pas regretté ce moment d'égarement, cette maille est extra douce, légère mais chaude, passe en machine sans problème, et le mini monkey (et moi) sommes fans de ces chats masqués sur fond turquoise.
After this last week of ethical fashion challenges, let's get back to more wooly considerations. Organic merino wool considerations, in fact. When I spotted this fantastic print in the great Kitschy Coo shop, I knew I had to get it for a jumper for the mini monkey. I hesitated for all of 30 seconds as it was a bit pricey (£21 a metre, which is more than I usually spend on fabric), and then gave in. And I have to confess that I have no regrets, as it is so beautifully soft, light, warm, and funky!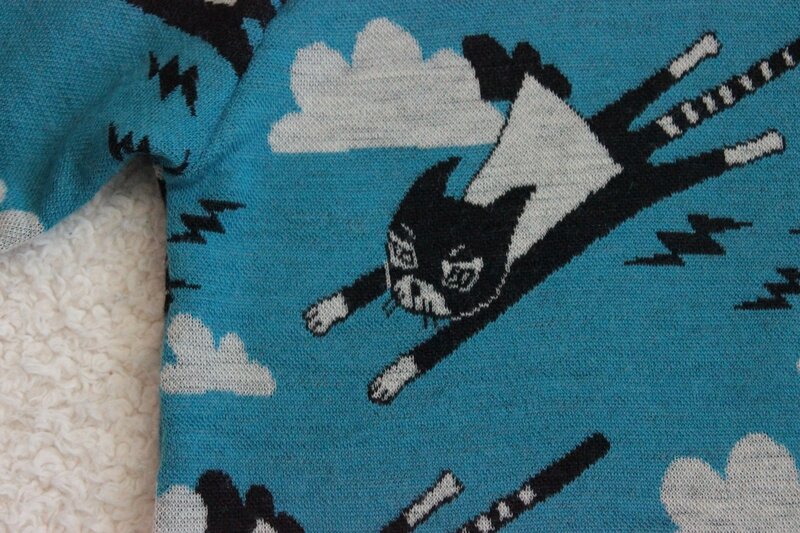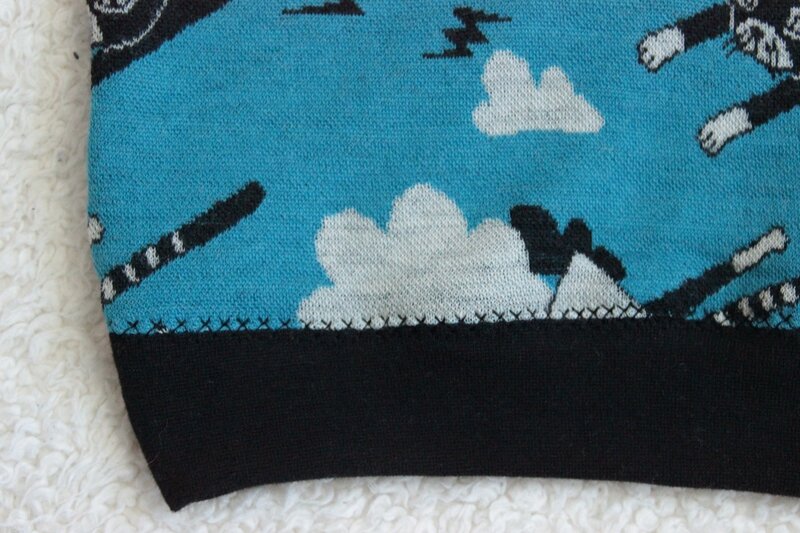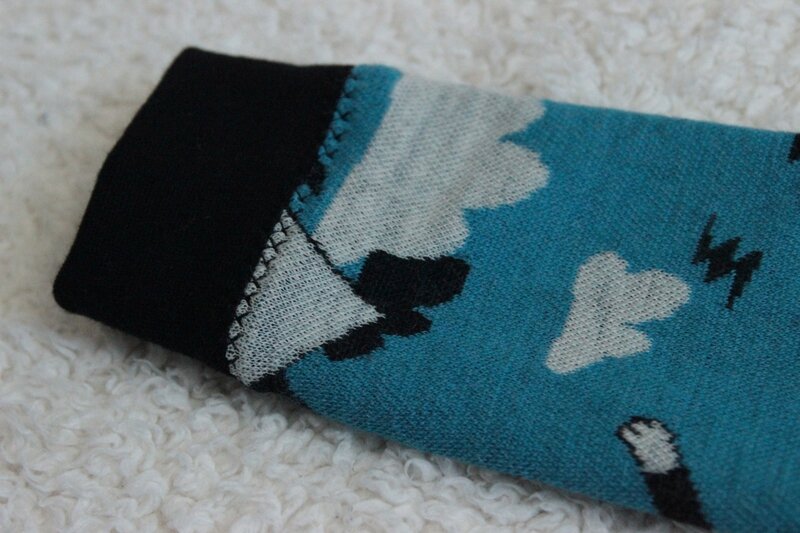 Le patron est le même que celui du sweat "monstres en slip", mais sans la capuche. J'ai tout cousu au petit point zigzag, mais j'ai dû surfiler les marges qui s'effilochaient pas mal. Les finitions sont en bord-côtes noir, avec un point fantaisie de ma machine.
The pattern is the same as the one I used for the "monsters in underpants" jumper, minus the hood. It was entirely assembled using a tiny zigzag stitch, but I had to finish all the raw edges as they were fraying rather a lot. The hem, neckline and sleeves are finished with black ribbing and a decorative stitch.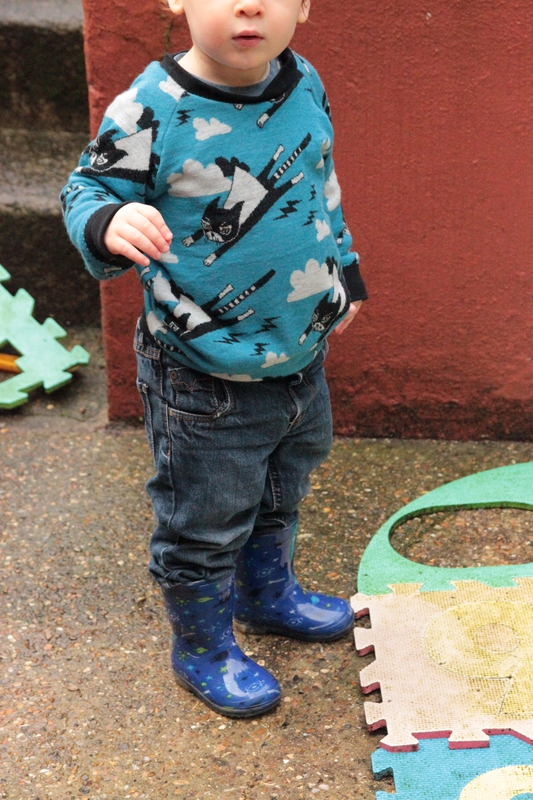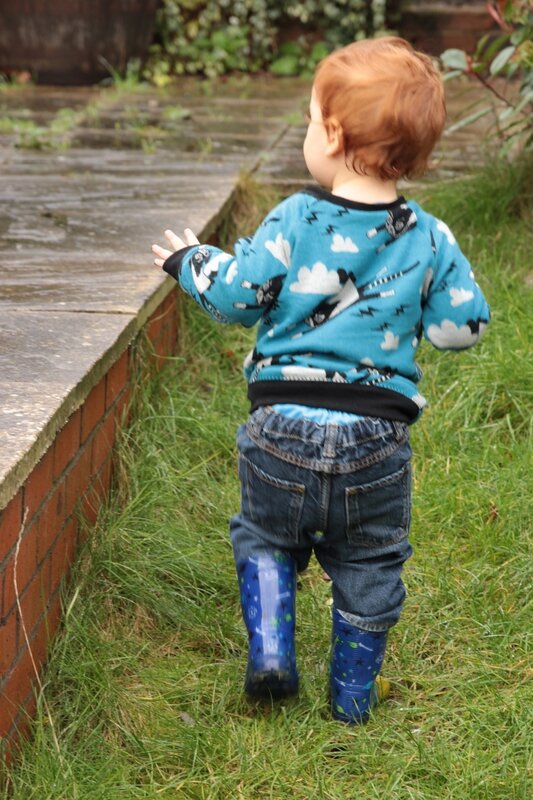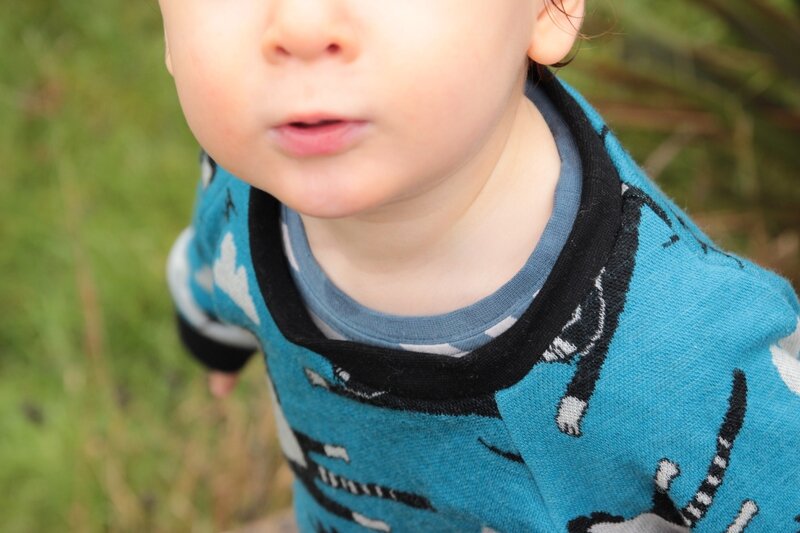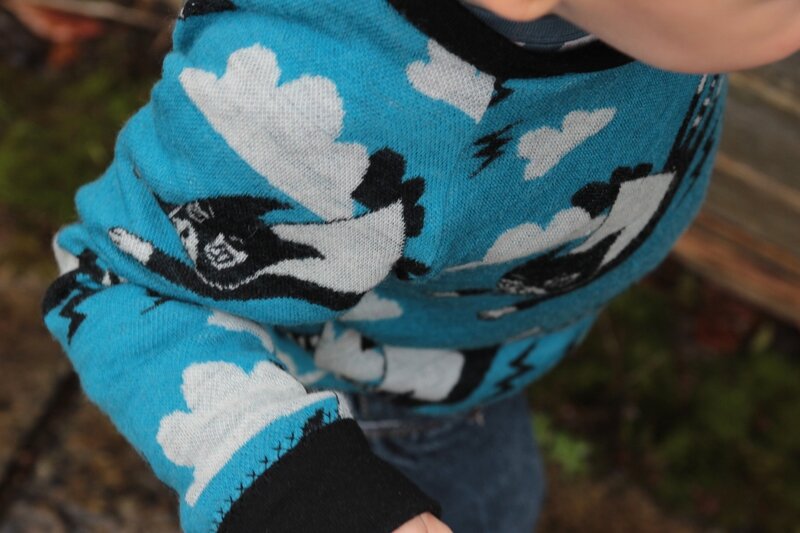 Et voilà ! Il a tout de suite été adopté pour aller sauter dans les flaques. J'en suis vraiment contente, et l'imprimé suscite souvent des commentaires, mais mon seul regret est que le tissu soit assez fragile et que les mailles se tirent facilement. Pas idéal pour un petit gars de 2 ans hyperactif qui adore grimper partout et se rouler dans l'herbe... Mais bon, le pull survit pour l'instant, et j'espère qu'il le portera jusqu'à l'année prochaine.
And there it is! The mini monkey immediately adopted it and went off to jump in some puddles. I am really happy with it, appart from the fact that the knit is quite fragile and the stitches do get pulled easily. Not great for a garment intended for a hyperactive 2 year old who loves nothing more than climbing on everything and rolling around outside... Anyway, the jumper still survives, and I am hoping he will wear it into next year.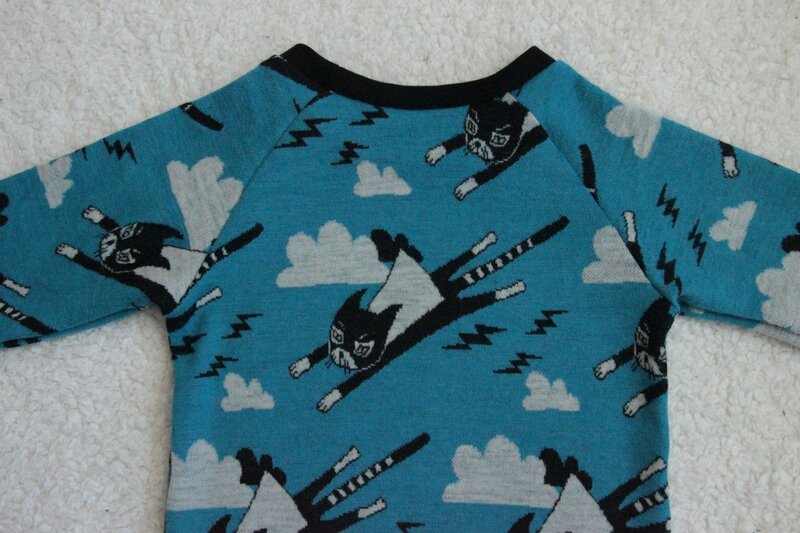 Patron: Ottobre 1/2015, modèle numéro 9 * Tissu: 50 cm de maille merinos bio "Superhero cats" Stromming Design, achetée chez Kitschy Coo. Bord-côtes noir de chez Ilona Store. Fil à coudre coton bio fabriqué en UE acheté chez Offset Warehouse.
Vous connaissez mon amour des imprimés un peu barjots, mais finalement, grâce à nos jolis moutons bio et à nos chats masqués, on continue la couture responsable et la fashion revolution ;) !
Pattern: Ottobre 1/2015, style number 9 * Fabric: 1/2 metre of "superhero cats" organic merino knit from Stromming Design, bought at Kitschy Coo's. Black ribbing from Ilona Store. Organic cotton made in EU thread from Offset Warehouse.
You know how partial I am to a funky print... but in the end, the fashion revolution carries on with more ethical sewing, thanks to these lovely organic merino sheep and crazy superhero cats :) !
***
24 avril 2016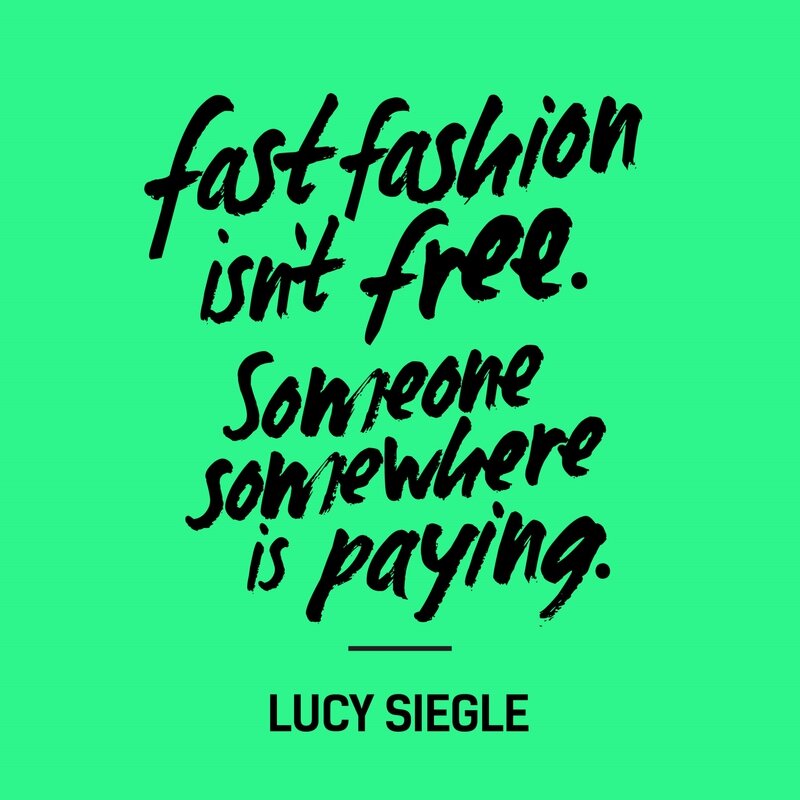 "Le 24 Avril 2013 à Dhaka au Bangladesh, le nom du Rana Plaza est devenu tristement célèbre dans le monde entier. L'effondrement des ateliers de confection textile a causé la mort de 1 133 personnes et plus de 2 500 ont été blessées.
Agissons tous ensemble pour que l'industrie de la mode s'engage et prenne la parole pour la FASHION REVOLUTION
Chaque année, à la date anniversaire de cette tragédie, le FASHION REVOLUTION DAY est célébré dans plus de 70 pays. A l'initiative de la créatrice de mode engagée Carry Somers, le collectif FASHION REVOLUTION incite chacun à consommer la mode autrement, à s'interroger sur ceux qui la fabriquent et à réfléchir aux atteintes portées à l'homme et à l'environnement tout au long de ce processus complexe, impliquant de nombreuses opérations de par le monde."
"On 24 April 2013, 1,134 people were killed and over 2,500 were injured when the Rana Plaza complex collapsed in Dhaka, Bangladesh. We believe that's too many people to lose on one day.
That's when Fashion Revolution was born.
We believe that fashion can be made in a safe,
clean and beautiful way. Where creativity, quality,
environment and people are valued equally.
On 18-24 April, Fashion Revolution Week will bring people from all over the world together to use the power of fashion to change the story for the people who make the world's clothes and accessories"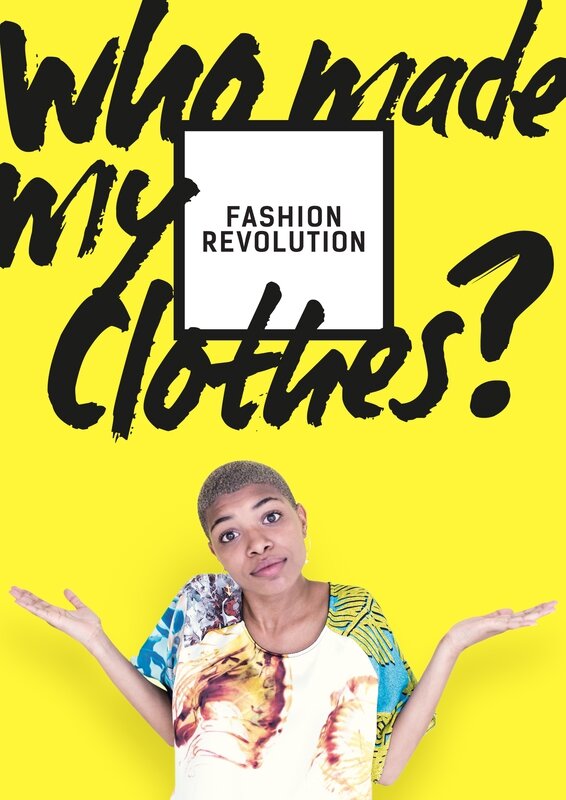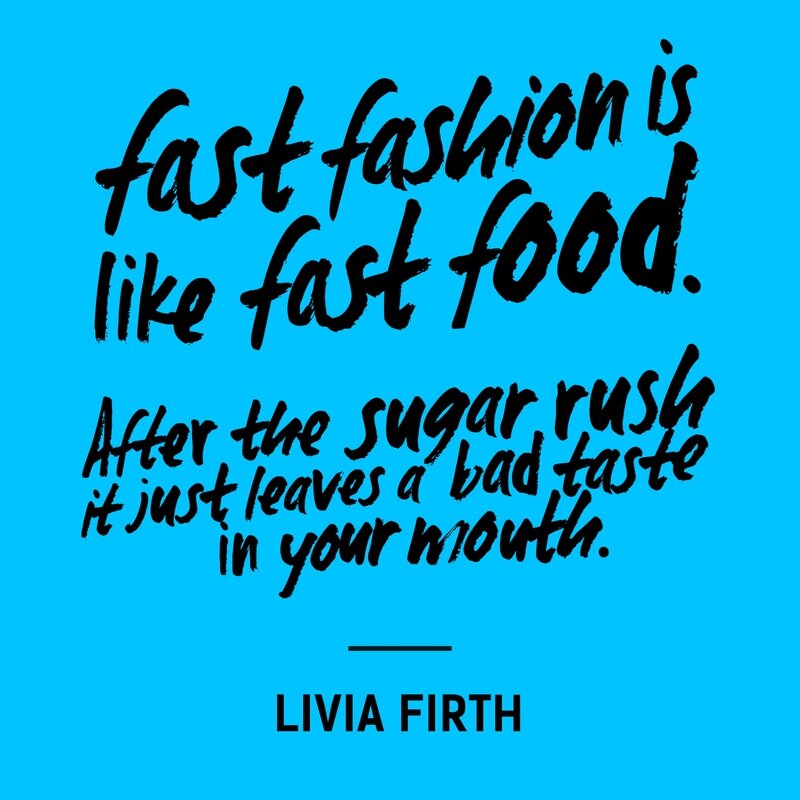 En ce jour de Fashion Revolution, on demande aux marques "Qui a fabriqué mes vêtements". Oui Mr Camaieu, Mme Etam, Mr GAP et Melle Monoprix, nous voulons savoir qui a fait pousser le coton, qui l'a recolté, filé, teint, tissé, découpé, cousu, emballé, transporté, et dans quelles conditions.
Je suis tombée par hasard sur cet article en anglais qui propose un classement des marques de prêt-à-porter en fonction de leur coefficient éthique, et aucune n'atteint la moyenne (H&M est en tête avec 9/20), ce qui est plutôt effrayant... Pour ma part j'achète très rarement des vêtements, et j'ai plutôt tendance à trouver mon bonheur d'occasion au magasin de charité. De temps en temps je me fait plaisir chez People Tree pendant les soldes, une marque anglaise fondée par Safia Minney qui est très engagée pour la transparence et le commerce équitable dans le domaine de la mode. Un classement des marques éthiques est proposé ici, et People Tree arrive en tête avec 16,5/20, avec une grande traçabilité, des textiles écologiques et des programmes sociaux pour ses travailleurs.
Pour autant ma garde robe n'est pas irreprochable... J'ai recemment fait un gros tri, j'ai donc surtout des pièces d'occasion, faites maison ou très très vieilles. Mais il me reste quelques pièces achetées en France quand j'étais étudiante (donc sur un très petit budget) notamment chez Camaieu. Je trouve que leurs basiques taillent bien, mais dans quelle condition a été fabriquée ma petite robe noire à 15 euros ou mon t-shirt blanc à 5 euros... Dommage qu'il n'y ait pas plus de magasin d'occasion type Emmaus en France, ici en Angleterre il y en a à tous les coins de rue. Et pour les chaussures et les sous-vêtements, qu'on ne trouve pas facilement d'occasion (et puis je ne sais pas ce que vous en pensez, mais je ne suis pas trop branchée sous-vêtements d'occasion...), je ne connais pas vraiment d'adresse équitable et abordable. Si vous avez des suggestions je suis preneuse !
On this Fashion Revolution Day, we ask brands "Who made my clothes?". Yes, Mr GAP, Mr Primark, Mr M&S, Miss Next and Mrs Levis, who grew the cotton, who harvested it, who threaded it, who dyed it, weaved it, cut it, sewed it, wrapped it, shipped it, and in which conditions.
I stumbled across this article which presents a scoreboard of high street fashion retailers according to their ethical credentials, and none of them even reach 50% (H&M comes first with a score of 9/20), which is rather worrying... I very rarely buy clothes, and if I do it is usually from the charity shop. Every now and then I treat myself to something from People Tree, in the sale. This UK brand, created by Safia Minney who is a commited supporter of fairtrade fashion, is the highest scorer with 16.5/20 in a scoreboard of ethical fashion retailers on ethicalconsumer.org . People Tree is strongly commited to workers' welfare and social support, ecology, and transparency. And their clothes are amazingly good quality, and rather cute!
Still, my wardrobe is not beyond reproach. I did a major sort out recently, so that I am left with mainly second hand, home sewn or very old garments. But I still own a few pieces bought in the sale on the French high street when I was a student, and had a very limited budget. But if you buy a dress for £10, how can anyone have been paid a fair price for making it!? I really regret the lack of charity shops in France, when there are so many here in the UK where you can buy good quality second hand stuff for cheap. I still don't know where to find ethically produced (and affordable) shoes and underwear though, so if you have a tip, I would love to hear!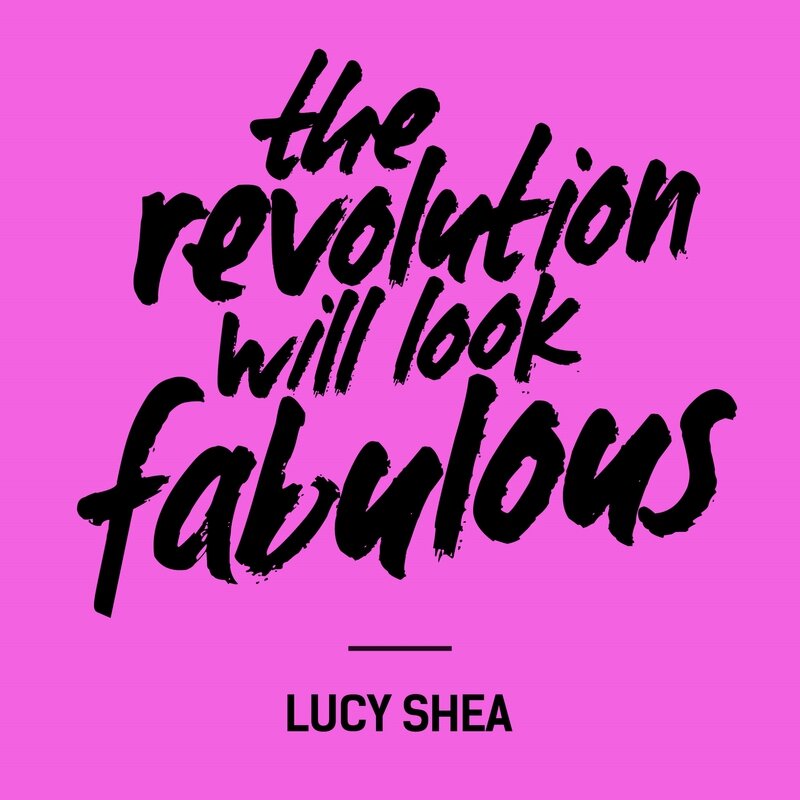 Une des solutions semble donc être de faire ses vêtements soi-même, encore faut-il que les matières choisies soient respectueuses des hommes et de l'environnement (quelques liens vers mes forunisseurs responsables préférés dans ce post). Il y a justement une campagne de financement participatif sur KissKissBankBank pour soutenir Amandine Cha-Dessolier des Trouvailles d'Amandines et la filière de tissus GOTS Made in France. Si vous souhaitez la soutenir, c'est par-ici (vous avez jusqu'au 10 mai)! En tout cas cette semaine de challenges a été une vraie révélation, et une super motivation. Sur Instagram on s'est échangé conseils, astuces, commentaires, idées, inspiration, et compliments ! On sent un vrai engouement, et une belle communauté qui se développe autour du fait main et de la mode durable. J'ai bien l'impression que le fond de l'air est révolutionnaire, et que si on s'y met tous, la mode éthique, c'est pour bientôt !
One of the solutions would therefore be to make our own clothes, but the fabrics themselves would need to be ethically sourced. The range of eco-responsible and fairtrade fabric and haberdashery is growing, but still limited (a few links to my favourite ethical fabric retailers in this post). If you fancy playing an active part in promoting ethical and local fabric production, Amandine from Les Trouvailles d'Amandine is running a crowdfunding campaign on KissKissBankBank to support her range of ecological fabrics Made in France. If you would like to support her, it is over here, and you have until the 10th of May. I have to say this week of challenges has been a real inspiration and a good boost! On Instagram we have been exchanging tips, ideas, comments, inspiration, and praise. Is it just me or is there a smell of revolution in the air? I'm pretty sure that if we all start making changes at our level, ethical fashion will soon be a reality.
Merci / Thank you Sonia, Les trouvailles d'Amandine, Fil Etik, Deer and Doe & La Modette !
***
23 avril 2016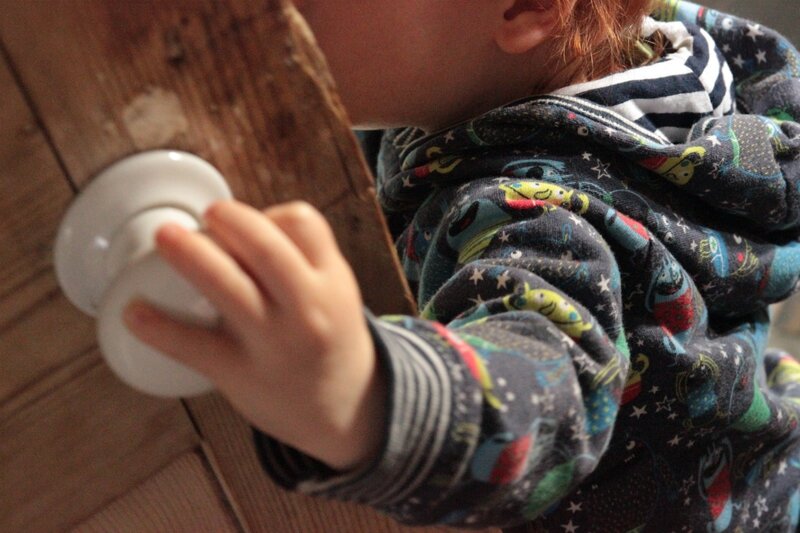 Aujourd'hui, on se pose la question de la provenance des tissus avec lesquels on coud, parce que c'est bien beau de s'assurer que nos vêtements ne soient pas assemblés au détriment des conditions de vie des couturiers, mais si la matière première et son traitements le sont ce n'est pas mieux. Comme beaucoup je rêve d'un monde où tout ce que l'on consomme (aliments, vêtements, biens en touts genre) seraient produit en vertu du commerce équitable et du respect de l'environnement, mais c'est (très) loin d'être le cas. C'est bien la raison d'être de cette Fashion Revolution Week, et heureusement, il existe de plus en plus de fournisseurs soucieux de créer une filière transparente, propre et éthique.
Today, we ask ourselves where the fabric we are sewing came from. Of course it is great to know that our clothes were made by us rather than at the expense of someone else's welfare, but it wopuld be nice to be assured that the material didn't have a negative impact on people's wellbeing and the environment. Like many, I dream of a world wher everything we buy would be fairly traded and ecologically produced, but this is still an utopia. This is the very fact which inspired this Fashio Revolution Week, and luckily, there are now more and more ethically minded producers and retailers who battle for a fairer and more transparent textile industry.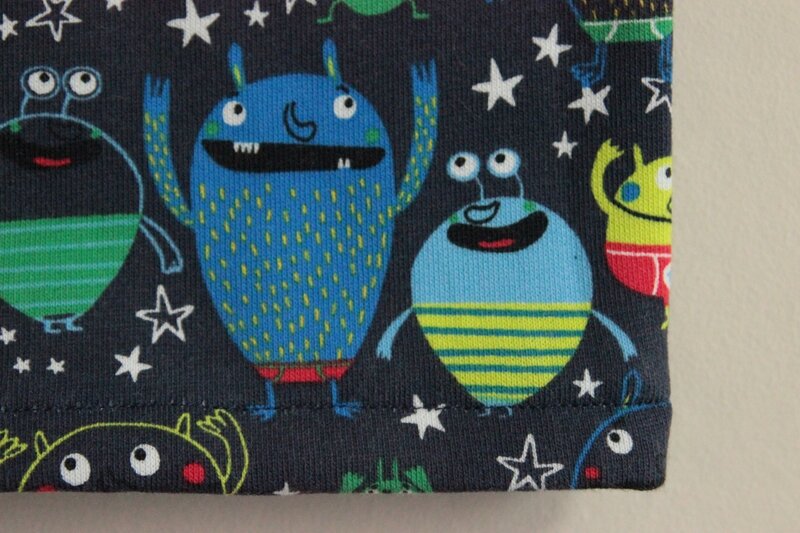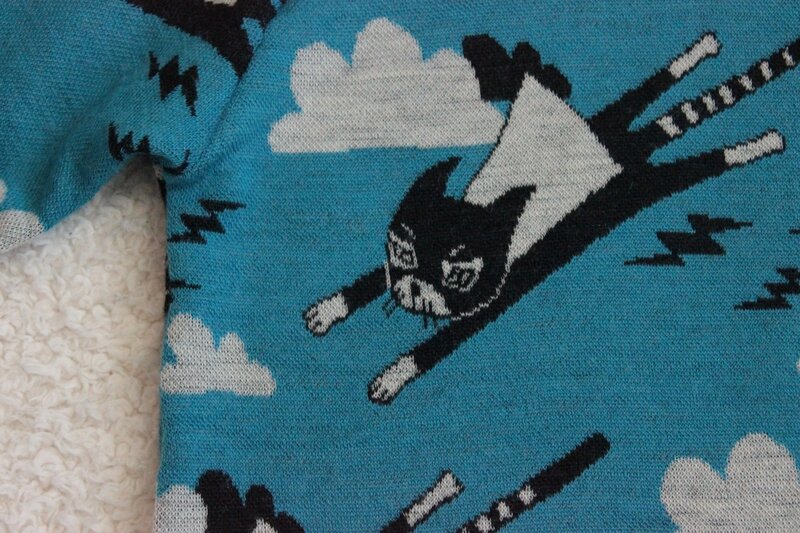 Mon premier choix est toujours de recycler un tissu qui a déjà eu une vie, et je prends un grand plaisir à découper des vêtements pour le mini monkey dans des t-shirts d'occasion. J'ai malheureusement un grand stock de tissus achetés au fil des années pour leur prix et leur originalité plus que sur leur traçabilité. J'ai maintenant arrêté d'acheter, et je vais tenter d'utiliser, donner ou rendre utile ce stock, parce que ça n'aiderait personne de le jeter à la poubelle... Depuis quelque temps j'essaye d'acheter en petites quantités, pour un projet précis, et choisis des tissus et fournisseurs responsables. La filière se développe, et on y trouve des tas de magnifiques motifs et de sublimes textures. Voici une petite liste de mes adresses préférées pour shopping mercerie responsable !
My first choice is always to re-use fabric which has already lived, and I really enjoy cutting the mini monkey's clothes out of second-hand garments. Unfortunately I have hoarded a rather large stash of not-so-resposible-but-really-cheap-and-pretty fabric over the years, and I intend to use it, donate it, or make it useful in some way, because chucking it wouldn't help anyone. For a little while I have been buying in very small quantities, with a precise project in mind, and trying to source the most ethical and ecological materials. The market of responsible textile is growing as awareness increases, and you can now find amazing patterns and textures. Here is a list of a few of my favourite ethical haberdashery addresses.
Tissu recyclé, sauvé, bio, equitable, et du fil à coudre bio fabriqué en europe de top qualité
Recycled, reclaimed, organic, fairtrade fabric, and great organic made in EU thread
Magnifiques motifs originaux et pleins de poésie, tissus bio made in France
Amazingly beautiful and delicate prints on dreamy organic made in France fabric
Bonne sélection de jersey imprimés scandinaves bio
Good selection of organic scandi knits
Bonne gamme de tissus écologiques (bio, recyclés, fibres responsables)
Good range of eco-friendly fabrics (organic, recycled, responsible fibres)
Le thème du jour ici, les termes du concours ici. A demain pour la dernière !
Theme of the day over here, challenge details here. See you tomorrow for the last instalment!
***
22 avril 2016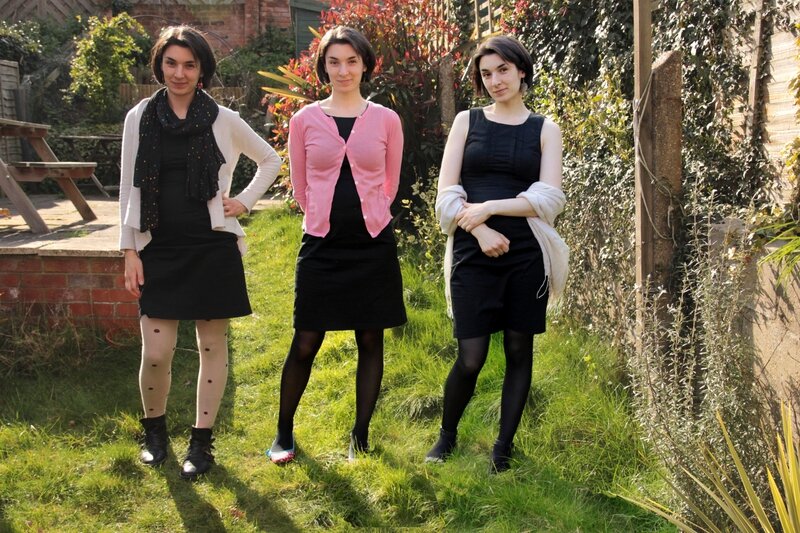 Bon d'accord ça m'arragerait bien parfois de pouvoir me dédoubler (me détripler ?), comme ça je pourrai envoyer un exemplaire chercher le fiston la garderie pendant que les deux autres resteraient à la maison. Pour aujourd'hui je me contenterai d'un petit montage photo sur le thème de la petite robe noire, qui m'a permis de bien m'amuser avec mon pied d'appareil photo et un logiciel de retouche d'image. L'idée est d'accessoiriser une pièce basique pour différentes occasion, ce qui prouve bien qu'on n'a pas besoin d'une armoire plein à craquer pour trouver de quoi s'habiller en toute circonstance !
OK, I would love to be able to duplicate myself, it would be most convenient to send one of me to fetch the mini monkey from nursery while the other two stayed at home sewing or had a nap! Unfortunately I haven't mastered the techinque yet, so for now I had to resort to make believe, with the assistance of my camera, a tripod, and an image manipulation software. The idea was to show a simple garment (ie the little black dress) styled differently to suit various occasions, proving that you don't need hundreds of clothes to find something to wear for everyday, for work, or for a night out.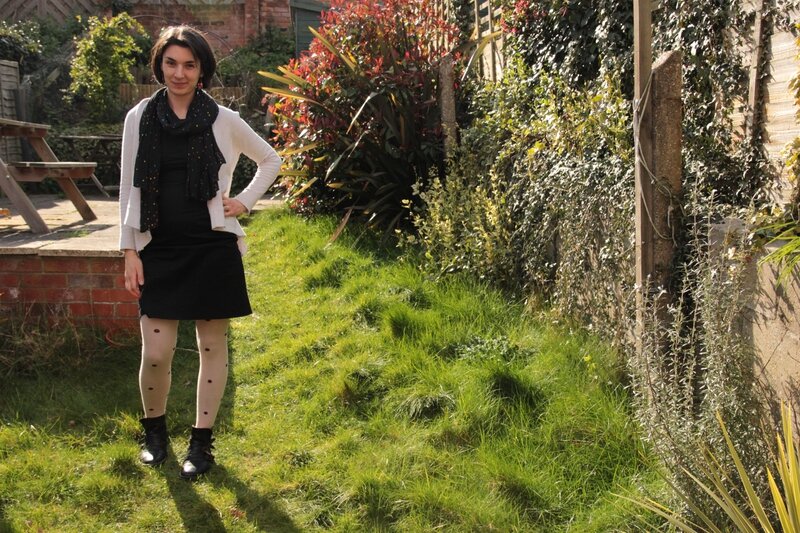 Version "tous les jours", une association que je porte beaucoup : gilet, écharpe, collants et boucles d'oreilles fantaisie, bottines
The "everyday" version, which the one I go for most often: cardigan, scarf, novelty tights, bright earrings, boots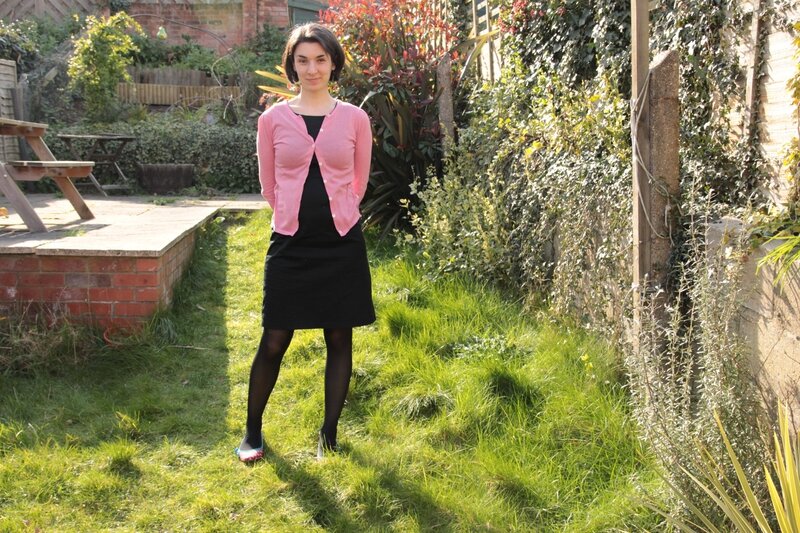 Version "boulot" (si je travaillais dans un bureau, ce qui n'est pas le cas, c'est donc plutôt un look "entretien d'embauche") : gilet plus ajusté, collants fins, boucles d'oreilles discrètes, ballerines
The "work" version (that is, if I owrked in an office, which I don't, so this is more of a "job interview" look): fitted cardigan, sheer tights, ballet pumps, discreet earrings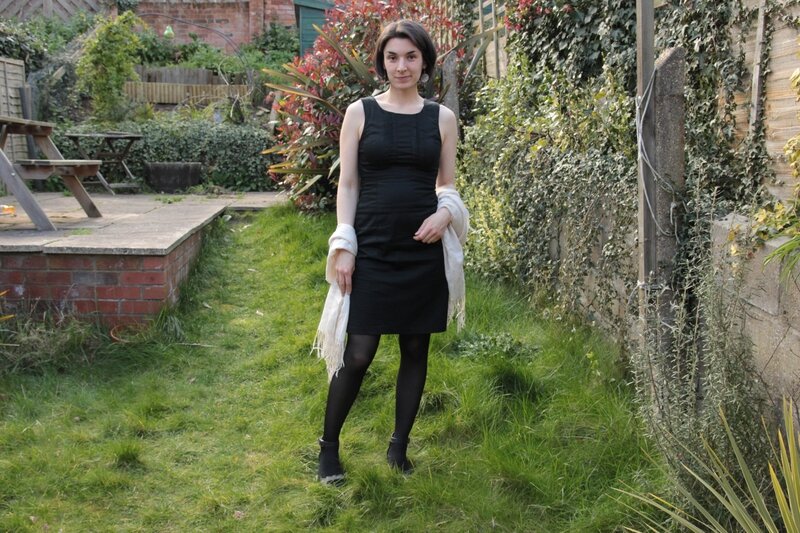 Version "soir" (pour laquelle le soleil avait disparu) : bras nus, boucles d'oreilles ethniques, petit talon, châle
Pour toutes les participations du jour c'est par-ici, pour les modalités du concours c'est par-là. A demain !
The "evening" version (for which the sun refused to re-appear): bare arms, ethnic earrings, heels and a shawl
To see all of today's entries this way, for the challenge's T&Cs this way. See you tomorrow!
***
Je suis incapable de jeter du tissu. Même les plus petites chutes, celles dans lesquelles je ne pourrai jamais caser une parementure, un biais ou un fond de poche, je ne peux pas me résoudre à les mettre à la poubelle. Aujourd'hui, c'est le défi "à bas les chutes" (d'après les mots d'Emilie le Papillon qui coud toujours un petit quelque chose pour ses enfants dans les chutes de ses vêtements) et j'avais envie d'utiliser ces tout petits morceaux. J'ai toujours rêvé de re-fabriquer du tissu avec des chutes, un jour je ferai un grand patchwork de chutes minuscules mais ça prendra des années alors là, avec un après-midi devant moi, j'ai visé plus modeste : une couverture pour la poupée de mon fils.
I just can't throw away fabric. Even the smallest of scraps, those in which I can't even fit a pocket lining or a trim, I can't bear to part with. And today is "scraptastic" challenge, so I wanted to use the smallest of small scraps. I have always dreamt of producing new fabric from lots of little leftover pieces, and one day I will make a massive quilt out of mini scraps, but it will take years, so with only an afternoon ahead of me, I went less ambitious. So I made a blanket for my son's doll.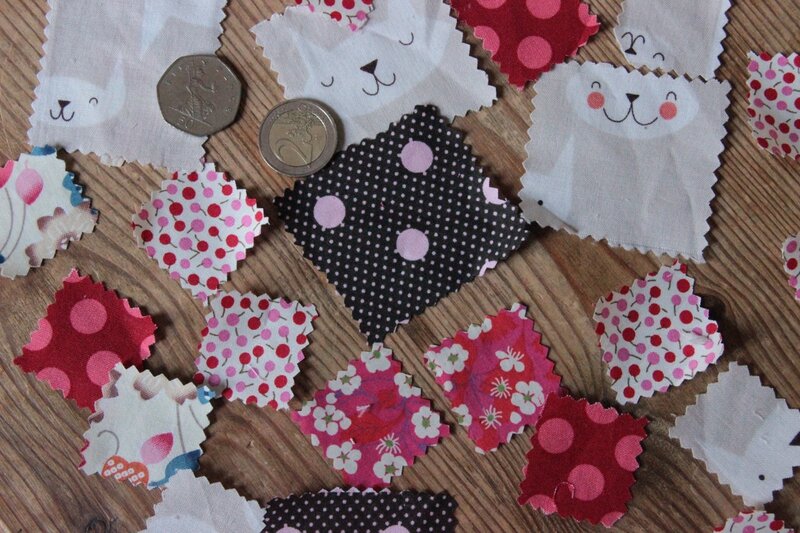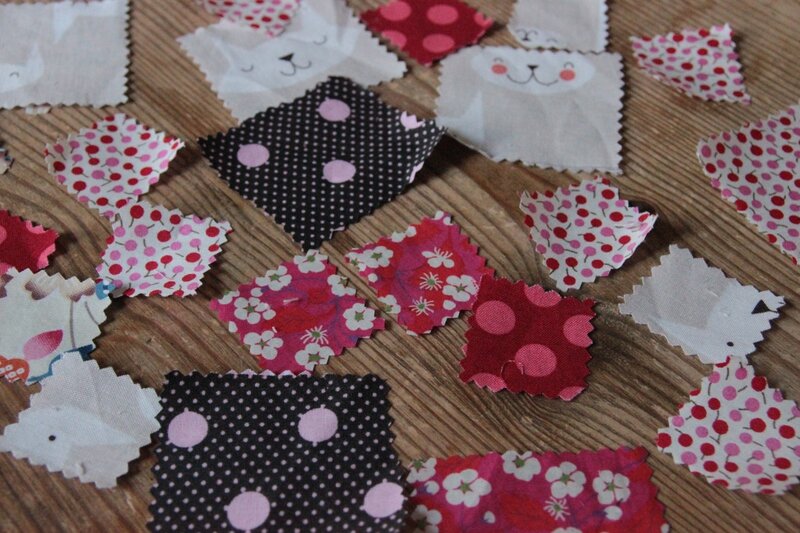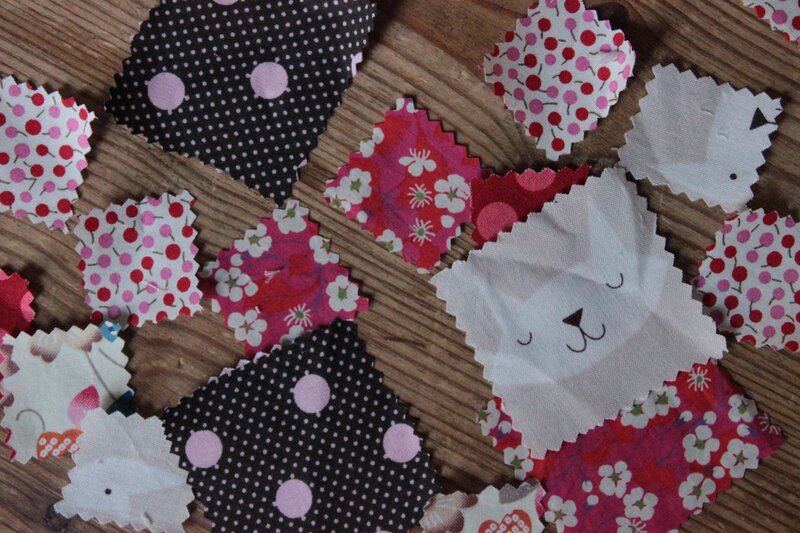 Les carrés ci-dessus font 2 et 4 cm de côté. Désolée d'étaler ma fortune, c'est pour l'échelle !
The patches are 2 and 4 cm squares. Sorry for showing off my wealth, it was to give you an idea of scale!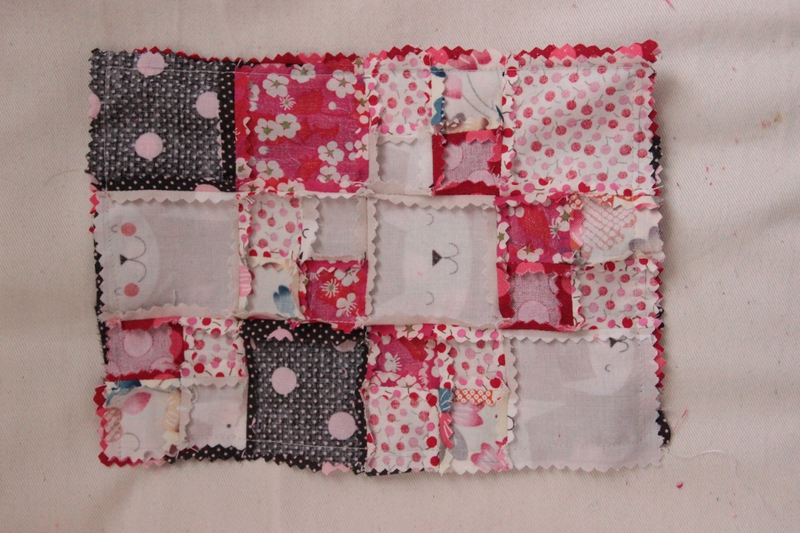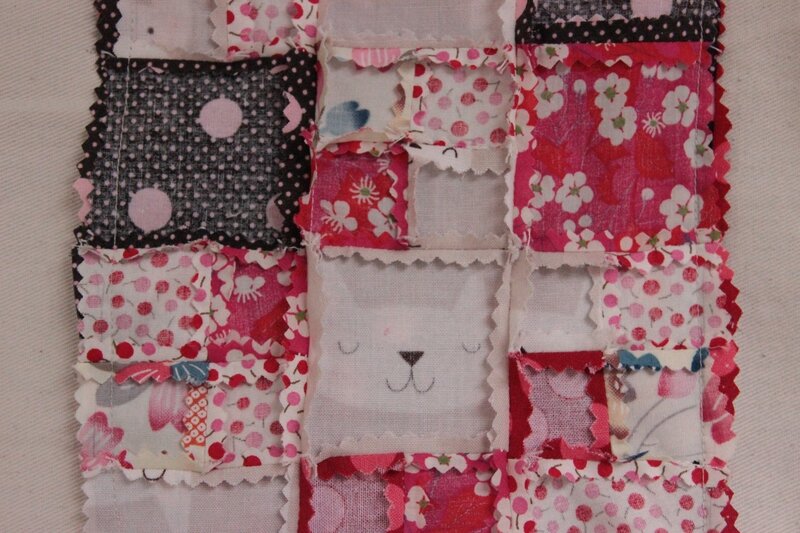 J'ai assemblé les petits carrés par groupes de 4, puis tous les grands carrés ensemble. Je pensais que ce serait super fastidieux et minutieux mais finalement non, il suffit juste de bien écraser les coutures au fer au fur et à mesure et ça passe tout seul.
I joined the small squares by groups of 4, then all the bigger squares together. I thought it would be really fiddly and tedious but it wasn't, as long as I pressed all the seams open as I went.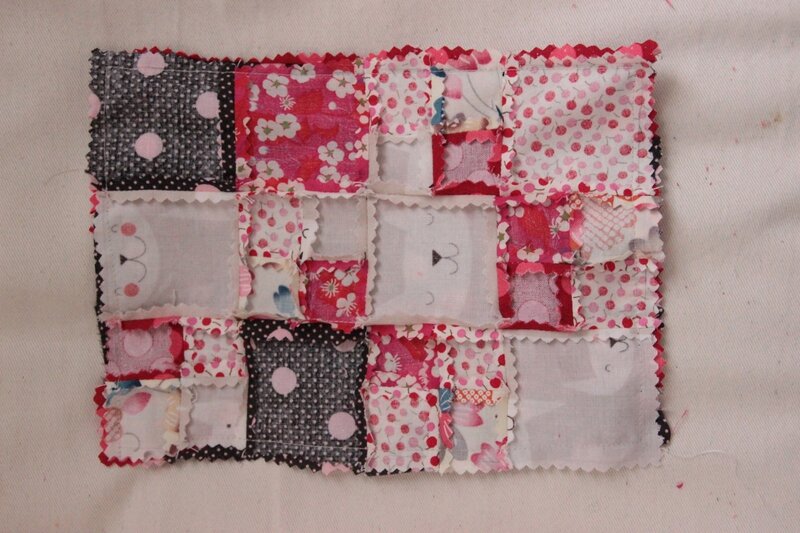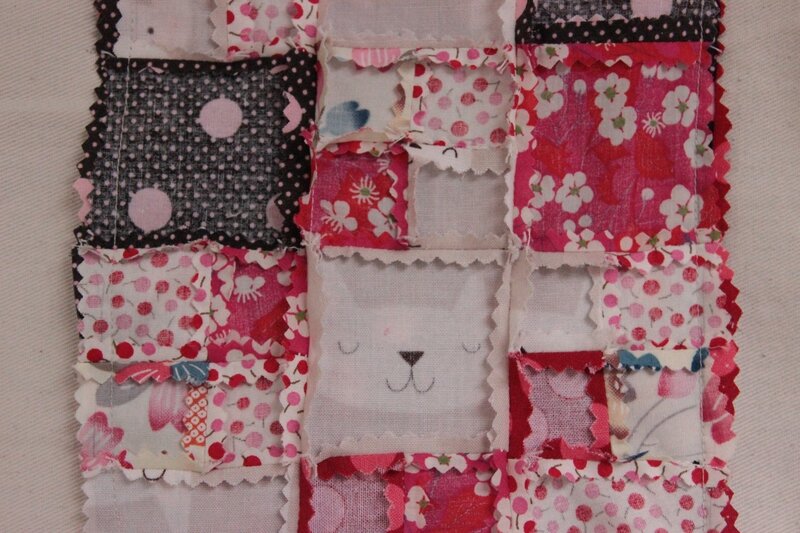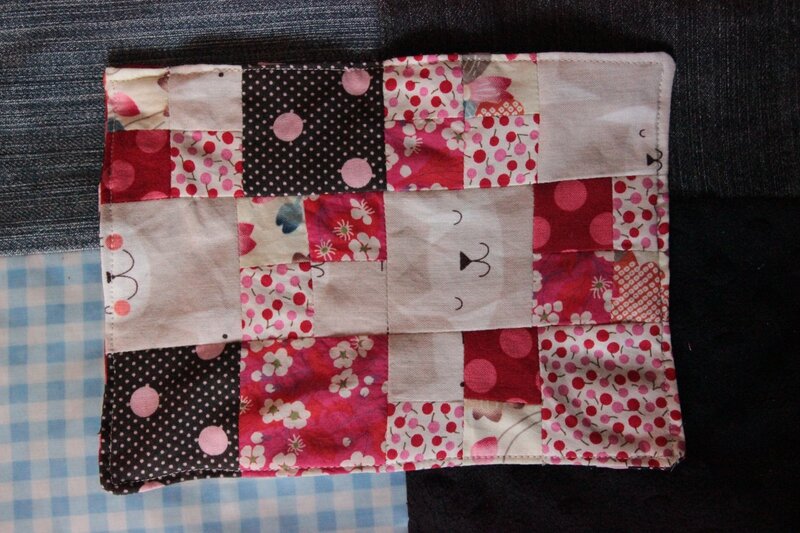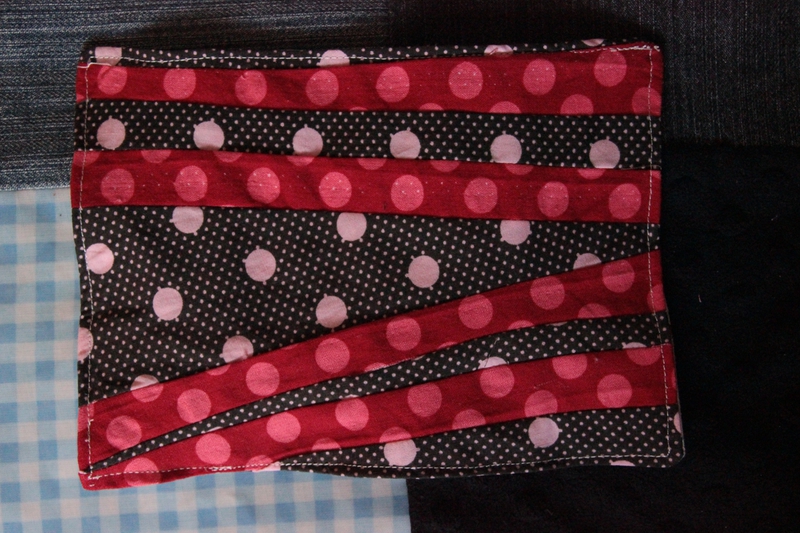 Pour l'arrière j'ai juste assemblé des bandes de tissu irregulières jusqu'à avoir assez pour couvrir la surface. J'ai recoupé les bords après avoir assemblé l'avant et l'arrière.
For the back I just sewed together uneven strips of fabric until I had a big enough patch. I then cut off the excess after assembling fornt and back.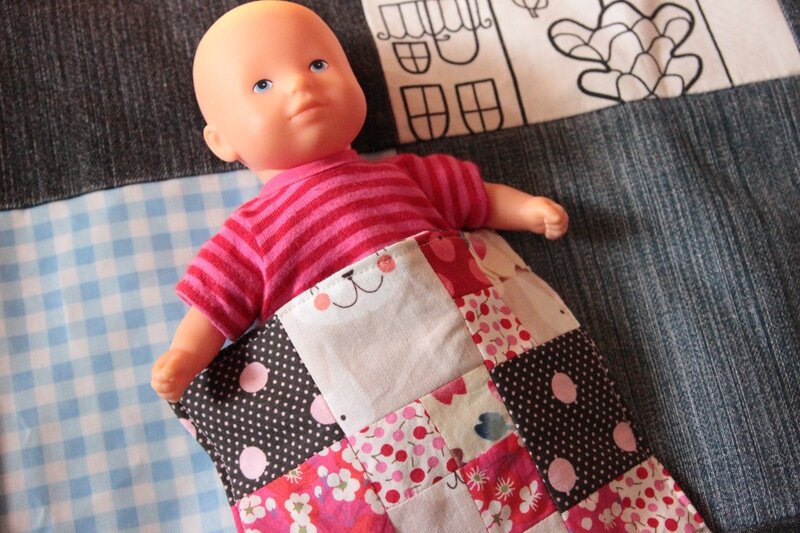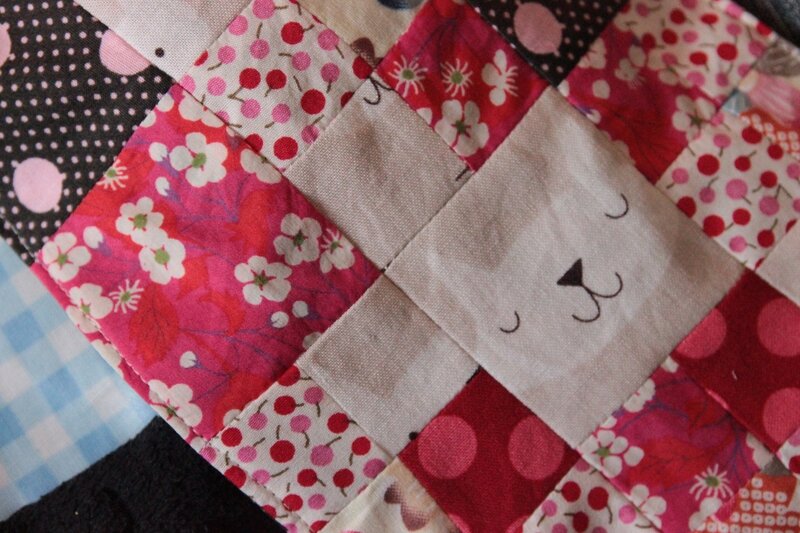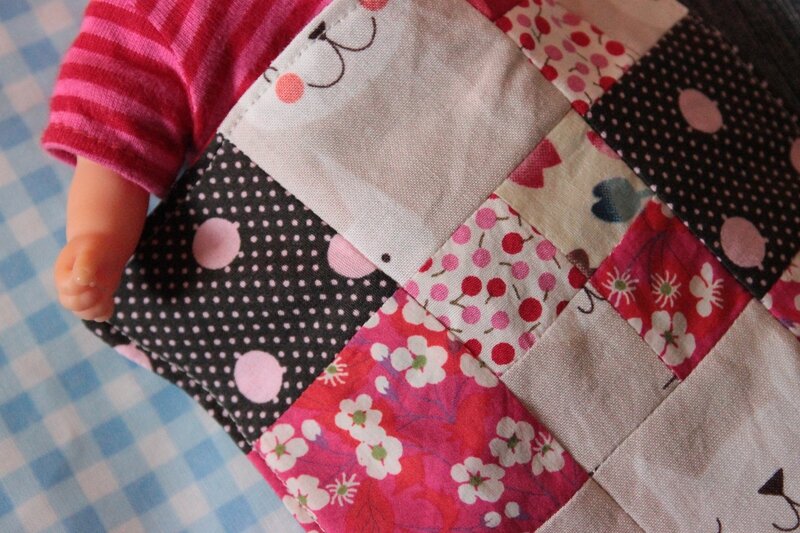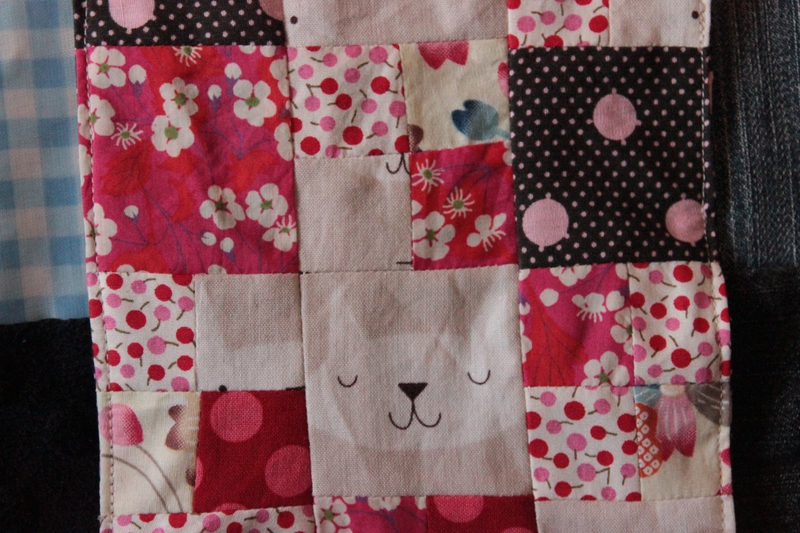 Rien d'extraordinaire, mais je me suis fait plaisir à utiliser mes mini morceaux de tissu pour mon mini mec ! Je vous rappelle que tous les détails du concours sont ici et que vous pouvez retrouver toutes les participations sur ce thème ici. A demain !
Nothing extraordinary, but I really enjoyed using my mini scraps for my mini monkey. You can as always find all the details of the challenge here, and see all of what has been produced on today's theme here. See you tomorrow!
***
20 avril 2016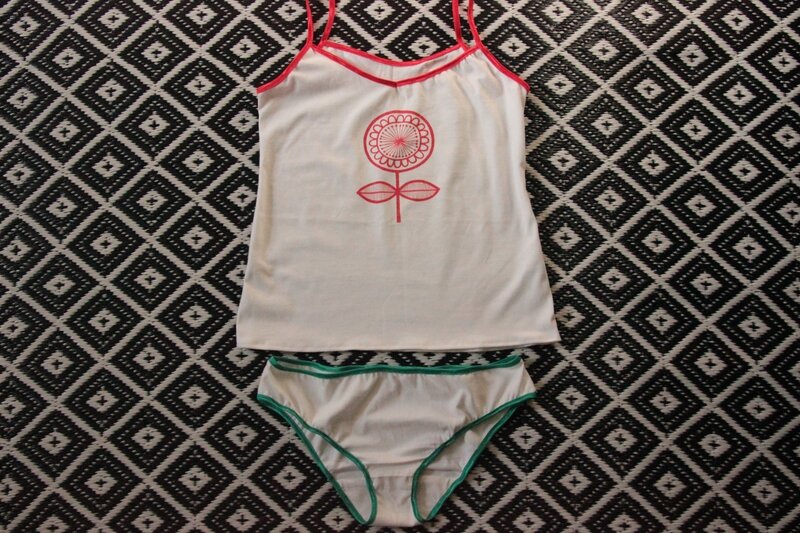 Aujourd'hui, ma paire de ciseaux est ma meilleure amie : c'est mon défi de prédilection, celui de la transformation d'un vêtement en un autre. Justement, pour cette semaine de la mode éthique, je me suis fait la reflexion qu'on trouvait relativement facilement des vêtements équitables, mais c'est beaucoup plus difficile pour les sous-vêtements ! Et les petits débardeurs que je porte en dessous de mes hauts en hiver commencent à être serieusement déformés, surtout que je les ai portés tout au long de ma grossesse. J'avais par ailleurs un vieux t-shirt en coton bio que je portais comme pyjama mais que je ne mettais plus, l'heure avait donc sonné de le sacrifier.
Today, my scissors are my best friend. It is the day of my favourite challenge: upcycling!! I have been thinking about the way we buy fashion this week, and it seems to me that it is easy enough to find ethical clothes, but it is much more difficult for underwear. It also happens that the spaghetti strap vests that I wear under my tops are now pretty shapeless, especially as I wore them throughout my pregnancy. An old white organic cotton baggy t-shirt was about to be sacrificed for the cause...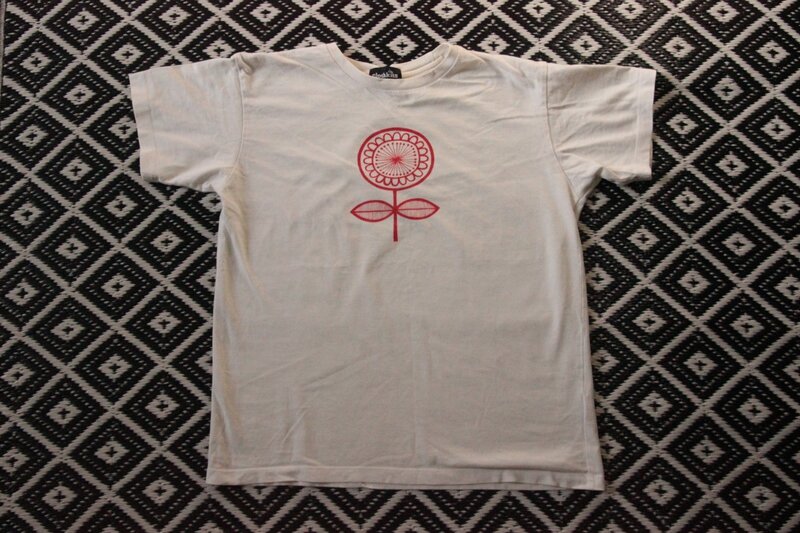 J'ai utilisé un de mes débardeurs et une culotte qui m'allaient bien pour tracer un patron approximatif que j'ai reporté sur le t-shirt. Je tenais à garder le motif du devant donc je n'ai pas réutilisé l'ourlet du t-shirt, au contraire, je l'ai décousu pour récupérer un maximum de tissu pour le bas. J'ai du un peu traficoter les pièces pour tout faire rentrer.
I used an old vest and a pair of knickers which fitted well to draft a rough pattern which I transferred onto the t-shirt. I wanted to keep the flower motif at the front so I didn't reuse the hem, instead I actually unpicked it to make more fabric to use. I had to jiggle the pattern pieces around a bit to fit everything in.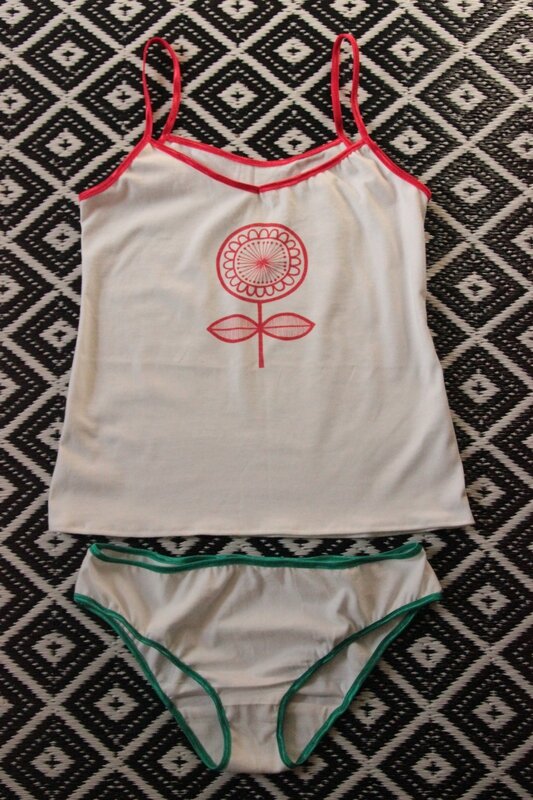 Tous les bords sont finis avec du biais elastiqué et un petit point de zig zag, super facile, pas besoin de surfiler, une vraie révélation. En plus j'aime bien les couleurs qui pètent, et j'ai rajouté un petit motif au tampon à l'arrière du bas (c'est un bloc en bois gravé que ma maman m'a ramené d'Inde).
All edges are finished with fold up elastic and zigzag stitch. It is super easy, super quick, a true revelation, I love the stuff! And I like the bright colours. I also added a small pattern to the back of the knickers, thanks to hand carved wood block that my mum brought back from India.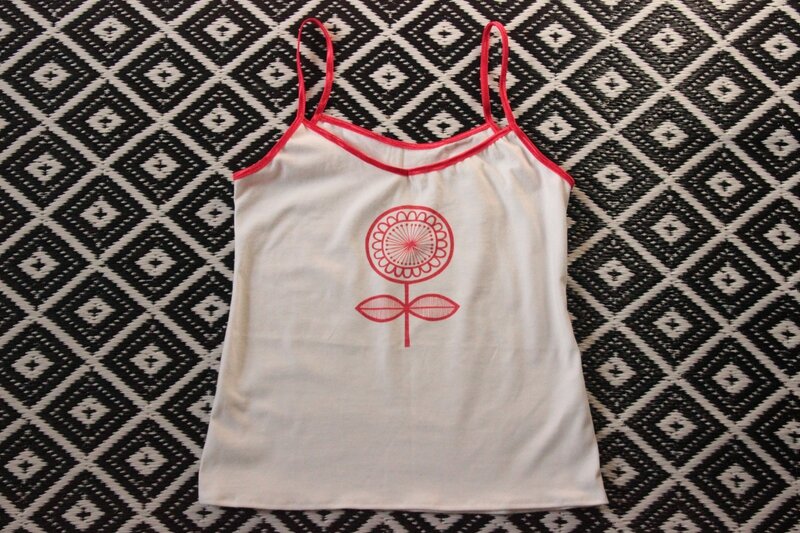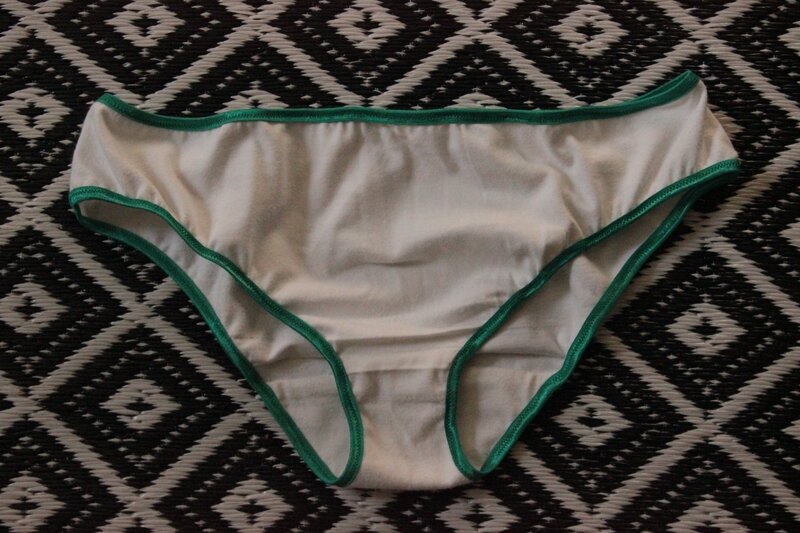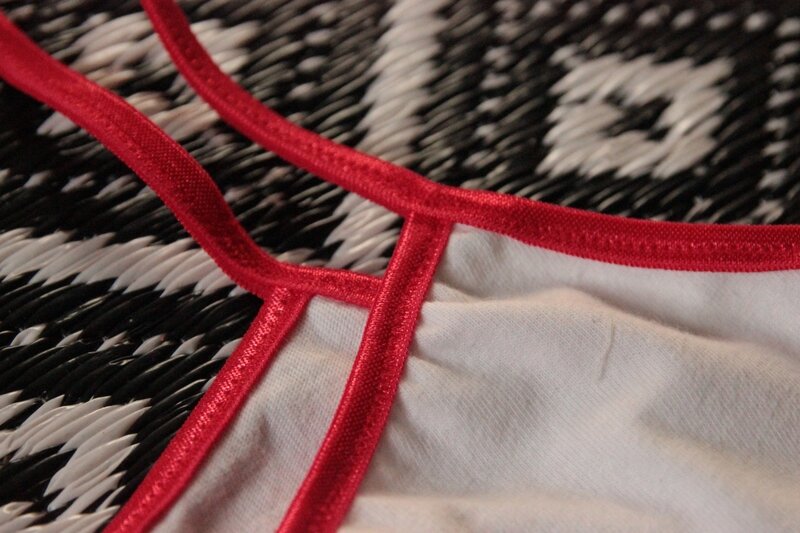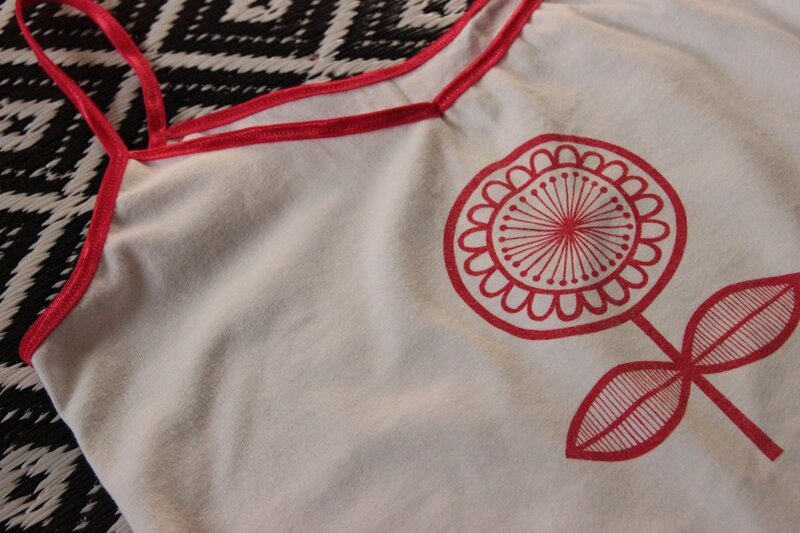 Je suis plutôt contente de mon nouvel ensemble recyclé ! Même qu'il me va !
I am rather happy with my new upcycled set! It fits!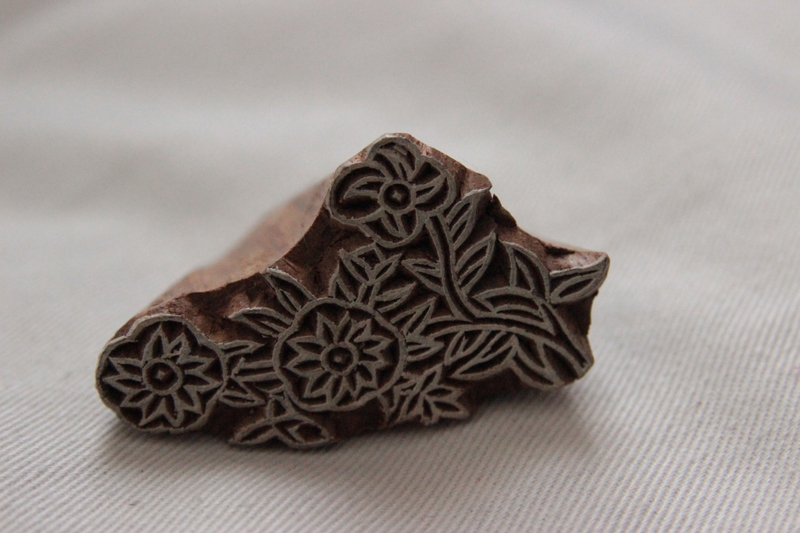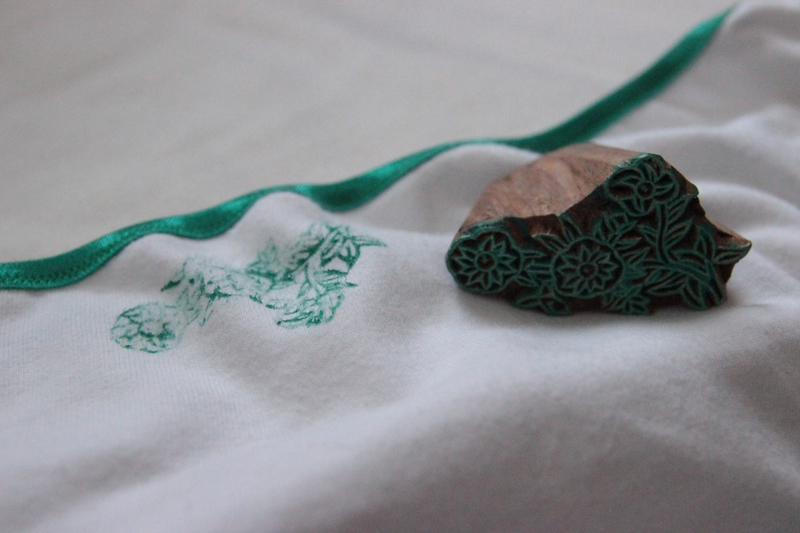 Comme les jours précédents, vous pouvez participer au challenge sur Instagram, et retrouver tous les détails du concours sur le blog de Sonia.
And like the previous days, you can enter the challenge on Instagram, and find all the details of how to enter over on Sonia's blog.
A demain ! See you tomorrow!
***
19 avril 2016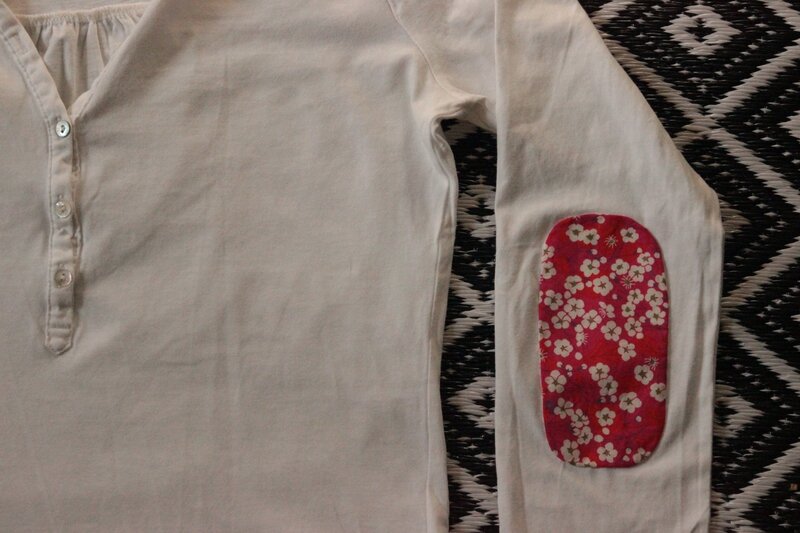 Aujourd'hui, on rafraichit nos vieux habits, on rapièce, on reprise, on détâche, on fait du neuf avec du vieux ! J'avais justement un t-shirt blanc assez quelconque mais qui taillait bien, relégué depuis plusieurs années dans la pile des vêtements "à restaurer" à cause d'une mystérieuse tâche apparue au niveau du coude la première fois que je l'avais porté. Il a retrouvé une place dans l'armoire aujourd'hui, grâce à une chute de Liberty et une astuce trouvée sur Pinterest !
Today, it's all about refreshing old clothes, patching, mending, removing stains, giving them a new lease of life! I just happened to have an old and rather plain white t-shirt which I had only worn a couple of times before a mysterious stain appeared on one of the elbows. It has finally been re-admitted to the wardrobe, after getting a makeover thanks to a scrap of Liberty fabric and a little trick found on Pinterest.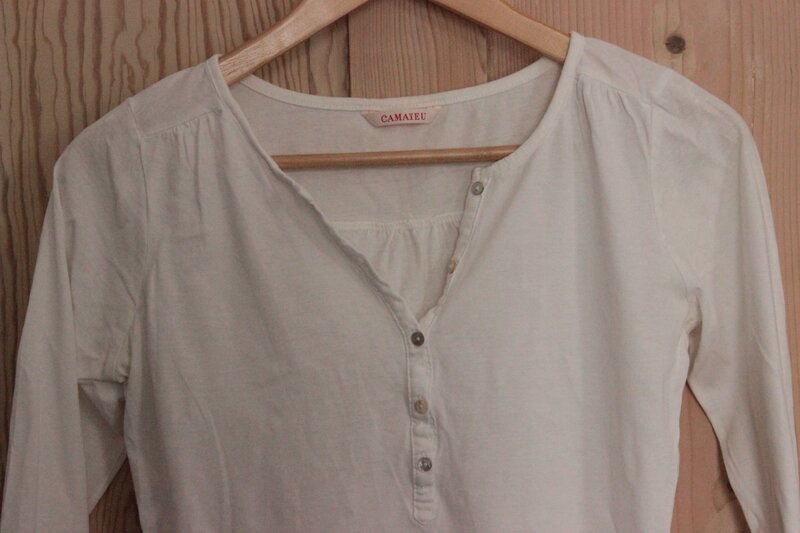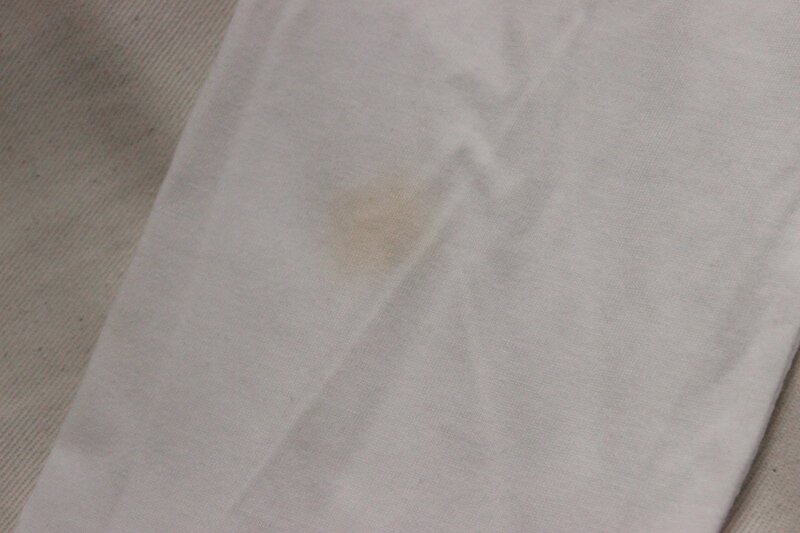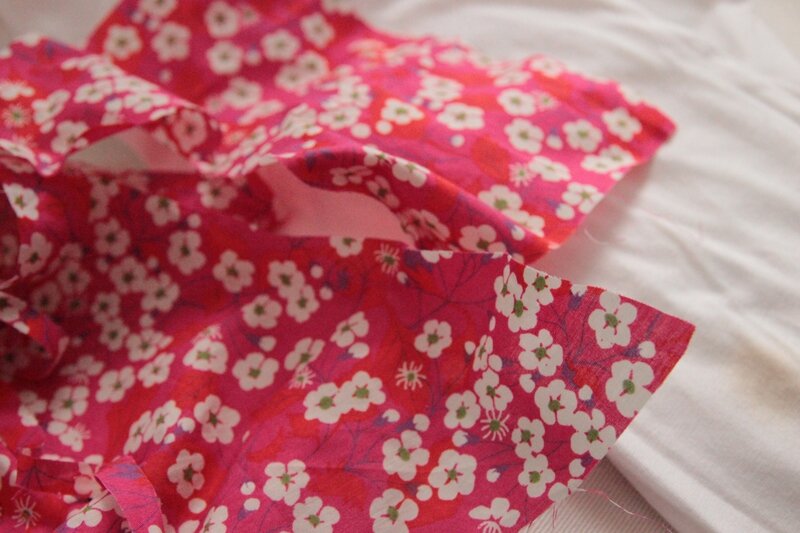 Cette petite astuce simplissime permet d'ajouter un empiècement arrondi sans laisser de bords à cru, et avec un positionnement facile grâce au thermocollant.
On découpe la forme à appliquer dans le tissu, et dans du thermocollant fin
On place la forme en tissu sur l'endroit, et le thermocollant par-dessus, face encollée CONTRE le tissu (faites ce que je dis, pas ce que je fais, je me suis trompée et du coup je n'ai pas pu coller mon empiècement sur le vêtement !)
On pique à 5 mm du bord
On crante les bords arrondis
On incise le thermocollant (attention de ne pas couper dans le tissu !)
On retourne le tout sur l'endroit, on a alors une forme bien définie, sans bords à cru, et prête à être thermocollée en place !
Repasser en place, et piquer sur le pourtour (j'ai choisi un point invisible à la main, parce que la manche était bien trop étroite pour la passer autour du socle de ma machine)
This simple little trick allows you to appliqué rounded shapes onto another fabric without leaving any raw edges, and with easy positioning thanks to the fusible interfacing.
Cut out your shape in fabric and interfacing
Place the fabric shape right side up, and the interfacing on top, fusible side DOWN (do as I say, not as I do... I got it wrong, so couldn't use the interfacing to position the patch onto my garment)
Stitch all around the edge
Cut notches around the curved edges (I was lazy and used pinking shears)
Make a slit in the interfacing (be careful not to cut into the fabric)
Turn out onto the right side of the fabric: you have a well defined shape with no raw edges, ready to be stuck onto your garment!
Iron in place, and stitch around the outside (I used an invisble hand-sewn stitch as I couldn't get my sleeve over the base of my sewing machine)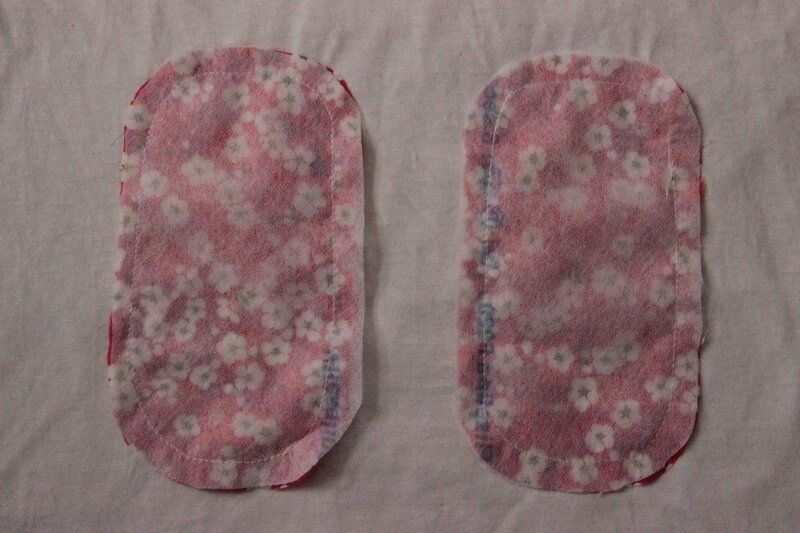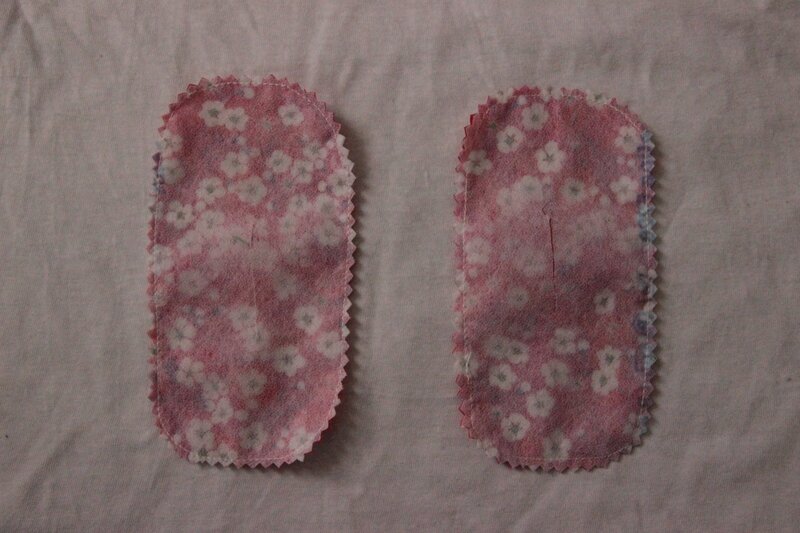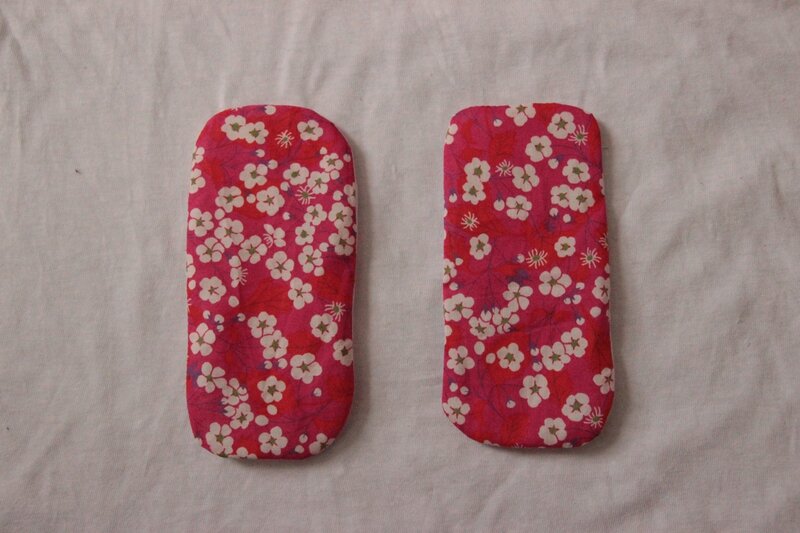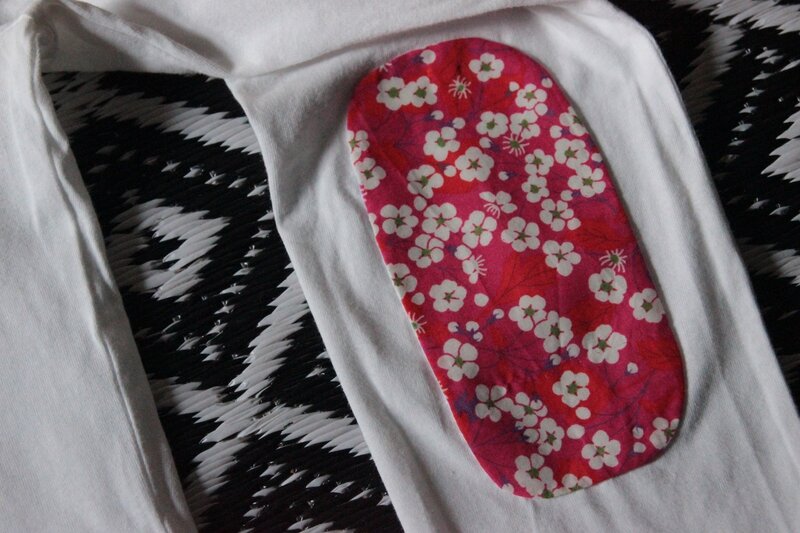 Ma foi, je le préfère comme ça, mon t-shirt ! J'adore ce Liberty et j'en ai malheureusement gâché la plus grande partie en cousant une robe qui ne me va pas... alors ça me fait bien plaisir d'avoir pû utiliser les chutes pour quelque chose que je porterai souvent.
Il est encore temps de participer au challenge organisé par Sonia: alors rapiécez, reprisez, peignez, teignez, sortez boutons, patchs, rubans, transferts, amusez-vous, et postez sur Instagram ! En prime, il y a des super lots à gagner.
I have to admit I prefer my t-shirt now! It is a Liberty print I love but unfortunately wasted loads of sewing a dress which doesn't fit me, So I am really pleased to have been able to use the scraps to make something I will wear regularly.
It is still time to enter Sonia's Fashion Revolution Week challenge, so get out your iron-ons, your fabric paints, your patches, ribbons, buttons and badges, have fun, and post on Instagram! Loads of fantastic prizes to be won!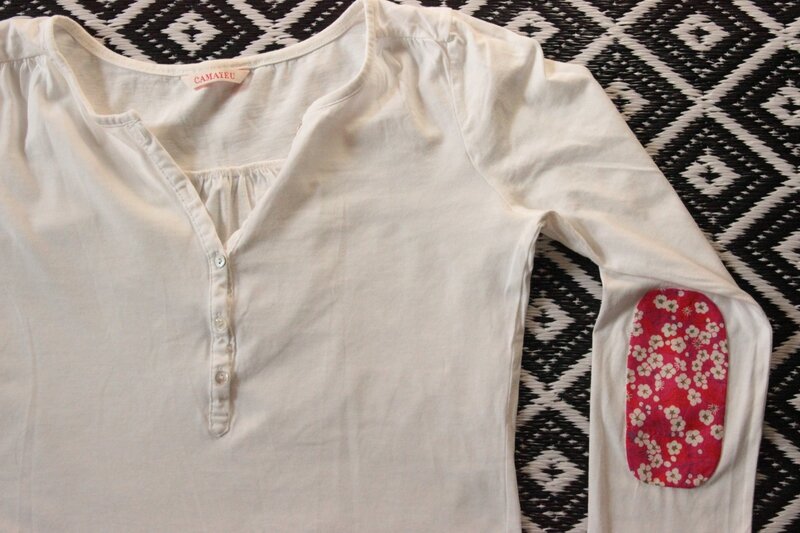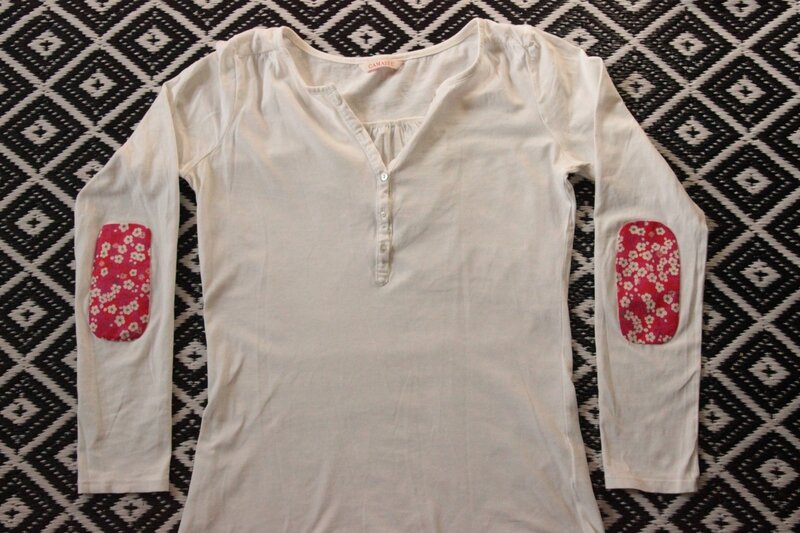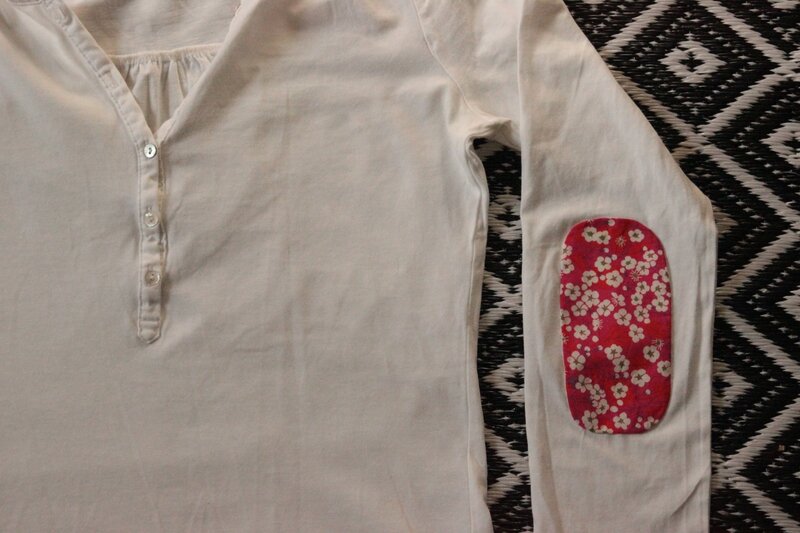 ***