Un petit tricot pour bébé issu du catalogue Pitchoun n°61 de chez Phildar, tricoté en laine mérinos achetée en promo sur le site de Black Sheep Wools il ya déjà un petit moment... je crois qu'il ne la font plus mais ils ont un grand stock de plein d'autres belles choses, ils soldent en ce moment et ils livrent en France.
Le modèle se tricote aux aiguilles 2,5 - 3,5, donc ça ne monte pas vite, mais c'est tout petit alors ça passe quand même ! Le point de riz donne un effet sympa et une matière bien épaisse et bien chaude.
Here is a small knit from Phildar's catalogue Pitchoun n°61, knitted with pure merino wool by Rowan, found on Black Sheep Wools a little while ago... I don't think they do that particular yarn any more, but they have plenty of other gorgeous things, and they have a sale on at the moment !!
This pattern uses size 2,5 - 3,5 needles, so it takes a bit of time, but being a baby cardigan it is still ok. The stitch (oh dear, just realised I don't actually know the name of it in English... help !!!) is really nice and gives a cosy, thick material.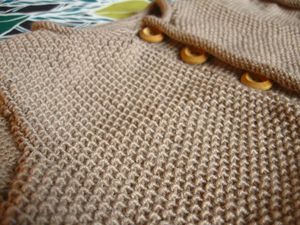 Thank you to anyone who can tell me the name of that stitch (knit 1 purl 1) !!!
PS : 21/01/2013 got my answer and apparently this is moss stitch... glad I learnt something today ! (thank you Black Sheep Wool's fb page)