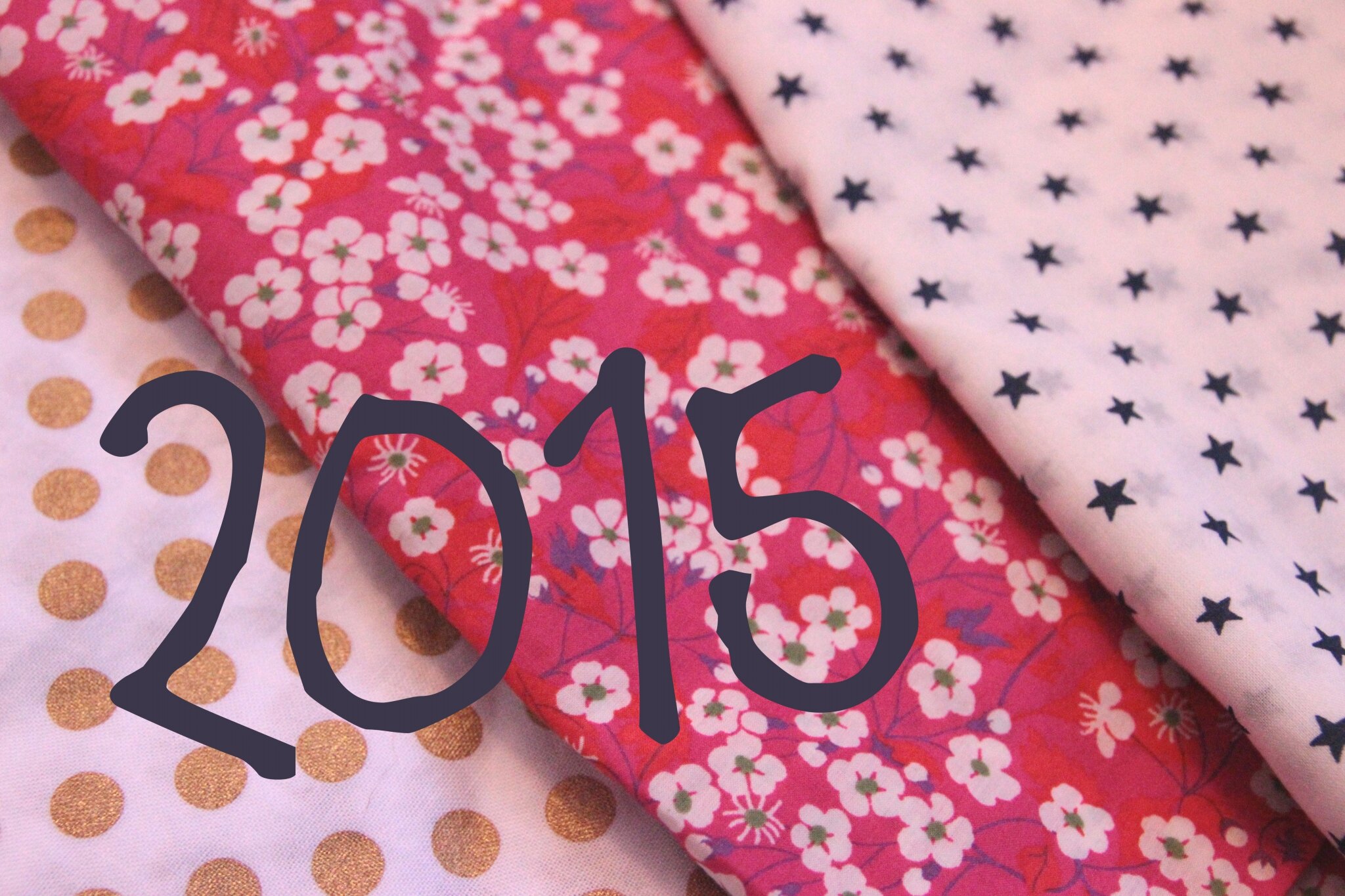 * Ceci n'est pas une résolution *
Cette année j'ai décidé de ne pas prendre de résolutions : de toute façon je ne les tiens jamais, et je finis par culpabiliser de ne pas avoir fait toutes ces choses que je m'étais engagée à faire, ce qui me pompe le peu de motivation qu'il me restait pour m'atteler à des tâches constructives. Donc en 2015 aucune pression auto-imposée, on verra bien ce que ça donnera ! Si les planètes s'alignent correctement on ne sait jamais j'aurais peut-être le temps de tricoter de la layette pour toutes ces nanas de mon entourage qui vont pondre en 2015, de coudre des pyjamas pour le mini monkey, et, qui sait, me coudre un ou deux trucs pour moi aussi !
* This is not a New Year's resolution *
This year I have made the resolution to not make any new year's resolutions: I never keep to them anyway, and it just ends up making me feel guilty for not achieving what I had set myself, which in the end stops me from doing anything altogether! So this year I am banishing self-imposed pressure in favour of a more "go-with-the-flow / see-what-happens" attitude. You never know, I may even have time to knit a few little things for those upcoming 2015 babies, to sew a few PJs for the mini monkey, and maybe even to make one or two things for myself! We shall see.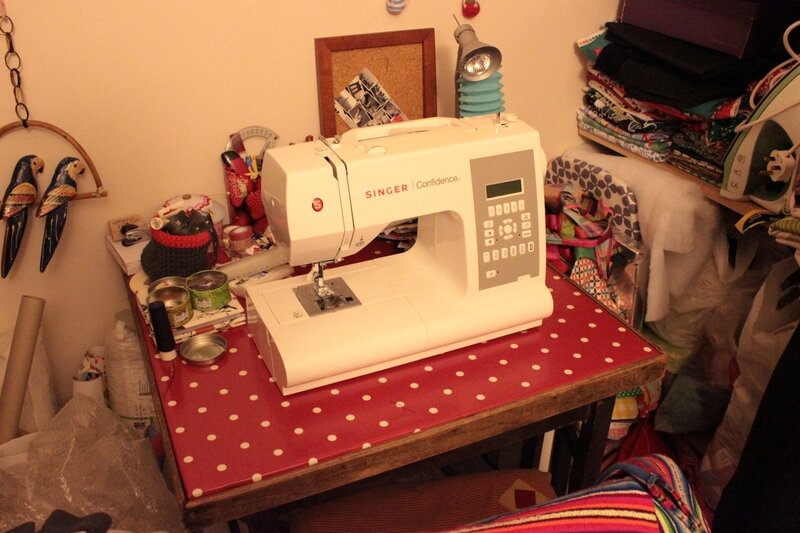 L'année commence bien : je suis depuis peu l'heureuse propriétaire de cette magnifique MAC électronique, dénichée d'occasion par Mr Monkey. Elle fait plein de points différents, elle avale le tissu, et en plus elle coud droit (ce qui est bien plus qu'on ne pouvait en dire de ma machine précédente) !!!
The sewing year is off to a good start, cue this wonderful computerised sewing machine which Mr Monkey found for me on Ebay. It is just a dream: it has an amazing selection of stitches, it powers through layers of fabric, and it even sews in a straight line (a great improvement on my previous machine)!!
Bien sûr il y a pas mal de choses que j'ai envie de / besoin de coudre pour le mini monkey. Il est en manque de pyjamas, et je viens de recevoir ce jersey imprimé singe Robert Kaufman, je le vois déjà dedans ! J'ai hâte de m'y mettre, la couture jersey est mon nouveau dada :)
Of course there are quite a few things I need to / want to sew for the mini monkey. He needs pyjamas, and I just got this Monkey print Robert Kaufman cotton jersey from Fabric Rehab, so that will have to happen. I'm quite looking forward to it, sewing with knits is my new addiction.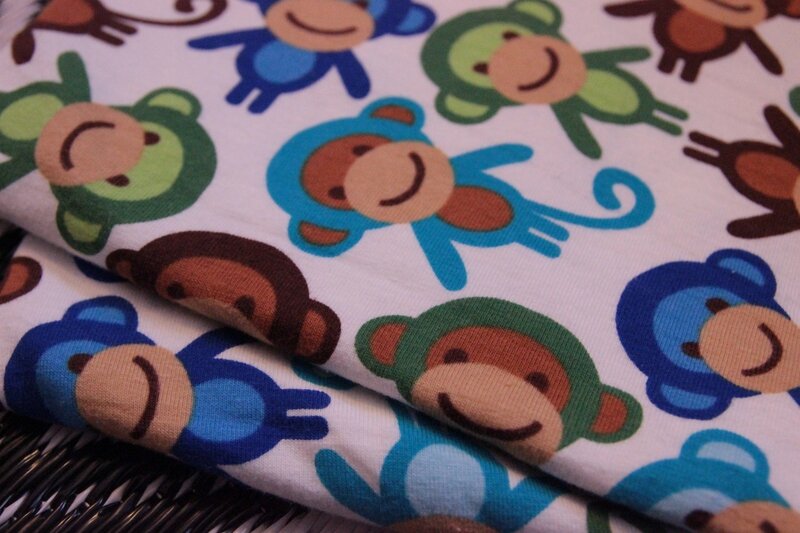 Je verrais bien aussi un petit kimono comme celui-ci avec cet imprimé éléphants, accompagné d'un legging noir. Ou peut-être qu'il est déjà trop grand pour ça...
I also considered sewing him a little kimono top like this one, with a pair of black leggings, but maybe he's already a bit too grown-up for that?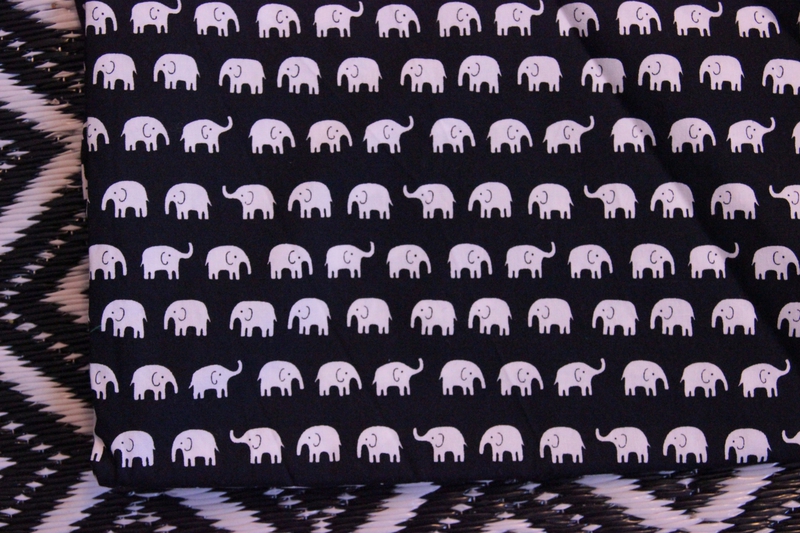 J'ai aussi ce jersey à l'imprimé plutôt girly dans mon stock, peut-être un pyjama ou un t-shirt pour ma petite filleule, ou même une robe, qui sait ?
And I also have this girly knit fabric in my stash, so may be some PJs or t'shirts, or even a dress for my little goddaughter?
Bon, passons aux choses serieuses. De la couture pour grandes !
Ca fait un bon moment que j'ai une image de ce top en tête, en wax, avec finition passepoil rose-qui-pète entre la bande d'encolure et le corps. Le patron est déjà décalqué et découpé, une paire d'heure pour couper le tissu et coudre, ça doit être possible. Merci la garderie !
So here we go, onto the serious matters: grown-up sewing!!!
I have had an image of this top in this african print with shocking pink piping between the neck piece and the body for ages in my head. The pattern is already cut up, all I need is a couple of hours to cut and sew. Surely this is feasable!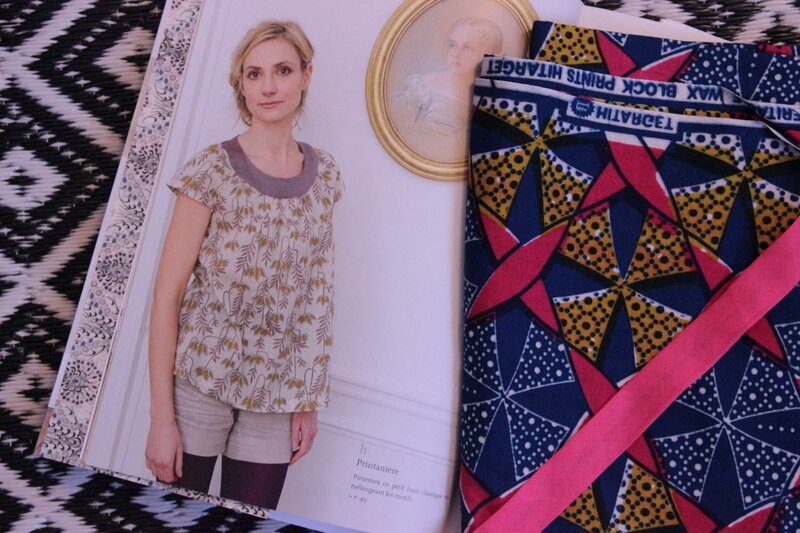 Ma chère petite Mamy Pom, assistée de ma cousine Steph, m'a offert ce livre "Un été couture" par Geraldine de République du Chiffon. J'aime presque tout, et j'ai une envie furieuse de robes depuis que je ne peux plus en mettre pour cause d'allaitement (ça complique quelque peu l'accès). Ces deux-là sont sur ma "to-do list".
My grandma (very well advised by my cousin) gave my this book (in French) for my birthday. I love most of the patterns in it, and am especially drawn to the dresses, seeing that I can't wear any as I am still breastfeeding (makes access rather complicated, so at the moment I am sticking to separates). these two styles are definitely on my to-do list for this year.

En parlant de robes, il va falloir que je me couse celle-là, la version babydoll par Paunnet du t-shirt Plantain de Deer and Doe. C'est un patron gratuit, je le vois bien en noir, avec des coudières rouges. J'ai déjà le tissu, y'a plus qu'à !
Talking about dresses, I will also have to sew this dress, as shown here by Paunnet on the Deer and Doe blog. It is a hack based on the free Plantain t-shirt pattern. I love the style, works great in a knit fabric, and it is a free pattern. What's not to love?!
En 2014 j'ai aussi reçu le livre de Tilly and the Buttons (pas encore dispo en français, mais c'est peut-être pour cette année) en cadeau avec un abonnement à un magazine de couture anglais. J'ai flashé sur le modèle de la blouse Mimi, que je voyais bien en noir et blanc avec pressions rouges. Je pensais utiliser l'imprimé Tatouée pour la journée d'Aime comme Marie, mais suite aux rumeurs récentes de plagiat ( tous les détails ici et là ) je vais sans doute essayer de trouver autre chose... Un peu de controverse dans le monde tout beau tout rose de la blogosphère couture, quelle nouveauté !
In 2014 I suscribed to Love Sewing Magazine, and received Tilly and the Buttons' "Love at First Stitch" as a subscription bonus. I am really drawn to the Mimi Blouse pattern, and was thinking of sewing it in a black and white print, with red poppers. I quite liked the idea of using Aime comme Marie's Tatouée pour la journée in a polycotton quality, but since there have been so many rumours on the net recently about her having plagiarised other people's designs I may have to reconsider my choice of fabric. Ooh I do love a bit of controversy, it's all very novel in the perfect world of sewing blogs!
Photos TATB
Photos Motif Personnel / Aime comme Marie
Finalement ça reste ambitieux comme programme... mais bon, 0 pression ! Nous verrons bien si certaines de ces idées apparaissent sur le blog avant le 31 décembre. En attendant je vous laisse avec les sages mots d'Eléonore de Deer and Doe, un beau message éthique de début d'année, ça motive et ça donne le sourire. Belle année à vous tous !
OK, it still seems fairly ambitious, but hey, all that with NO pressure, so we're alright! We will see if any of these actually appear on the blog in their completed form before the 31st of December. In the meantime I leave you with the wise words of Eléonore from Deer and Doe and wish you all a very, very happy New Year!
***