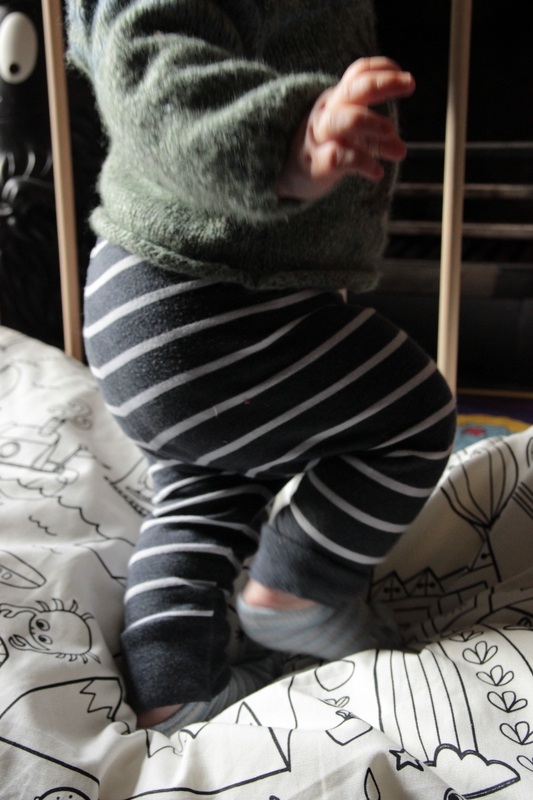 Mon fils adore se trainer partout, il rentre de la crèche avec la couche pleine de paillettes (véridique !) et il mange avec les genous, à en croire la quantité de nourriture que je retrouve collée à son pantalon. Bref, il consomme du legging à tour de bras, et quand on se change au moins trois fois par jour, il faut du stock !
My son loves to crawl around everywhere, he comes back from nursery with glitter in his nappy (true!) and eats with his knees, if I am to believe the amount of food I find stuck to his trousers. In short, as he changes outfit at least three times a day, he needs a LARGE supply of bottoms.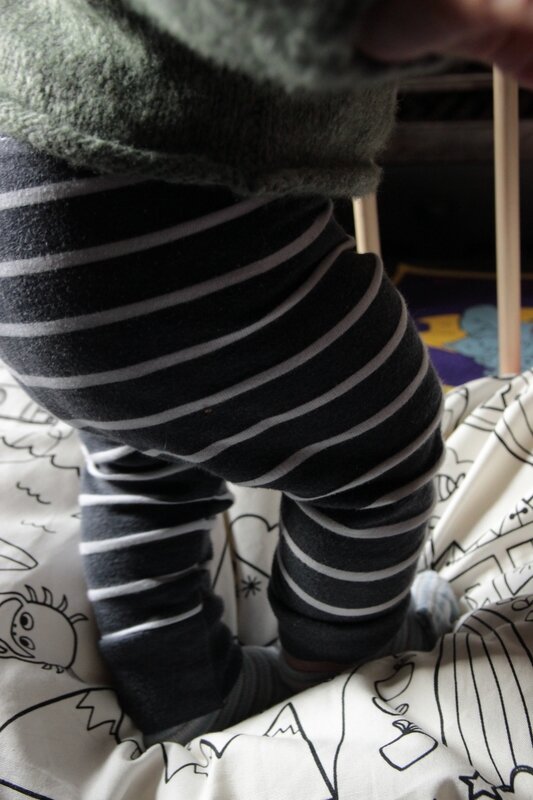 L'idée (dont je ne revendique pas l'origine, ça a été fait et archi-fait, il y a plein de tutos sur Pinterest) d'utiliser de vieux vêtements bien adoucis par de nombreux lavages et de leur donner une deuxième vie me plaisait bien. Niveau écolo et économique ça collait, un petit tour au magasin de charité et je suis revenue avec trois sweats XXL prêts à être découpés. J'avais déjà essayé avec un t-shirt et le tuto de France Duval-Stalla, en ré-utilisant l'ourlet du bas du t-shirt pour le bas des jambes, et avec une taille élastiquée. C'était portable, mais j'ai trouvé le tissu un peu fin, et le patron FDS étant identique devant et derrière il n'y avait pas de marge pour l'effet grosse-fesse, d'autant plus présent dans le cas du mini monkey avec ses couches lavables (colorées, certes, mais pas très compactes !).
The idea (which most certainly didn't originate with me, this has been done many times before, and there are many DIYs available on Pinterest) was to re-use old clothes, well worn and softened, and to give them a second lease of life. It satisfied my eco and economical needs, so I popped to the charity shop and got a couple of XXL sweaters, ready to be cut into. I had had a trial run using a t-shirt and this tutorial (in French), but the fabric was a bit too thin, and the pattern was identical at the front and the back, so didn't allow any extra room for the rather bulky washable nappies (they are pretty and colourful, but do guarantee a "big bum" effect).
Voici donc la version patron maison (à partir d'un legging du commerce qui lui allait bien), en sweat, avec l'utilisation du bord côtes du corps au bas des jambes, et bande jersey à la taille. Une demi-heure chrono, environ €1,50 de prix de revient, qui dit mieux ? Happy mummy monkey :) Et je suis particulièrement fière de mon raccord motif, bien aidé par mon super nouvelle MAC dont je vous parlerai à l'occasion...
So here is my own version, from on a self-draft pattern which is based on a pair of bought leggings which fitted the mini monkey's bum quite well. I used the ribbed edge at the bottom of the body of the sweater I cut into to make the cuffs at the bottom of the legs. It fits, it took all of 1/2 an hour, probably cost no more than a couple of quid, so I am rather pleased with it! And I am particularly proud of my stripe-matching... OK I can't show off about the matching of the seams but hey, one small victory at a time!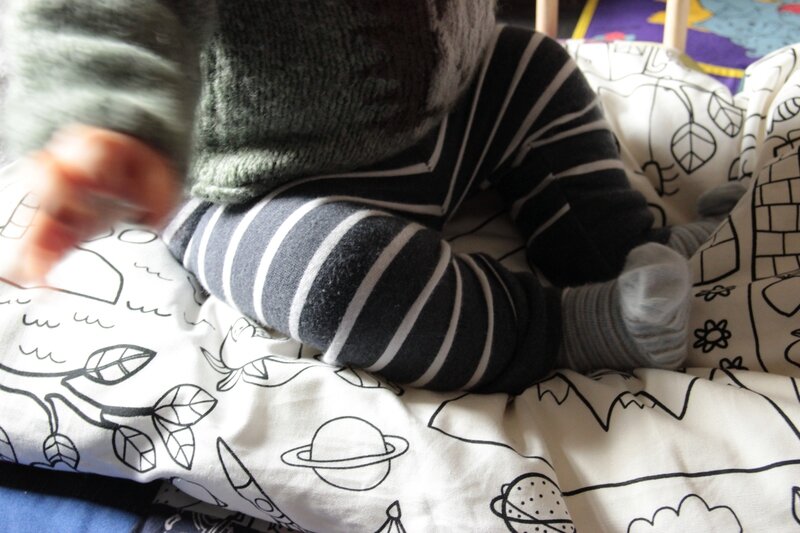 Et voici la démonstration en images que le legging est confortable, extensible, et n'entrave pas le mouvement !
See below the proof that the legging is comfy, stretchy, and allows for plenty of wriggling!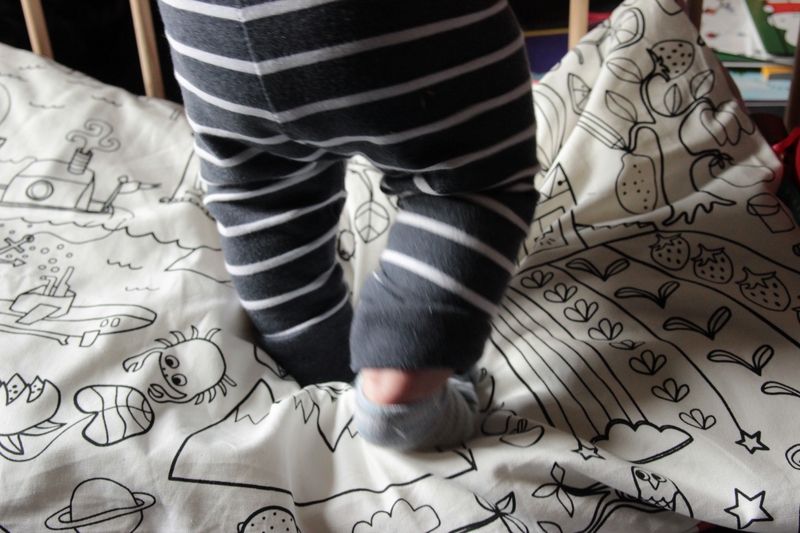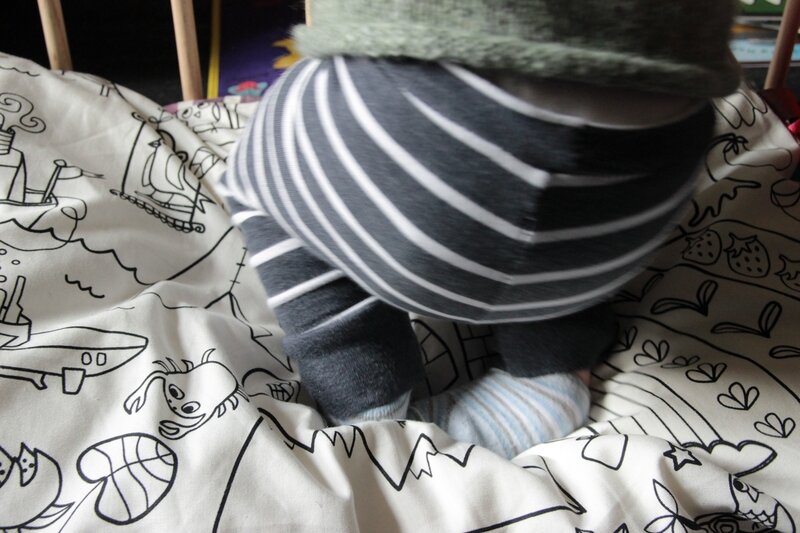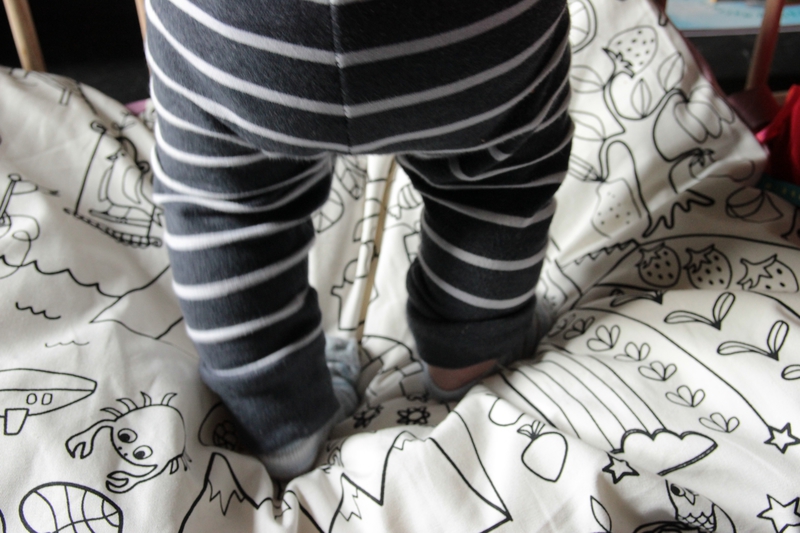 Je vous prépare un tuto, mais j'ai décidé de ne plus me fixer de délais, puisque je ne les tiens jamais! Donc voilà, un jour peut-être vous aurez un tuto de legging et ça vous fera ne petite surprise !
One day I shall write up a DIY for these, but I'm not setting myself any deadlines any more these days, as I'm pretty sure I won't make them... so if it does pop up on here one day, it will be a nice surprise!