Mon fis n'est pas un mini monkey pour rien... Disons qu'il a la bougeotte. Tout le temps, du matin au soir, et même du soir au matin. Autant dire qu'il a bien plus d'énergie que ses deux parents réunis mais bon, passons, ça c'est une autre histoire.
Le problème d'avoir des nuits agitées, c'est que quand on dort en pyjama une pièce, ça peut poser quelques soucis, cf schéma ci-dessus. En géneral on retrouve vers 5h30 du matin un mini monkey en pleurs, saucissonné dans sa turbulette avec soit 1) les deux jambes dans une des jambe du pyjama (effet sirène) soit 2) le bas du pyjama complètement ouvert et les jambes à l'air (effet jupe). C'est assez peu satisfaisant du fait que d'une ça ne doit pas être très confortable, et que de deux si le mini monkey est réveillé il partage ça avec ses parents, qui ne sont généralement pas d'humeur à cette heure-là.
My son really is a monkey: he can't stop moving, ever. He is on the go all day, and even when he sleeps, that doesn't stop him from trying out all sorts of weird and wonderful contorsions. He's got soooooo much energy, it's exhausting. But that's another story.
The problem with busy nights is illustrated in the picture at the top of this post (see normal baby 1 and monkey baby 2). The result of a night long of exercise is usually a tearful little monkey waking up around 5:30 all trussed up with both legs in one leg of his onesie (number 3, or the "mermaid" effect) or cold and confused when he has managed to open all the poppers on the legs (number 4, the "skirt" effect). Not very comfy for him, and believe it or not, we could do without the pre-dawn wake-up call!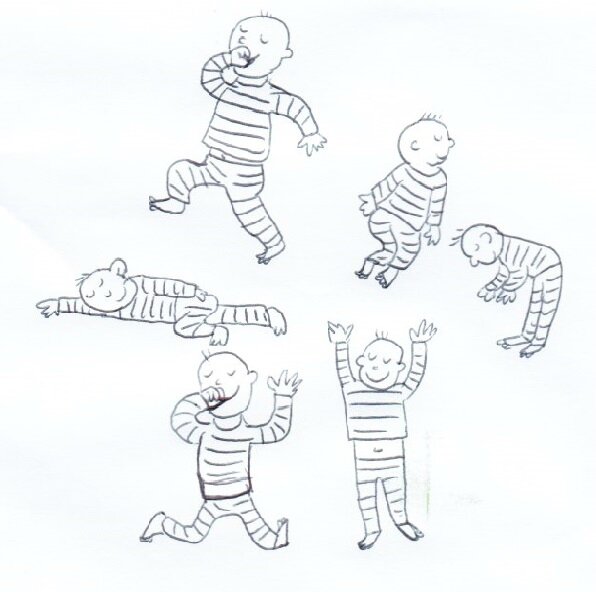 Il fallait donc trouver une solution. On nous avait offert une super paire de pyjamas deux pièces de chez Hema qu'il met beaucoup et avec laquelle aucun risque de terminer en sirène ou en jupe. Mais j'ai eu beau chercher ici en Angleterre pas de pyjamas deux pièces en taille 9 mois dans les magasins. Je me suis donc tournée vers mon ami fidèle le magain de charité, et le sweat XXL à £1.99.
J'ai repris le patron du legging montré ici, et bricolé un patron de t-shirt à partir d'un haut qui lui allait bien. Les épaules sont improvisées, en rajoutant un peu de longeur de chaque coté de l'encolure pour que ça se chevauche, et en décousant le biais de l'encolure du pull d'origine pour le réutiliser. Je n'ai pas résisté à l'envie de faire usage de mes peintures textiles pour ajouter un petit motif sur le devant. Résultat : approuvé par le mini monkey, qui peut maintenant s'adonner à ses exploits nocturnes sans crainte.
For his sake as well as ours, a solution had to be found. Some dear friends of ours had given him a lovely pair of 2-piece pyjamas, and he was sleeping really well in those, with no skirt or mermaid risk. But I really struggled to find some separates in the shops in his size (9-12 months). So once again I turned to my faithful friend the charity shop, and the all time favourite £1.99 XXL sweatshirt.
The bottoms are a straight copy of those shown here, and I improvised a top based on a t-shirt which fitted the monkey well. I just added some overlapping shoulder pieces because I couldn't be bothered to make a button placket, and reused the original bias binding from the jumper which I unpicked. Sorry, couldn't resist getting out the fabric paints to add a little personal touch. And it works! He sleeps, he moves, and in the morning he is still wearing his pyjamas in about the same way as I put him into them the night before. Result! And I think he looks really cute in them (with all impartiality, of course).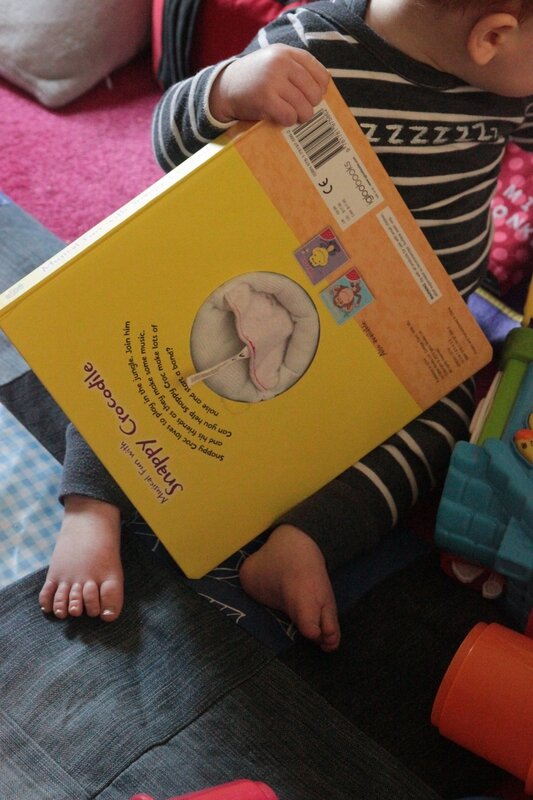 Bon d'accord, il a déjà l'air un peu à l'étroit... J'en refais un autre prochainement, ça me donnera l'occasion de vous préparer un petit tuto !
OK, they already look a bit tight... I'll make another pair soon, it will be a perfect opportunity to take some pictures for a step-by-step tutorial!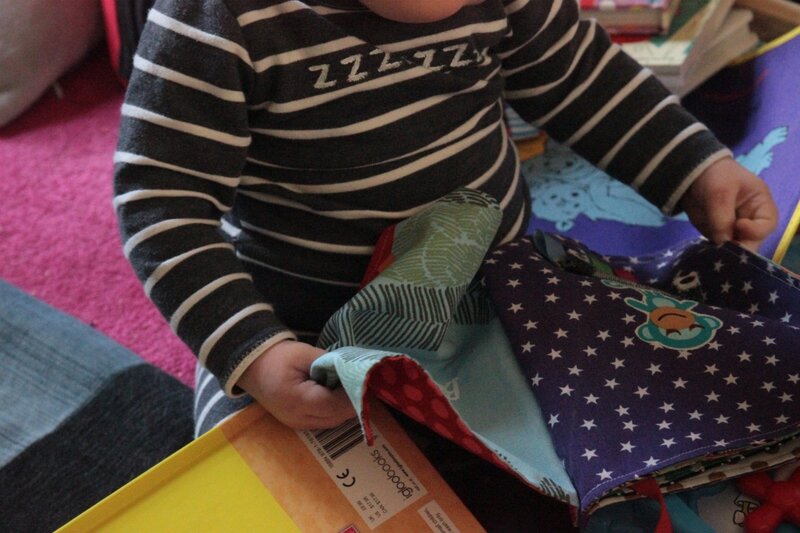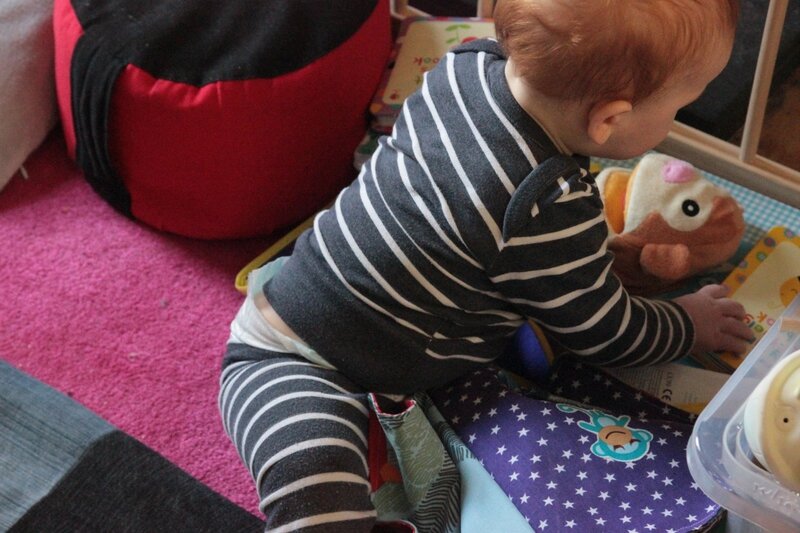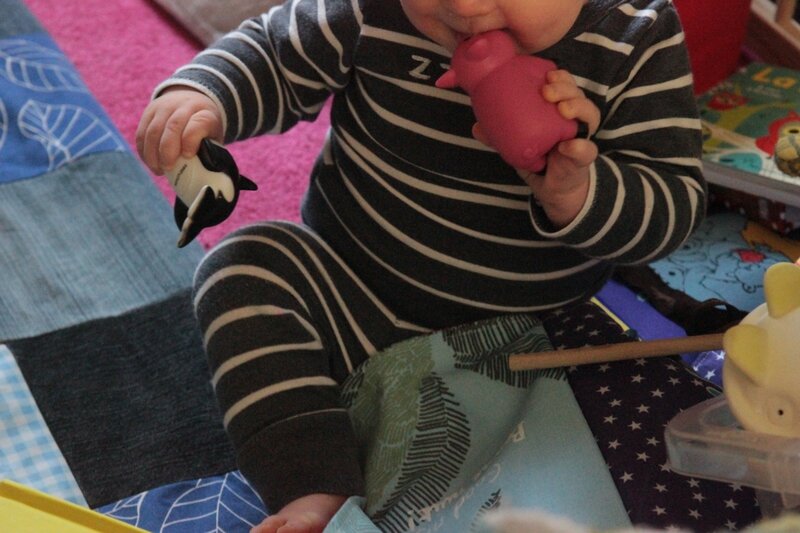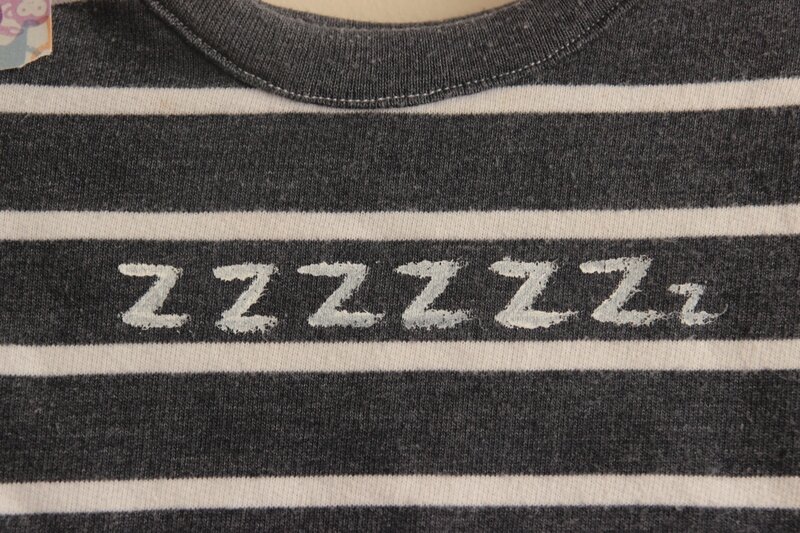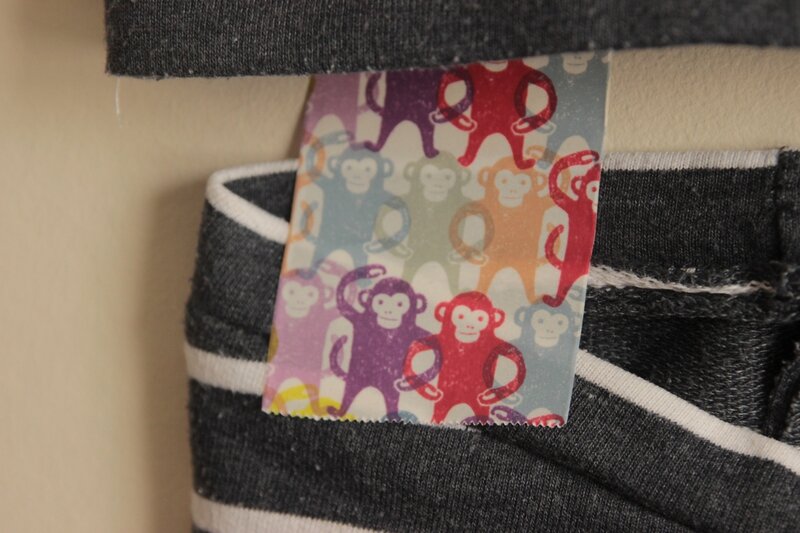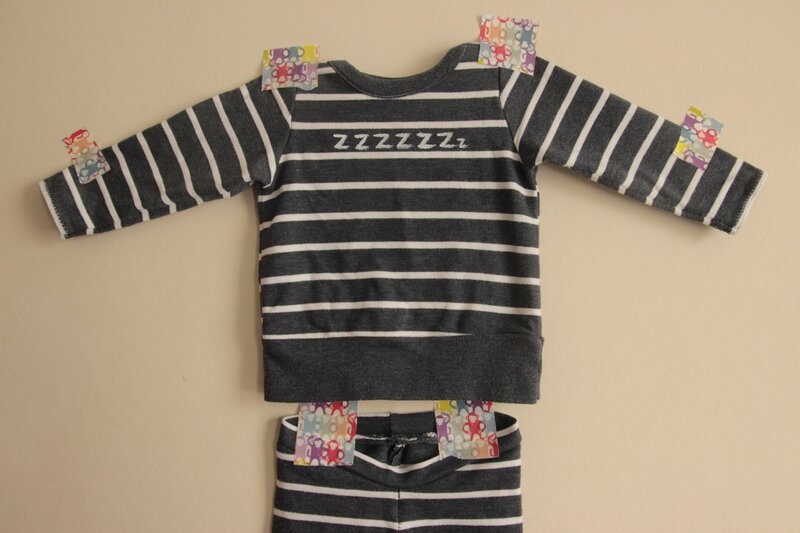 Comment ça le bas n'est pas droit ?! La faute au sweat d'origine qui a été repris tel quel... enfin pour £1.99 j'ai pas vraiment le droit de me plaindre ! Et les épaules, elles sont montées à l'envers ! Je pourrais prendre comme excuse le manque d'éclairage et les séances de couture nocturnes, mais là je dois bien avouer que c'est de ma faute...
But the bottom part of the t-shirt isn't straight, I hear you say... I'll blame it on the original garment which I cut into, as I reused the hem as it was. Can't really moan though, seeing as it only cost £1.99... And what about the back-to-front shoulders, you add? OK, entirely my fault, even though I'll try and blame it on the poor lighting and late night sewing sessions...