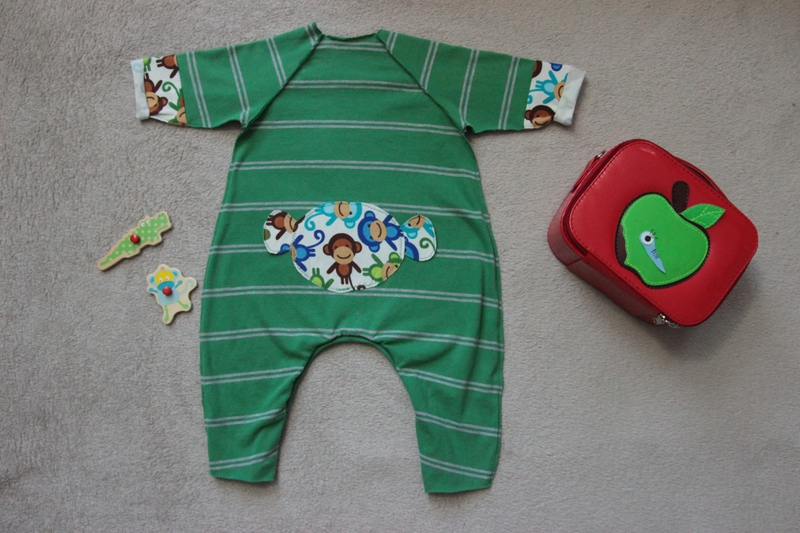 Quand papa Sidney a vu le pyjama-singes du mini monkey, il en a tout de suite demandé un pour son fiston de 3 mois, affirmant que ça l'aiderait à dormir (après quelques semaines je crois que les parents commençaient à souffrir des nuits entrecoupées...). Bon, j'avais pas du tout la pression ! Surtout qu'il ne me restait qu'un tout petit morceau de jersey singes. Heureusement le patron Cat Baby de Vanessa Pouzet et un t-shirt du magasin de charité sont venus à ma rescousse. Le patron venait tout juste de sortir (je suis sérieusement en retard au niveau des coutures à vous montrer ici) et m'avait bien tapé dans l'oeil : simple, joli, et bon marché à 5.90€ le PDF. Et surtout il avait du potentiel singe, avec l'appliqué chat sur le popotin, qui pouvait facilement se transformer en monkey !
When daddy Sidney saw the mini monkey's monkey pyjamas, he immediately told me that he needed a pair for his three-months-old son, and that it would help him sleep better. I did feel the pressure: I had some exhausted parents relying on my sewing to help their baby sleep at night (!) and only a very small amount of monkey fabric left to do so. Thankfully the Cat Baby pattern from Vanessa Pouzet and a trusty XXL charity shop t-shirt came to my rescue. The pattern had just been released (this was in November, I have a serious backlog of sewing-projects-that-need-to-be-blogged-about) and had drawn my eye immediately: simple, cute, and cheap at 5.90€ for the PDF version. And last but not least, it also had monkey potential, as I could quite easily imagine that bum appliqué morphing into a cheeky monkey. (The pattern is only available in French at the moment, but I am sure an English version will follow. Even in French, it has an illustrated step-by-step and is really easy to put together, so it should be workable.)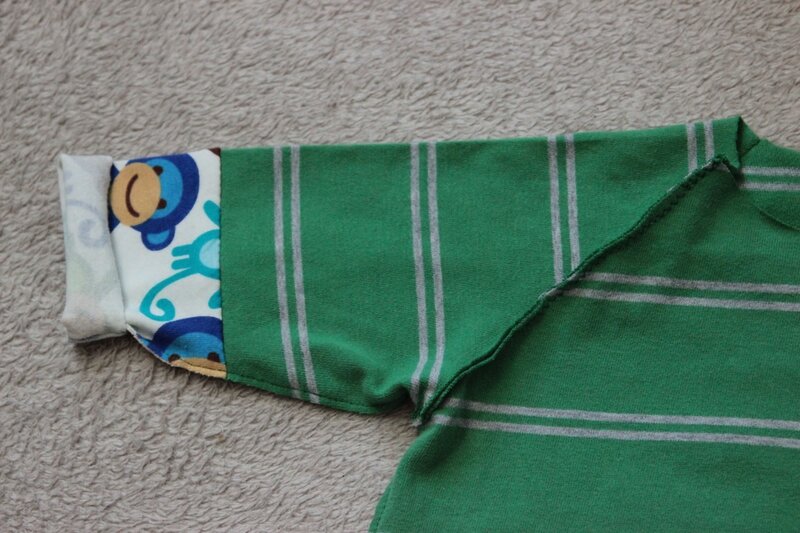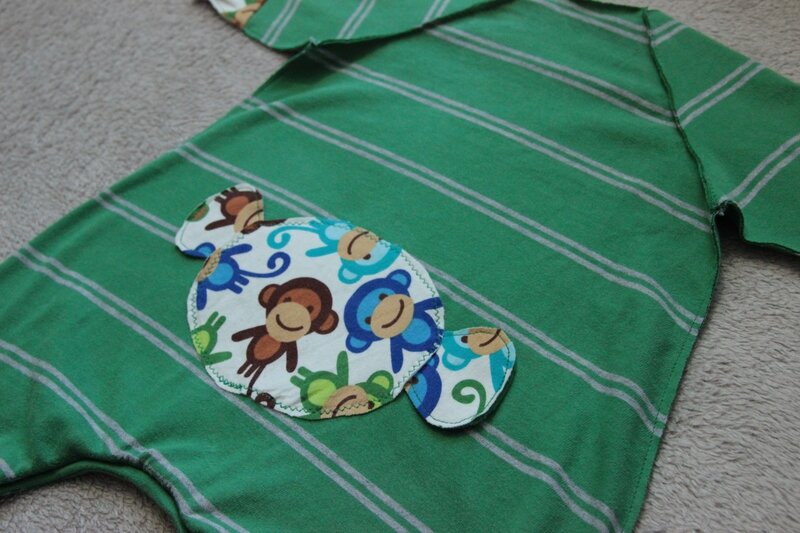 Ce petit pyjama aurait dû monter vite et facilement, et ç'aurait été le cas si je n'avais, dans ma hâte, cousu la patte de boutonnage de l'entrejambe à l'envers... et je ne m'en suis aperçue qu'après avoir surpiqué le tout... Bref, après un bon moment à manier le découd vite (tout en marmonnant des jurons) et à recoudre le tout dans le bon sens, on avait enfin un pyjama. Et à part ce délai auto-imposé, c'était une couture rapide et sans difficulté. Les bords à cru fonctionnent bien, ils ajoutent un détail sympa, et réduisent le temps de couture.
It should have been super easy and quick and it would have, if I hadn't tried to sew too quickly, resulting in the crotch button band being sewn on the wrong way around... and I only realised after topstitching it... cue lenghty unpicking (and just a little bit of swearing...) and re-sewing in place. Appart from this self-imposed delay, it came together quickly and easily. And the raw edges work well, and add a cute detail, as well as reducing the sewing time.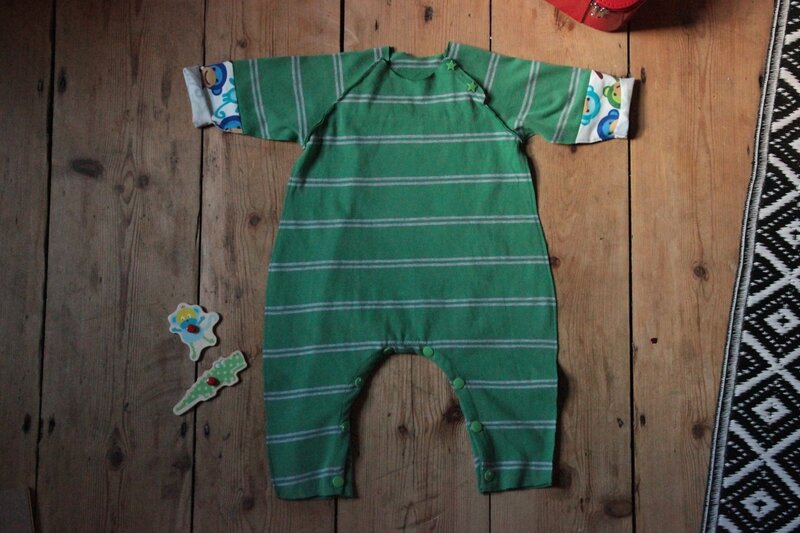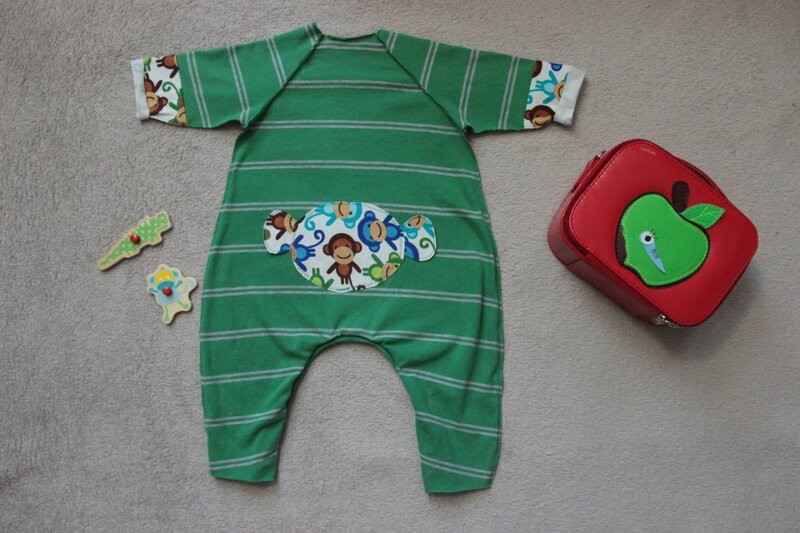 L'appliqué singe est basé sur le gabarit de la tête de chat prévue dans le patron (sans les oreilles), en rajoutant de petites oreilles rondes sur les côtés, coincées dans la couture. J'ai cousu une taille 3 mois pour le petit Marcel et c'était pile-poil, par contre ses parents ne m'ont pas dit si ça l'avait aidé à dormir !
The monkey appliqué is based on the cat template included in the pattern (minus the ears), with round ears sandwiched in on the sides and held on by the topstitching of the head. I cut a size 3 months, which was just right for little Marcel. The only thing I don't know, is if it actually helped him to sleep better!
***