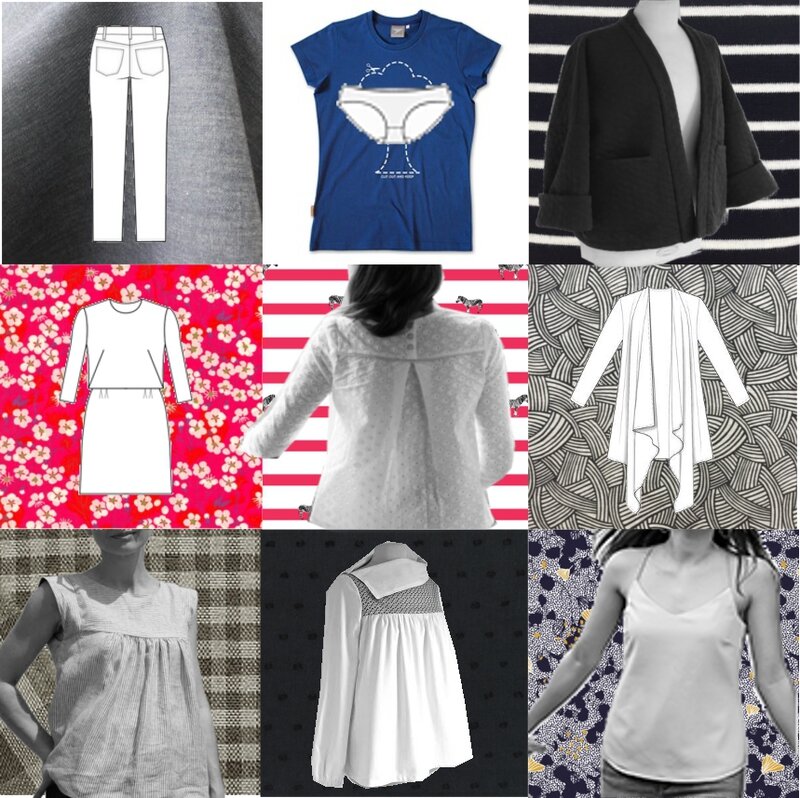 En ce début d'année j'ai vu fleurir sur Instagram de jolies sélections de 9 projets couture sous le hashtag #2016makenine (idée lancée, il me semble, par Lucky Lucille). L'idée ma bien plu, surtout parce que certaines de ces planches étaient plutôt chouettes, mais aussi parce qu'il y a plusieurs patrons qui me font de l'oeil, et que je m'aperçois que j'ai peu cousu pour moi en 2015. Alors avant que ce blog ne devienne un rendez-vous layette, il faut que je me ressaisisse ! J'aspire à un peu plus de style cette année, il faut dire que je travaille en pyjamas (véridique, version "Scrubs") et que la plupart du temps il me faut des tenues vélo et mini monkey compatibles... c'est-à-dire pratiques et qui ne craignent rien. Je suis donc adepte des blouses, gilets et jeans, mais aucune raison de ne pas m'en coudre dans des tissus qui me plaisent et soient un peu originaux !
In January my Instagram news feed has been dotted with some interesting 9 square sewing-themed panels, under the hashtag #2016makenine. I think it is Lucky Lucille who initiated this, and I quite liked the idea. It made for pretty and inspiring browsing, and it made me think about what I would like to sew for myself this year, seeing that in 2015 I have mostly sewn for little ones (my own and my friends' and family's). So before this page becomes an official kid's sewing space, change needs to happen. And it is just as well as I could do with a style upgrade: I spend my life in either bike and mini monkey-friendly outfits (i.e. jeans and t-shirts) and work in scrubs, so am far from elegant in my daily existence. I long for a few more tunics, cardis and nice trousers for those days when I am off and fancy being comfy but not frumpy. And it so happens that I have come across some great fabric and appealing patterns recntly, so here goes!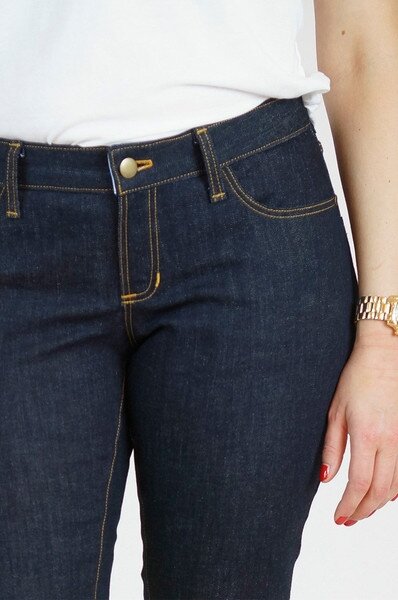 Ginger Jeans - Closet Case Files * Organic denim - Offset Warehouse
Ma seule paire de jeans achetée d'occasion il y a plus de 10 ans commence à fatiguer, et j'ai flashé sur le Ginger de Closet Case Files après avoir vu cette version. A l'heure où tout le monde se coud des Birkin Flares, j'ai 3 trains de retard mais tant pis! Et il y a du jean éthique et écolo (et relativement abordable) chez Offset Warehouse qui devrait être parfait pour l'occasion.
My only pair of jeans, bought over 10 years ago from the charity shop are starting to fray a bit, and I have been really impressed by this blogger's version of the Ginger jeans pattern from Closet Case Files. I know every blogger is sewing themselves Birkin Flares as I type, but I am about 3 seasons late in my taste and will go for this straighter fit. And I have found some great organic eco denim at Offset Warehouse which would be perfect.
La Parisienne - Louis Antoinette Paris * Liberty Mitsi fuschia - Ma Petite Mercerie
Un patron gratuit, une petite robe sympa ? Yes please ! J'ai foncé, elle est finie, et... elle ne me va pas du tout. Quand j'aurai fini de pleurer les heures perdues à coudre quelque chose que je ne mettrai jamais, je vous en parlerai peut-être... (le patron est maintenant payant, il était mis à disposition gratuitement pour un concours, ce qui a contribué à me motiver à le coudre... un peu moins de hâte la prochaine fois...)
It was a free pattern, a nice little dress, I have already sewn it up, and... it does not suit me. At all. Oh well... when I finish sulking I may tell you more about it, but not yet!
Alice - Sew Tessuti * Double gaze reversible - Etoffe des Héros
Le patron Alice de Tessuti est tout-à-fait le genre de chose que j'aime porter (j'avais beaucoup apprécié leur patron Libby, clair et détaillé, que j'avais cousu ici), et j'ai une double gaze en stock qui lui est destinée. Vivement l'été !
The Tessuti Alice pattern is right up my street (I was also very impressed last time I sewed a Tessuti pattern), and I have some dreamy double gauze lined up ready for it. Can't wait for the right weather to wear this!
La trop facile & Anne Charlotte - Delphine et Morissette * Organic Merino knit - Kitschy Coo
Delphine & Morissette est très, très classe. Bon je n'aurai jamais son élégance, mais je m'offrirai bien une paire de ses patrons. La trop facile est un grand gilet forme kimono parfait pour ce jersey merinos bio rayé trouvé chez Kitschy Coo (j'en rêve en ce moment avec le froid ambiant), et j'adore le col de l'Anne Charlotte, et son empiècement qui permet un peu de fantaisie.
Delphine et Morissette is the ultimate stylish woman to me. I will never have her level of elegnace, but I may sew myself a couple of her patterns. The "Too easy" is a kimono style oversized cardigan which I plan to sew in this gorgeous striped organic merino knit from Kitschy Coo. And I just love the collar of the Anne Charlotte, and the front panel which allows for a splash of pattern.
Violette - Dessine Moi un Patron * Interlock marinière Massai groseille - Bo Graphik
La Violette est un peu chère et un peu trop chic à mon goût, mais j'adore ce dos avec le pli creux et la patte de boutonnage... Alors j'hésite encore, je me demande si je ne pourrais pas adapter un autre patron pour inclure ces détails, mais je me laisserai certainement tenter. Et si je l'achète, j'espère pouvoir la faire rentrer dans les 75 cm d'intelock marinière zèbres que j'ai achetés en soldes chez Bo Graphik...
This pattern is a little bit expensive and probably too dressy for me, but I have just fallen for its box pleat and its button placket, so I may still purchase it. And if I do, I really hope it fits into the very small cut of this delightful zebra striped interlock I got in the sale!
Sur ma liste pour cette année figurent aussi des culottes coupées dans des t-shirts recyclés, un grand gilet en jersey (patron à déterminer), et un petit haut d'été à fines bretelles, au cas où l'été arrive un jour ! Et si je me tiens à mes résolutions, je serai peut-être un peu mieux habillée d'ici la fin de l'année. J'aspire, comme beaucoup, à un peu plus de cohérence dans mes choix, et j'espère coudre des pièces que je mettrai et remettrai (bon c'est mal parti avec La Parisienne, mais on ne peut que s'améliorer !). J'avais lu quelque part que pour déterminer quelles vêtements de sa garde robe on mettait vraiment, une astuce est de mettre tous les cintres dans le même sens en début d'année, et de les retourner après avoir porté la pièce. A la fin de l'année, on peut certainement donner à quelqu'un qui les appreciera vraiment ceux qui sont toujours dans le premier sens ! Et je vous envoie chez Sonia pour le 30 wear challenge. La slow fashion, c'est pour 2016 :)
Also on my to-do list are knickers made out of old t-shirts, a loose cardi in a thin jersey, for which I have not found a pattern yet, and a summer top in a lovely cotton lawn, if summer ever comes! If it all comes together I may be a tad less frumpy by the end of the year ;) Like many I long for a little bit more coherence in my choices, and that does apply to clothes. I don't buy new and only occasionally purchase from charity shops, but I would like to sew things that I love and wear time and time again. I read somewhere that a good way of finding out which garments you really wear was to turn all your hangers the same way at the beginning of the year, and then to turn them round the other way the first time you wear the item of clothing. At the end of a given period, if the hanger is still in the original position, it is probably time to re-home the neglected garment! And do hop over to Sonia's for all the details on the 30 wears challenge. Let 2016 be the year of sustainable fashion!
***