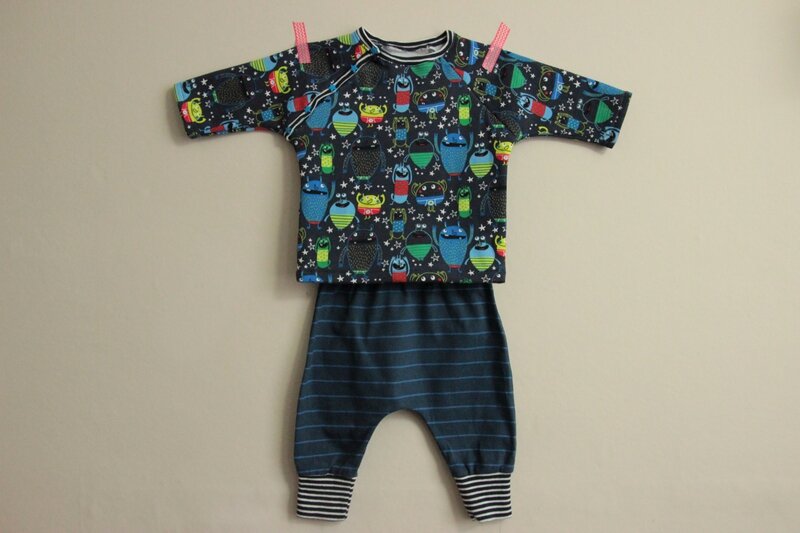 Si j'avais promis un pyjama-singes à papa Sid, j'avais aussi promis à maman Drey des monstres en slip pour leur tout petit, s'il s'avèrait être mâle. Et bien ça n'a pas fait un pli, et heureusement il m'en restait un petit morceau après le sweat à capuche du mini monkey, donc je me suis fait une joie d'obtempérer !
I may have promised daddy Sid that I would sew some monkey PJs for his son, but I also told mummy Drey that if their little one was a "he", I would make something for him with the mosters in underpants knit. So when the little boy was born, I knew I had to keep to my word, and luckily I had just enough fabric left after sewing the mini monkey's hoodie to rustle something up.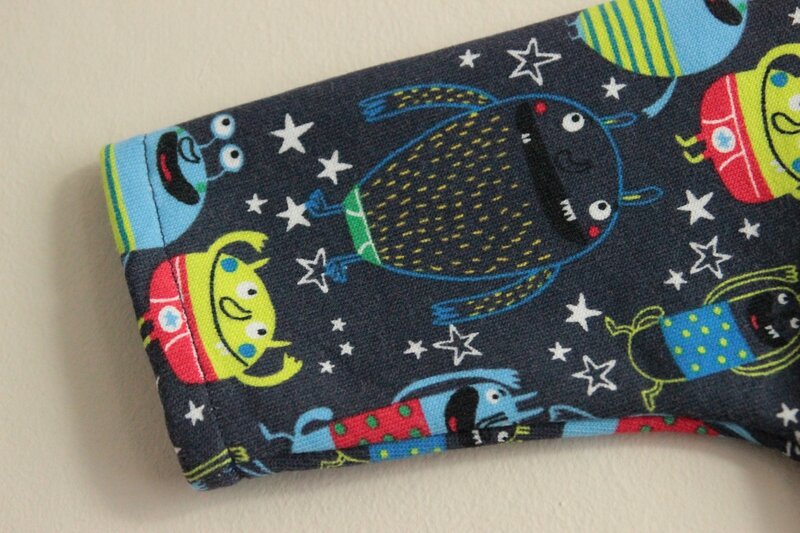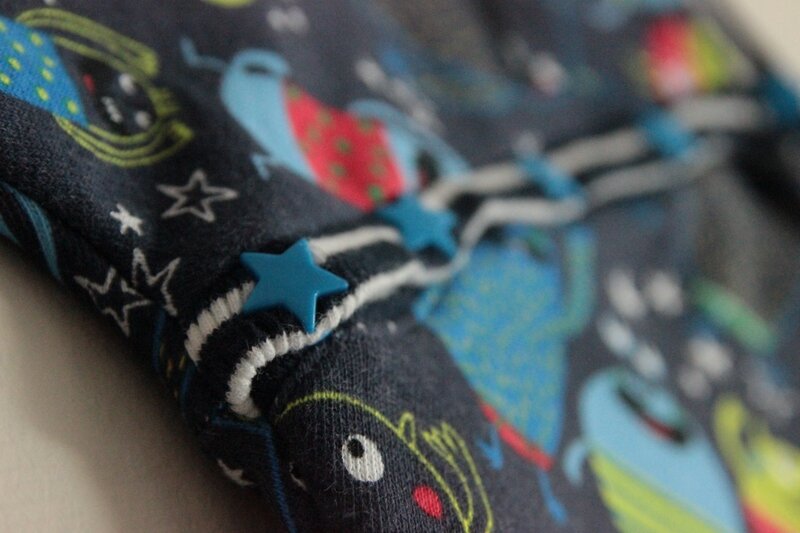 Le petit haut est une version allègrement modifiée du sweat numéro 5 du catalogue Ottobre 1/2015. Au départ il s'agit d'un patron très simple comprenant 2 pièces (un devant et un dos comprenant les manches) mais comme j'avais peu de tissu j'ai dû le transformer en manches raglan, ce qui me faisait plus de pièces mais moins grandes, donc plus faciles à caser sur le tissu. Et comme je trouvais l'encolure un peu petite pour passer une tête de bébé j'ai rajouté une bande de boutonnage sur un des côtés du raglan.
The little top is a very modified version of the number 5 jumper in Ottobre 1/2015. The original pattern is very simple and consists of 2 pieces: a front and a back, both including sleeves. As I only had a small cut of fabric I converted it to a raglan sleeve pattern so I had more but smaller pieces, easier to fit into my remnant. And I found the neckhole a little on the small side, so added a button placket to one side of the raglan to make for a wider opening.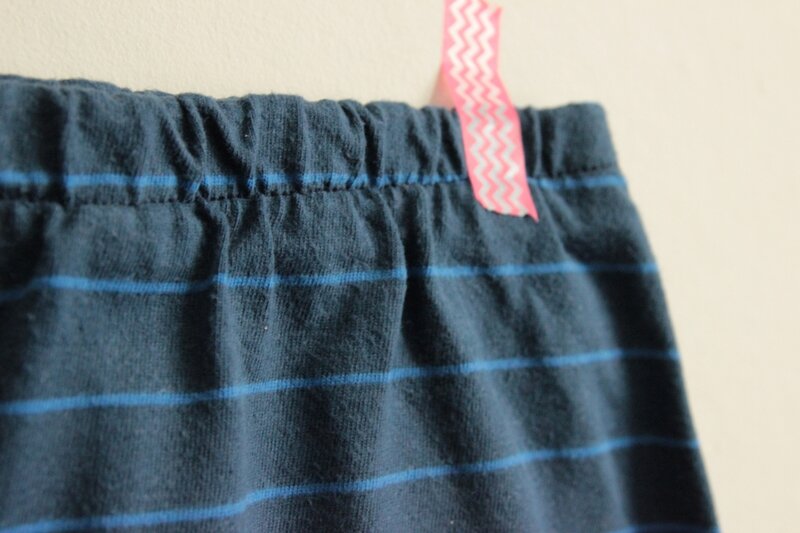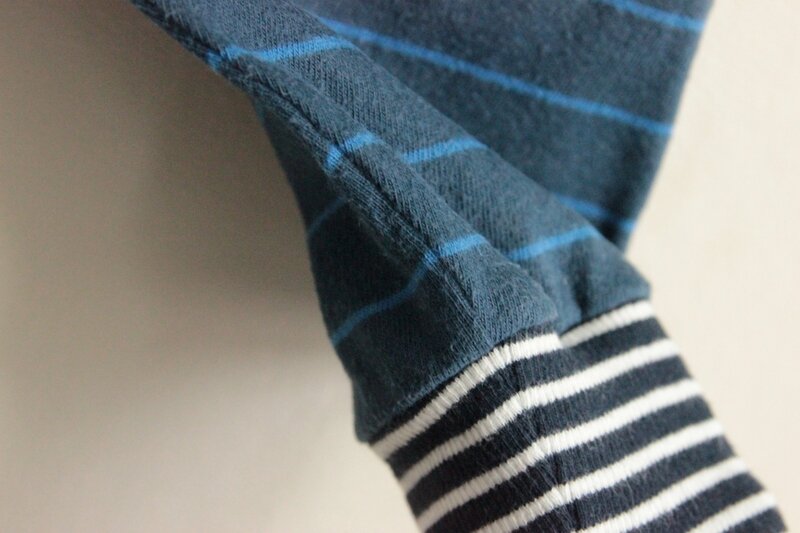 Le pantalon est le numero 6 du même catalogue, tout simple lui aussi : un devant, un dos, un elastique pour la taille, et du bord côtes aux chevilles. Je n'ai pas fait dans l'originalité pour celui-là, juste découpé les pièces dans un vieux t-shirt, et utilisé le même bord-côtes que pour le haut. Par contre je suis plutôt fière de mes raccords rayures !
The bottoms are number 6 from the same Ottobre catalogue, another very simple pattern with one front piece, one back piece, a little bit of elastic for the waist and some ribbing for the cuffs. I pretty much stuck to the pattern, just cutting it out of an old t-shirt and using the same ribbing as for the top. I am, however, rather pleased with my stripe-matching at the seams!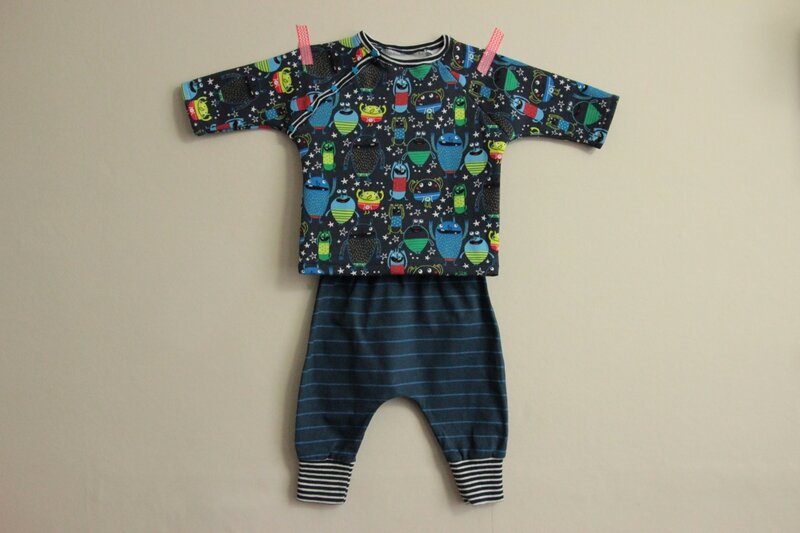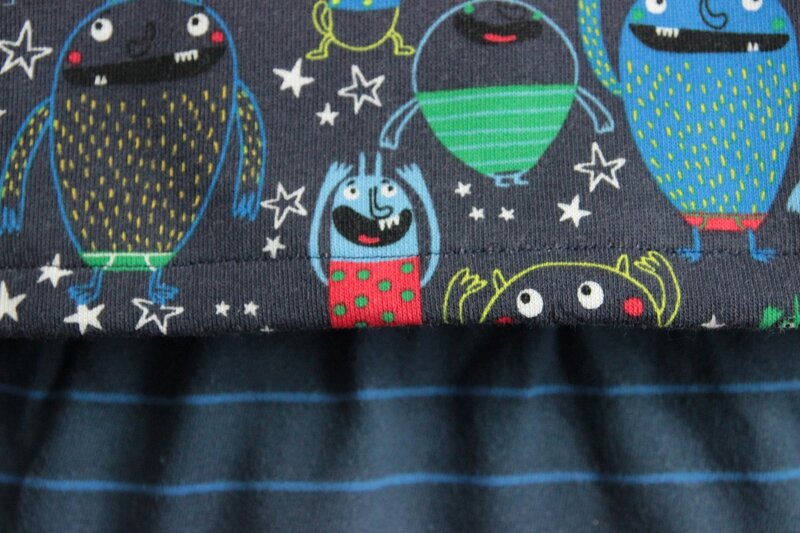 Patrons Ottobre 1/2015 numéro 5 et 6, stature 68 cm. Tissu sweat Oeko-Tex de chez Loiseau Fabrics, et le bord côtes vient aussi de chez eux. Je ne me lasse pas de ces monstres en slip !
Ottobre 1/2015 patterns, number 5 and 6 in a size 68cm. Sweatshirt knit and ribbing from Loiseau Fabrics, Oeko-Tex certified. I just can't get enough of these monsters in underpants! Too cute!
***