Salut ! Qu'est-ce que vous portez aujourd'hui ? Est-ce que vous savez comment ont été produites les fibres qui composent votre t-shirt, qui les a fait pousser, qui les a teintes, qui a cousu votre pantalon ? Moi non plus, pas toujours, et j'avoue que ça me gène. Heureusement, on peut changer les habitudes et faire passer le message : on veut savoir d'où viennent nos vêtements, et êtres assurés qu'ils sont produits dans le respect de l'environnement et des conditions de vie des travailleurs de l'industrie textile. L'organisation Fashion Revolution y travaille depuis la catastrophe du Rana Plaza en 2013 et demande aux grandes enseignes de mode : "Who made my clothes?".
Tout cela est plutôt sérieux, mais on peut devenir revolutionnaire de la mode en version fun et positive ! Du 18 au 24 avril c'est la Fashion Revolution Week, l'occasion parfaite de poser des questions et d'ajuster notre mode de consommation. Et pour ce faire, Sonia d'Une année de couture (et oui, encore elle !) lance un défi plutôt sympa, avec à la clé de magnifiques lots pour couturière responsable à gagner !
Hi there! What are you wearing today? Do you know how the fibers which make up your top were produced, who grew them, who died them, who sewed your trousers together? I don't, at least not always, and I can admit that it bothers me. Luckily, there is a way to change our habits and to send a message out: we want to know where our clothes come from, and to be assured that they were produced with respect for the environment and for the people who work in the textile industry. The organisation Fashion Revolution set off with this mission in 2013 after the Rana Plaza disaster, and is now asking all major clothing brands: "Who made my clothes?".
All of this is a bit on the serious side, but fear not, there are ways of joining the revolution as well as having a bit of fun. From the 18th to the 24th of April it is Fashion Revolution Week, the perfect opportunity to ask questions and to adjust the way we buy fashion. This is why Sonia from Une année de couture (remember her?) has launched a great challenge, with fantastic ethical sewing prizes to be won.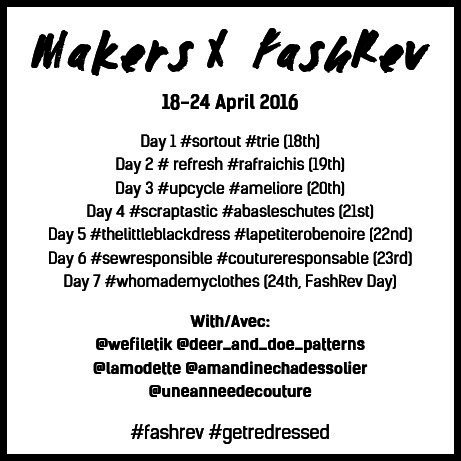 L'idée est de poster une photo chaque jour de la semaine sur Instagram illustrant le thème du jour avec humour et créativité. De quoi se donner des idées et partager de l'inspiration pour mettre un peu plus de conscience dans notre garde-robe ! Pour participer on suit les comptes @uneannéedecouture et @fash_rev sur instagram, et on reposte la photo ci-dessus. Puis on poste au moins 3 photos pendant la semaine (Seule la participation le dimanche avec "Who made my clothes?" est obligatoire) pour tenter de gagner des lots incroyables offerts par de super entreprises responsables : Les trouvailles d'Amandine, Fil Etik, La Modette et Deer and Doe. Sacré panel !!
The idea is to post a picture on Instagram each day, illustrating the day's theme with creativity and a bit of fun. At the end of the week, we should have shared loads of inspiration and ideas on how to enjoy fashion responsibly! To enter the challenge, just follow @uneannéedecouture and @fash_rev on Instagram, and re-post the picture featured above. Then you post at least 3 pictures during the week (the only compulsory day is the Sunday with "Who made my clothes?") to win some amazing ethical sewing prizes from well known responsible stockists: Les trouvailles d'Amandine, Fil Etik, La Modette et Deer and Doe. What a line-up!!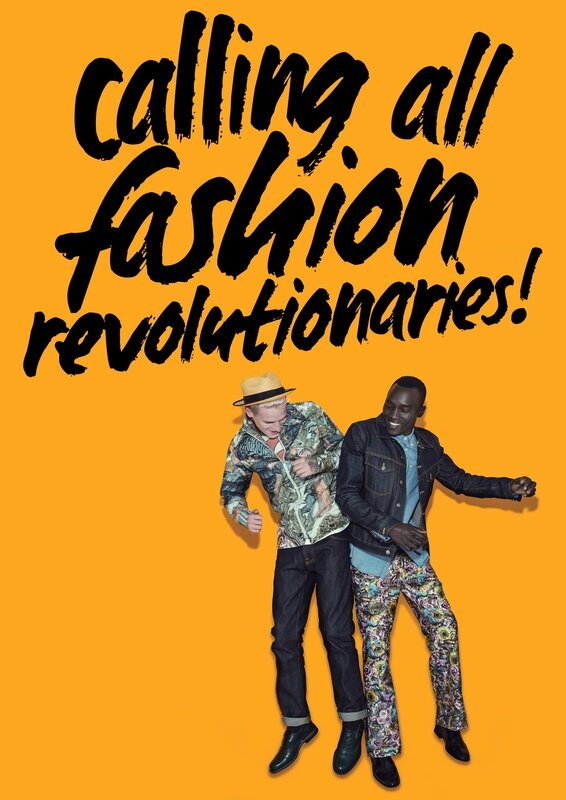 Alors filez donc sur le blog de Sonia pour plus de détails sur le défi et d'idées pour avoir une garde-robe plus humaine, plus écolo, mais avec style ! Pour ma part je participe bien sûr au défi, et je tenterai de publier un petit article ici chaque jour pendant la Fashion Revolution Week. Rendez-vous le 18 !
So hop over to Sonia's blog for all the details and plenty of ideas for a responsible -but very stylish- wardrobe! I will of course be joining in with the challenge, and will try and publish a little post every day of Fashion Revolution Week over here. See you then!
***