Bon d'accord ça m'arragerait bien parfois de pouvoir me dédoubler (me détripler ?), comme ça je pourrai envoyer un exemplaire chercher le fiston la garderie pendant que les deux autres resteraient à la maison. Pour aujourd'hui je me contenterai d'un petit montage photo sur le thème de la petite robe noire, qui m'a permis de bien m'amuser avec mon pied d'appareil photo et un logiciel de retouche d'image. L'idée est d'accessoiriser une pièce basique pour différentes occasion, ce qui prouve bien qu'on n'a pas besoin d'une armoire plein à craquer pour trouver de quoi s'habiller en toute circonstance !
OK, I would love to be able to duplicate myself, it would be most convenient to send one of me to fetch the mini monkey from nursery while the other two stayed at home sewing or had a nap! Unfortunately I haven't mastered the techinque yet, so for now I had to resort to make believe, with the assistance of my camera, a tripod, and an image manipulation software. The idea was to show a simple garment (ie the little black dress) styled differently to suit various occasions, proving that you don't need hundreds of clothes to find something to wear for everyday, for work, or for a night out.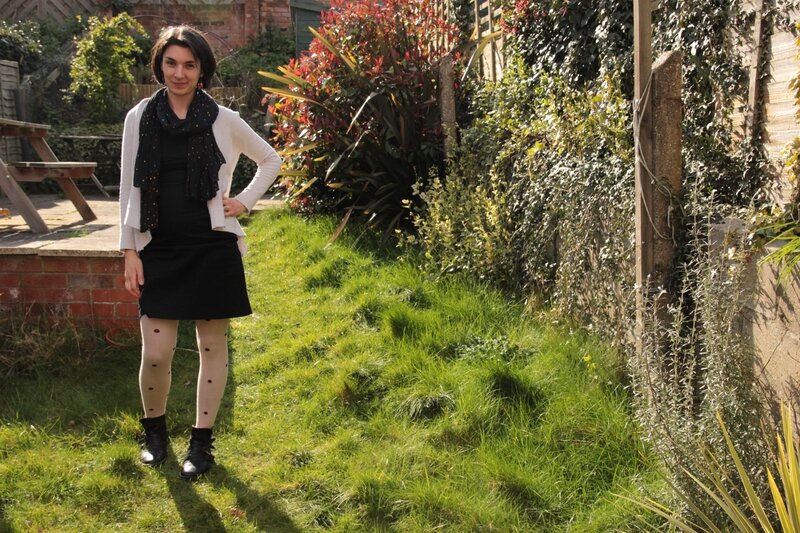 Version "tous les jours", une association que je porte beaucoup : gilet, écharpe, collants et boucles d'oreilles fantaisie, bottines
The "everyday" version, which the one I go for most often: cardigan, scarf, novelty tights, bright earrings, boots
Version "boulot" (si je travaillais dans un bureau, ce qui n'est pas le cas, c'est donc plutôt un look "entretien d'embauche") : gilet plus ajusté, collants fins, boucles d'oreilles discrètes, ballerines
The "work" version (that is, if I owrked in an office, which I don't, so this is more of a "job interview" look): fitted cardigan, sheer tights, ballet pumps, discreet earrings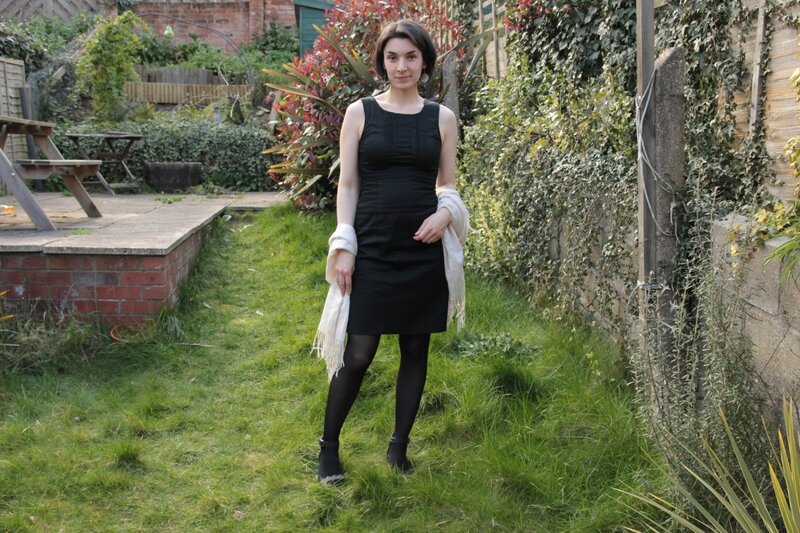 Version "soir" (pour laquelle le soleil avait disparu) : bras nus, boucles d'oreilles ethniques, petit talon, châle
Pour toutes les participations du jour c'est par-ici, pour les modalités du concours c'est par-là. A demain !
The "evening" version (for which the sun refused to re-appear): bare arms, ethnic earrings, heels and a shawl
To see all of today's entries this way, for the challenge's T&Cs this way. See you tomorrow!
***