Après cette semaine de challenges pour une mode plus éthique, on revient à nos moutons... des moutons merinos bio, en l'occurrence ! Quand j'ai vu cette merveille d'imprimé chez Kitschy Coo, j'ai tout de suite eu une vision de mon mini monkey en sweat "supercat". Le prix (€27 du mètre, ce qui est largement au-dessus de mon budget tissu habituel) m'a fait hésiter au moins 3 minutes, puis j'ai craqué. Et je n'ai pas regretté ce moment d'égarement, cette maille est extra douce, légère mais chaude, passe en machine sans problème, et le mini monkey (et moi) sommes fans de ces chats masqués sur fond turquoise.
After this last week of ethical fashion challenges, let's get back to more wooly considerations. Organic merino wool considerations, in fact. When I spotted this fantastic print in the great Kitschy Coo shop, I knew I had to get it for a jumper for the mini monkey. I hesitated for all of 30 seconds as it was a bit pricey (£21 a metre, which is more than I usually spend on fabric), and then gave in. And I have to confess that I have no regrets, as it is so beautifully soft, light, warm, and funky!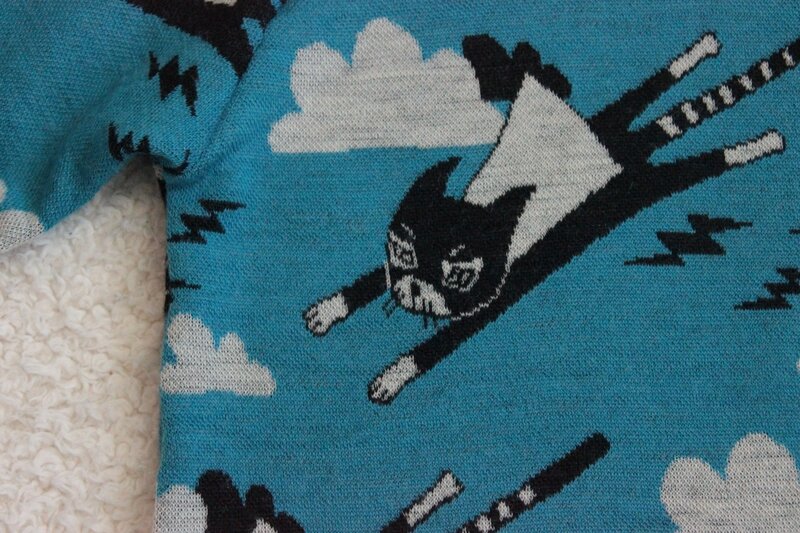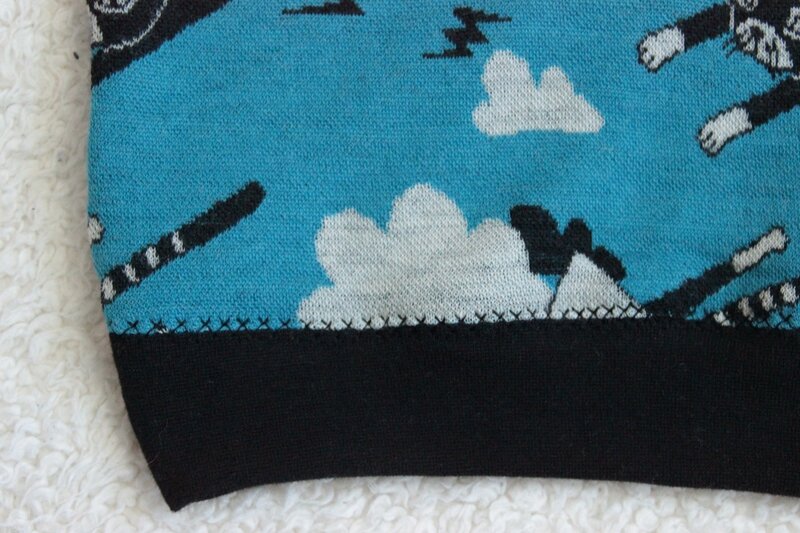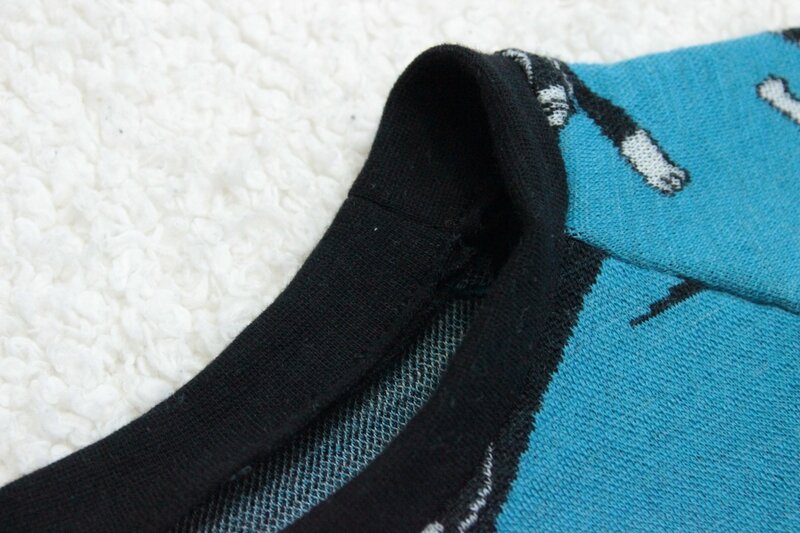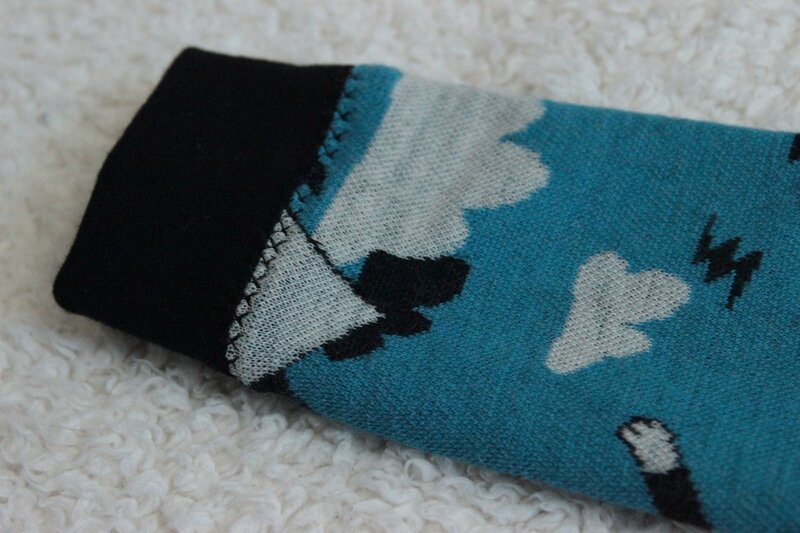 Le patron est le même que celui du sweat "monstres en slip", mais sans la capuche. J'ai tout cousu au petit point zigzag, mais j'ai dû surfiler les marges qui s'effilochaient pas mal. Les finitions sont en bord-côtes noir, avec un point fantaisie de ma machine.
The pattern is the same as the one I used for the "monsters in underpants" jumper, minus the hood. It was entirely assembled using a tiny zigzag stitch, but I had to finish all the raw edges as they were fraying rather a lot. The hem, neckline and sleeves are finished with black ribbing and a decorative stitch.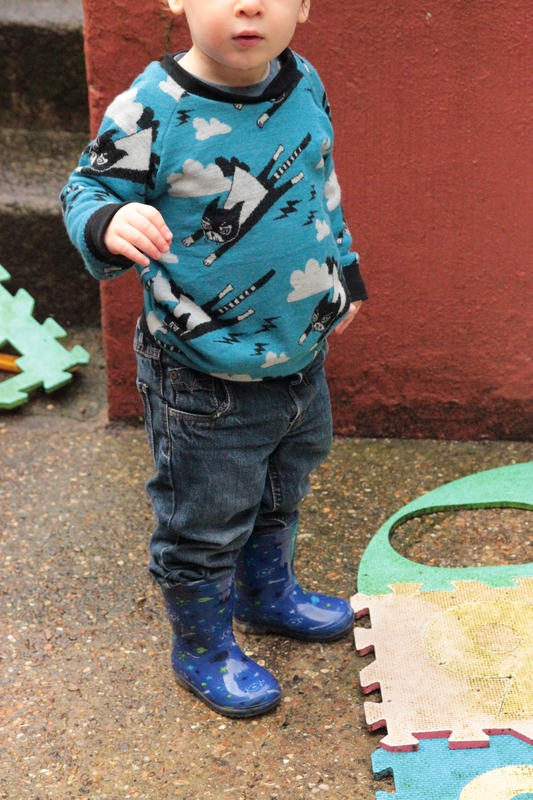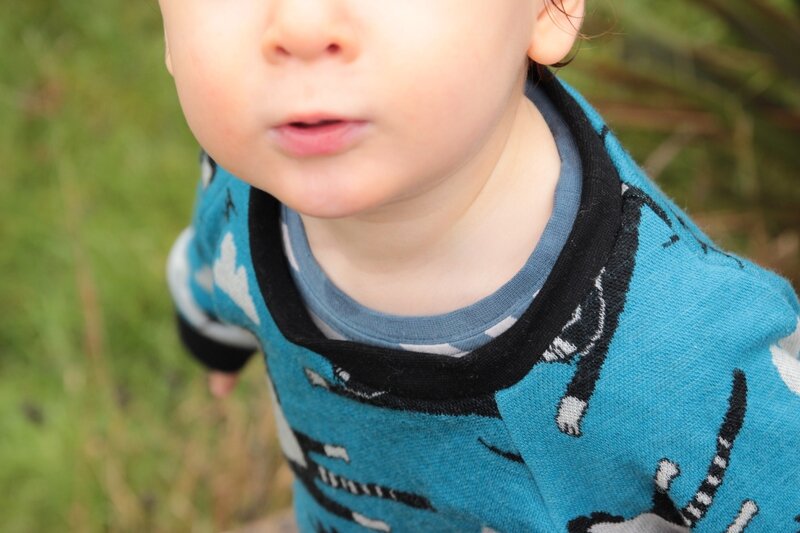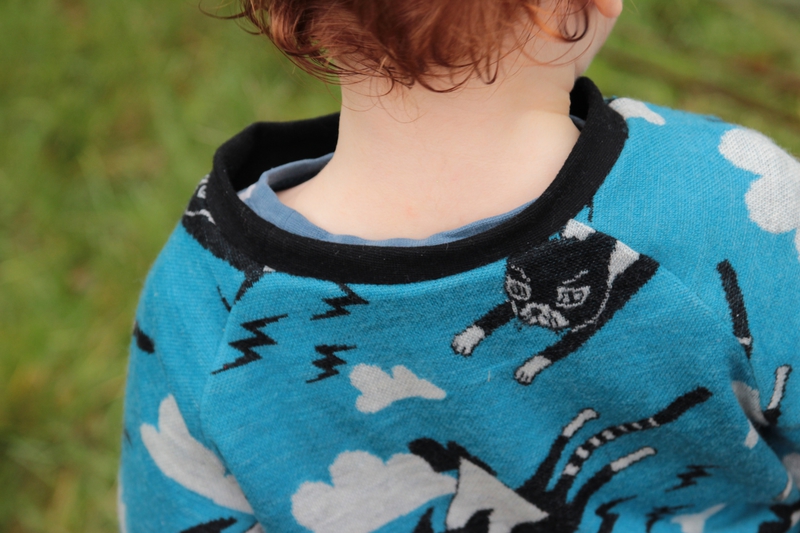 Et voilà ! Il a tout de suite été adopté pour aller sauter dans les flaques. J'en suis vraiment contente, et l'imprimé suscite souvent des commentaires, mais mon seul regret est que le tissu soit assez fragile et que les mailles se tirent facilement. Pas idéal pour un petit gars de 2 ans hyperactif qui adore grimper partout et se rouler dans l'herbe... Mais bon, le pull survit pour l'instant, et j'espère qu'il le portera jusqu'à l'année prochaine.
And there it is! The mini monkey immediately adopted it and went off to jump in some puddles. I am really happy with it, appart from the fact that the knit is quite fragile and the stitches do get pulled easily. Not great for a garment intended for a hyperactive 2 year old who loves nothing more than climbing on everything and rolling around outside... Anyway, the jumper still survives, and I am hoping he will wear it into next year.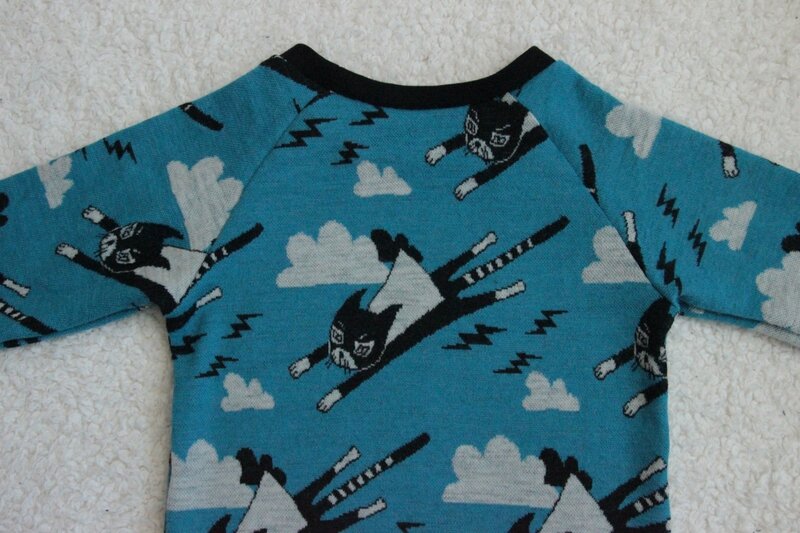 Patron: Ottobre 1/2015, modèle numéro 9 * Tissu: 50 cm de maille merinos bio "Superhero cats" Stromming Design, achetée chez Kitschy Coo. Bord-côtes noir de chez Ilona Store. Fil à coudre coton bio fabriqué en UE acheté chez Offset Warehouse.
Vous connaissez mon amour des imprimés un peu barjots, mais finalement, grâce à nos jolis moutons bio et à nos chats masqués, on continue la couture responsable et la fashion revolution ;) !
Pattern: Ottobre 1/2015, style number 9 * Fabric: 1/2 metre of "superhero cats" organic merino knit from Stromming Design, bought at Kitschy Coo's. Black ribbing from Ilona Store. Organic cotton made in EU thread from Offset Warehouse.
You know how partial I am to a funky print... but in the end, the fashion revolution carries on with more ethical sewing, thanks to these lovely organic merino sheep and crazy superhero cats :) !
***