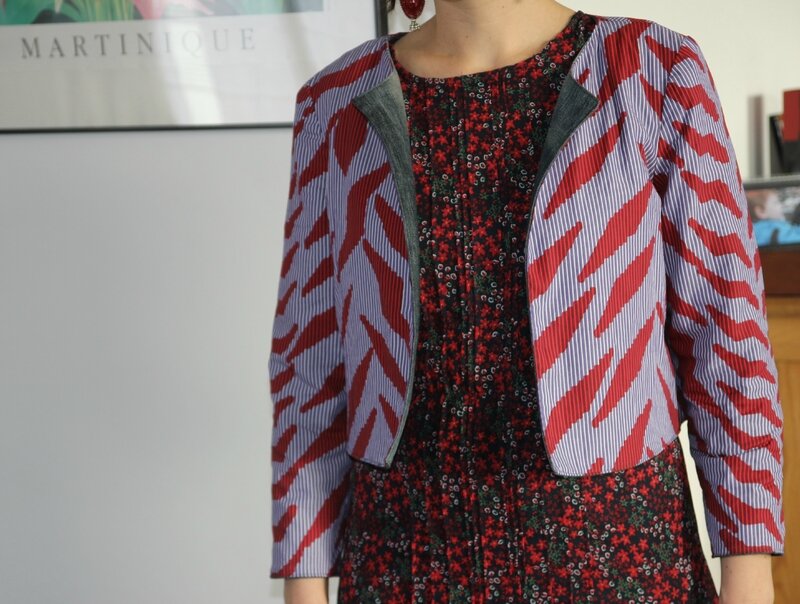 Cette veste, c'est le petit miracle de l'année. On était mi novembre, je venais tout juste de finir la salopette Turia très en retard, et je m'attaquais au projet suivant de la garde robe capsule, la veste. A la base j'avais prévu la veste Julia de RDC, et j'ai juste eu envie de lire quelques avis sur ce patron. Ca été un peu la douche froide ! Lise Tailor a écrit un article très détaillé sur Julia, qu'elle a cousu plusieurs fois, avec semble-t-il pas mal de difficultés. Et quand on sait que c'est une couturière ultra chevronnée, j'ai réalisé que je ne m'en sortirais jamais, surtout que j'étais déjà en retard et que j'avais envie d'une couture facile et rapide. En plus j'hésitais entre une veste en wax ou en jeans recyclés. Et soudain j'ai repensé à la petite veste toute simple Lilliana du Seamwork d'octobre, et j'ai eu envie d'en faire une version reversible wax / jeans, ce qui réglait d'un seul coup tous mes problèmes !
[for English read the text in italics below the ***]
This jacket is my little end-of-year miracle. Having just finished the Turia dungarees very late in mid november, I was about to start on the next project, a jacket. I was intending on sewing Julia from Republique du Chiffon, however after reading a few reviews it appeared I had been a bit optimistic about my sewing abilities and timeframe. Lise Tailor herself described it as a difficult and advanced project, so if she struggled, I had no chance. I was also hesitating badly between sewing a jeans or wax jacket. And then I remembered the simple Lilliana box coat from October's issue of Seamwork, and thought it might be possible to make a reversible wax / denim version, which solved all my problems in one go!
Quel plaisir à coudre, cette veste ! J'ai coupé une taille 2 en fonction de mes mesures et c'est impeccable. 2 manches, 2 demi-devants, 2 demi-dos, et voilà. Elle est censée être finie avec un biais autour du long bord qui court le long de l'encolure, des devants et de l'ourlet, mais au dernier moment j'ai decidé d'assembler mes deux vestes endroit contre endroit en cousant le long de ce bord, et de les retourner sur l'endroit en enfilant le tout par une des manches. Puis j'ai replié le bord des manches vers l'envers et assemblé avec une surpiqûre. J'ai aussi surpiqué les autres bords pour que les deux tissus restent bien en place, et pour que ce soit plus joli.
La partie denim de la veste est coupée dans des vieux jeans, que je découds le long de l'entrejambe. Comme ça on a une surface assez grande pour y caser des pièces de patron, mais on doit y incorporer les coutures de côté des jambes, qui elles restent cousues. Pour le joli coton imprimé j'ai coupé le dos d'un seul tenant, parce que le motif était déjà symétrique. La seule chose que j'aurais pu faire c'est de rajouter une marge de couture au long bord d'encolure, parce qu'il est coupé à ras pour être enfermé dans le biais, donc j'ai perdu un peu de largeur en repliant les bords vers l'intérieur.
***
This was a dream to sew. I cut a size 2 according to my measurements, and it fits perfectly. 2 sleeves, 2 half fronts, 2 half backs, that's it. It is designed to be finished with bias binding around the raw edge, but in the end I just made 2 identical jackets, one wax and one out of Mr Monkey's old jeans, and stitched them together RST around the neckline, front edges and the hem. I turned it over through one of the sleeves, then turned the raw edges in and topstitched. I also topstitched the other edges for a nicer finish, and so that the fabrics would sit properly.
The denim part is cut out from old jeans, that I unstitch along the inside leg and open up flat. This means that the outside leg seam is incorporated into the pattern pieces, as this is the only way you get enough surface area to fit the pattern pieces in. As for the colourful cotton fabric I cut the back as one single piece, because the print was symetrical. The only thing I would do differently next time is to add a seam allowance to the raw edges which are meant to be bias bound, as I lost a little bit of width by turning the edges in.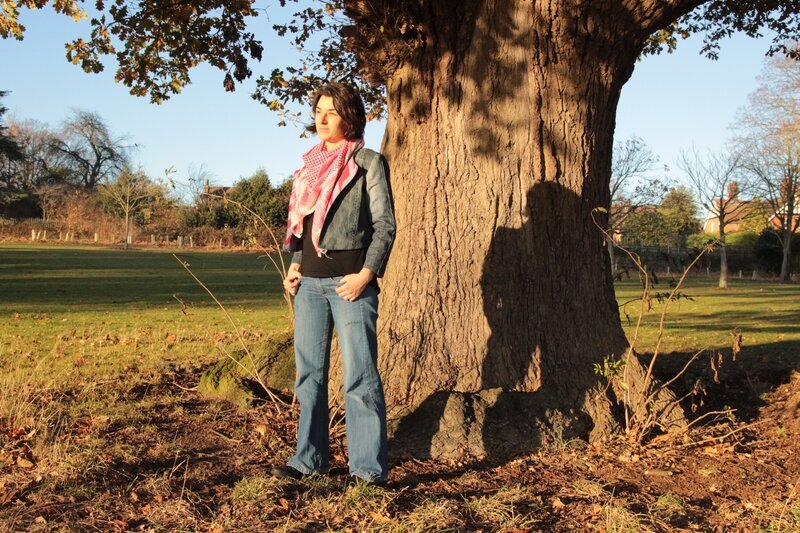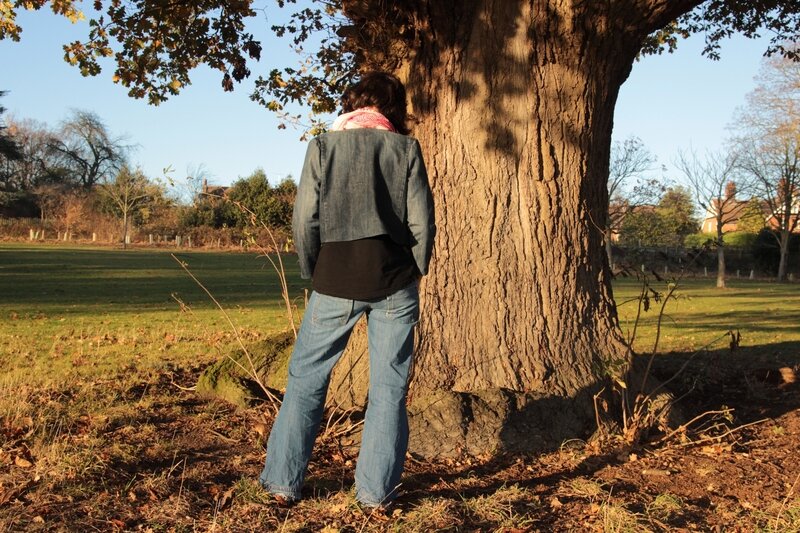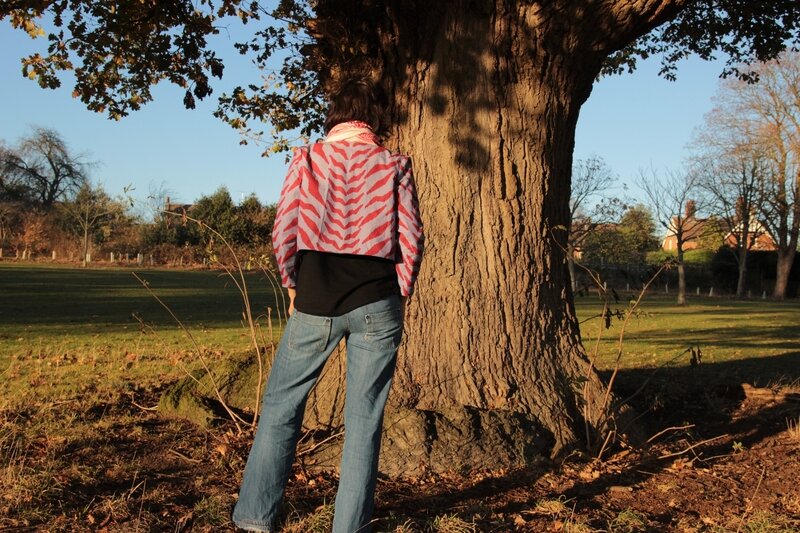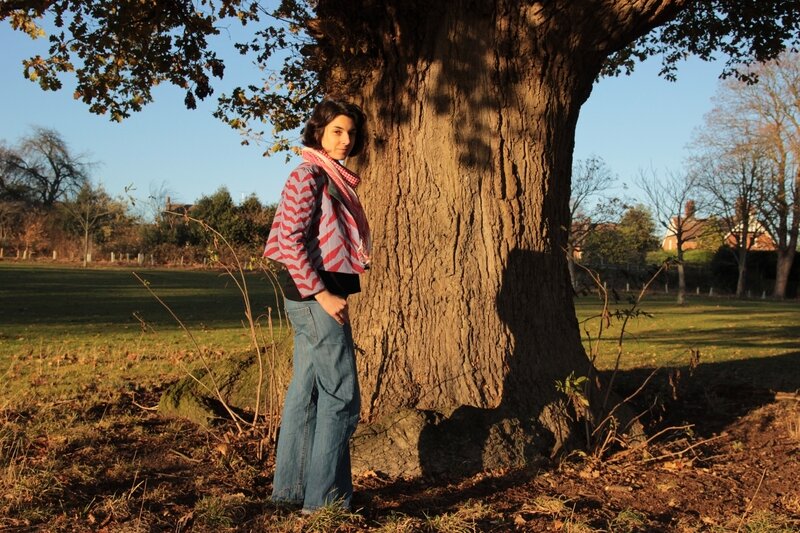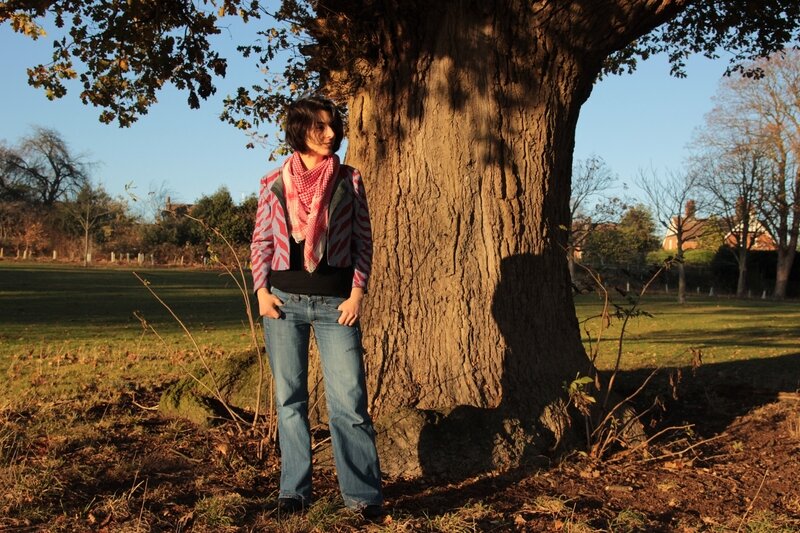 Aussi, j'adore les instructions de Seamwork pour monter les manches et resorber l'embu. Elles sont super détaillées et très faciles suivre, et ça fonctionne à merveille, même sur un tissu épais comme le jean. Je crois bien ne jamais avoir monté une manche correctement avant ! Je suis vraiment super impressionnée par ce magazine, aussi bien pour ce qui est du contenu que par la qualité des patrons qu'ils sortent chaque mois.
***
Also, I absolutely love seamwork's instructions for setting in the sleeves, it is super detailed, easy to follow, and gives a great finish, even on a really thick fabric like denim. I am so impressed with their attention to detail, and have no idea how they manage to publish all that content, plus two patterns, every month!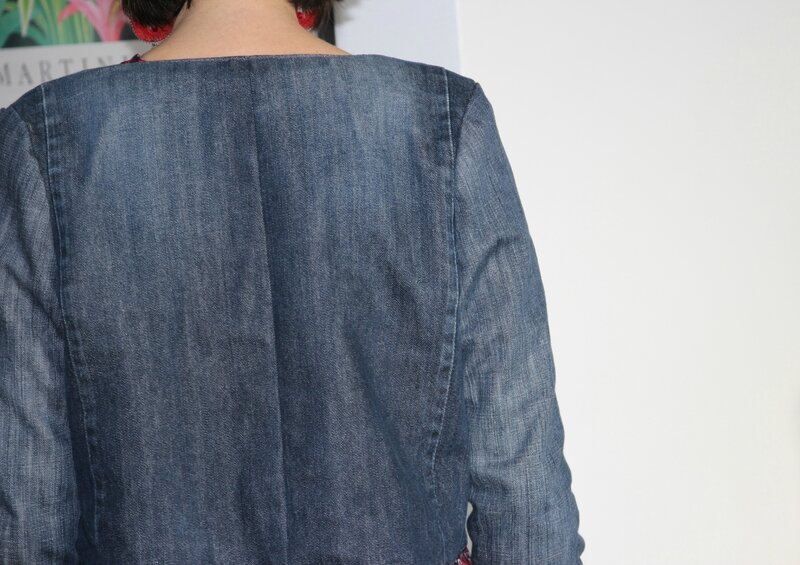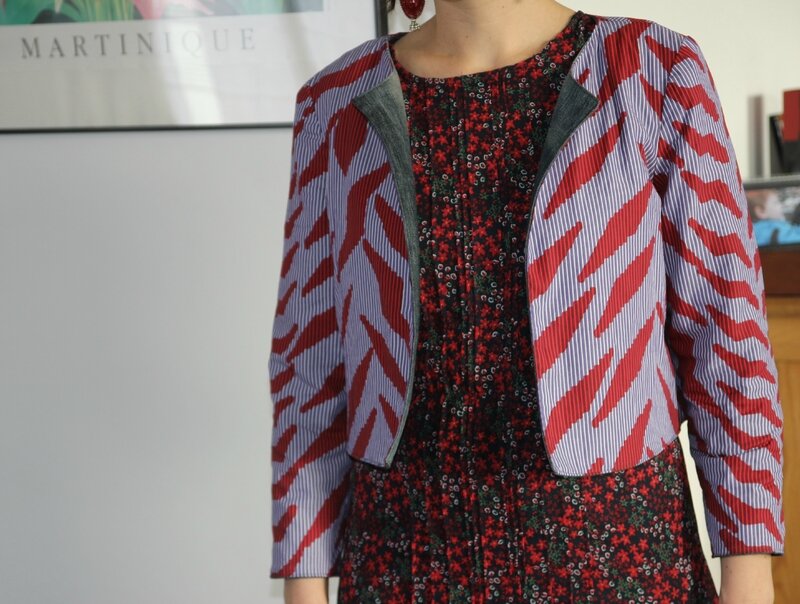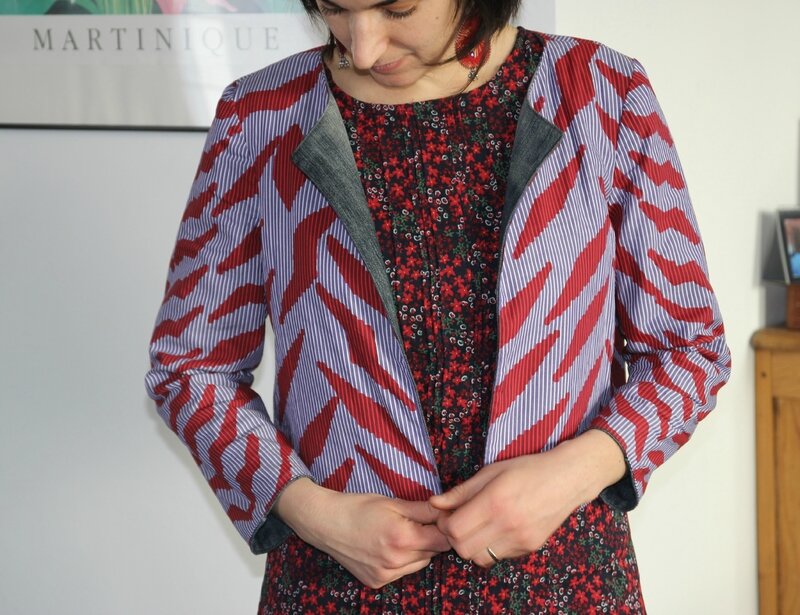 J'adore cette veste. J'adore la patine des vieux jeans, les coutures des jambes qui sont intégrées dans le vêtement, et le fait que mon mari les portait pour aller au travail en vélo, jusqu'à ce ce que le siège en soit trop usé et qu'il me les donne, "pour en faire quelque chose". J'adore le motif original et les accents colorés de ce coton italien de chez Supercut, une jolie maison italienne pour laquelle j'ai beaucoup d'affection et dont je vous reparlerai bientôt. J'adore la tenue de ces deux tissus ensemble. J'adore le fait que cette veste va avec tout. J'adore ce patron super simple et absolument génial. Et j'adore par dessus tout le fait que cette idée de dernière minute soit une petite réussite !
***
I absolutely love this jacket! I love the distressed look of the denim, the extra seams from the side of the legs, and knowing that my husband used to wear these to ride his bike to work until the seat of them got worn out. I love the pop of colour of this bright wax-inspired italian cotton from Supercut, a lovely independent retailer close to my heart, which I will tell you more about soon. I love how the two fabrics give the jacket just the right amount of body so that it sits really nicely when worn. I love that it goes with everything. I love that it is such a simple yet brilliant pattern. And I just love it when a last minute plan comes together!
***