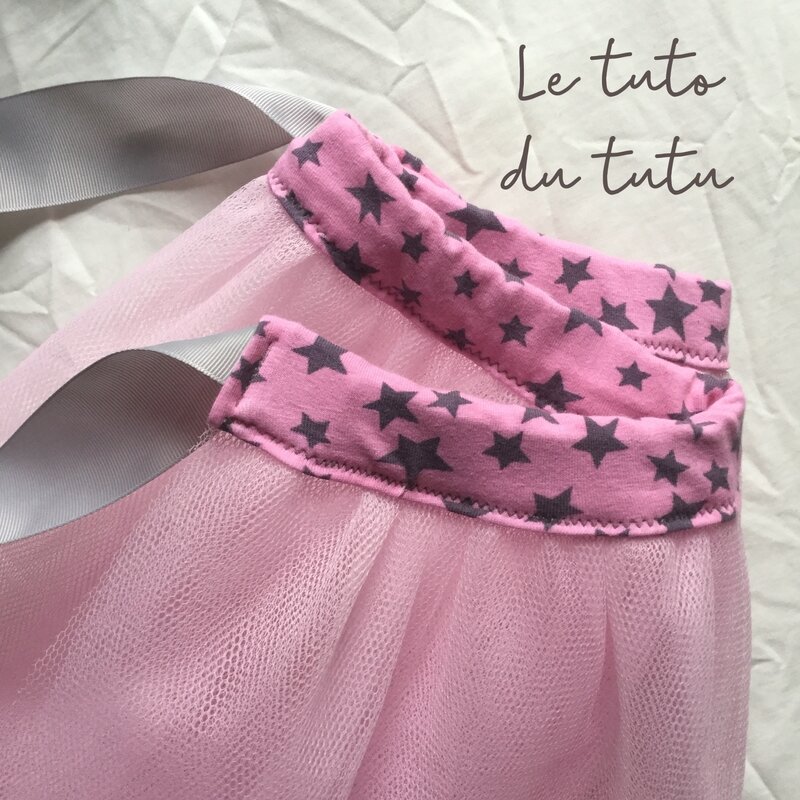 [For English please read the text in italics below the ***]
Excusez le titre, mais je ne sais pas resister à une bonne allitération (déformation dûe au Bac L)! Bref, j'avais cousu il y a plus d'un an un tutu pour ma filleule de 4 ans, et pris quelques photos au passage, pensant rédiger un pas-à-pas dans la foulée (en cherchant sur internet un tuto de tutu je n'avais trouvé que des méthodes "sans couture" consistant à nouer des bandes de tulle autour d'un élastique, dont je n'aimais pas trop le rendu façon pagne). Et puis comme d'habitude procrastination et doutes ont repris le dessus, je me suis dit que mon tuto ne casserait pas trois pattes à un canard, et je ne l'ai jamais rédigé, ni publié. Alors quand Sonia cette semaine a publié sur IG une photo de sa mini danseuse et demandé des recommandations de tutoriels pour lui coudre un tutu, ça m'a motivée à ressortir mes photos (très roses !!) et à enfin terminer ce que j'avais commencé. Ca n'a rien de sorcier mais je trouve que les finitions sont correctes, avec un joli noeud au dos (quelle petite fille n'est pas fan de rose, de tulle et de gros noeuds !?) et un élastique recouvert qui donc ne gratte pas. Il n'y a pas de patron à télécharger, toutes les pièces sont des bandes qui peuvent être tracées pour correspondre aux mesures de votre enfant.
***
[DIY to sew your own tutu] I sewed this tutu for my goddaughter's 4th birthday last year, and took some pictures as I went along, thinking I'd publish a tutorial after I had finished (when I looked for tutu DIYs on line all I could find were "no sew" ones where you just tie strips of tulle to an elastic, and I didn't like the ragged look of the finished item). And as usual, once I was done self-doubt and procrastination set in, and I never got round to actually writing this DIY up. So when Sonia mentioned on Instagram that she was looking for a tutorial to make a tutu for her young daughter, I felt it was the right time to dig these pictures up! This is a pretty simple make, as long as you have a sewing machine with zigzag stitch you will be fine. The tutu is a very simple shape, it is closed by a big bow at the back, and the elastic is covered with soft jersey so it doesn't chafe. There is no pattern to download, all of the pieces are strips which can be self-drafted to fit your child's measurements.
Pour ce tutu il vous faudra donc :
- un élastique large (au moins 3 cm) d'une longueur égale à la taille de l'enfant moins 2 cm (le noeud comblera la différence)
- une bande de jersey d'une longeur égale à celle de l'élastique + 2 cm pour les marges de couture, et d'une largeur de (2 x la largeur de l'élastique) + 2 cm de marges de couture
- 1 mètre de ruban large (environ 5 cm)
- du tulle en bandes d'une largeur égale à la longeur que vous souhaitez donner à votre tutu, en morceaux d'une longueur égale à celle l'élastique x 2. Prévoir au moins deux épaisseurs, voire plus si vous souhaitez un tutu plus bouffant.
Note pour choisir les dimensions des bandes de tulle : pour ma filleule de 4 ans j'ai travaillé avec une largeur de 50 cm, et deux épaisseurs de tulle, ce qui donne un tutu assez long et vaporeux qui lui arrive sous les genoux. Pour un tutu plus court et volumineux, on peut réduire la longeur de moitié (25 cm) et travailler sur 4 ou 5 épaisseurs de tulle. Ce qui est bien avec le tulle c'est que vu que ça ne s'effiloche pas on peut raccourcir aux ciseaux à la fin.
***
You will need :
- a piece of wide elastic (at least 1 1/2") as long as your child's waist minus 1" (to allow for the bow)
- a strip of knit fabric as long as your piece of elastic + 1" for seam allowances, and for the width it should be equal to (2 x the width of your elastic) + 1" for seam allowances
- 1 yard of wide ribbon (approx. 2" wide)
- strips of tulle; the width should be equal to the length you want to give your tutu, and the length of the strips should be twice the length of your piece of elastic. Allow at least two strips, or more if you like a "fluffier" tutu
Advice on how to determine the size and nimber of your tulle strips: for my 4-year-old goddaughter I worked with a width of 50 cm (1/2 yard) which hits her mid-calf, and 2 layers of tulle which make for a long, flowy sort of tutu. If you prefer a shorter, puffier tutu, I would go for 1/4 yard or less in width (you can always trim with a pair of scissors at the end, that's the handy thing with tulle as it doesn't fray) and 4 or more layers.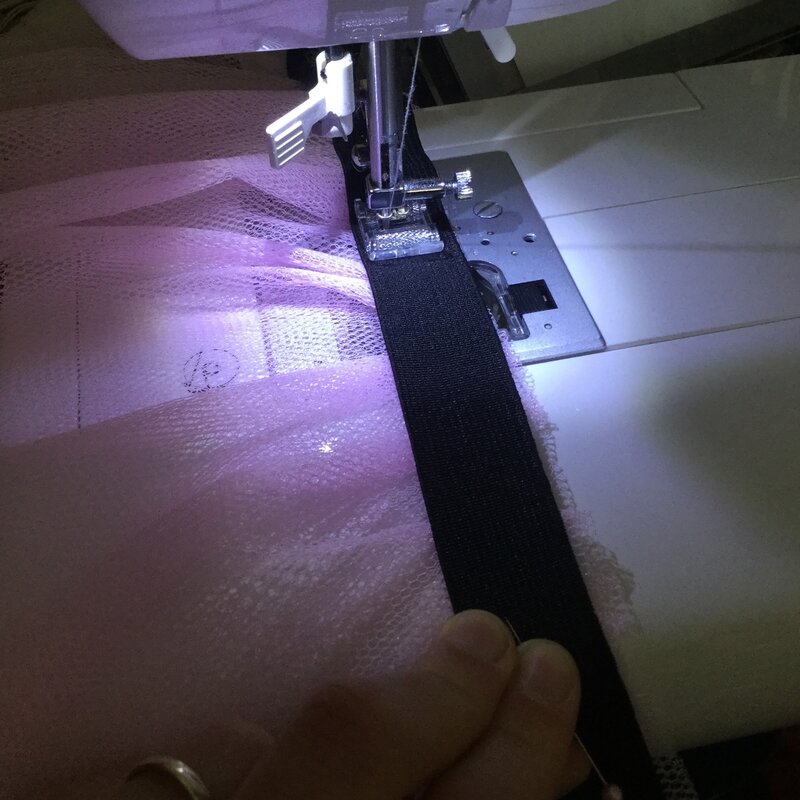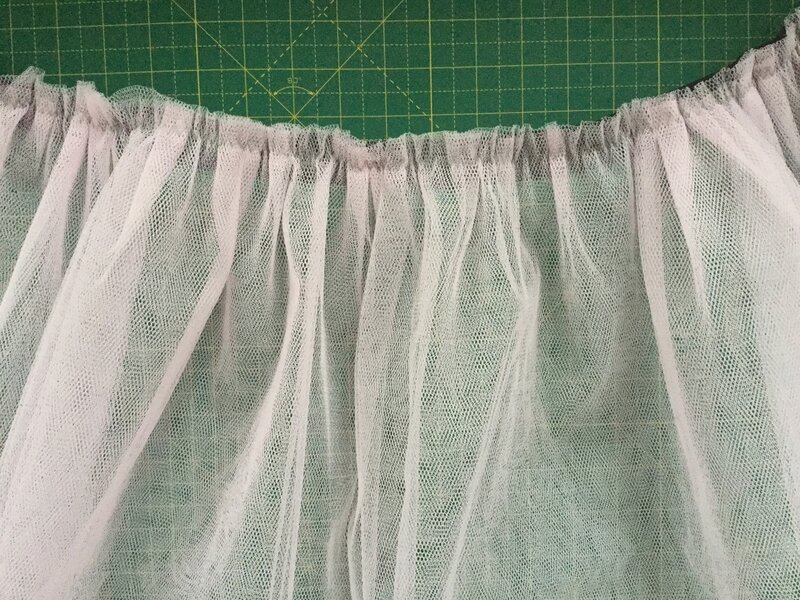 Pour commencer, superposer les épaisseurs de tulle et marquer le milieu du long bord supérieur avec une épingle. Marquer ensuite les 1/4 et 3/4 de la même manière, puis des repères intemédiaires au 1/8, 3/8, 5/8 et 7/8. Procéder de manière identique avec l'élastique, puis faire correspondre les repères du tulle avec ceux de l'élastique et épingler. Coudre à la machine au point zig zag large en étirant l'élastique au fur et à mesure. Une fois l'élastique relâché, le tulle devrait être joliment plissé.
***
To start with, stack your tulle strips on top of each other and mark the middle of the long edge at the top with a pin. Then mark the 1/4 and 3/4 point, and finally the 1/8, 3/8, 5/8 and 7/8 points with pins in the same way. Do the same with your piece of elastic, then align your elastic with the top edge of your tulle and match the markings. Pin the elastic and tulle together, then sew with a wide zig zag stitch along the length of the elastic, stretching it as you go along. When you release the elastic, your tulle should be nicely gathered.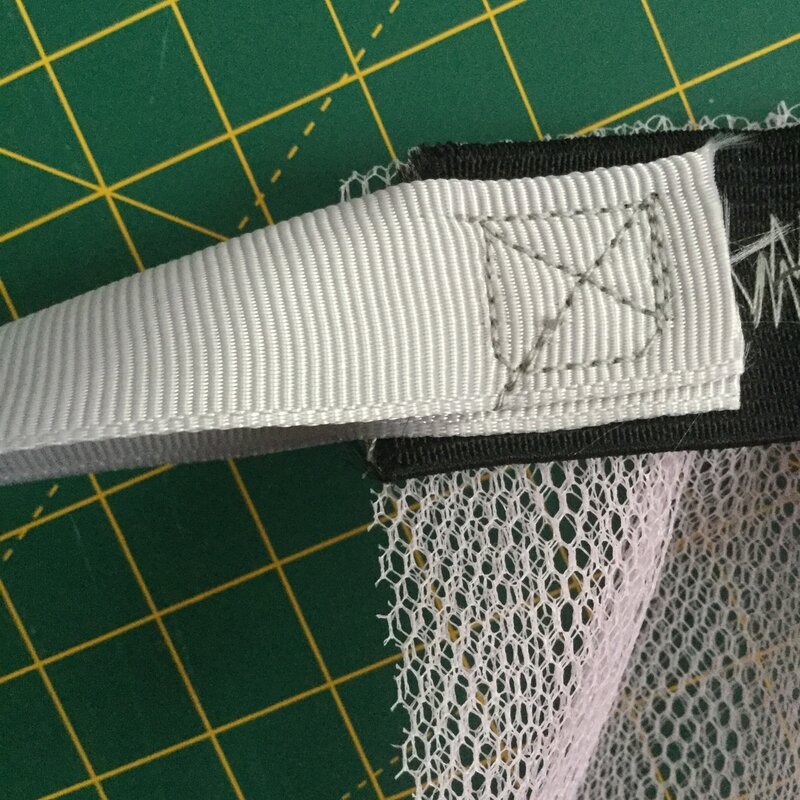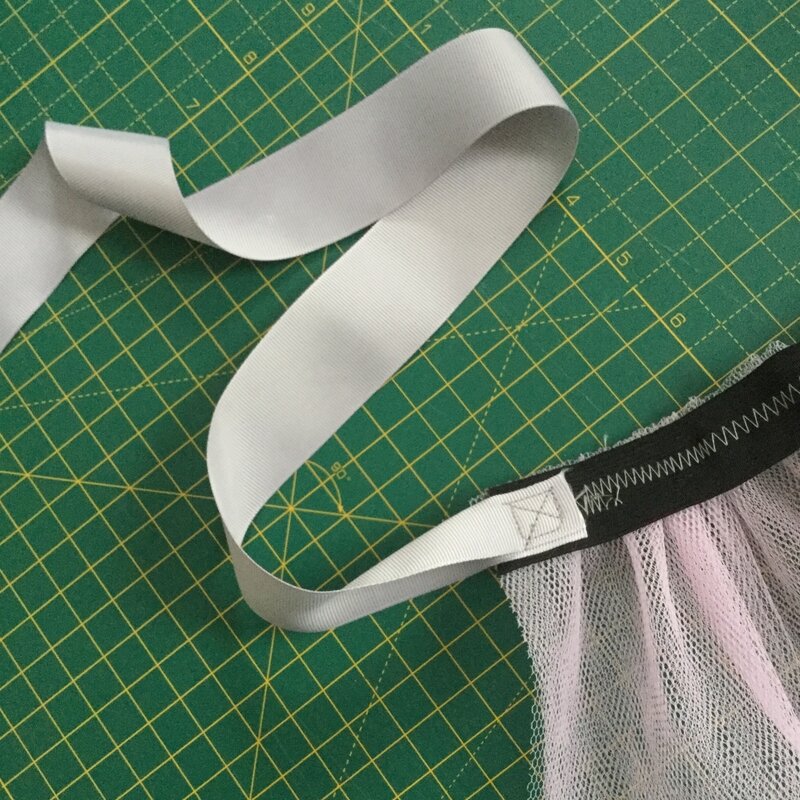 Couper le ruban en deux morceaux de même longueur (en biais c'est plus joli et ça s'effiloche moins) et coudre un morceau à chaque extremité de l'élastique (plier le ruban en deux s'il est plus large que votre élastique). Pour que ça tienne bien je couds un carré puis les deux diagonales, puisque ce sera le point de tension principal du tutu une fois terminé.
***
Cut the ribbon in two pieces of equal length (cutting it diagonally is prettier and will stop it fraying so much) and sew one length of ribbon to each end of the elastic waistband. Fold the ribbon in two before you sew it if it is wider than your elastic. As this will be the point of most tension I sew it firmly with a square and two diagonals as shown above.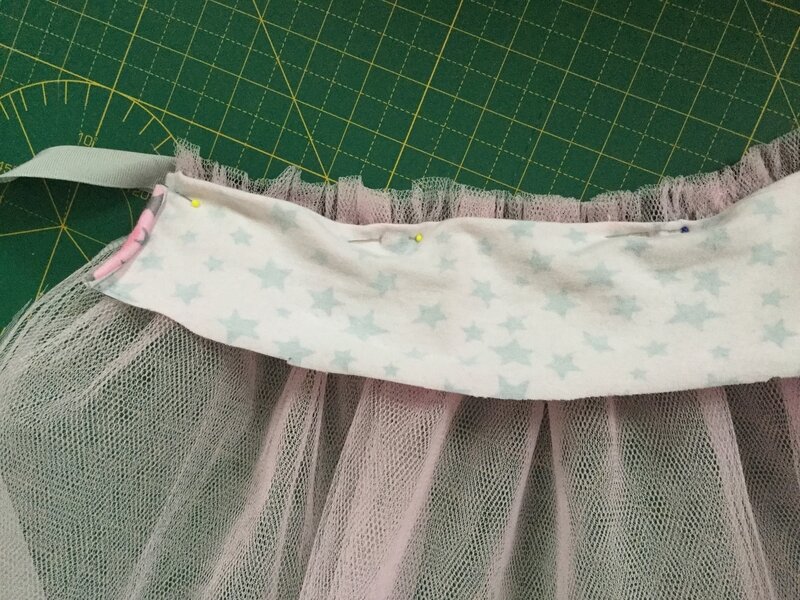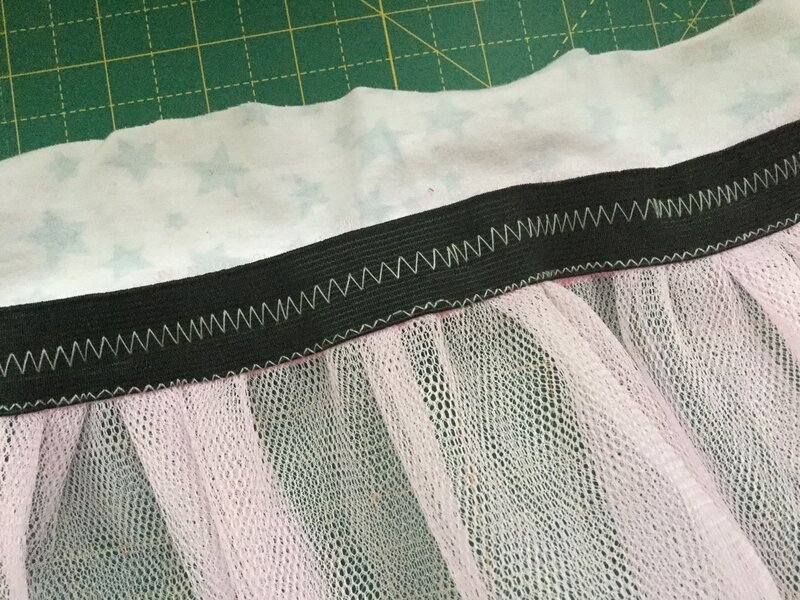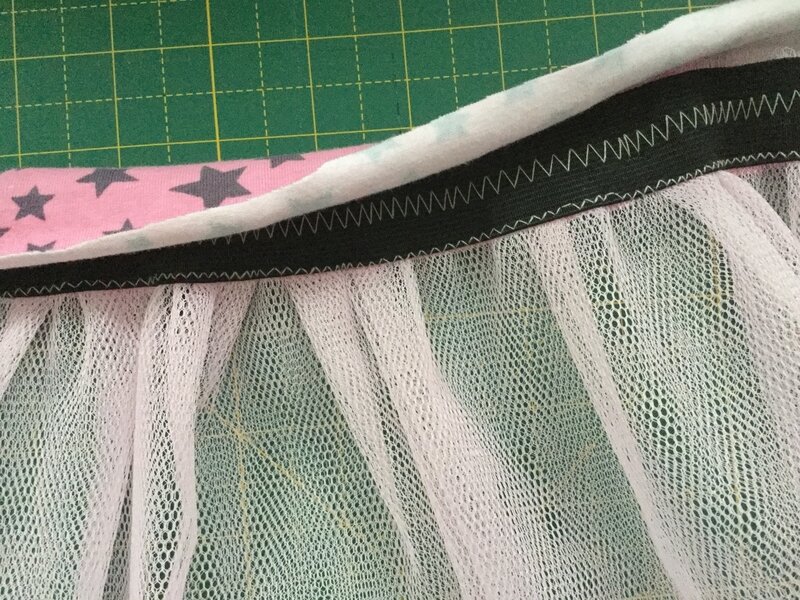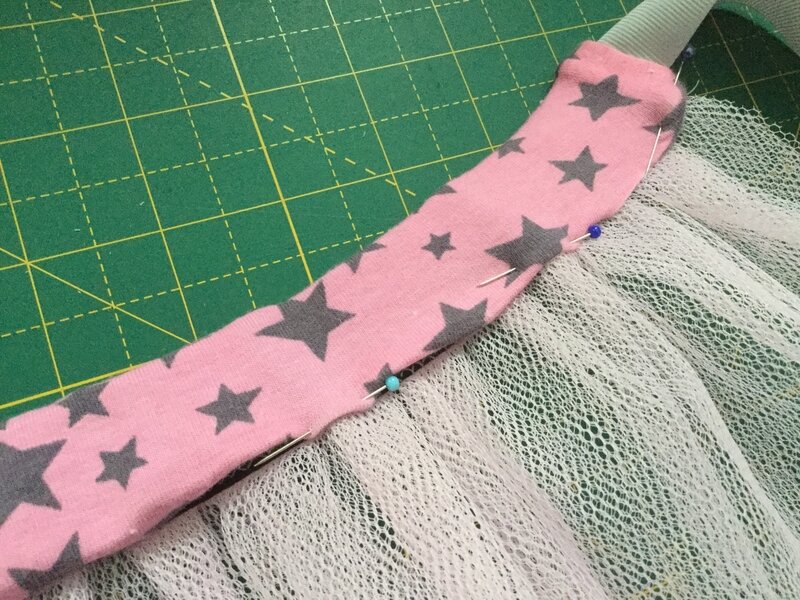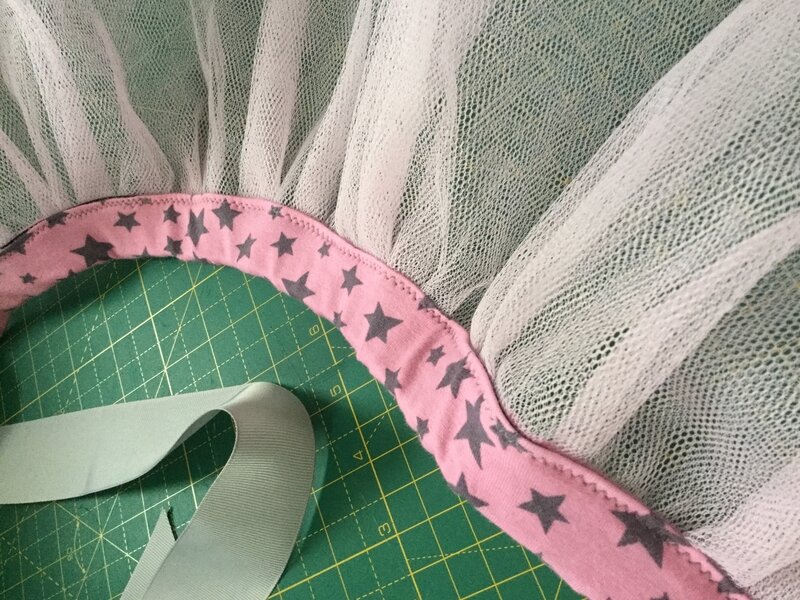 Pour recouvrir l'élastique avec le jersey, poser la bande de tissu face endroit contre l'envers de l'élastique sur l'intérieur de la ceinture, en les faisant se chevaucher sur 1 cm environ à la base de la ceinture. Replier les bords courts du jersey vers l'intérieur sur 1 cm environ, et épingler la bande de jersey à l'élastique sur la longueur de la ceinture. Coudre la bande de jersey à l'élastique sans l'étirer et au plus près du bord de l'élastique, avec un petit point zig zag (2mm x 2 mm c'est pas mal). Replier la bande de jersey sur l'endroit ensuite, en enveloppant la ceinture élastiquée. Faire un repli de 1 cm sur le long bord de jersey restant, et épingler sur l'endroit en faisant coincider le bord plié du jersey au bord de l'élastique. Refermer en cousant avec un petit point zig zag sans étirer. On peut faire un petite couture au point droit sur les bords courts de la bande de jersey pour que la marge de couture reste bien repliée vers l'intérieur.
***
To cover the elastic waistband with the knit fabric, position the right side of your fabric strip on top of the wrong side of your elastic, on the inside of the waistband. Overlap them by 1/2" at the bottom edge of the waistband. Fold the short edges in by 1/2" and pin the knit fabric to the elastic along the length of the waistband. Sew the fabric to the elastic with a narrow zigzag stitch (2 mmm x 2 mm works fine), as close to the edge of the elastic as possible, without stretching. Then fold the strip of jersey towards the right side, wrapping it around the elastic. On the right side of the tutu, fold the remaining raw edge of the knit fabric under by 1/2", align it to the bottom edge of the elastic and sew it in place using a narrow zigzag stretch without stretching. Once you are done you can sew a line of straight stitch at each short end to make sure the seam allowance stays tucked in.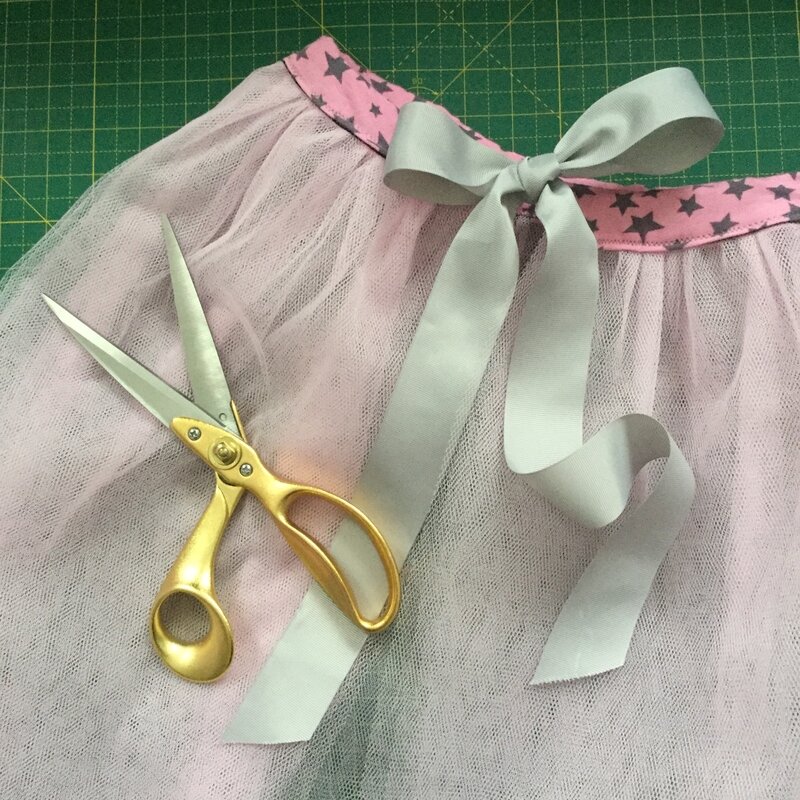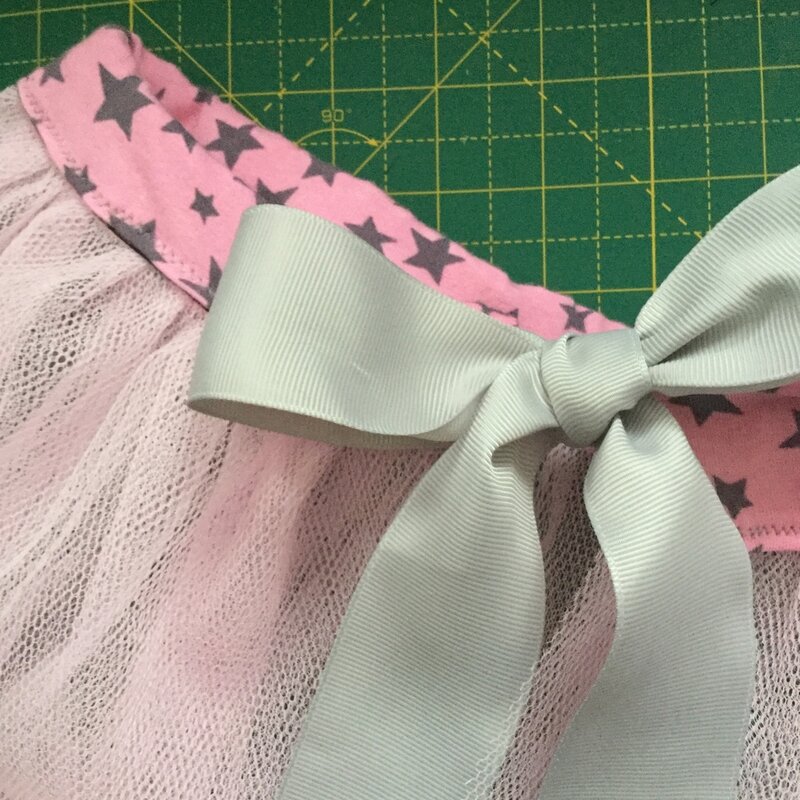 Il ne reste plus qu'à essayer votre tutu sur votre ballerine en herbe et à ajuster la longueur avec une paire de ciseaux au besoin.
***
All that is then left to do is to try the tutu on your favourite mini ballerina to check the length, and trim with a pair of scissors if necessary.
Et voilà! Un petit tuto tout simple, mais n'hésitez pas à laisser me contacter si mes instructions sont vaseuses... Et si vous vous lancez j'adorerais voir vos versions, n'hésitez pas à commenter ici ou à me taguer sur Instagram ( @mrsmonkeyiscrafty )!
***
So there you are, clear as mud? Nothing too complicated, but do let me know if you struggle with my murky instructions. And I would love to see your versions if you decide to give it a go! You can tag me @mrsmonkeyiscrafty on Instagram, or leave a comment below :)
***